This is a Review of my new
JEB's PENs Dhaulagiri Blueberry Mesh Custom Fountain Pen
done by John E. Brady of www.jebspens.com




Dhaulagiri is the name of the 7th highest mountain in the world, the meaning of the name is "Dazzling/White/Beautiful Mountain". That is a fitting name indeed for such a beautiful pen, in this case "Dazzling/Blue/Beautiful" would be even better, but no such mountain or word exists.

John did a pen like this before and had pictures on his website. What can I say - I fell in love with the color an appearance of the pen. So I contacted John an if it would be possible to recreate it for me, which he did!

He did certainly go the extra mile, after sending me first pictures I realized that I would like the section and capbend better in a darker tone of blue. So John ordered a different patch of a darker "Blue Sapphire" material for it, and redid everything. He more or less did the pen twice.

Before I get to the different sections and scores I want to state my point scale:
1/10…almost trash; 2/10…very poor, far below expectations; 3/10…below expectations; 4/10…acceptable, below average; 5/10…average, nothing special, not bad; 6/10…good, above average; 7/10...very good, above average; 8/10…excellent; 9/10…superb, top-notch; 10/10…7th heaven, world class.

Appearence and Design 9/10

This pen uses "Blueberry Mesh" acrylic resin for the barrel an cap. It is a vibrant dark blue shimmering resin, with light and dark swirls in it, that shine like mother of pearl.
Within the matrix of the material there are darker bubble like structures, that seem to be the "berries" of that blueberry resin. The grip section an the the cap centerband are made of a darker "Blue Sapphire" resin. The pen is a large and very colorful impressive pen.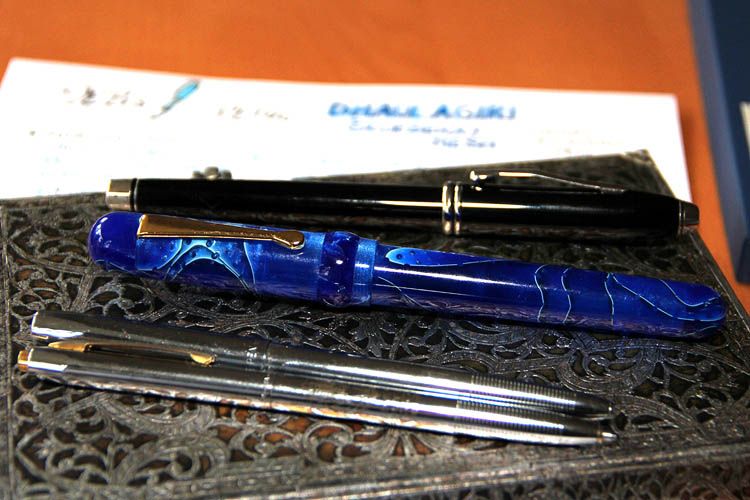 Construction and Quality 8/10

This is a custom made handcrafted resin pen. The pen is beautifully turned and polished, I don't see any flaws in it. Regarding craftmanship it would deserve a 10, but the material is of course not as robust and sturdy as a metal pen (like my Cross Townsend is). And it is made of resin, which is of course not as "precious" or of the same inherent quality as a precious metal like silver or gold would be. The threads and everything work flawless, the cap is postable (but I don't usually post my caps - so won't use it).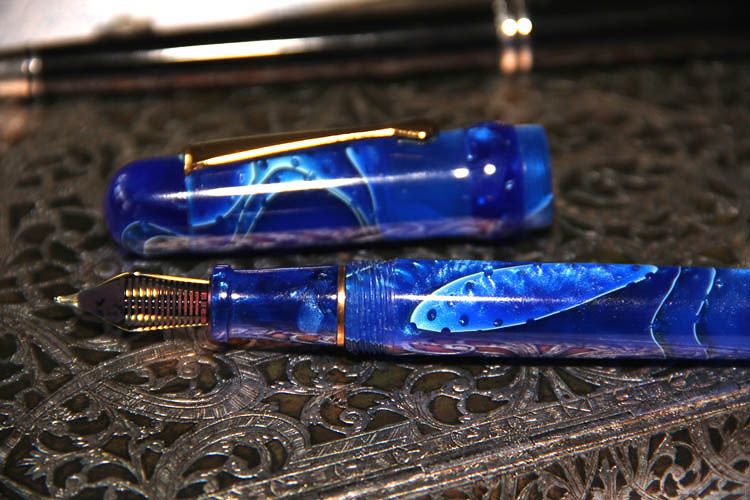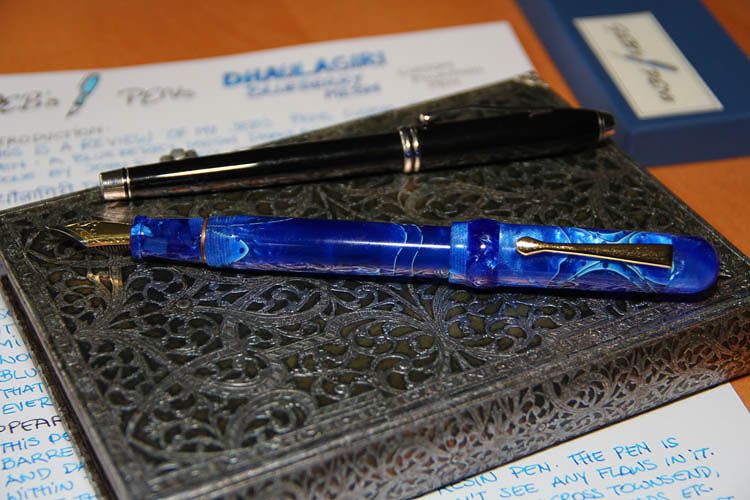 Weight and Dimension 8/10

Length / capped: 5.95"; length / uncapped: 5.25"; length / posted: 6.75"
Diameter barrel: .56"; dia. cap: .63"; dia accent band: .72"
Weight capped: 22.4 g; weight uncapped: 12.2g
It is about the same length as a cross townsend, but much thicker. The rather large diameter will not be for everybodies taste, but I like it.
Compare the size with the Cross Townsend: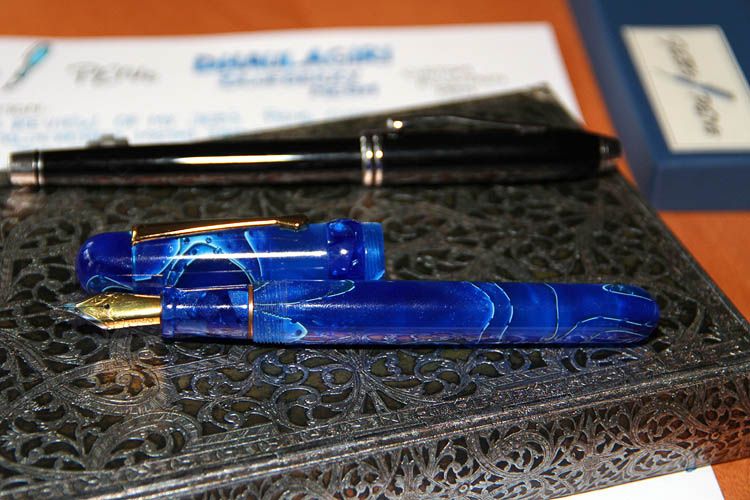 Nib and Performance 7/10

The pen features a #6 Two-Tone (steel) Meisternib in Medium. It is a modern stiff nib, that is substantially large and very good looking. It writes well, the width is on the narrow side of "M". Compared to my 18k gold nib on my cross townsend or the 18k nib of a Montblanc it is not as soft and smooth. But it writes well and is in no way scratchy or bad. I like it and for the price its absolutely OK, you can't expect the bells and whistles of a top notch gold nib.




Filling System and Maintenance 5/10

The pen came with two cartridges and a converter. The converter is a rather simple / plain one. at first I could not fill it through the nib from the bottle, as I usually do. So I filled the converter seperately from the section. Now after some usage it works better.
I would say its nothing special or bad, it works and I did not expect more.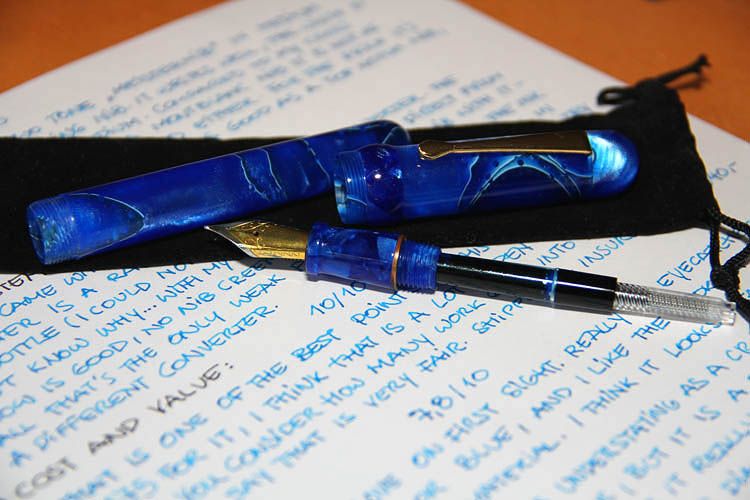 Cost and Value 9/10
This is where the pen clearly scores. John charged 175,- USD for the pen which is very good value for money. When you consider the ammount of work that goes into a hand-turned pen like this, the price is very fair. Maybe you get a chinese or japanese pen with all the bells and whistles for this ammount of money, but here you get a piece of individual craftmenship and not an industrial product.
With a custom pen you get materials and colors you won't find in an industrial product. Here the customer is king.
I'm sure John will go the extra mile to fullfill all whishes that are humanly possible.

Total score 7.8/10
Within my scale that is a descent score and show what great pen this is.

That was the first custom fountain pen I ordered, I am very satisfied with the experience.
I can recommend it to everyone.
Thank you John!