This is my first review, so please keep that in mind when reading. I am also new to fountain pens, so bear that in mind as well. Please feel free to offer suggestions as how I can improve future reviews (or if I should just give up).
I have shamelessly borrowed categories from KendallJ's review of his Sheaffer Aspen Balance (thanks) to aid me in the review.
Overall Design (4/5)
The Rotring Initial in Matte Black Metal is a modern design every-day writer. The cap is topped with Rotring's signature red circle. "Germany" is imprinted on the side near the top of the cap and "APC System" circles the cap bottom. APC stands for Air Pressure Compensation, a system of the fountain pen which Rotring claims prevents ink leakage and ensures smooth writing even during flight.
The most impressive aspect of the cap is the clip, as it is a very well designed spring-loaded clip with a maximum opening of 3.7 mm – wide enough to easily fit over the pocket seam of your blue jeans.
Size & Weight (5/5)
The Initial is a not a lightweight pen given its all metal construction. Posted, the pen feels substantial, though not too heavy (but I like a heavier pen), albeit a bit "tail heavy." Unposted, the pen feels significantly lighter and well balanced. The diameter of the grip section is nearly ideal ergonomically.
Dimensions on the Initial are:
Pen length
capped = 144.4 mm
posted = 159.5 mm
nib = 17.5 mm
grip = 26 mm
Pen diameter
max = 13.5 mm
uncapped = 134.7 mm
min = 6 mm
grip = 10 mm
Nib (4/5)
The Rotring's steel nib is smooth and lays down a nice, wet line. It is engraved with "Rotring" and "F" for fine. The nib is rather unusually shaped based on my very limited experience, but it is in keeping with the pens modern flair.
Filling Mechanism (3/5)
This is the pens biggest weakness as it is a cartridge / converter. The converter comes with it and is a piston type. It is larger than the typical Waterman converter. It functions well.
Fit & Finish (5/5)
The barrel end cap and the cap are polished chrome. The barrel is a highly polished black plastic (edit: black plastic, not lacque over metal - sorry), although the name of the pen says "Matte". The grip section is slightly textured (anodized finish) with recesses to enhance grip. My sample had no noticeable surface defects.
Summary (4.5/5)
The Rotring Initial is a modern, rugged, good writing every day pen. The clip enables you to carry it in just about any pocket. The size and weight combinations available posted and unposted should enhance writing duration. But don't forget the best part - the smooth, wet, stainless steel nib which makes writing a joy!
Pics (sorry for the size - could someone tell me how to make them smaller?):
Edited with reduced pic size - thanks Bryan!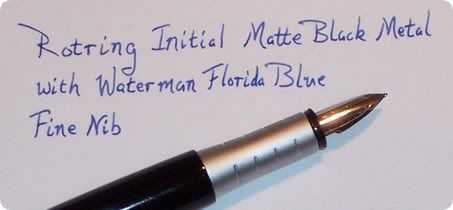 Edited by southpaw, 06 June 2006 - 13:44.