This is my first review, so please forgive me if I have left out anything.
I just received the Visconti Limited Edition Opera Typhoon Fountain Pen.
Some Specs:
The Trim is Platinum Plated.
Filling System is really a Vacuum Filler, despite their marketing.
Nib is Chromium 18.
Body is Blue Resin.
I purchased the Fine Nib.
There were only 1,000 made (FWIW).
Capped: The Pen is 6" long.
Posted: The Pen is 7.5" long.
It is an Octagonal Shape.
My Impressions:
Appearance & Design(10/10): I really love this pen. It is a dark blue with light swirls of a very light blue/white. It reminds me of waves crashing against a dark sea. I use all of my pens for work and I would definitely consider this color scheme to be on the conservative side. Not ostentatious at all, but very eye catching in a subtle way.
Construction & Quality: (10/10): This is a solidly built pen. It is very much on the heavy side, but I like that. Nothing flimsy here.
Weight & Dimensions: (9/10): This is tricky. If you do not like heavy pens, do not buy this pen. As I stated above it is 6" long capped and 7.5" long uncapped. The shape is octagonal, really a square withe edges shaved down. I have small hands and I find it very comfortable to write with. The pen posts very well. I found that when posted, for me, the pen became "back-end" heavy, thus throwing the balance off. If I had larger hands this probably would'nt be an issue, so for longer periods of writing I will leave the cap off.
Nib & Performance: (9.5/10): I went with a Fine nib, all of my pens are F or XF. The pen writes very smoothly, no skips etc..It is a bit stiff, but I like that. It puts down a nice wet, flowing line.
Here is a sample written on a piece of Rhodia Webnotes paper using Pilot's iroshizuku- tsuki-yo
Filling System: (8/10): The reason I deducted points here is because I just dont buy their "snorkle" system. To me it's just a marketing trick. I suppose if you were bent on getting the very last drop of ink out of the bottle this would come in handy, otherwise, its just another piece of kit your going to have to clean. I have filled this pen perfectly without the snorkle device and it filled great.
Final Score: 9.3 I really do like this pen, the color, the feel, the weight, the nib. My only caution is that it is heavy. I also like clip. The other unusual thing about this pen is that it is not a screw cap. It twists on and you rotate the cap or pen until they align, very nice.Same for taking the cap off, simply pull the cap and rotate it until it comes off.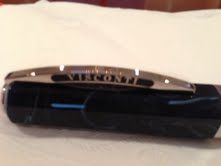 Dave
Edited by CryptoDave, 21 December 2012 - 20:29.