INTRODUCTION:
For those who are not familiar, this is a creation from Max of maxpens.de, well known restorer, nibmeister and merchant for vintage Montblancs. Max bought out the rights to the brand Astoria, which was acquired by Montblanc in the early thirties and produced as a sub-brand under MB for a few years. The modern Astoria's are all of Max's own design and production.

This was a purchase that killed two birds in one stone: I was looking for a blue pen to pair with, you guessed it, a blue ink, and I also love designs that evoke a vintage feeling. When I found out about Max's adoption of the Astoria brand, and his Goliath model which draw upon the large Montblanc pens in years gone by, needless to say I was very excited!




Appearance & Design (10):
Not that I've ever held a MB 139 in my hand, but from all reports the Goliath is supposed to be close in terms of size, and the styling is all vintage Montblanc. The hard rubber is beautifully finished. The blue is very elegant, eye-catching for its unique palette but not so sharp as to be loud. The distinctive clip and the bands are in sterling silver. The brand's logo is on the top of the cap, with a very slight domed shape and shiny finish which are sometimes not apparent from the stock pictures.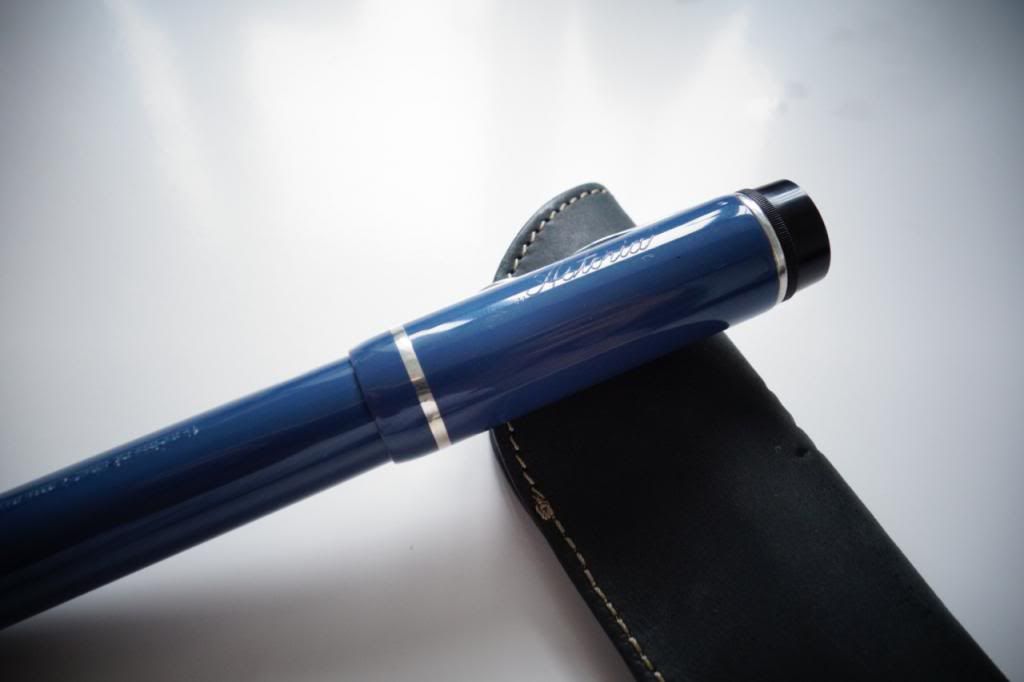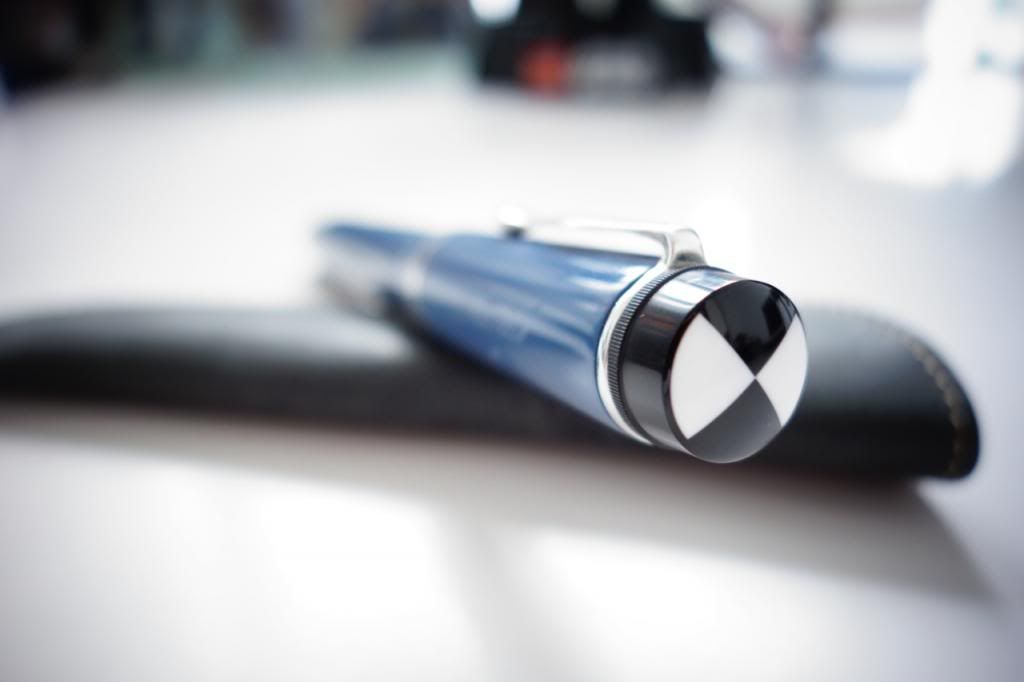 Construction & Quality (10):
Befitting its name and overall theme, this is a solidly built pen. Finishing is impeccable throughout.

Weight & Dimensions (10):
The pen is about 13.8cm long capped and 16.8cm posted by my rough measurement. This seems to be slightly shorter than what the web site indicates. The pen is in the oversize category, but feels perfectly balanced for me and my small hands - when left uncapped. The section is slightly curled inward with a very smooth finish, so the ergonomics feel great, handling is secured and assured.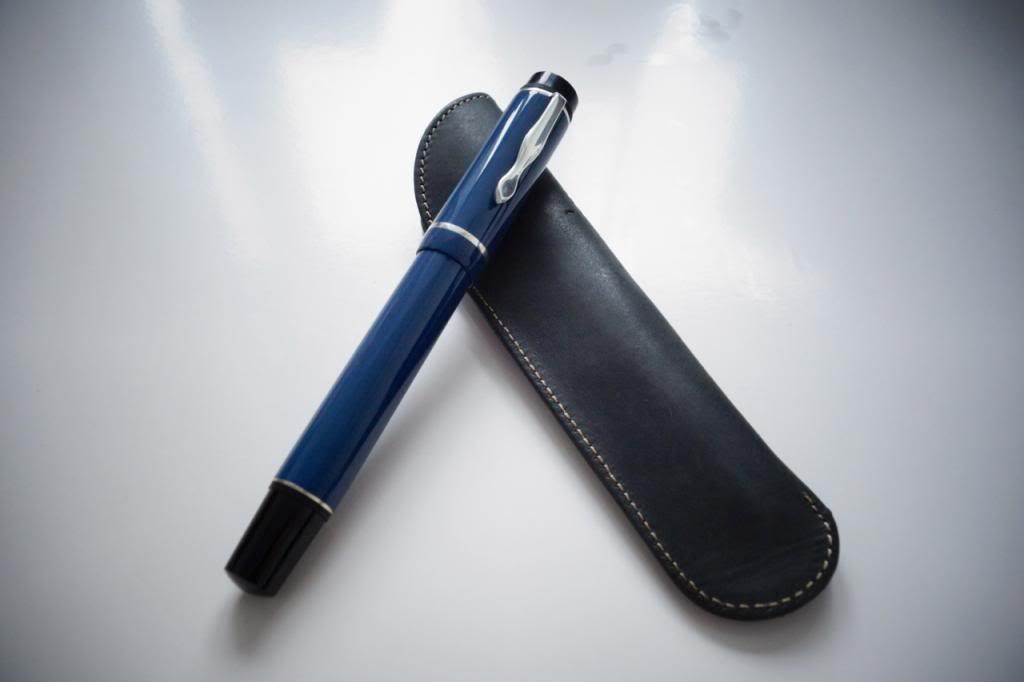 Nib & Performance (10):
Sticking with the "Goliath" theme, I ordered a broad nib. The line width is as it should be. The 18K nib is from Bock in Heldelberg, and mine came with platinum plating (AFAIK from consulting the web site.) The nib writes buttery smooth out of the box - in fact it's so smooth sometimes it feels as if the pen is just gliding across paper and I need to apply a bit more pressure to avoid losing control.
This feels like a wet writer during my initial trials with a Pilot Iroshizuku Asa-gao ink, but I have to test it with drier inks to confirm. In any case, it is not overly wet, with no feathering or bleed through issues on either Rhodia or Tamoe River paper.




Filling System & Maintenance (10):
I ordered the piston filler option which is deemed an extra; push button is the standard that comes with the pen. No technical issues of note so far.

Cost & Value (8):
I ordered this directly from Max. You can find prices on Penboard or by searching topics in FPN.

I initially put down a lower score, but then thought about the price point as being roughly similar to say a writer's edition Montblanc ... considering the vintage styling being pretty special in and of itself, and the nib from Max performing as well as it does out of the box, I figured I should go easier with the score. I would not call the pen "good value" by any means as it is expensive (to me), but the price is nonetheless one which I feel is justified after having held and written with the pen in the flesh.

Conclusion (9.5):
I am very satisfied with the pen, and would have easily given it an enthusiastic pen if not for the price point.

The Astoria Goliath absolutely nails it as a simple, elegant, vintage style pen. Max's rendition of the blue is gorgeous, so the pen looks as good as it writes. It's a pity that the pen is unlikely to be a daily writer for me at work given the choice of broad nib, but I will try using it every chance I get!




Given the proximity of color, after the Asa-gao ink from the first fill runs out, I intend to permanently pair the pen with the J Herbin LE Bleu Ocean ink ... a match made in FP heaven I say!