Hi,

In response to a
gentle nudge by Member inkstainedruth, I have posted some sample mixes of Noodler's Lexington Gray with Noodler's Galileo Manuscript Brown.

The intention of the mix is to have a Brown ink that is not too vibrant (lower chroma) and somewhat pale. This is contrary to the current fashion of colour saturation and tone, so I could not find what I wanted in the market. Clearly, it was time to fire-up the vats, cauldrons & kettles, slip into something more appropriate, and have another go at ink mixing.

The ink would be used on a fairly absorbent warm tinted paper from a slightly narrow nib. As it comes, NGNBr can be a bit too warm for my taste, especially when run on a warm paper. I wanted an overall softer reading experience, so lightened the tone to bringing the ink closer to the visual plane of the paper, and reduced the contrast on the page.

Typically, one would go about lowering the chroma by adding neutral Black, and increasing the value (light - dark) either by dilution or adding White. As I do not use Black FP ink, and have a bottle of NLGra, I used that. Also, mixing two of Noodler's bulletproof inks is more likely to result in a stable mix than combining one bulletproof ink with one that isn't bulletproof.

After running a wide range of mixes of ink and water, I thought a mix of about 2 parts NLGra + 3 parts NGM would be close, but settled on 9+20, especially when viewed on warm paper under various ambient light sources & levels. When scaling-up and for subsequent written samples, that ratio was [inconsequentially] rounded to 20 parts NLGra + 45 parts NGM.

So let's crack on . . .

☞ For convenient viewing of the images, you may wish to scroll to the menu at the very bottom of this window then ensure the FPN Theme is

.

Please take a moment to adjust your gear to accurately depict the Grey Scale below.
As the patches are neutral grey, that is what you should see.

Mac http://www.wikihow.c...te-Your-Monitor
Wintel PC http://www.calibrize.com/


≈)(≈


Figure 1.
Paper: Staples 20lb.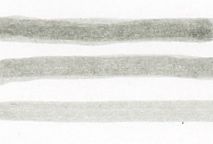 Swabs of dilute NLGra.
Diluting a dark ink makes it easier to see the underlying colour: NLGra proved to be close to neutral Grey.

Figure 2.
Paper: HPJ1124.


A few swabs leading to the 9+20 mix.

Figure 3.
Papers: Staples Creme 20lb. & HPJ1124.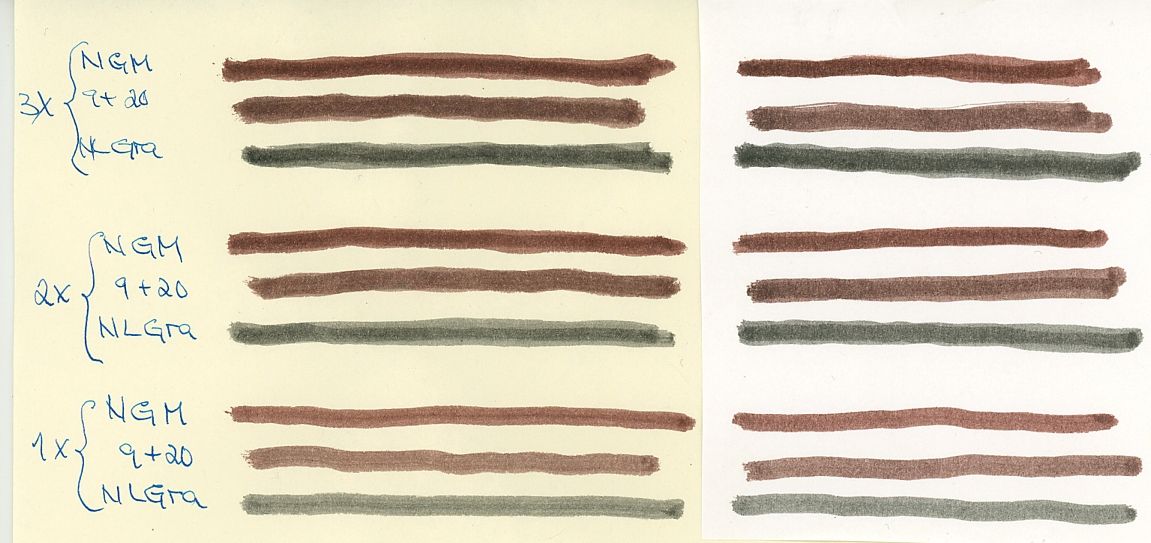 Swabs of NGN, 9+20 Mix, NLGra from 3, 2 & 1 passes.
When mixing two inks, I like to have a swab of the mix inbetween / adjacent to the source inks - it seems to help me see the balance within the mix.

Figure 4.
Paper: HPJ1124.


Swabs of 20+45 Mix done-up as for my current Ink Reviews.

Figure 5.
Written Sample - Moby Dick.
Paper: Staples Creme 20lb.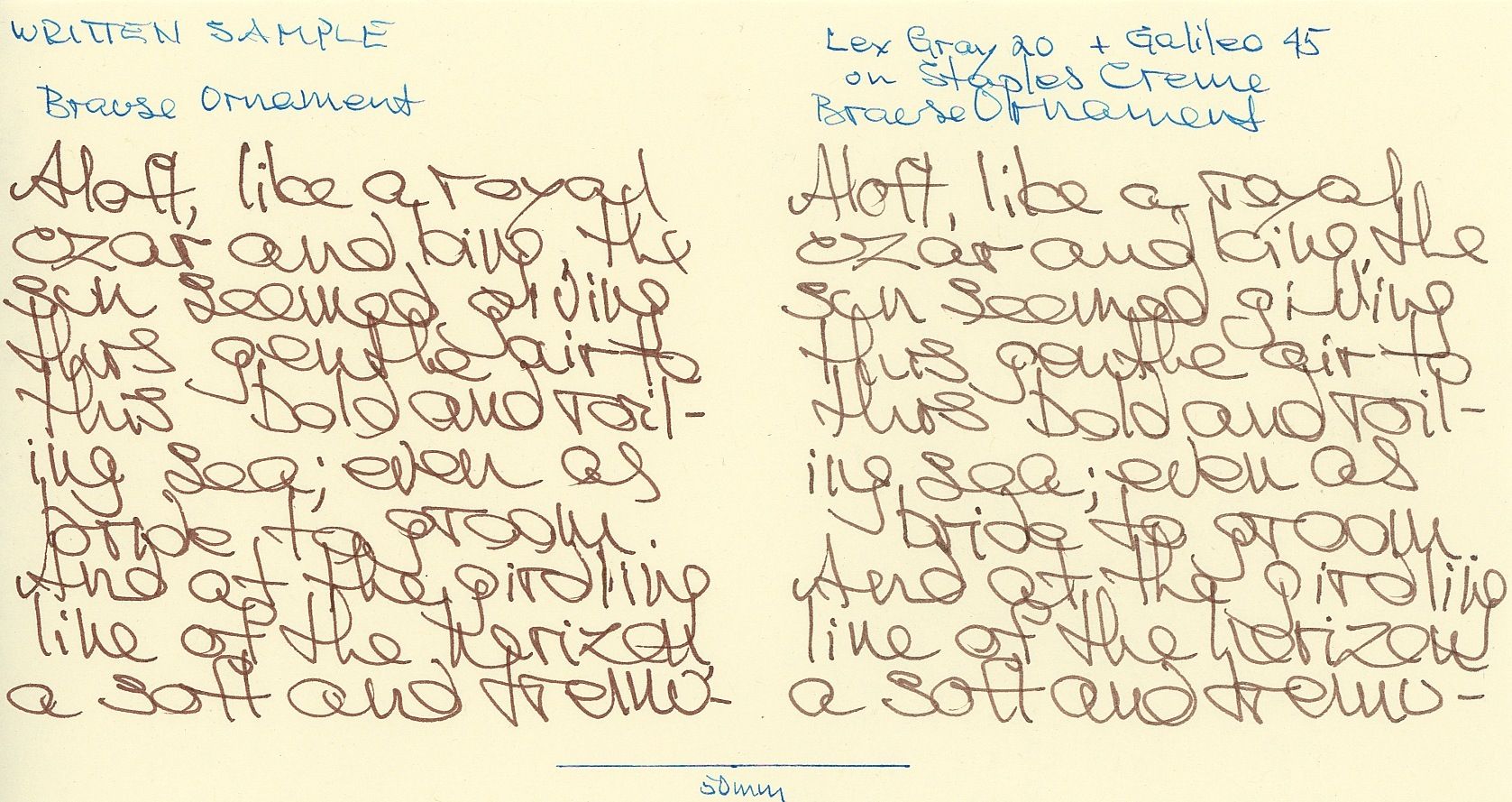 Left: Noodler's Galileo Manuscript Brown - stock.

Right: 20 parts NLGra + 45 parts NGM.
Pen: Brause Ornament 0.5mm round point with dual over-under reservoirs.

Figure 6.
HiRes Scan.

Figure 7.
Wet Tests.



Bleed- Show-Through.

Less than stock NGMBrn.
Very little on Staples' 20lb. multi-use C/P papers.
None on HPJ1124 24lb. laser C/P paper.
Stability, etc.
No difference was observed if NLGra was added to NGMBrn or if NGMBrn was added to NLGra.
Three ml of the mix was placed in a 5ml glass vial and left at rest for three days. The vial did not ex/implode; nothing untoward was observed with the aid of a 7X loupe; there were no reports of missing domestic critters, including tots; no event horizon appeared imminent; and the Ink Putti showed no signs of alarm.
A 9cm glass eyedropper was filled with the mix, then left at rest in a vertical posture for three days. No layering or separation within the standing column was observed with the aid of a 7X loupe.
As ever, I strongly suggest cleansing one's pen before and after using any of Noodler's family of bulletproof inks; and to follow a plain water flush with a chemical cleaning solution which may well contain ammonia and surfactant.

I've decided to call this mix 'Gal-Lexi'.


Bye,
S1


Edited by Sandy1, 23 November 2012 - 21:51.