At the last Dallas Pen Show, I purchased a bottle of Rohrer & Klingner Salix, an iron gall ink. I love iron gall inks, as they perform magnificently in pens with flexible nibs. Typically, iron gall inks exhibit great shading and water resistance, resistance to feathering and generally perform well on poor paper. Salix exhibits all these characteristics, and is a lovely blue-black ink, without a trace of green that some iron gall inks show.
Like most iron gall inks, Salix starts out of the pen with a bright blue tint, but it rapidly oxidizes to the traditional blue-black that most would recognize as an iron gall ink. Salix oxidizes to blue-gray in 20-30 seconds, and the color is stable after that point. The ink is dry, so a nib on the wetter side is most useful with this ink. Shading is quite impressive; there is some shading even with very narrow nibs.
Below is a scan of Salix, written with a number of different pens.
Wahl Lady Doric with adjustable XXF nib.
Pelikan M700 Toledo with BB nib.
Pelikan M450 with EF nib.
Pelikan M800 with M nib converted to cursive italic by Mike Masuyama.
Pelikan M200 with M nib.
Waterman 52 with XF flex nib.
I've included swabs from two other iron-gall inks, Montblanc Blue-Black and Lamy Blue-Black. Montblanc Blue-Black is no longer available, but I understand the currently available Montblanc Midnight Blue is identical. Lamy Blue-Black is rumored to be changing from iron-gall to a normal ink, but I've not seen a definitive answer on that. The bottle of Lamy Blue-Black I have is clearly an iron-gall blue-black ink, as it exhibits the same characteristics as Salix and Montblanc Blue-Black. Salix is quite close in color to Lamy Blue-Black, but Montblanc Blue-Black has more gray in it. I also have a bottle of Diamine Registrar's Ink; unfortunately, that ink has changed color and isn't representative of the ink you would get from a new bottle, so I didn't include a swab. You can see the color shifted Diamine Registrar's Ink in an
iron-gall ink comparison
I did a while back.
Salix doesn't feather, even on newsprint. On quality paper, such as the Rhodia No 18 lined paper in the scan, there is no bleed through and show-through is minimal. On cheap copier paper, there's bleed-through only with the wettest nibs, and no feathering at all.
Drying time varied from a few seconds for the narrower nibs to nearly a minute for the very wet Waterman 52.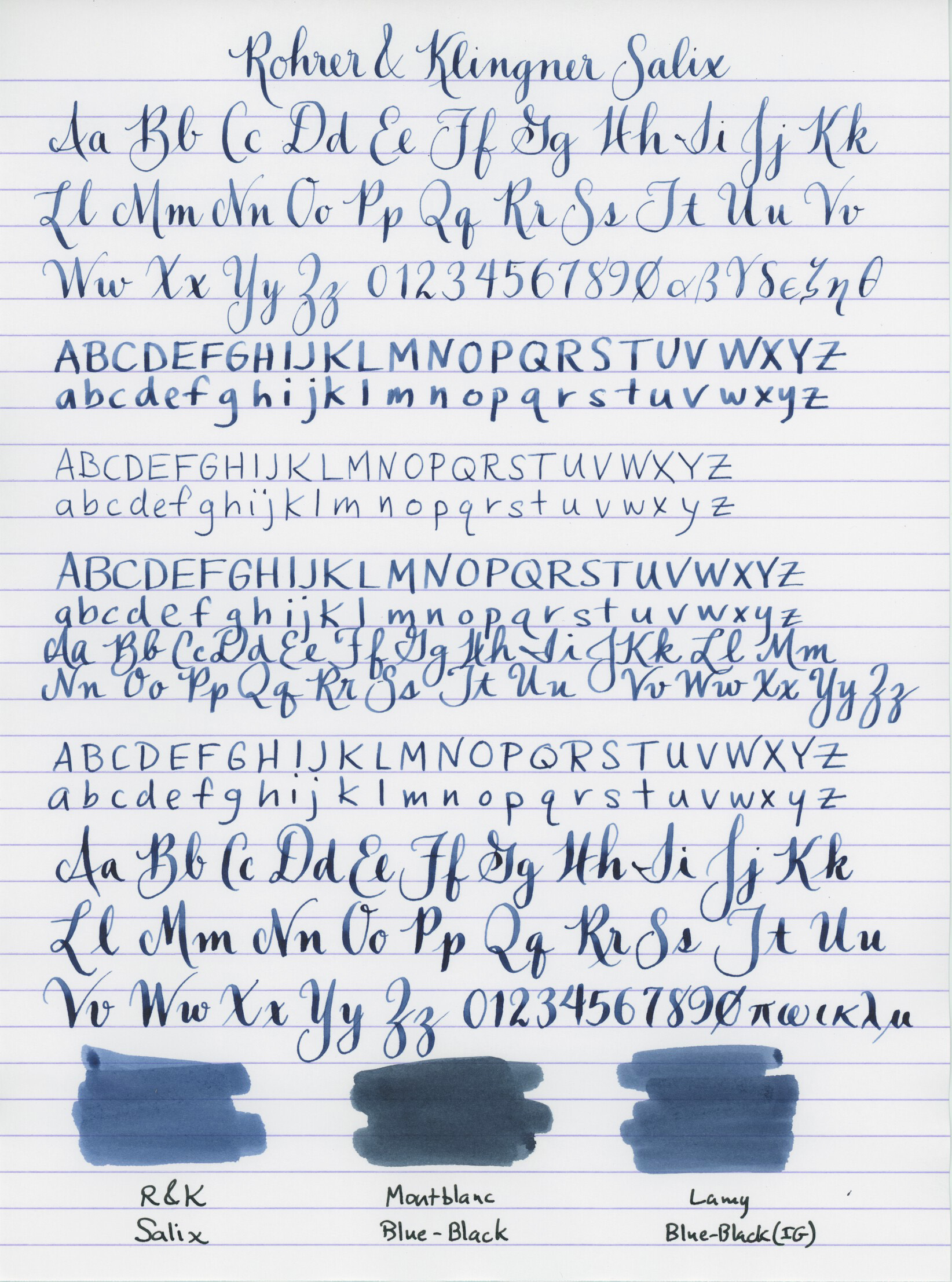 Salix is quite water resistant, losing only a little of the blue from the blue-gray and leaving behind seemingly all of the gray. Here is a sample of the ink after a 15 second rinse.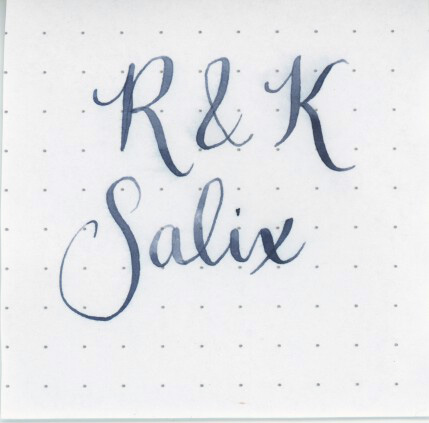 Finally, I made a paper chromatography sample for the ink geeks. The paper, cut from a coffee filter, was immediately dipped into water before the ink had a chance to dry.

Salix is a wonderful ink, with beautiful shading and excellent water resistance. Since it is iron gall, proper pen hygiene must be maintained and never, ever allow this ink to dry in your pen, or you'll have a difficult time cleaning it out.
Edited by jgrasty, 20 November 2012 - 04:31.