Here's a review of the fountain pen that got me interested in fountain pens. Not very elegant or fancy, but I used one for several years during my undergraduate career and a good many 'A's were earned with one. In that regards, it holds a special place in my list of pens.
- Design, fit, and finish -
The Tachikawa School is a fountain pen designed with the manga artist in mind. The entire pen, save for the nib, is constructed from plastic and has a semi-disposable feel to it. The quality of the pen is fair enough that one can keep using it for a long time, but the price is low enough that should something go wrong, it can be pitched for a new one. The body is a smooth translucent plastic with logos and graphics printed on it, while the cap is an opaque black. The mouldings are crisp without any flash and the pen caps up with an authoritative 'snap'. This makes for a very lightweight pen that also works great for EDC (everyday carry) - you hardly notice it in your pocket. The fit and finish is very good for the price (about $4 USD) and if not allowed to completely dry out, one pen can last for years.
In the years before I got more serious fountain pens, the Tachikawa School and School-G were the pens I used on a daily basis for everything from schoolwork to drawing to doodling fake tattoos. I even have a "real" tattoo from this pen as I accidentally stabbed myself with one. I've abused these pens more than any other and even a fall to the floor nib-first doesn't render it useless.
- Nib and writing -
The nib is constructed from stainless steel and is a simple curved flat piece of metal without any rounded balls at the tip. This can make for a scratchy feel when the pen is new, but the steel seems to be of a softer variety and quickly is worn smooth. The vast majority of the pens I've gone through have had smooth nibs that gave me little problems. The nib is stiff, but not as stiff as my Lamy Studio EF nib. While the sticker on the cap indicates a 0.2mm line, the actual line width is closer to 0.3 - 0.4mm. For the artists demanding a more flexible nib, Tachikawa offers a School-G pen with a different nib design that is a lot more flexible and can lay down a line as thick as 1mm. For everyday writing, the School is an excellent inexpensive fountain pen. I did find the School to not write as well on coarser paper as the needle-point nib would occasionally catch and gouge a hole.
The feed on the School consists of a fiber post running from the nipple where the cartridge is inserted to just in front of the vent hole on the nib. This makes for a very clean set-up as the liquid ink is essentially "locked" into the post and does away with drippy nibs and leaks, even if the pen is shaken. Feed is very reliable and lays down a consistent line at various writing speeds. As I've mentioned earlier, the nib is quite strong. I've dropped my School onto the floor nib-first before and no damage was taken. They aren't high-class nibs, but they get the job done and are sturdy to boot.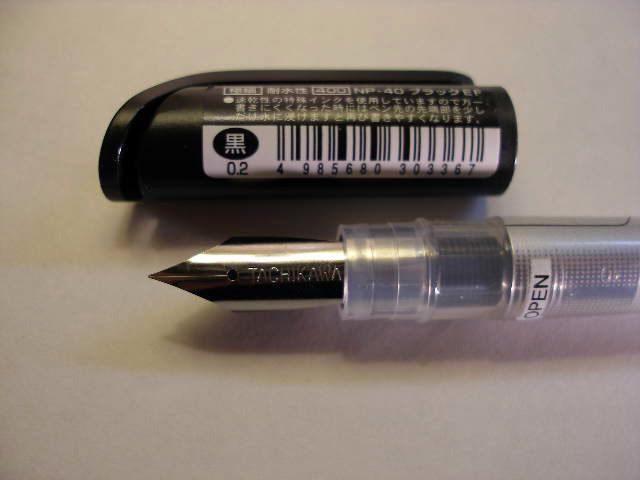 - Filling and ink -
No bottled inks for the School. The pen only accepts proprietary Tachikawa cartridges. Tachikawa offers two variety of inks: the first is a very black, waterproof, fast-dry ink; the second is a sepia coloured ink - lighter and slightly brownish. The cartridges come in packages of two, though the School is sold with a cartridge in the barrel. A small steel ball seals the cartridge and gives a satisfying "pop" when pushed onto the nipple. Once loaded, the pen should be placed in a nib-down position for a minute or two to allow capillary action to draw the ink to the nib.
If one does wish to use bottled ink, I suppose you could fill up an empty cartridge and snap that into the pen. However, it should only be done with a new School as there may be adverse reactions between inks.
I find the standard black ink to be very black and quite waterproof. The quick-drying formula lends itself well to inking large sections of art since that helps prevent smudging, but I find it tends to make for dry starts if the pen sits idle. I have not tried the sepia ink.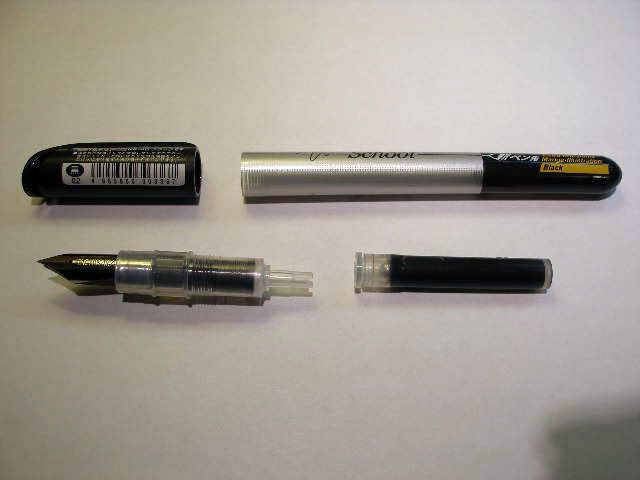 - Final Thoughts -
At the time when I got my first School, I was not able to find any in the US, so I asked my relatives from Japan to bring some over for me when they came for a visit. At that time, they were about $3 USD each, and now on-line retailers are selling them for around $4 give or take. I am a big fan of manga and fancy myself to be an amateur manga artist, hence my use of the Tachikawa. Does it really work better for drawing manga? No. In fact, I find my Vanishing Point loaded with Noodler's Black to work just as well and even better due to a better nib. The extra-fine nib does help in inking fine lines like cross-hatch shading or other fine details, and I've yet to come across a pen with such a fine nib for the same price.
Below are two very quick and rough sketches I did in pencil, followed by inking with the School. They aren't very good, but give an idea of what the pen can do.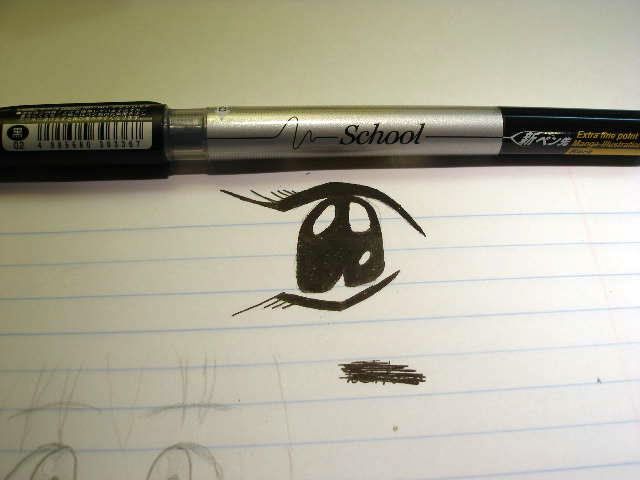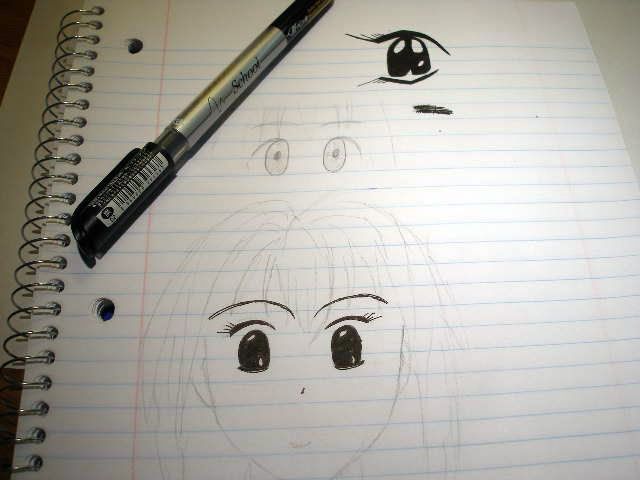 Here is a link to one on-line retailer for the School:
http://www.dmd-sales...newmangapen.htm
Will it make you a better manga-ka? Highly doubt it, but it can make you feel more like one! If nothing else, you can add another pen to your collection for less than $5.