This is my first TWSBI, but I expect the inter-brand comparisons will flood in from the real experts. Instead, here's how this pen fits into my collection of minis.
From top to bottom, in order of acquisition...
Merlina, M (semi-flex)
Montblanc Mozart, M
Sailor Sapporo, F
Sailor Sapporo, M
TWSBI Mini (clear), EF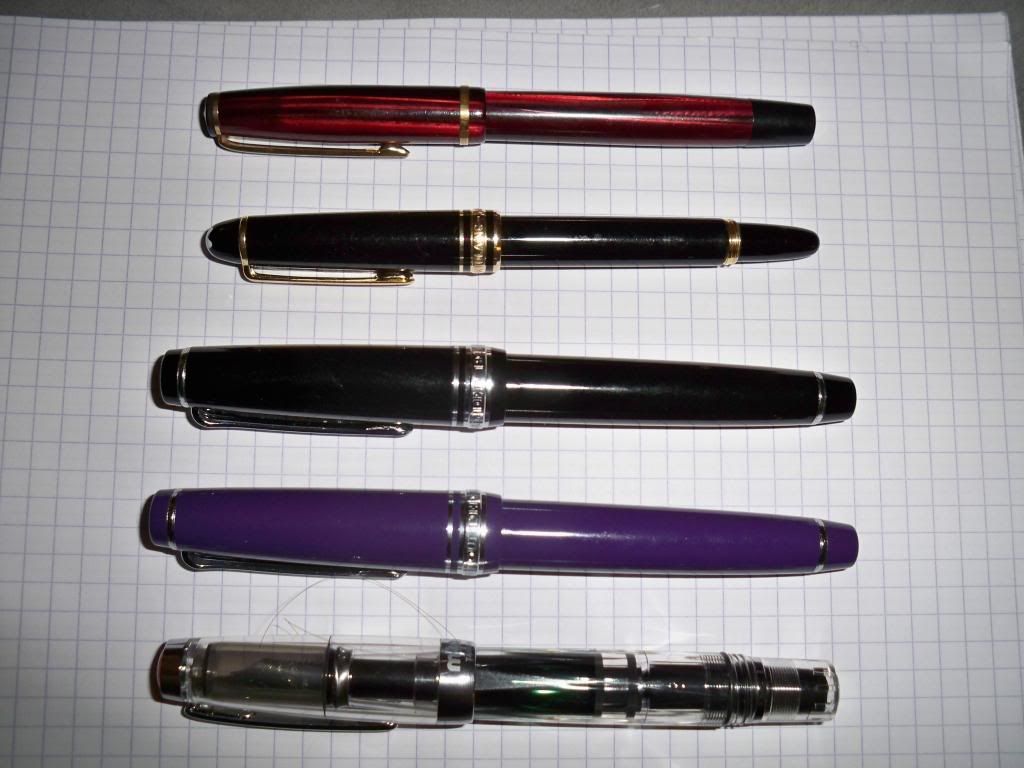 And posted: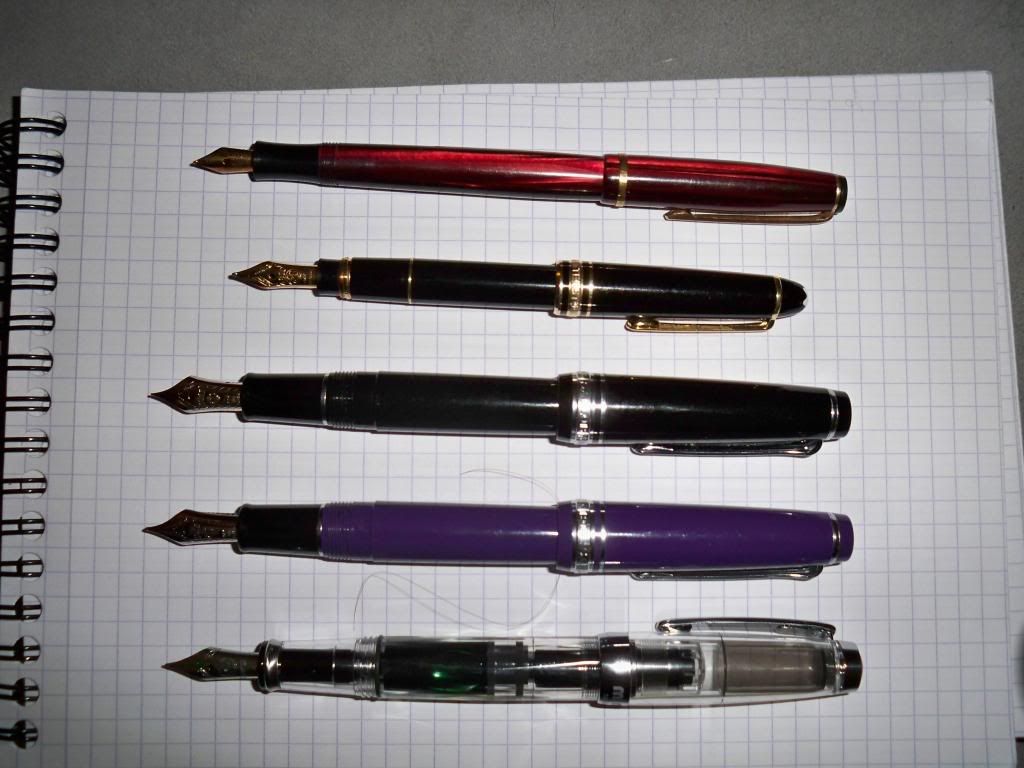 The Sapporos are my daily writers, and I wanted something that would fall between the two in nib width. After some good advice from FPN members (thank you AltecGreen, autopsy and Angry__Panda), I opted for the EF TWSBI. This turns out to be a shade broader than the Sailor fine. Bingo.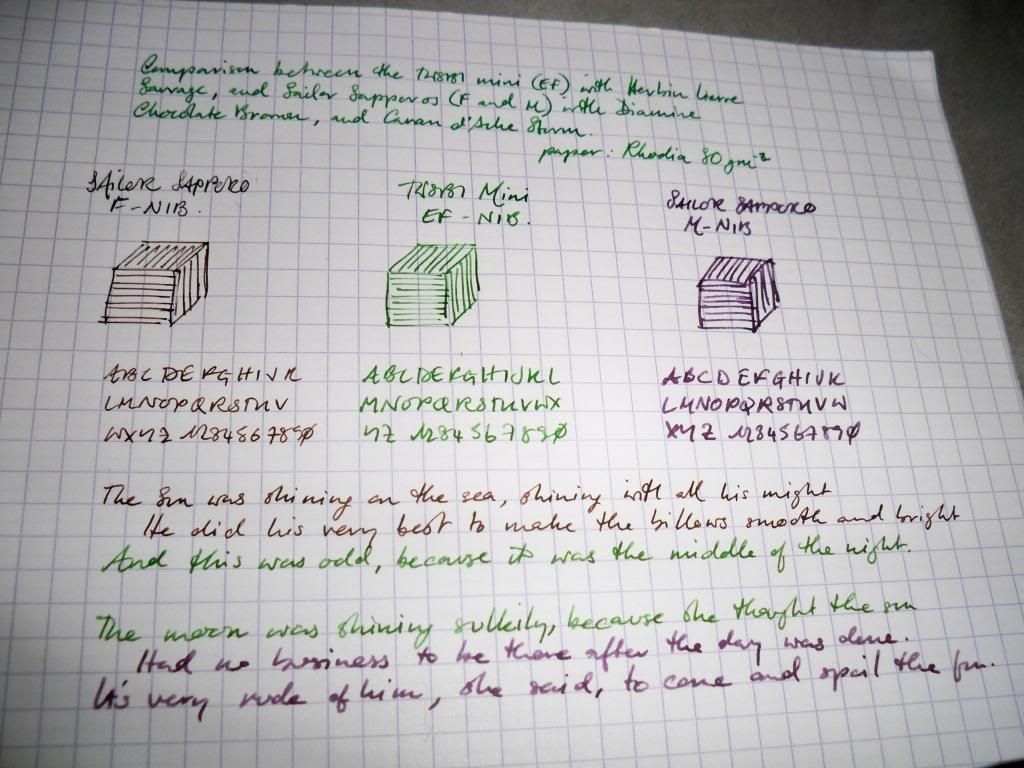 The nib is nice and smooth. Flow (with Herbin Lierre Sauvage) is nice - consistent enough to not stutter, but controlled enough to not feather on standard printer paper. Crisp, flowing lines on my preferred papers (Black 'n' Red and Clairfontaine), but slight (tolerable) feathering on Moleskine.
In looks, this is a wee bit stumpier than the Sapporos... it's not what I would call an elegant pen, but it does look sharp, and sort of sci-fi with all that clear plastic, darkly shiny rhodium trim, and futuristic cap jewel. The real bonus with this pen is that way it feels in the hand. I didn't expect to like the facets, but they're soft-edged and lovely. The weight is surprisingly substantial, and it all adds up to make the pen feel more expensive than it is.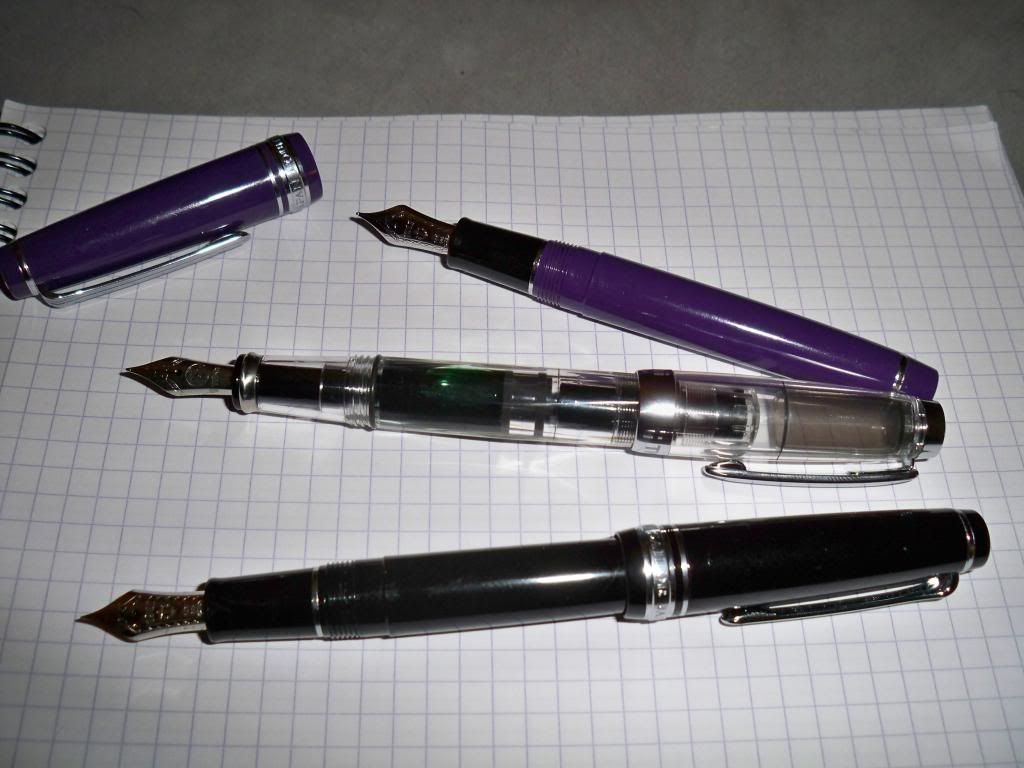 The screw-action of capping and posting the pen is slightly damped by the rubber seals, and it feels great. If (unlike me) you have doubts about mini pens, screw-posting is your friend. It feels so much more robust than push-posted pens... like a serious pen. The fairly wide barrel offers a pretty decent ink capacity... with the EF nib, one fill is going to see me through quite a lot of writing.
I don't really do marks out of ten, but I can see this becoming a real workhorse for me. I'm already thinking about who might need one for Christmas. And at the price, I might even get a second one to leave in work.