☞

For convenient viewing of the images, you may wish to scroll to the menu at the very bottom of this window then ensure the FPN Theme is



Please take a moment to adjust your gear to accurately depict the Grey Scale below.
As the patches are neutral grey, that is what you should see.

Mac http://www.wikihow.c...te-Your-Monitor
Wintel PC http://www.calibrize.com/

Grey Scale:



As I do not wish to be earn the handle 'Queen of The Bandwidth Bandits', wee image thumbnails are used where indicated. To view those image as intended, kindly left-click its thumbnail.


~♢~


Note: As with all Noodler's cellulose-reactive (C-R) inks, NGMBr was given an almighty shaking prior to use, then allowed to rest until the ink returned to room temperature and the froth on the ink subsided.



Fidelity



At the time of writing, there is no 'official' depiction of this ink, so fidelity to the ink used here cannot be determined.

Figure 1.
Swabs & Swatch
Paper: HPJ1124.



Figure 2.
NIB-ism ✑
Paper: HPJ1124.

Depicts nibs' line-width and pens' relative wetness.
Thumbnail: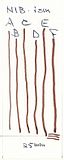 Pens: L ➠ R: PCP, Safari, C74, 45, Phileas, Prelude.



WRITTEN SAMPLES - Moby Dick
Ruling: 8mm.

Figure 3.
Paper: HPJ1124.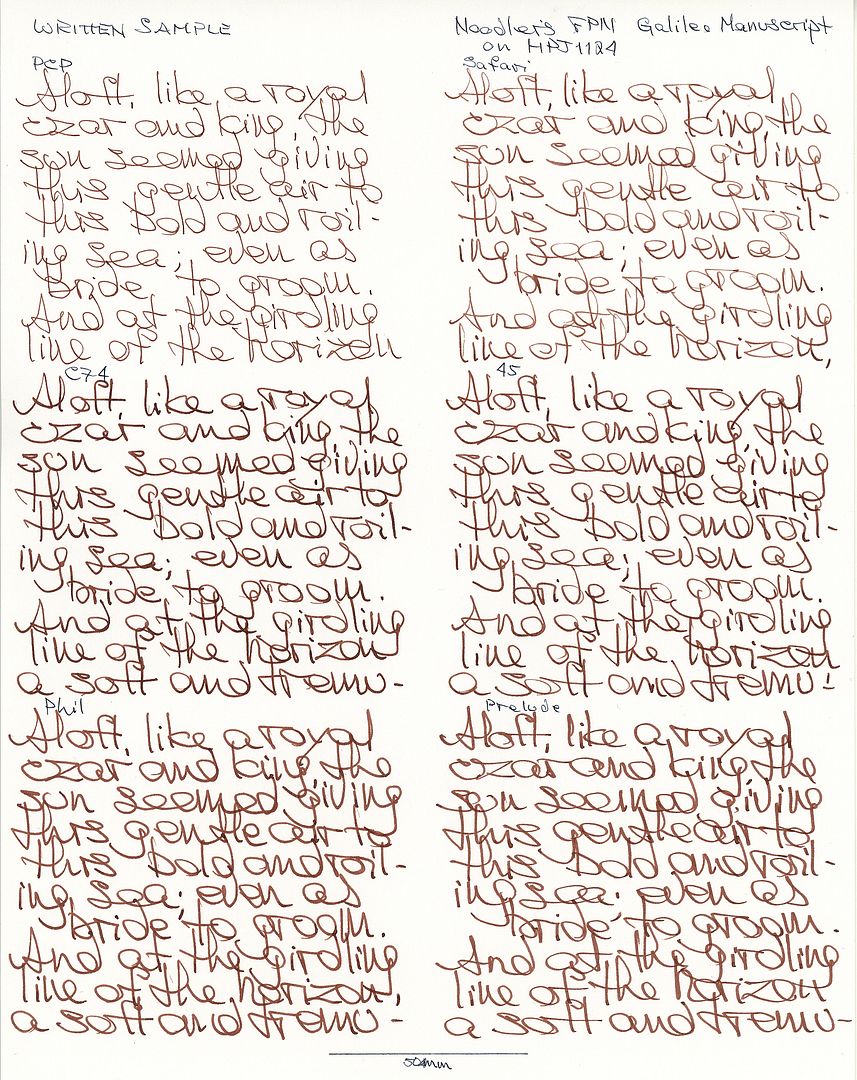 Figure 4.
Paper: Rhodia.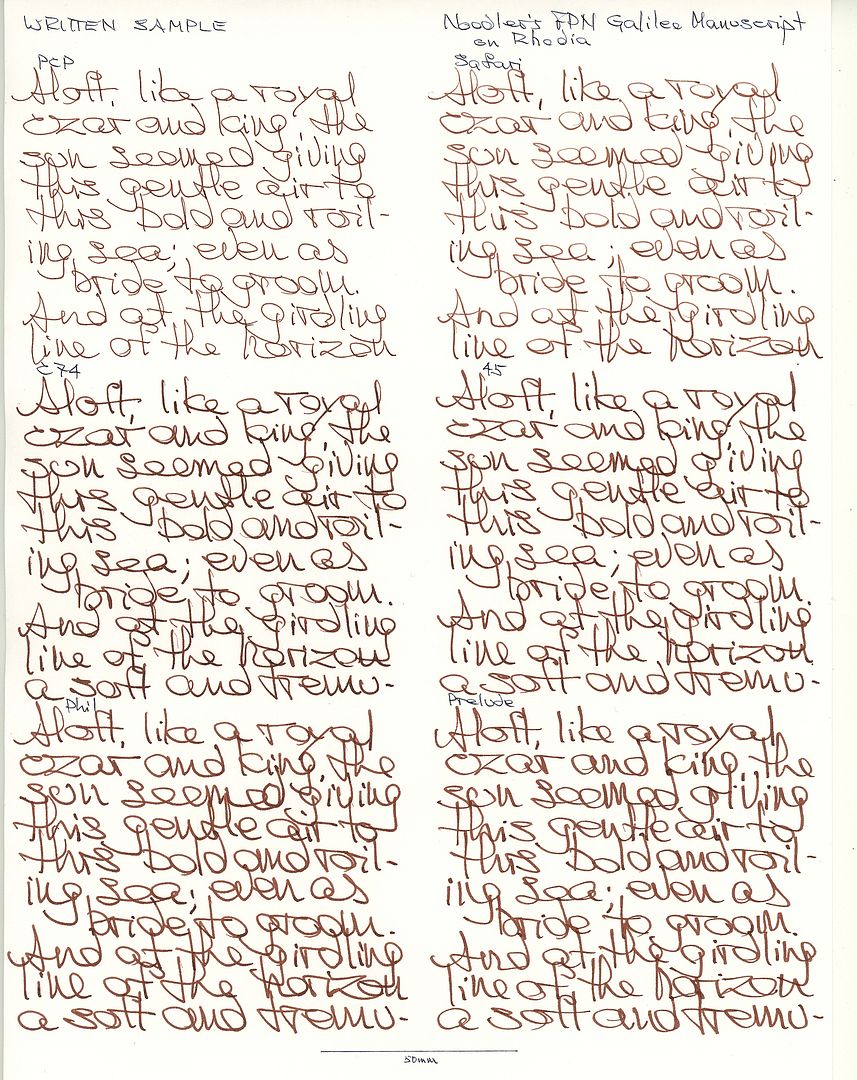 Figure 5.
Paper: G Lalo.


Figure 6.
Paper: Royal.



Figure 7.
Paper: Staples.


Figure 8.
Paper: Staples Creme.



Figure 9.
Grocery List
Paper: Pulp.



OTHER STUFF

Figure 10.
Smear/Dry Times & Wet Tests.



Figure 11.
Performance as a watercolour.
Paper: Arches.

Top: Lines from the Phileas; strokes from dry and wet brushes.

Middle: Lines & brush strokes that were dry, then wet sponged to remove ink that may be water soluble / loosely bonded to the paper.

Bottom: Lines & brush strokes that were dry, but not sponged, then over-worked with a pale Blue. Dots are just the Blue.



GENERAL DESCRIPTION

Type:

Cellulose-reactive fountain pen ink.
Presentation:

Availability:

At time of posting, sales were temporarily suspended

So that matters concerning availability can be shared with a wider readership, please address those concerns in either of the above Topics.

Fingers crossed, soon come!
Daily writer?

A go-to ink?

When one seeks a durable warm Brown.

USE

Business:
(From the office of Ms Blue-Black.)

As ever, I have trouble considering Brown for business correspondence, typically suggesting that the ink be run at high density to somewhat submerge the colour. NGMBr is no exception, especially considering the warmth of the ink.


Brown might be considered for lateral and downward correspondence, especially notes of casual nature.

A good pick for personal work product; even though a bit warm at 'native' density, it certainly moves along well and is should be very readable.

A good pick for dedicated use on forms and other material printed in Black.

Possible for editing and mark-up of material in Blue through Black; and very good for marginalia.

Far too convivial for error correction / marking.
Illustrations / Graphics:

A likely pick as a 'definitive' Brown for charts and graphs.

Line quality is very high indeed, with low shading potential, so taut lines and tiny labels are taken in stride.

For watercolour work, there is considerable water resistance, so might be considered for foundation lines / blocking that may be over-worked. Some pale yellow dye did come adrift, causing colour shift. I suggest that prior to over-working, one remove any ink that could come adrift. (See Figure 11 above and Hi-Res image on Arches below.)
Students:

A very good pick.

Perhaps a bit warm, though 'lowest bidder' paper is likely to be rather absorbent, which will have the ink appear somewhat darker and slightly less vibrant.

Sufficiently durable to allow reading during visits to the hamam, where the ink would likely outlast the paper.
Personal:

Hmm . . .

It is a most welcome addition to my growing array of Brown inks, but just that bit too warm for me to use with any regularity; and may represent the warmest Brown that I am really comfortable using. (Any warmer, I would rather leap to R&K Alt Bordeaux, PR Black Cherry, etc.)

I use it for personal 'personal' correspondence, especially to recipients who have let it be known that I should 'lighten-up'. (Ha!)

I've been using NGMBr mostly on G Lalo Verge de France Ivory and other heavy textured papers with natural to warm base tints. The lack of shading does not always appeal when I want to use smooth paper with wide mono-line nibs.

I prefer the rather soft stub-ish nibs to enliven the mono-tone line somewhat. As a matter of personal taste, I prefer to increase the nib width as the base-tint of the paper becomes warmer. e.g. PCP on HPJ1124 moving to the Prelude on G Lalo; and for very warm tints, out come the wider Stubs such as the Carene and the M200 1.0mm from richardspens.

The results are quite something when this ink is used by skilled calligraphers.

The performance profile certainly supports using any manner of pen or paper with this ink. Unless tone is very pale, it holds its colour well from narrow nibs, and doesn't appear congested from the wider nibs.

PHYSICAL PERFORMANCE & CHARACTERISTICS

Flow Rate:

A bit on the wet side.

I felt a minor surge after a brief pause in writing, but visual density on the page was consistent.
Nib Dry-out:

Start-up:

Immediate.

With confidence.
Lubricity:

A bit high.

Running narrow nibs on coarse paper was just OK.
Nib Creep:

Yes.

One of my pet peeves.

Staining (pen):

Not seen after three days.
Clogging:

*



Bleed- Show-Through:

Rhodia : C74! LINK


Staples Creme : 45, Carene.

Royal : 45, Carene.
Feathering / Wooly Line:

Aroma:

Hand oil sensitivity:

Clean-Up (pen): *

Prompt and thorough with plain water.

As a matter of course for C-R inks, I use a pen cleaning solution containing ammonia and surfactant.
Mixing:

Discouraged.

May compromise the ink's durability.

Other Noodler's cellulose-reactive just might be tried. (I've had success with Lexington Gray, which was used to lower the chroma and 'cool' NGMBr.)
Archival:

Claimed, though no standards exist for determining archival properties of FP inks.
- - -

* I for one consider the cellulose-reactive inks to require higher maintenance than simple dye-based inks.

Pens should be scrupulously clean before charging, and thoroughly cleansed after use.
Internals of caps & barrels should be washed, and the pen disassembled to the extent that one is confident that it can be re-assembled after cleansing. e.g. Remove nib from section of Parker 45s, detach Lamy Safari nib from feed, take an Ahab to bits.
Commercial and home-made pen cleaning solutions may be used to advantage, as might a soak of less than eight hours.
It is not my practice to let ink linger in an unused pen, so I cannot pass along any advice about long-term use based on experience.
Some practitioners are reluctant to use such inks in pens which are inherently tedious to remove the last vestiges of a persistent ink. e.g. Vacumatics, Snorkies.


THE LOOK

Note: NGMBr does not have the chalky appearance of some other Noodler's bulletproof inks.

Presence:

Warm neutrality.

Inviting.

Saturation:

Quite high.

A fully inked line can be achieved from a slightly wet pen.

The vast majority of the feint lines on the Rhodia were over-written.
Shading Potential:

Line quality:

Very high for the most part.
Variability:

Pen+nib combos used:

†

Papers used:

Less than expected.

The unexpected bleed-through from the rather wet C74 on Rhodia may indicate some sort of threshold of two-sided use, yet there was no bleed-through from the 45 on Staples 20lb white.


Malleability:

Low.

Typical of well saturated cellulose-reactive inks, it tends to deliver a very similar appearance unless pen+paper combo is well outside the norm.

The wily practitioner would likely choose pen before paper if trying to achieve a somewhat different appearance, as well as modifying their writing technique.

- - -

† Noodler's offers suggestions as to the preferred nib set-up. LINK

As ever, I do not cherry pick or adjust the pens used in a Review to match an ink: I prefer a representative array of common pens. I believe the results shown here indicate that it is not necessary to use an unusual nib set-up, which is a very good thing. *adds Konrad to wish list*




Hi-Res Scans

:

Originals are 57.2x45.1mm.
All images are thumbnails.


PCP on HPJ1124:


C74 on Rhodia: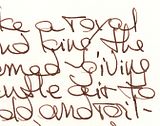 45 on G Lalo: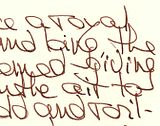 Prelude on Royal: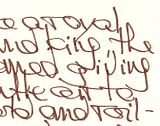 Phileas on Arches: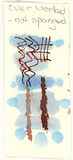 OTHER INKS

This Review uses the same Written Sample format, atrocious handwriting and some pen+paper combos common to most of my previous Reviews of Brown inks. Consequently, ad hoc comparisons through manipulation of browser windows is supported.
Should that functionality not meet your requirements, I welcome your PM requesting a specific comparison. Additional scans may be produced as time and tides permit, but the likelihood of additional inky work is quite low.



Swab Swami



Thumbnail:



Left ➠ Right: Diamine Chocolate, Noodler's Walnut, Herbin Café de Îles, Waterman Havana (now 'Absolute Brown').


PAPERS

Lovely papers:

Crisp whites, though I find it a bit stark.

Textured papers with a warm base-tint.
Trip-wire papers: ☠

Those that are highly absorbent or overloaded with optical brightening agents, OBA.

Copy/Printer paper:

Very good results were achieved.

As usual, to avoid bleed- show-through when one is surrounded by lightweight C/P papers, I suggest use of a dry-ish pen.
Tinted papers:

Definitely.

I consider the warm tints to be the home range of this ink.

At high density, it just might handle a pale to medium Blue.
Is high-end paper 'worth it'?
Not so much, driven primarily by appearance, not to match performance.

NGMBr showed what it has to offer even on the Staples' papers.

ETC.

Majik:

Not really - not sufficiently malleable.
Billets Doux?

I'd have to be playing dress-up; and my wardrobe is quite short on Italian Renaissance kit.
Personal Pen & Paper Pick:

Prelude on G Lalo.

This is one of my favourite pen+ink+paper combos: each participant balanced to give a unified whole.


The pen gives a good density line on the hard textured paper, and the factory Stub gives a soft bit of line width variation.

The laid verge texture adds tactile presence and visual interest.

The base-tint of the paper seems just right for the density of ink from the Prelude.
Yickity Yackity:

I hadn't thought that I'd find a place for such a warm Brown ink, but expected the unexpected.

Ah kushbaby, now this might be a bit more interesting than the oh-so-simple Lamy BlBk when duty calls.

======

NUTS BOLTS & BOILERPLATE

Pens

A. Platinum Carbon Pen+ g-p steel überfine nib.
B. Lamy Safari + steel F nib.
C. Pilot Custom 74 + № 5 14K Soft Fine-Medium nib.
D. Parker 45 + steel M nib.
E. Waterman Phileas + two-tone steel B nib.
F. Sheaffer Prelude + factory stock steel Stub nib.

Dimine Indig☹ from a Pilot Penmanship + EF.


Papers

HPJ1124: Hewlett-Packard laser copy/print, 24lb.

Rhodia: satin finish vellum, 80gsm.

G. Lalo Verge de France: natural white, laid, 100gsm.

Royal: 25% cotton, laser/inkjet copy/print, 'letterhead', 90gsm.

Staples White: house brand multi-use copy/print, USD4/ream, bears FSC logo, 20lb.

Staples Creme: 'Pastels' house brand, copy/print, USD9/ream, 20lb.

Pulp: Calendar page.

Arches: 100% cotton, watercolour, cold press, white, ISO 9670 compliant, 185gsm. Soaked but not stretched.

Imaging

An Epson V600 scanner was used with the bundled Epson s/w at factory default settings to produce low-loss jpg files.

Figures shown were scanned at 200 dpi & 24 bit colour.

Hi-Res images linked were scanned at 300 dpi & 24 bit colour.

No post-capture manipulation of scanner output was done, other than dumb-down by Epson, Photobucket & IP.Board s/w.

Densitometer Readings on HPJ1124

Red 151

Grn 90

Blu 74

Lum 99
Fine Print
The accuracy and relevance of this Review depends in great part upon consistency and reliability of matériel used.
Ink does not require labelling/notice to indicate (changes in) formulation, non-hazardous ingredients, batch ID, date of manufacture, etc.
As always YMMV, due to differences in materials, manner of working, environment, etc.
Also, I entrust readers to separate opinion from fact; to evaluate inferences and conclusions as to their merit; and to be amused by whatever tickles your fancy.
-30-

Tags: Fountain Pen Ink Review Sandy1 Noodler's Galileo Manuscript Brown FPN Exclusive

Edited by Sandy1, 11 October 2012 - 07:24.