Registration on the Fountain Pen Network
Dearest Visitor of the little Fountain Pen Nut house on the digital prairie,
Due to the enormous influx of spammers, it is no longer possible to handle valditions in the traditional way. For registrations we therefore kindly and respectfully request you to send an email with your request to our especially created email address. This email address is
register at fountainpennetwork dot com
. Please include your desired
user name
, and after validation we will send you a return email containing the validation key, normally wiithin a week.
Thank you very much in advance!
The FPN Admin Team
Jinhao 9009
Started by minimax447 , Aug 18 2012 15:23
2 replies to this topic
Posted 18 August 2012 - 15:23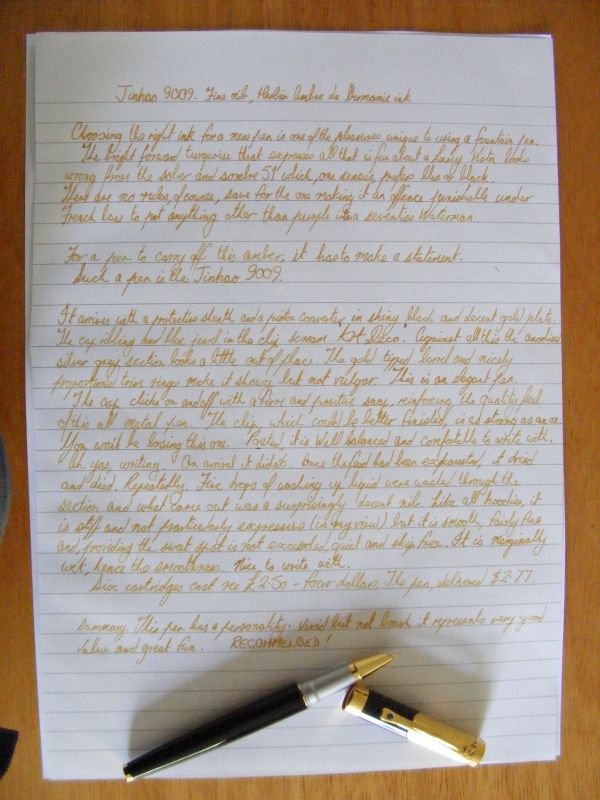 ---
Posted 19 August 2012 - 23:21
Great review! Jinhaos are bang-for-buck pens of a high order.

"I was cut off from the world. There was no one to confuse or torment me, and I was forced to become original." - Franz Joseph Haydn 1732 - 1809
---
Posted 20 August 2012 - 06:01
thax for the review. i'm glad you didn't destroy your collection
.
---
---