I thought I would take a few moments to give my first impression of the Beijing Jinxing 28. I first became aware of the pen after a post on this sight asking for information on it. They listed an ebay site where the vendor was selling NOS 1990s vintage ones. Since I have been in the Chinese pen acquisition mode, I figured I would take a chance. Twenty bucks and nine days later the pen arrived.
My first thoughts were about how light the pen is. The barrel, and section are made from the same plastic. It feels similar to that used in Heroes or Wing Sungs, if a bit thicker. Does it feel "cheap?" Hard to say, it doesn't feel substantial, but neither do celluloid pens to me. It doesn't seem overly brittle and doesn't crack when you mash it a bit.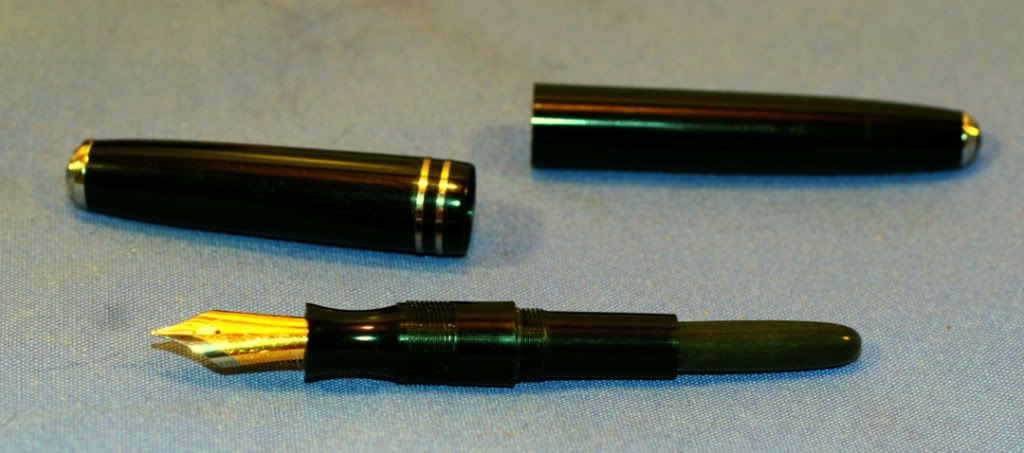 The cap screws to the body and posts securely when writing. The pen disassembles into four parts -- the cap, the body, the section and another piece which joins the barrel and section. (see pics) I am not sure why this fourth section exists since it seems it would be simpler to mold it so the barrel just screwed into the section.
Speaking of the section, it is concave and provides a guide for your fingers -- as long as your fingers fit in the grooves, as mine do, however I can see how it could be a problem for people with larger hands. (my hands aren't what you would call small.)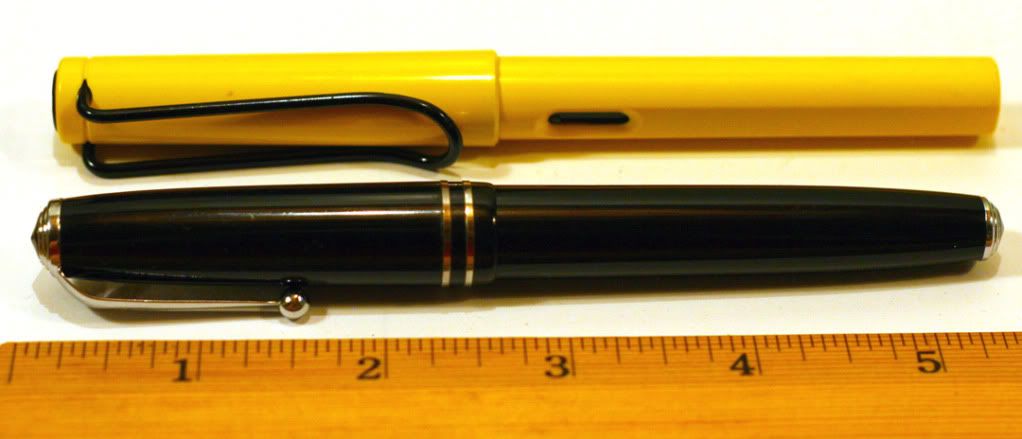 compared to Lamy Safari

The filling system is simplicity itself, though what you think of it will depend on your worldview of simple items. It uses a polyurethane sac and you just dip the nib in the ink, squeeze the sac with your fingers and the ink is drawn up the breather tube into the sac. It takes about two squeezes to fill the sac fully. In other words, it works like any button or lever filler only with your fingers instead of a pressure bar. If the sac were to break, it would be a simple matter to replace (looks to be in the 18-20 range)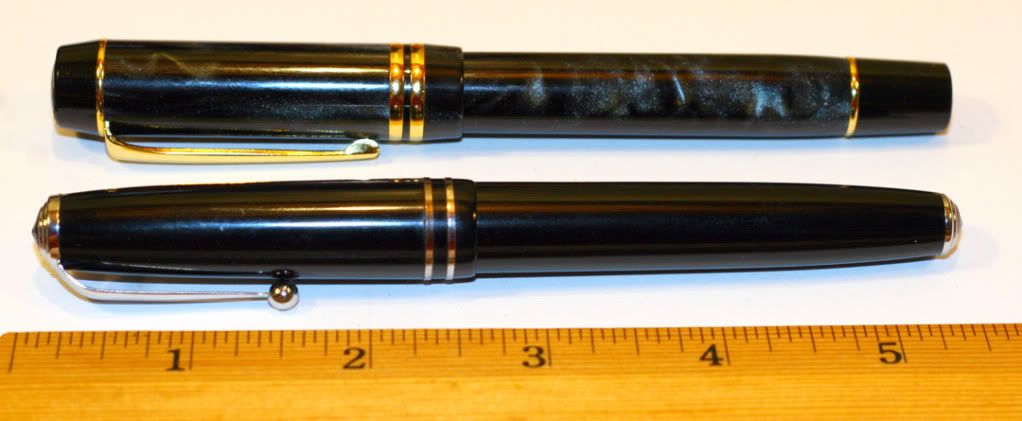 With Kailegu 316
As you can see the pen itself has a very elegant look, simple maybe not as refined on close inspection, but elegant. The two metal bands are not quiet flush with the plastic and form a sort of ridge around the cap. You don't see it so much as feel it when you run your fingers over it. Also the ball on the end of the clip, isn't -- a ball that is. The underside is hollow and on my T-shirt it grabbed the clothe and tried to rip it. If I end up using it as a daily writer, I suspect I will fill in the gap with putty to smooth it out.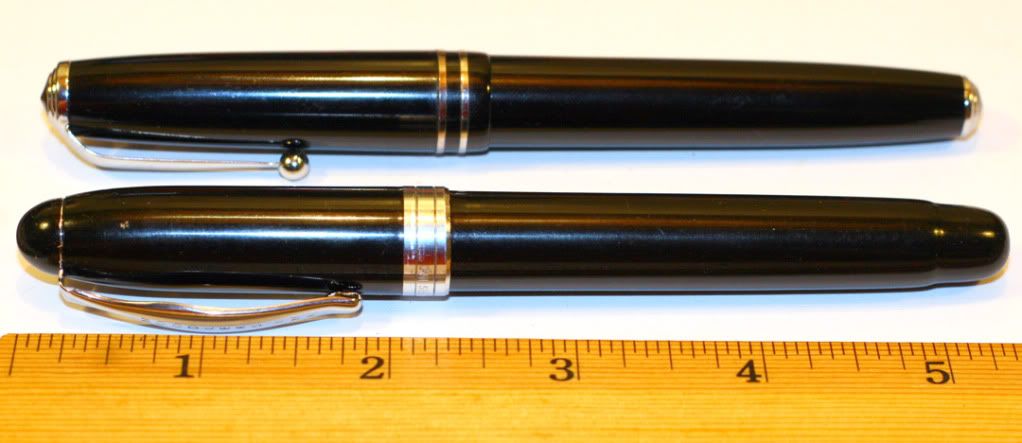 Noodler's Ahab and Beijing Jinxing
The jewels on each end are a bit more matte, maybe a satin, in contrast to the high gloss barrel and cap. They are small enough that most won't notice, it just depends on your severity of OCD.
The nib is probably the best thing about the pen. A two-toned steel affair, it writes between a western fine and medium. It has a touch of feedback, much less than my Auroras, and not so much anyone would call it scratchy. The ink flows nicely and is neither too wet nor too dry. After a 16 hours laying horizontal on the nightstand, I picked it up and began writing right away.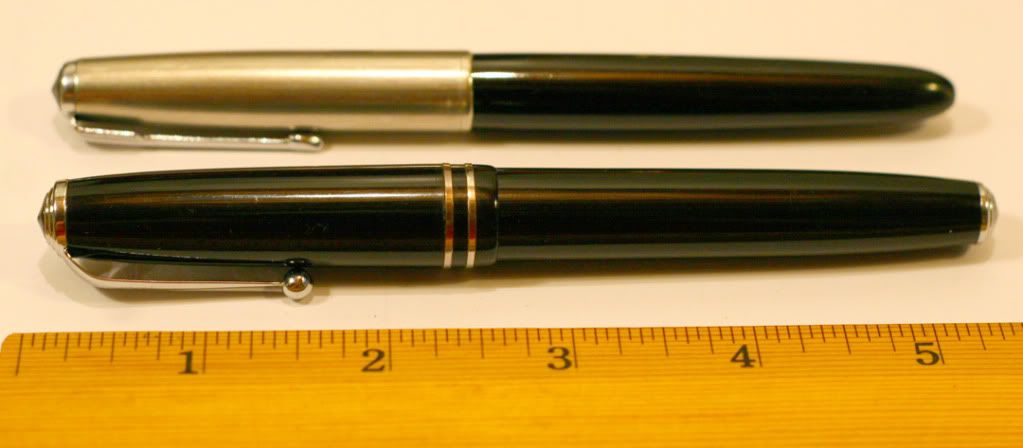 Size vs Parker 51
So far it has been an excellent pen. As the days go by I will try to update this thread with any other thoughts I have. But initially I can say this is a very nice pen for a good price. One I think I will be using for a while.