Stephens' Radiant Blue Ink
For those of us in the States, Stephens' ink doesn't show up on people's shelves, or in this case, show up in antique shops. This bottle contained some ink, largely dried. I added water before using it. The color is its concentrated state radiated blue, much like its name. Adding back the water improved flow but took away some of radiance.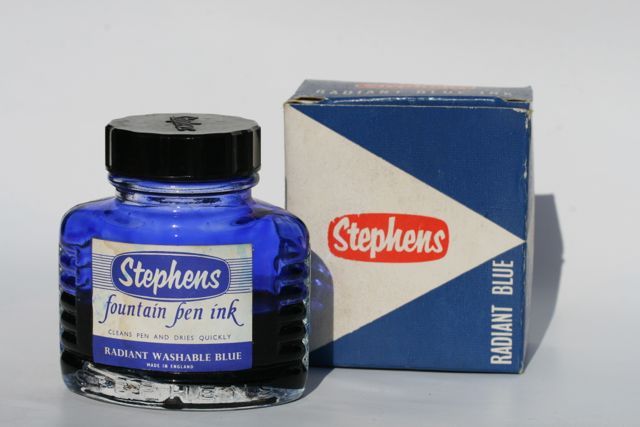 Stephens' Ink (pronounced "stee-vens") was ink-history, not so much by its developments, but by its success. The company was started in the early 1830s by Dr. Henry Stephens, a London surgeon, who created the "Blue-Black Writing Fluid." There were a lot of advancements ink at the time. But Stephens was successful at producing a free-flowing ink that didn't stick to or corrode the steel nibs. He began producing and bottling his ink in his own house. He purchased the famous Avenue House, in Finchley, of North London, where he set up his own laboratory. Upon Henry's death, his son Henry Charles "Inky" Stephens continued and expanded the business. The Treaty of Versailles was supposedly signed with Stephens Ink.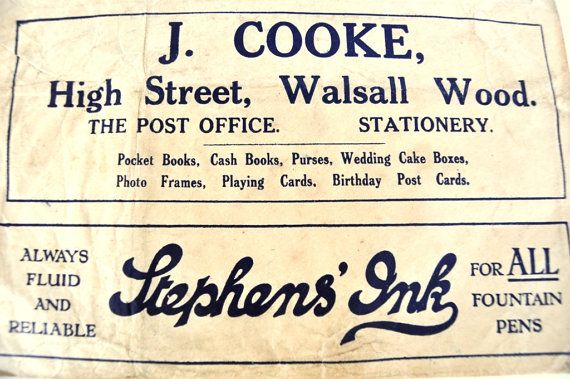 Here is a Stephens ink advertisement from the mid-Twentieth century, London. It is available for
sale.
Stephens Ink graphics and advertising was a staple of 20th Century in Great Britain, especially on rail travel.
The company continued to expand and in 1872 moved its offices to 275-1/2 Holloway Road. In 1892 the Gillespie Road factory was built near the Arsenal to designs by Henry's son, Michael. A dominant feature of the building was a large factory chimney with STEPHENS emblazoned on it. The Gillespie Road factory was demolished in the mid 1960s when work was transferred to an old dairy factory at 100 Drayton Park. By this time the company was taken over by DRG Royal Sovereign Group. The Drayton Park building had ceased operations and was converted to apartments in the mid-1990s. By my research, the ink production stopped in the early 1960s, but this is unclear. The company survived for over 130 years before it was finally taken over by DRG Royal Sovereign.
"Inky" Stephens became a member of parliament from 1887-1900 for Hornsey, near his Avenue House in Finchley, part of North London. He became affectionately known as "The Uncrowned King of Finchley." The Avenue House still survives today, and is available for tours, containing many of the Stephens factory artifacts.
Stephens' Radiant Blue ink was one of their signature inks, probably a 30-year-old formula based on their various bottle designs. This is a rather popular color, produced also by other companies as Waterman Florida Blue, Gimborn Washable Blue (discontinued), and J. Herbin's Eclat de Saphir. Judging by the bottle design, I would say it's probably from the 1950s, although the art on the box suggests probably late 1960s. I am unsure how long Stephens was producing ink.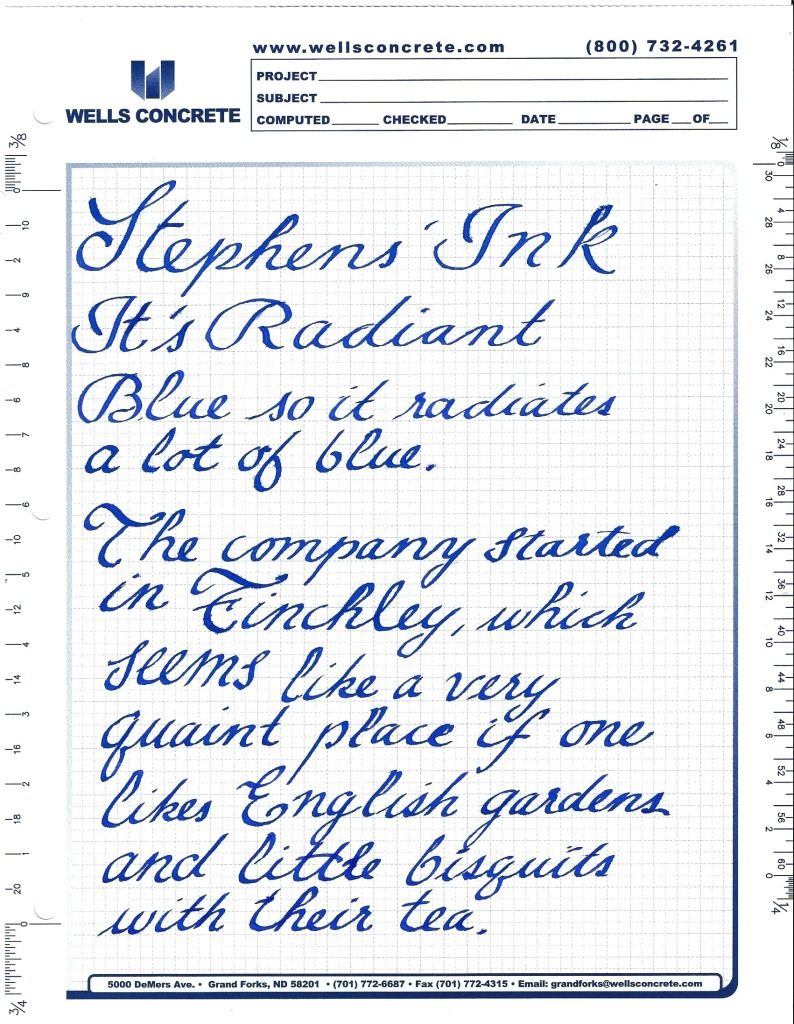 What does this little exercise prove? One, this vintage Pelikan Graphos technical drawing instrument can really pour out a lot of ink. Two, the Stephens' ink doesn't pour through the paper, yet maintains its radiant blue-ness. Three, I need to keep practicing with these pens.
After I received this bottle, I added water back to the concentrated ink to improve flow. It worked extremely well. It's a washable ink with excellent flow characteristics that provided me with no trouble. As shown in the color pallet, it's almost identical to Waterman's Florida Blue, just slightly darker. I purchased the Waterman bottle new about 5 years ago.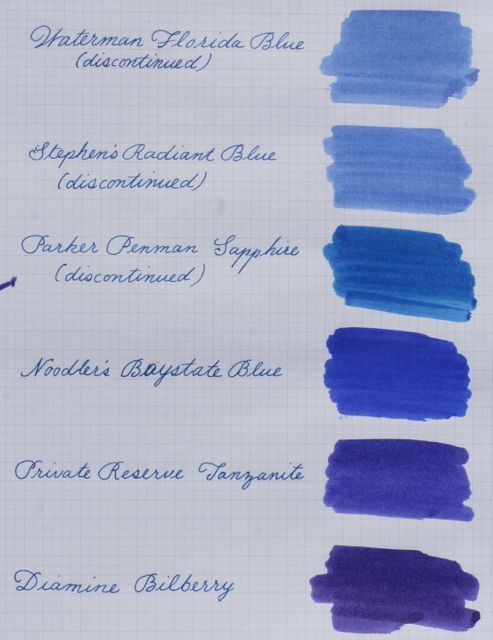 Blue ink comparison. This ink swab comparison was photographed in the sun.
What do I look for in ink? I am a collector of vintage inks and bottles. While modern writing inks offer a variety of designer colors never heard of in their predecessors, there is something special about filling a 60-year-old pen with a 60-year-old Carter's Red Ink. I still love modern ink, and love the color varieties. I am trying to find a daily-use ink that writes well on any grade of paper or in any type of pen. I'm not interested in sun-proof, water-proof or laser-proof inks. Most of the paper that I use is a cheap-grade company stationary that gets scanned and electronically stored. I may write on carbon paper, thermal paper, and standard printable writing paper, all within a span of 15 minutes. I despise feathering and bleeding. I never use a ballpoint pen. I may use different fountain pens with different nibs depending upon the paper or my mood. I love smooth flowing inks that don't fill the pen cap when it's not in use.
Edited by ToasterPastry, 23 July 2012 - 06:31.