I admit it, I don't like expensive pens.
When I say "expensive" I mean more than $200 (Well what I really mean is more than $100)
I use pens every day, they are tools first and foremost and while I like to have nice tools, they just have to work and not breaking the bank is an added bonus. I don't use them as status symbols (not that there is anything wrong with that per se)
Since I have to carry them around and since I often carry two or more of them at a time, I liked to avoid hauling $300 or more bucks around in my pocket waiting to be lost or broken.
I write with dozens of different pens (as I am sure many of you do as well). With rare exceptions I have never paid a lot for them. However, up until now, most have been vintage pens I have found on ebay and fiddled with until I got them writing.
I have recently been drawn to the Chinese pens. Many of these are clearly made for people to use. So I figured I would find out what they had to offer. With a budget of $50 (shipping included) I was determined to find four or five pens to try out. Also a word about my reviews, I know most people like numbers and such in reviews, well I don't, I am more interested in the narrative and so that's what I do, sorry do disappoint.
With that said here is what I found.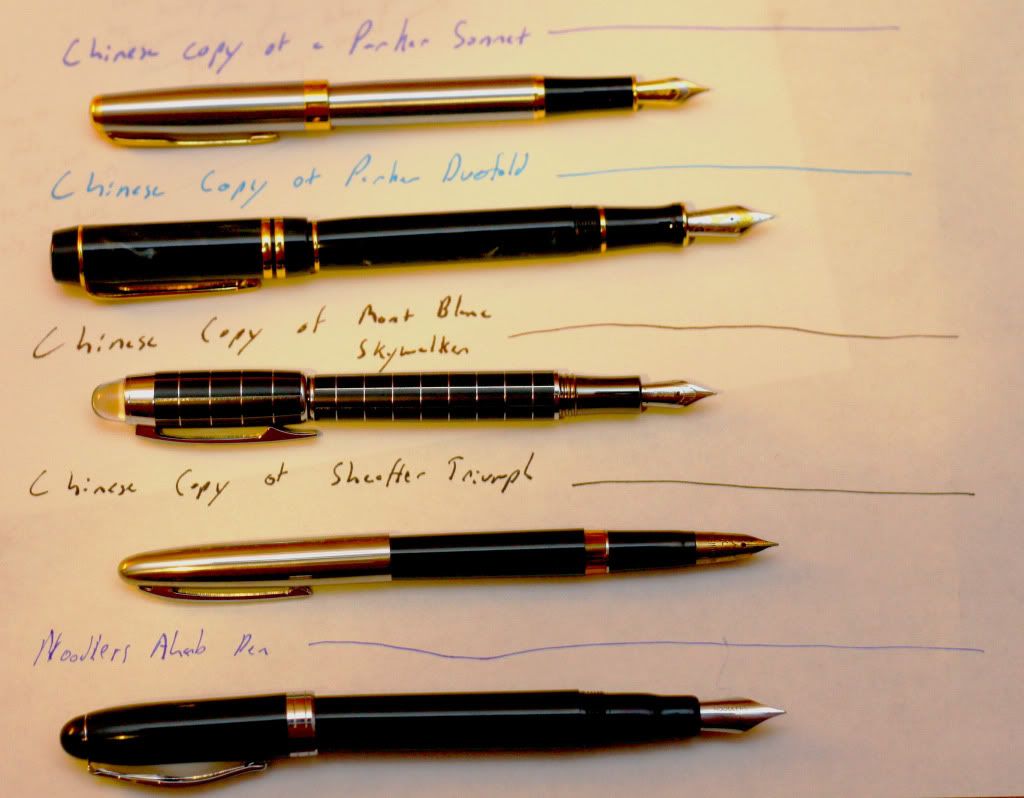 From the top: Baoer #388, Kaigelu 316, Baoer Skywalker, Wing Sung #233 and Noodler's Ahab.
First up we have the
Baoer #388
.
This set me back about 9 bucks and as you can see is a copy of the Parker Sonnet. Now I happen to have a Sonnet (one of the few modern Parker's I own) and this actually writes as good as my Parker -- better actually since my Parker sometimes skips on certain papers and truth be told I was never impressed with its writing.
Built solid in stainless steel with gold accoutrements, the pen is an almost perfect copy.
It writes with a steel, medium nib with good ink flow. (I was using J. Herbin Eclat de saphir for this review) It is comfortable and well balanced whether posted or not. The cap does post snuggly, without the edges rubbing the barrel. The clip is a little stiff and lacking the spring some of the other models I bought came with, but it doesn't feel as if it will snag on you shirt.
The pen fills with either international cartridges (I think but didn't try them) or a filler which was included.
Honestly I don't know if I would buy my Parker over again if I had bought this pen first.
Next up we have the
Kaigelu #316
(seriously what is with the numbers where are the cool names?)
This was the most expensive of the bunch, in fact it was more expensive than the other three combined, running $25. I wasn't going to spend that much on one pen, trying to get a better sampling, but this one came with good recommendations on this board.
After reading reviews here I took the plunge.
Admittedly I wanted a pen that looked nice for certain occasions where I might want to carry an attractive pen but not an expensive one. This clearly fit the bill. The pearlesque smokey gray is fancy without being bombastic and while one side of mine tends toward solid black it looks nice in the hand.
This pen is hefty. But its balance is a bit off and when posted it is way off. The end of the barrel carries most of the weight and feels like it takes more effort to keep it on the page. Posted it is too poorly balanced for my tastes. That said, I am not one who has to post all my pens. It also uses cartridges or the included removable piston filler
The nib is good, but not great. Like the Baoer it is also a steel medium and really glides across the paper. But now and again it seems to be hard starting on the first line, especially on the down stroke. A good pen, but not better than some of the others I received which were much lower in price.
The
Baoer Skywalker
was $6, That is all this
knockoff
homage to German pen maker Montblanc will set you back. Now I have only written with a MB 149 so I can't vouch for the abilities of the German version of this pen, but I highly doubt that they are of an order of magnitude greater than this pen.
The Baoer has some nice weight to it, and I tend to like heavier pens. It feels well made -- with the exception of the clip which does rock from side to side a bit more than I would like but still six bucks.
To post the pen, you screw the cap into the end of the barrel. This prevents the cap from wobbling around or falling off while writing, not problems I have with many pens, but this fixes them. It is nice, but I think it could have gotten buy with an indent.
This pen lays down a medium line from its steel nib. I used Daimine Macassar and it is hard to imagine an nicer writer. The nib glides across the page, whether it is copy paper or fancy clairefontaine. This pen will easily become one of my workhorses.
And like I said. Six bucks.
Finally we have the
Wing Sung #233
.
Up front I will say, she ain't the belle of the ball, but what she lacks in looks she more than makes up for in performance and value.
For less than $3 this little lady just keeps going.
Unlike the other pens, the Wing Sung has a simple design recalling the old Sheaffers in shape but with the '40s and '50s stylings of Parkers.
It is a lightweight pen with a built-in aerometric filler. The nib is designed after the Sheaffer Triumph nibs and lays down a nice medium line. It doesn't skip and probably writes better than any of the pens in this batch. The silver aluminium cap feels very sturdy and features a sping-loaded clip. There is an amber colored ink view window where the barrel meets the section -- which while not the most attractive does serve its purpose.
Now for the price this pen is a steal something you will want to keep with you when out and about. I works and if you lose it, well it wasn't pretty but it was cheap.
All pens bought from Isellpens.com
Edited by faustulus, 22 July 2012 - 15:16.