By coincidence, on the same day that the post office delivered a Pelikan IBIS pen to me, I picked up a bottle of the new limited edition Montblanc Meisterstuck Diamond ink. I immediately inked up my new Pelikan, after a good flush, and wrote a few lines, and wow, ink and pen performed magnificently.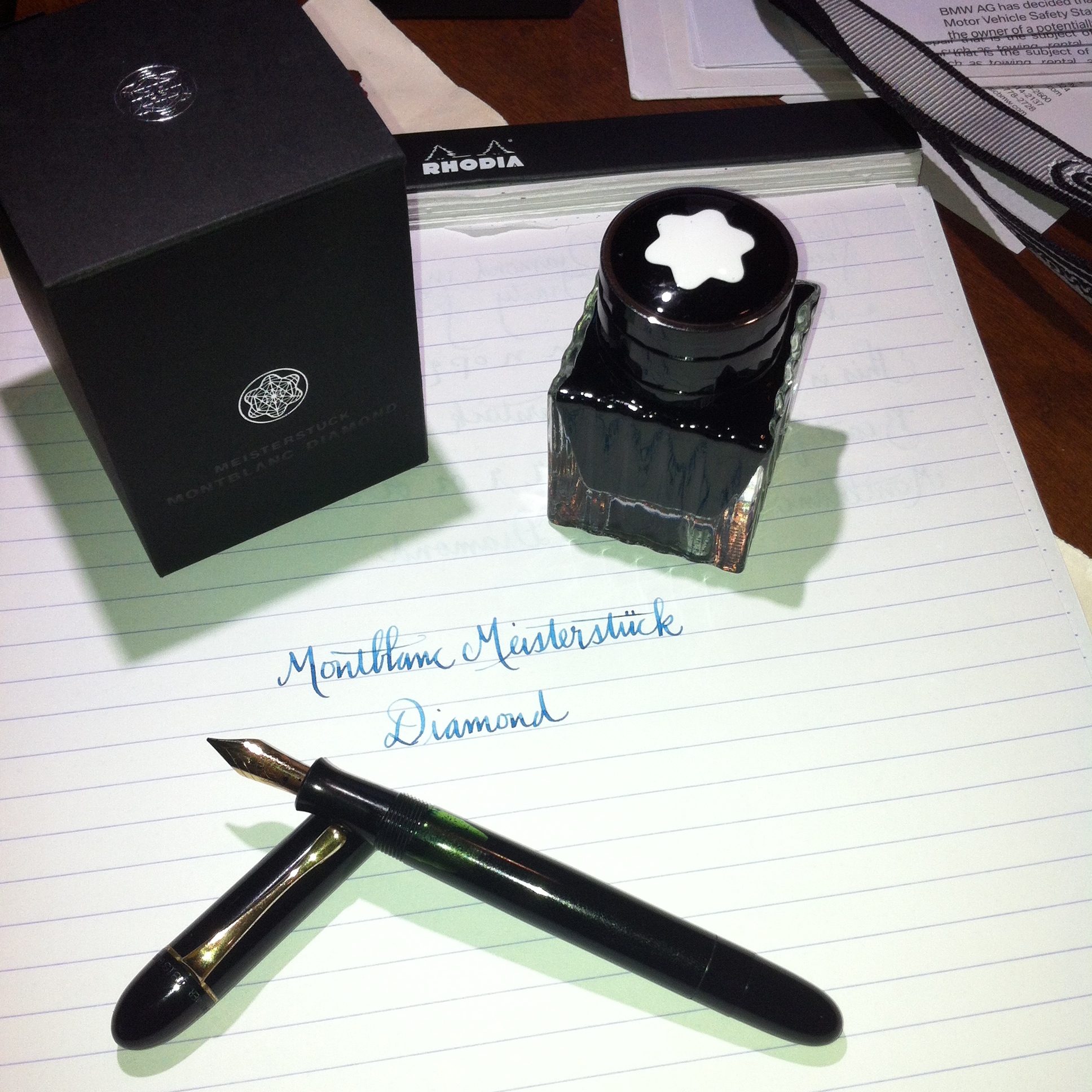 I've been writing with this ink for a few days now, and it has revealed some unusual characteristics I'd not seen in a Montblanc ink. First, the ink has wide palette of color in it, depending on the pen's nib being wet, dry, fat or narrow. It shades beautifully. Second, the ink is not well lubricated, at all. It makes my nibs sing when I write. OK, the song isn't particularly pretty, but nibs that have never squeaked or had much of a sound when writing make some noise with this ink. In particular, the F nib in my Pelikan M200 Red Demonstrator, which is a binderized steel F nib, squeaks as I write with it. Even my fat, juicy BB nib on my Pelikan M700 Toledo, that usually glides silently on a thin layer of ink, has a bit of sound to it as it moves across the paper.
I'm not complaining here; the ink is beautiful and it performs well, so just be aware of this lack of lubrication. I'm so used to silky smooth Montblanc inks that this characteristic was a bit of a surprise. I'd not noticed this behavior in my flex pen (Conklin Endura with XXF flex nib), as lubrication has little effect on an XXF nib, but on fatter nibs, the lack of lubrication was very noticeable.
Other characteristics: No feathering on good quality paper, no bleed through, either, and minimal showthrough. On cheap copier paper, there is some feathering, and significant bleed through. The ink does have some water resistance. The ink is a little on the dry side. Drying time was pleasingly fast, even on Clairefontaine.
I have a lot of blue inks, and I thought that I'd have more than one very close match to it. I was surprised to discover than I didn't have a close match. The closest I had was Noodler's Texas Bluebonnet, and as you can see from the scan, not a very close match at all. When I first used the ink, it reminded me of Pelikan Edelstein Topaz, but Montblanc Diamond is a little less saturated and has a bit of gray in it. A really beautiful ink, and a unique color, at least in my collection.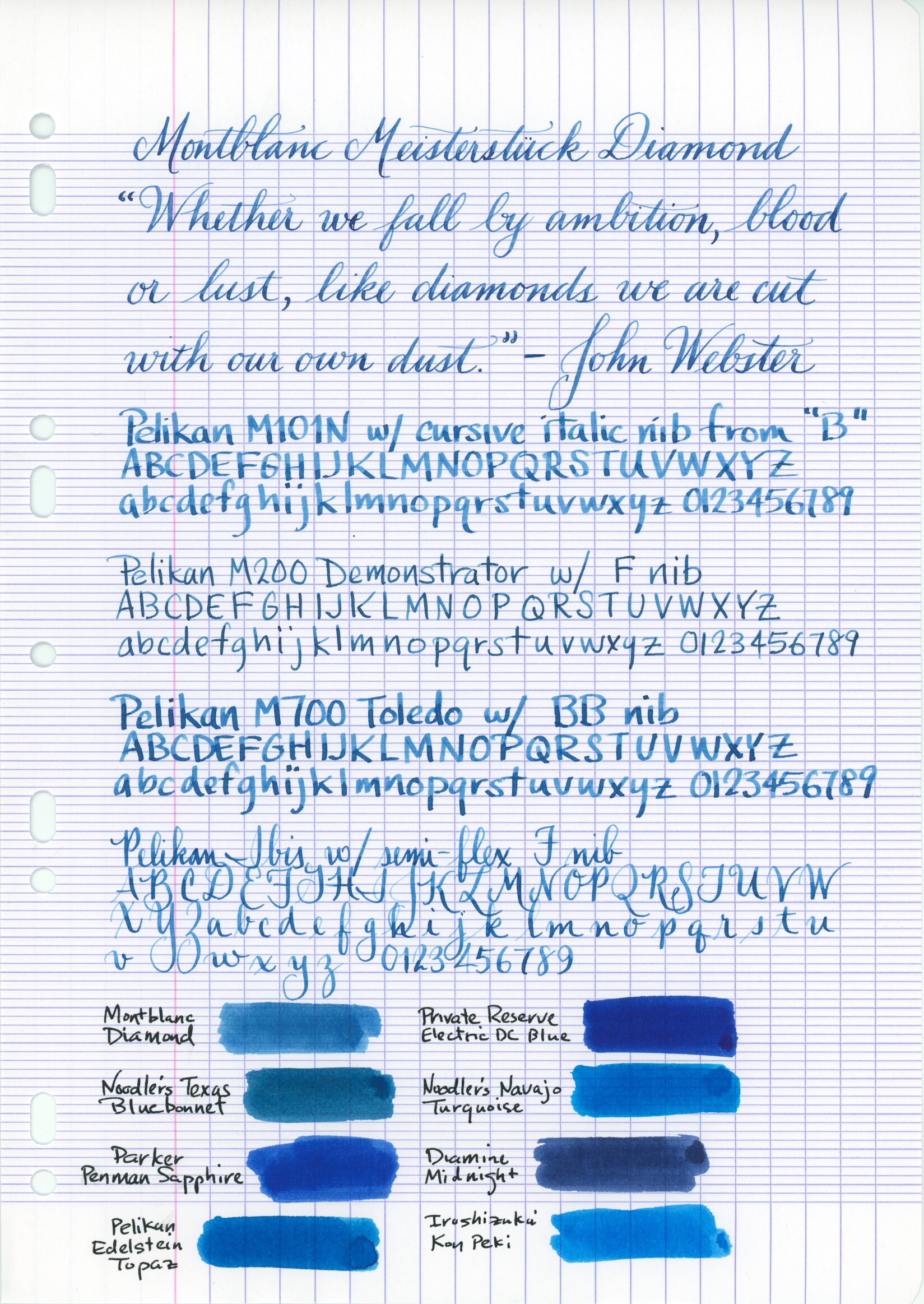 Here is Montblanc Diamond on cheap copier paper. There's some feathering visible, but not too bad.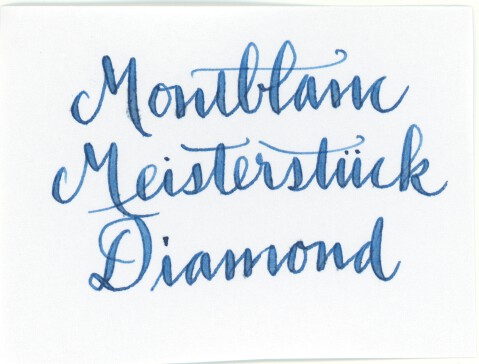 Here's the ink after a 15 second rinse. A mess, but still readable, and interesting that the outline of the script has a reddish tint to it.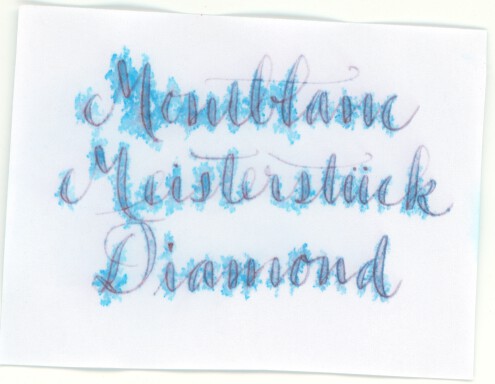 Tech notes:
Paper is Clairefontaine Feuillets Mobiles french ruled 90g
Scanned with Epson V600 using VueScan 9 software; scanner calibrated with Kodak Q-60 target
No additional color correction performed; scan looks accurate on my monitor