Since inquiring minds want to know now, I threw this together to serve until I can do a proper review.
I just received a sample vial of UGB form Goulet's. I now wish I had ordered a whole bottle. It looks nothing like the sample in the review by politovski from 2008.
I would call it a mid value (value refers to light/dark continuum), slightly desaturated sky blue. It shades a bit, no feathering, bleed through or show through on Xerox 20# copy paper from work, seems to be generally well behaved, and is completely waterproof. True to the other bulletproof blues, it is not a vibrant ink, but it is quite pleasant to my eye. I would describe it as more pastel than chalky. Tested with a dryish medium nib, results may be different with a wet nib.
I forgot to do a dry time section before taking the sample photo, but I can write "drytime", and immediately go over it with my finger, and the only thing that smudges is the dot of the "i". On vertical lines, the bottom most portion where the ink pools will smear for up to about 8 seconds. This is on HP 32# laser paper with a somewhat dry, medium nib. On the Xerox copy paper, it dries within a couple of seconds.
As I expected, it's lighter than the dip pen sample on Goulet's site - the bulletproof inks really flow from a dip pen, and so nearly always appear darker than they would from a fountain pen.
Here is a hastily done sample, with DC Supershow Blue at the bottom for comparison. I adjusted the color as best I could in Photoshop, would say it's pretty close to the real thing. Writing is pretty large about 1/2 for the caps.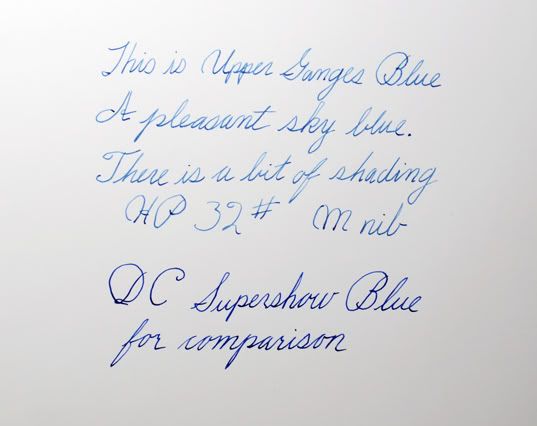 Dan
Edited by DanF, 15 July 2012 - 09:38.