☞ For convenient viewing of the images, you may wish to scroll to the menu at the very bottom of this window to ensure the FPN Theme is

.

Please take a moment to adjust your gear to accurately depict the Grey Scale below.
As the patches are neutral grey, that is what you should see.

Mac http://www.wikihow.c...te-Your-Monitor
Wintel PC http://www.calibrize.com/

Grey Scale.


⋮ - ⋮


Figure 1.
Swabs & Swatch
Paper: HPJ1124.





Figure 2.
NIB-ism ✑
Paper: HPJ1124.
Depicts nibs' down-stroke width and pens' relative wetness.


IMG-Thumb:


Distance between feint vertical pencil lines is 25mm ↔.
L → R: PCP, M200, 25, 330, Estie, Safari.


Figure 3.
Paper base tints:



L → R: HPJ1124, Rhodia, G Lalo white, Royal, Staples 20 lb.


WRITTEN SAMPLES - Moby Dick
Ruling: 8mm.

Figure 4.
Paper: HPJ1124.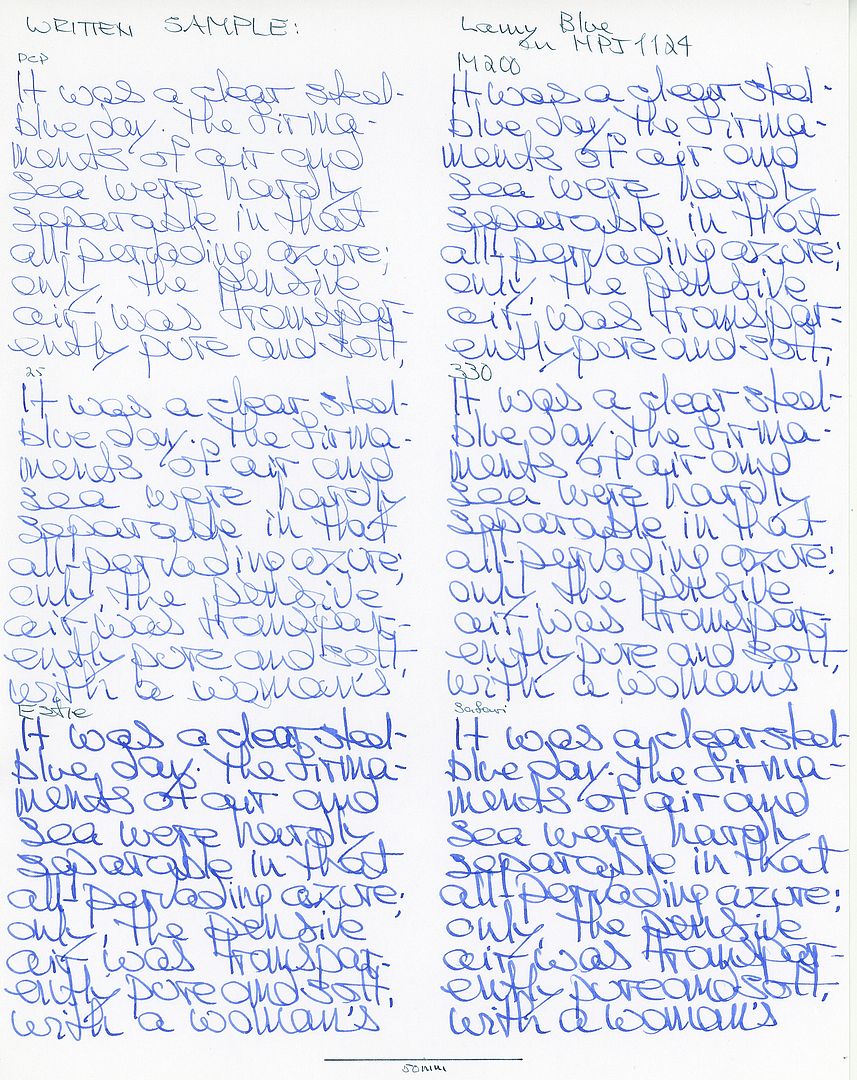 Figure 5.
Paper: Rhodia.



Figure 6.
Paper: G Lalo, Verge de France, white.




Figure 7.
Paper: Royal - 25% rag.




Figure 8.
Paper: Staples 20lb.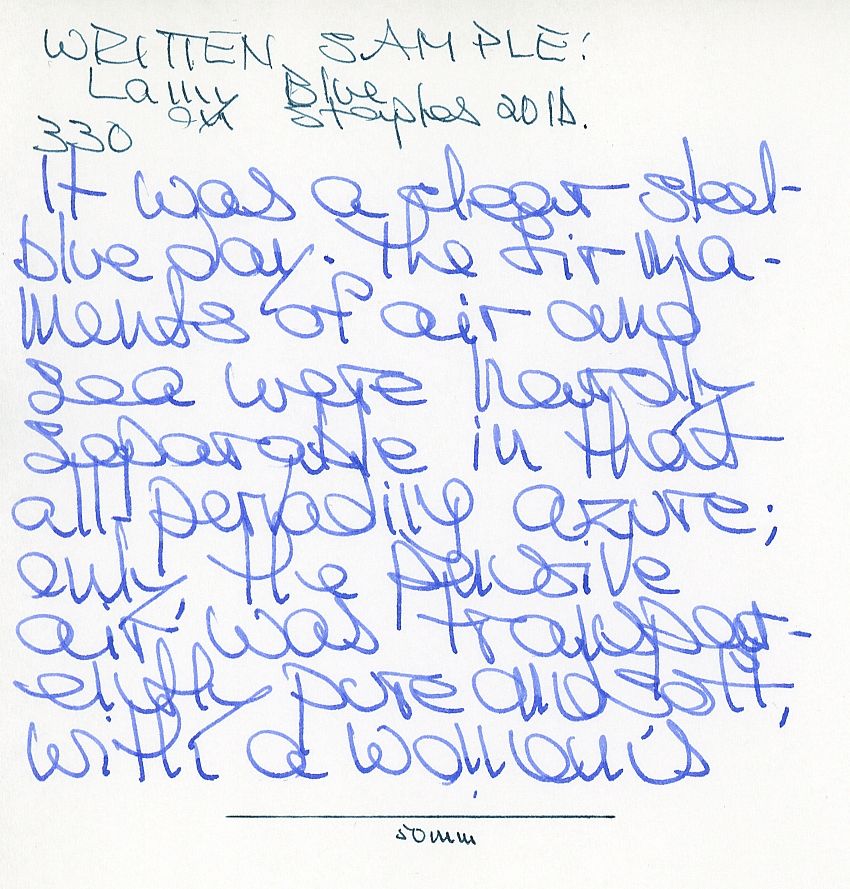 Figure 9.
Grocery List
Paper: Pulp. One-a-Day calendar page.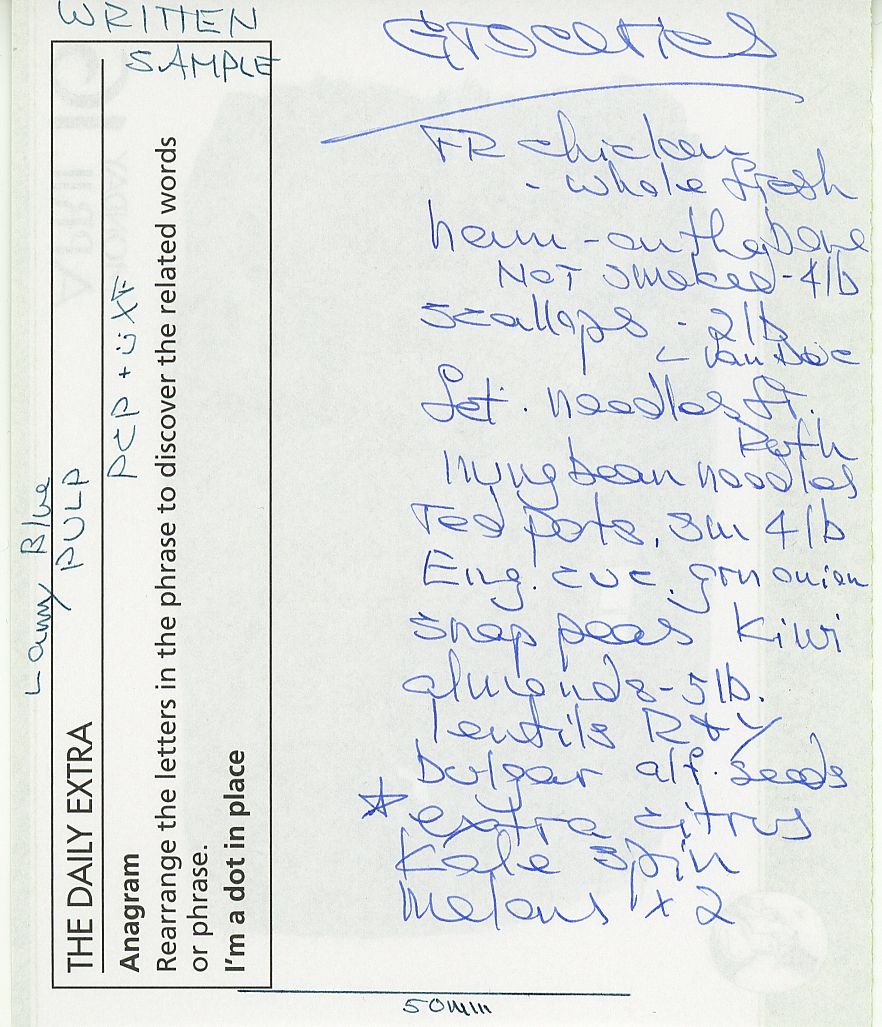 OTHER STUFF

Figure 10.
Smear/Dry Times & Wet Tests ☂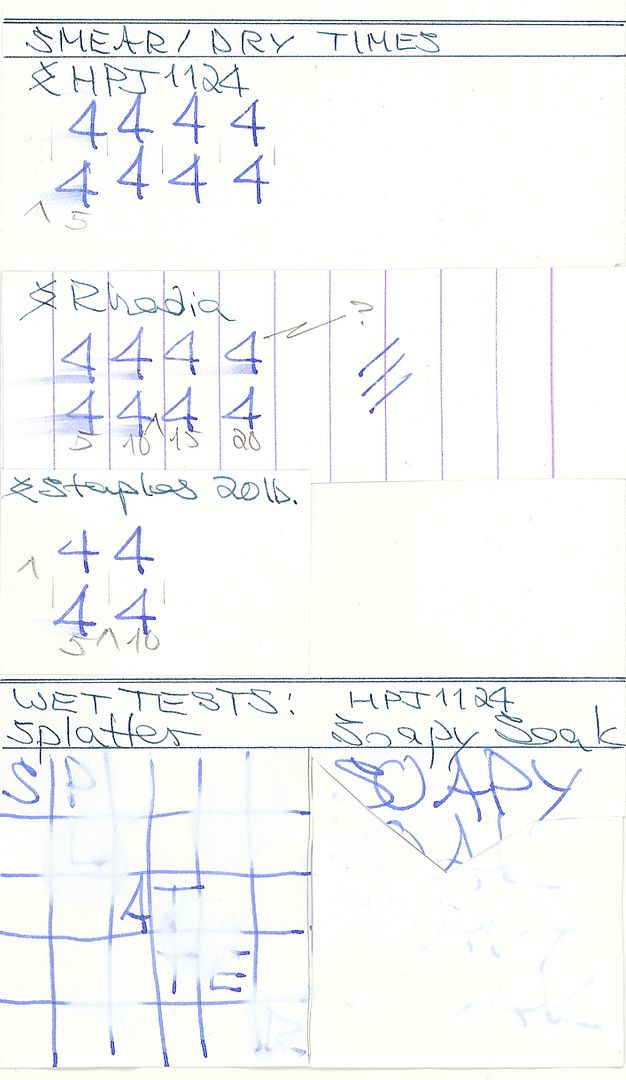 - - - -

Please Note:
The text template continues to evolve: Paper-related comments were consolidated under the Paper heading, some items related to Use were juggled / eliminated, etc.


GENERAL DESCRIPTION

Type:

Dye-based fountain pen ink.
Presentation:

Availability:

Available when Topic posted.
Daily writer?

A go-to ink?

When a washable one-size-fits-most Blue ink is desired.

USE

Business:
(From the office of Ms Blue-Black.)

Suitable for general business use, but is very neutral, having neither gravitas nor animation.
Suits general 'grist for the mill' work product, administrivia, and addressing matters in which one is not the least bit interested.
Wonderful for filling-out forms.
Can be called upon for mark-up or editing of Black text.
Not enough zap for error correction or grading.
LBl may suit a general purpose desk pen.

Illustrations / Graphics:
Lack of water resistance may appeal to those who work on wet surfaces, especially cotton paper or canvas, and to generate gradients / wash.
Students:

Very possible.
Perfectly acceptable for written assignments, though if/when something worthwhile occurs, consider an ink with greater ooomph. e.g. Noodler's Ottoman Azure.
Personal:

Certainly possible, but carries the Look of a 'default' ink, so those with other more interesting inks may find LBl languishing unhugged on a lower shelf. LINK
That said, it is not a pure/true Blue, so has some personality.
Perfect for pro forma personal business writing, bumph, or to keep in a general use pen that may not be rigourously maintained.
If I were to receive a letter written with this ink, I would think LBl was nice enough, then ignore the ink and read what was written before it fades.
Invites use of a wide range of nib shapes, widths and flex, which may be called upon to overcome its default appearance; the ink becomes secondary to penmanship.

PHYSICAL PERFORMANCE & CHARACTERISTICS

Flow Rate:

Nib Dry-out:

Start-up:

Immediate.
With confidence.
Lubricity:

Nib Creepers:

Staining (pen):

Not seen after three days.
Clogging:

Bleed- Show-Through:

Staples 20lb: LINK
All other papers were OK - even the highly absorbent Royal.
Feathering / Wooly Line:

Smell:

Hand oil sensitivity:

Clean-Up (pen):

Rapid and thorough with plain water.
Mixing:

Archival:

Not claimed.
Please note that the Lamy site identifies this ink as being 'Washable', so its stability over time may well be quite low; and there are reports of fading. LINK

Smear/Dry Times & Water Resistance:

Please see Figure 10.
Typical of a Washable ink, a WR rating of 'imaginary' is a good thing.

THE LOOK

Presence:

Default Medium Blue.
Hidden.

Saturation:

Medium.
Possible to achieve a solid line.
Shading:

Good potential.
A bit unpredictable, but pleasant enough when it appears.
Line quality:

Quite good.
Suffered a bit on the arid hard textured surface of the G Lalo.
Very good on the more absorbent papers.
Variability:

Pen+nib combos used:
Papers used:
Malleability:

About as expected.
Determined by selection of pen to a great extent.
One can run the ink at considerable range of densities with little risk exposure to an unacceptable result.
Those characteristics make LBl a contender for a daily writer ink; and the question of 'Water resistant or Washable?' is left open.

Hi-Res Scans:
(Originals are 60x30mm.)

As I do not wish to be known as 'Queen of The Bandwidth Bandits', these are IMG-thumbs only. To view the images as intended, please click on the image.

PCP on HPJ1124:

25 on Rhodia:

330 on G Lalo:

Safari on Royal:


FIDELITY

Consistency with the marketing company's online depiction?

The Lamy site did not depict this ink.

OTHER INKS

This Review includes of some of the same pen+paper combos as my recent Reviews of Blue inks. Consequently, ad hoc comparisons through manipulation of browser windows is supported. That said, if you feel a specific aspect of LBl deserves to be depicted/documented as a stand-alone Topic or Post, your PM will be welcomed.

Swab Swami

IMG-thumb:



L → R: Pelikan Royal Blue, Noodler's Bernanke Blue, Private Reserve Cosmic Cobalt, R&K Blau permanent interlaced with Lamy Blue at densities from three, two and one passes.


PAPER

Lovely papers:

Trip-wire Papers: ☠

I would steer clear of dirty whites.
Copy/Printer Papers:

Performed very well on the 20 & 24lb papers.
Two-sided use seems likely when using pens of normal wetness.
Tinted Papers:

Could be run at high density to generate some contrast and a solidly inked line.
Is high-end paper 'worth it'?

Very much the choice of the author.
May be a means to develop a more interesting appearance / experience from this ink.

ETC.

Majik:

Billets Doux?

As LBl may be used by school children, it is likely that all sorts of billets doux have been written with this ink. The start of a lifelong love? Or a schoolyard infatuation disappearing at the end of recess? Billet Doux For Beginners perhaps - it can be eradicated.
Personal Pen & Paper Pick:

The Safari on Royal.
I would drive the ink to a darker tone, and enliven the line with a shaped nib.
The paper is quite absorbent, which encourages a darker tone.
The soft hand of the paper may convey more than the usual tactile interest to the reader - hopefully adding a bit more presence to the hands-on reading experience.
Yickity Yackity:

Another ink that offers high performance, but not so much allure.
Recommended to their clientele by dhobi-wallas.

Ah kushbaby, this one might slip through your fingers - unless you have a jones for a dimpled bottom [bottle].

======

NUTS & BOLTS

Pens

Written Samples:

Platinum Carbon Pen + g-p steel übernarrow nib.
Pelikan M200 + g-p steel EF nib.
Parker 25 + steel F nib.
Sheaffer 330 + steel M nib.
Esterbrook J + 9968 steel B nib.
Non-nudist Lamy Pink Safari + goosed 1.1 nib.
Lines & labels:
Diamine Eau de Nil from a Pilot Penmanship + XF nib.
rotring 300 lead holder.

Papers:

HPJ1124 24 lb. Laser Copy.
Rhodia.
G Lalo, Verge de France, white.
Royal, 25% cotton rag.
Staples 20lb. multi use.
Pulp. One-a-Day Calendar page.
Imaging
An Epson V600 scanner was used with the bundled Epson s/w at factory default settings to produce jpg files.
Figures shown were scanned at 200 dpi & 24 bit colour.
Hi-Res Images linked were scanned at 300 dpi & 24 bit colour.
No post-capture manipulation of scanner output was done, other than dumb-down by Epson, Photo Bouquet & IP.Board s/w.

Densitometer Readings :
HPJ1124

Red 111
Grn 143
Blu 246
Lum 158
Fine Print
The accuracy and relevance of this Review depends in great part upon consistency and reliability of matériel used.
Ink does not require labelling/notice to indicate (changes in) formulation, non-hazardous ingredients, batch ID, date of manufacture, etc.
As always, YMMV; not only from materials, methods, environment, etc., but also due to differences between the stuff I used, and that you may have; and manner of working.
Also, I entrust readers to separate opinion from fact; to evaluate inferences and conclusions as to their merit; and to be amused by whatever tickles your fancy.
-30-

TAGS: Fountain pen ink review Lamy Blue Sandy1
Edited by Sandy1, 27 May 2012 - 08:47.