Appearance & Design (9-10)
Since every pen typically has an appearance/design theme. It would be my opinion that this Fountain Pen falls into a category of Pure Artwork and of a Modern era!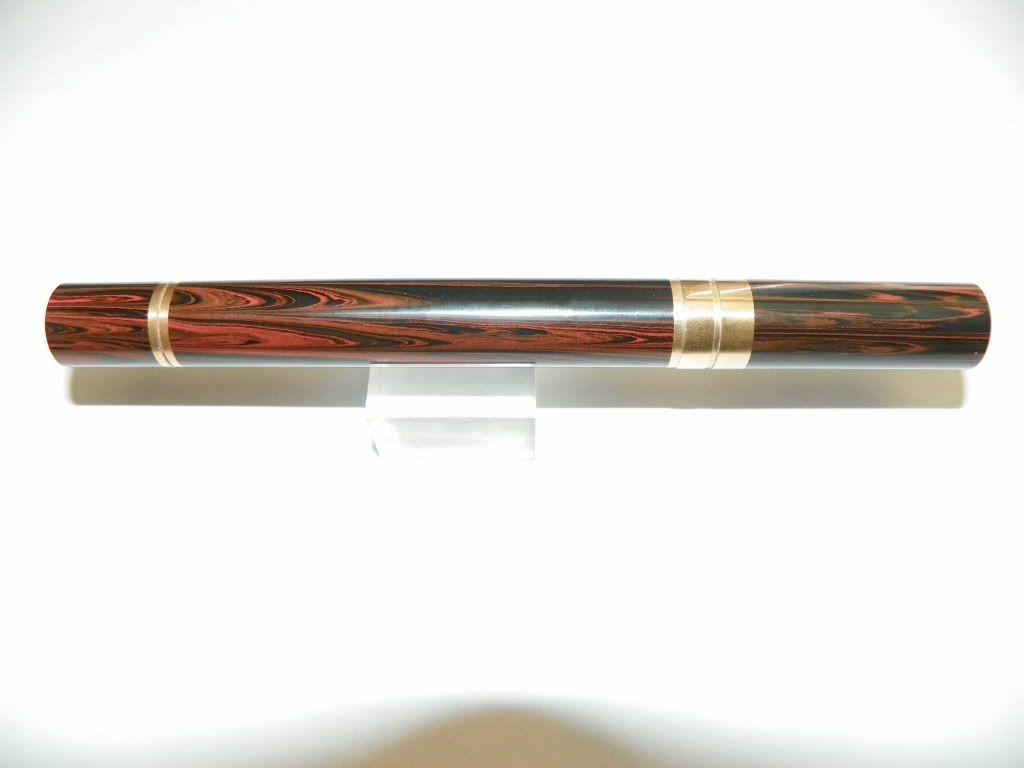 As of late I have been guilty of being on a buying spree of many things related to my pen collecting hobby, some of the more expensive objects have been Fountain Pens. Now some of those other pens that I have bought I have been guilty of just sitting there and just staring at my pens due to their Beautiful Appearance and Design. Now with this
C.L. Lewis Deluxe Woodgrain Ebonite Nox
, I find myself right back in the chair in my office again just stairing at my latest conquest. I really don't get it on one hannd, as it is such a simple pen and yet on another hand it has such a STRONG presence with the way that it is made. This is after all a DELUXE model of the Nox, and I have yet to see a review of a Deluxe nox. The difference's in the Deluxe Model vs. the standard Woodgrain Ebonite Nox are; the Standard is smaller, Lighter, Less expensive nib and no inlay. My Deluxe, if you look at the picture's you will see the inlay in the Blind Cap.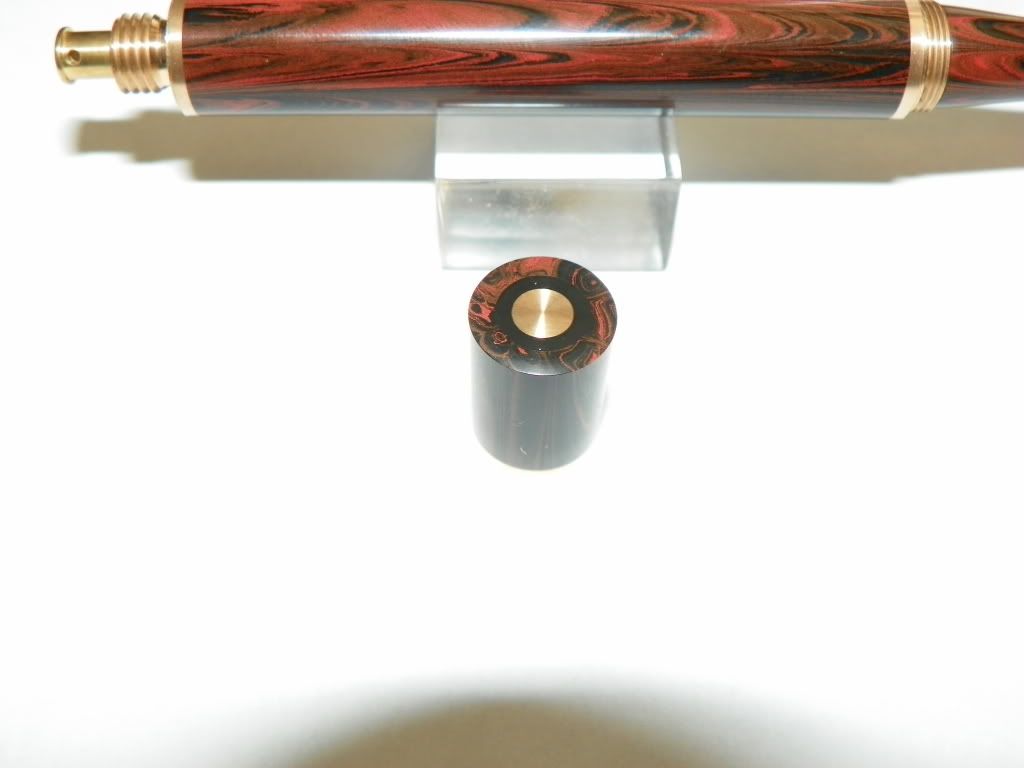 . The only thing lacking on this pen is an inlay on the Pen cap to offset the Blind Cap, this would have really set off the pen's appearance.
pen. There are no manufacturing seems or flaws in my Deluxe model anywhere you look.
Construction & Quality ( 10-10 )
The one thing you notice about this pen is that it is not a Flimsy pen. There are no manufacturing seems or flaws in my Deluxe model anywhere you look. Unlike some of my more expensive or maybe fancier pens, it would not scare me to drop this pen for fear of breaking it. This is one solidly built pen!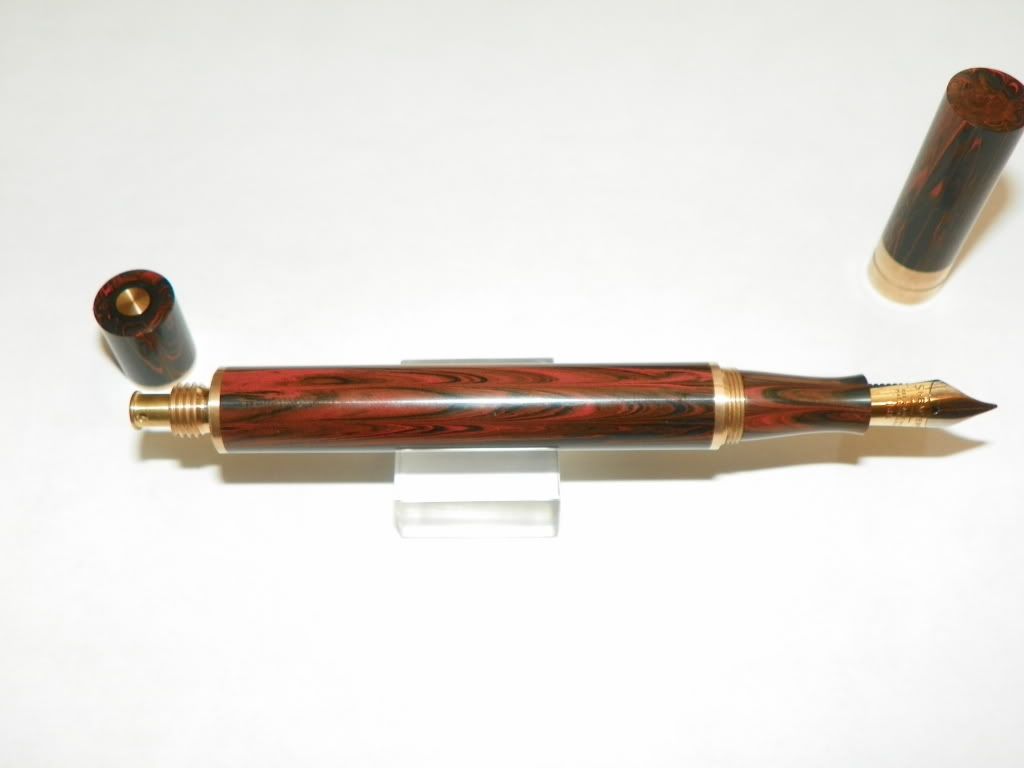 Weight & Dimensions (10-10)
The first thing you notice, if you had your eyes closed, when you picked up this pen is the weight of it, it weigh's in at 28.80g. This is in comparrison to a Franklin Christoph #25 Fountain Pen - 21.46g or a Parker Vacumatic at 16.82g or lastly a Stipula Passaporto at 15.96g. So you can see that this pen does have some girth to it. The circumference is .49". The length capped is 5.22" and uncapped is 5.08". This pen is NOT made to post. There also is no clip. It's not too Large nor is it too small, but it did take a little bit of adjustment for my fingers to get adjusted to it when writting. I really don't have an answer as to why this happened, but for some reason it just did. Now I write with it like an old pen.
Nib & Performance (10-10)
The nib that I chose for this pen, although I was not asked, was a Medium. I later realized that Cameron is a Nib Conasuer to say the least. He was going to put a Fine nib on my pen and make all the necessary adjustments to it and I probably would not have known the difference give how tallanted Cameron is with his nib adjusting abilities. Either way I now have a Sheaffer's two tone 14kt nib installed, and it writes so smooth that it's not even funny.I do not know if the nib can be easily removed and replaced with a nib of a different size?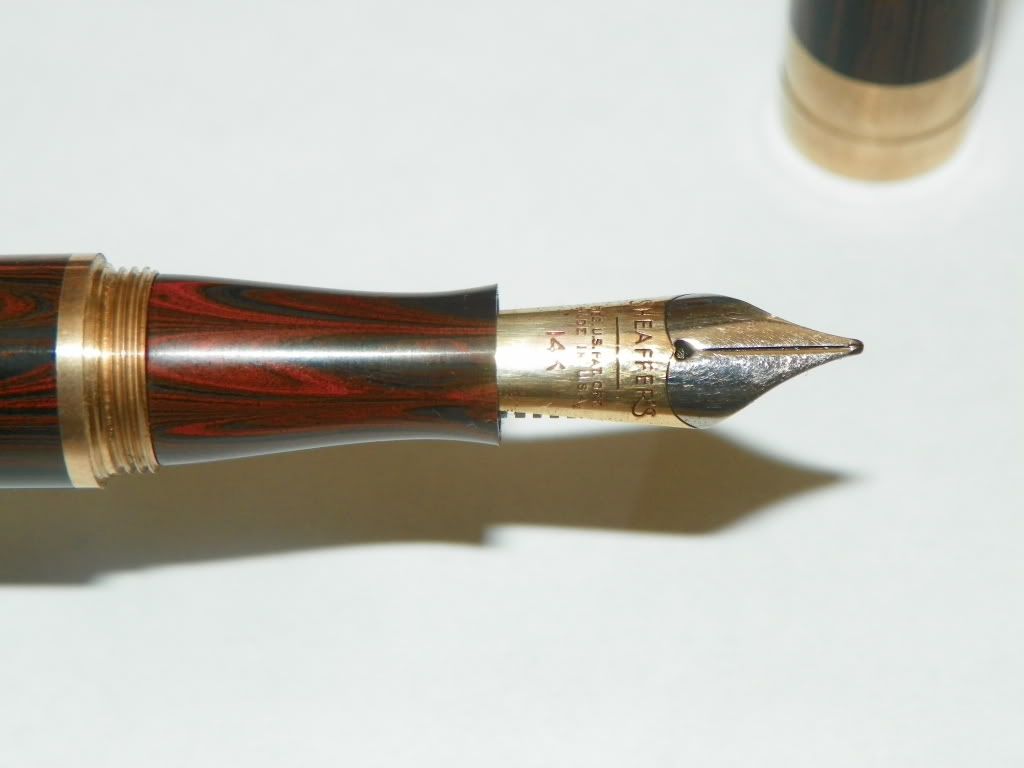 Filling System & Maintence (10-10)
This Deluxe edition has the same filling system as the Standard edition and that being a Button Filler.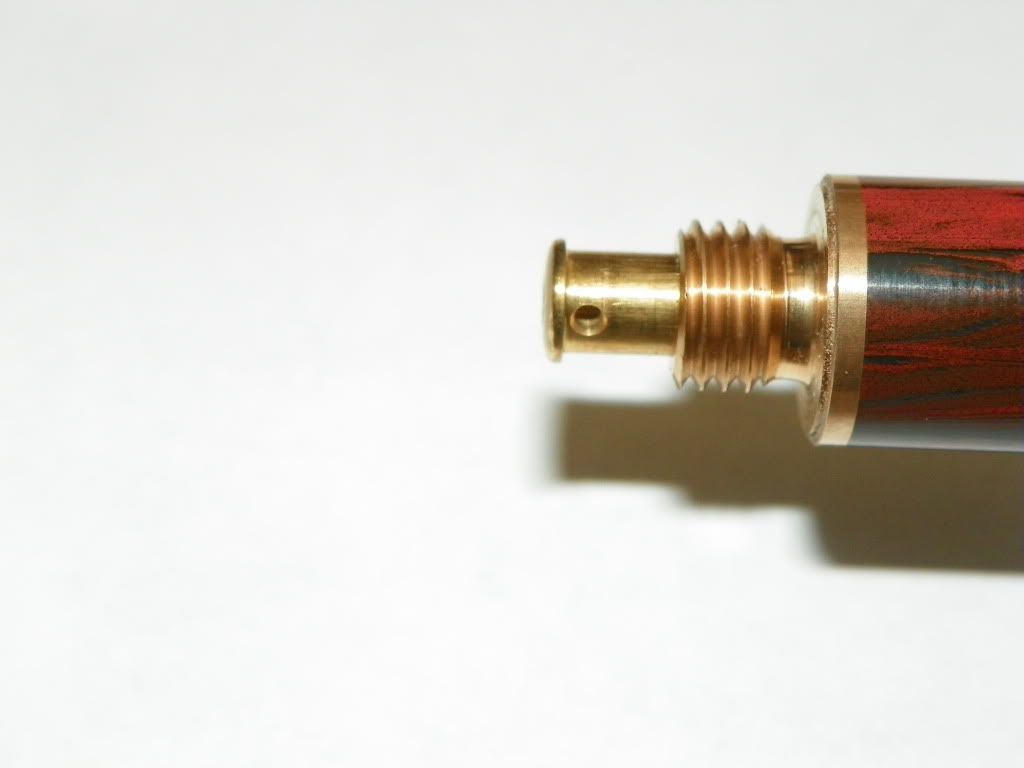 . At this point, I just recieved the pen on Saturday, 1 day ago, so I have not had a chance to figure out how much ink the chamber holds to get to "Full". The Button Filler is rather easy to work with, and I don't get all messy trying to fill the pen with ink. Again, when it comes to disassembly, I have yet to try that. I'm not even sure I want to try that with out some guidance from Cameron as this is such a Beautiful pen. The last thing I would want to do is mess the pen up or damage it in some way.
Cost & Value (10-10)
The PROGRAM that I purchased this pen under is; that I do a Review and recieve $150.00 off the Base Price;
So, the Base price was $550.00 + an extra $25.00 for the Medium nib for a gross total = $575.00 - $150.00 = $425.00
I don't know where else you can find a Deal like this where the seller give's you $150.00 off for giving a review, good or bad, after the pen has already been delivered.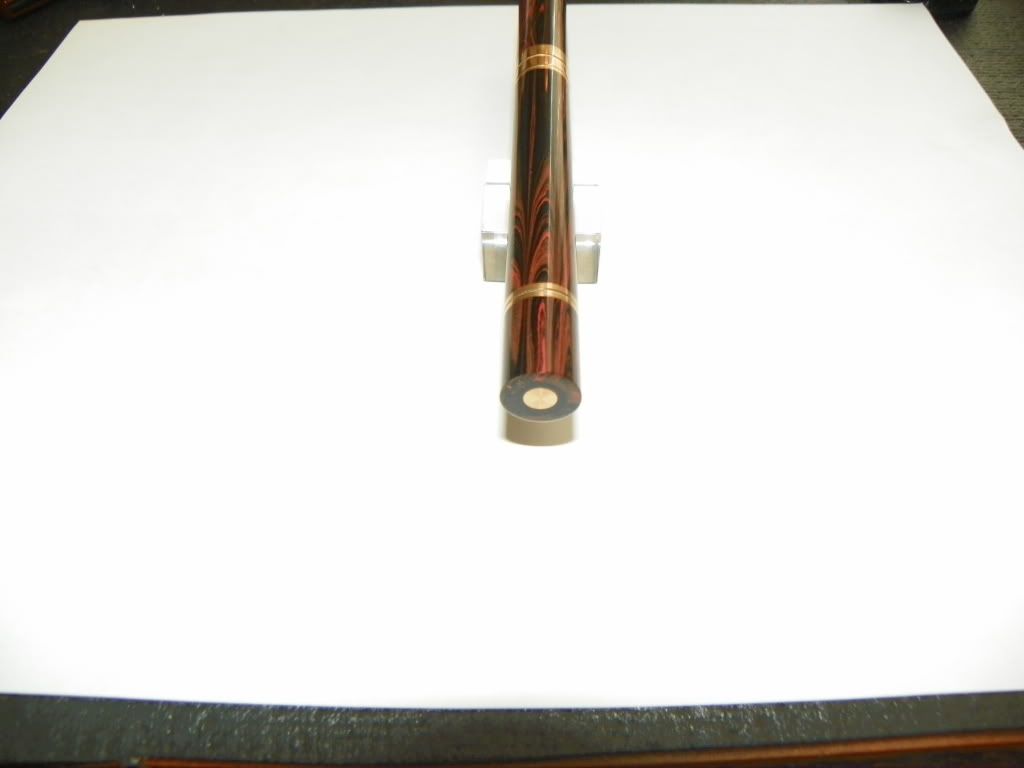 Conclusion (Final Score, (59/60)
This pen was a long time in the waiting to get it as Cameron does all these pens by hand, not by machine, as I understand it. Then there was a stumbling block up ahead of my pen in line that caused Cameron some grief, but he hung in there and gave that customer what he paid for, even though it took a Loooooooonnnngggg Time. That's something to be said for Cameron....He stay's with the project and does not cut corners or give up on it! Heck I even tried to get Cameron to mail my pen out a day early, but he would have nothing to do with it as the pen was not finished going thru it's projected planning moves, and it was me that was in the way. So I had to wait, not the pen, Ha, ha, ha. Would I buy the pen again? I would not buy the Deluxe Model again, as I already have one now. I will have to wait and see what Cameron comes up with next. I would absoultly recommend this pen, or Cameron to others for to buy a pen from him. His pens are just Gorgeous and his workmanship is second to none!! Thank You Cameron, for the Beautiful Deluxe Woodgrain Ebonite Nox Fountain Pen.
It will go into my Collector's section of my Fountain Pen case.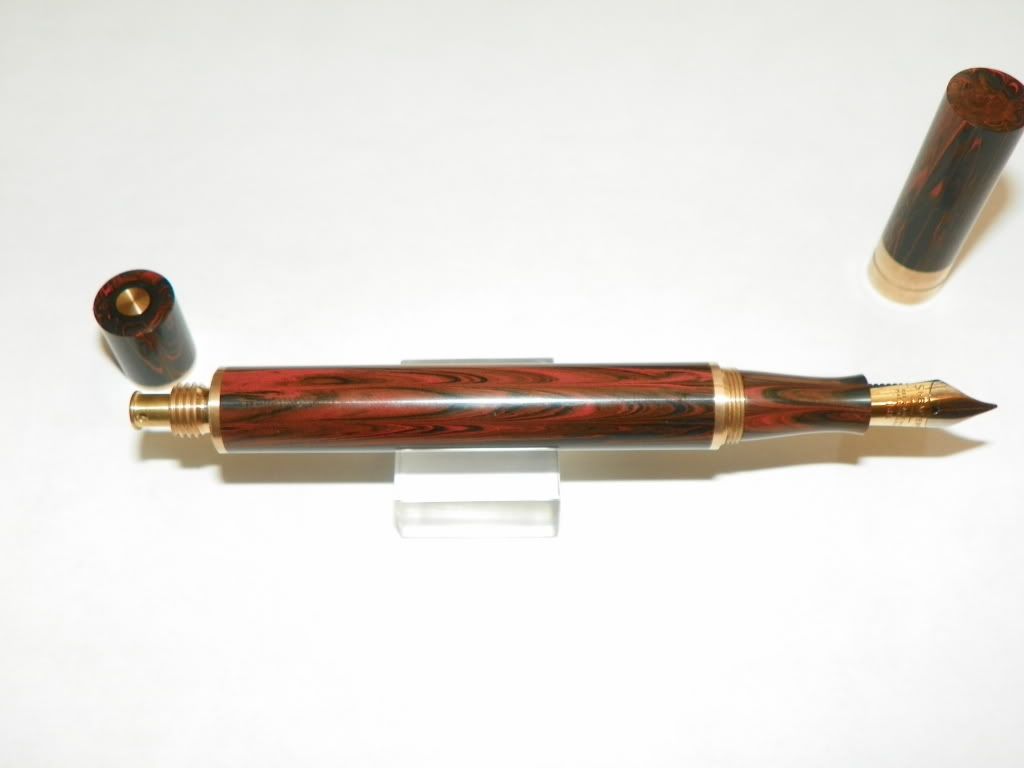 Edited by Chi Town, 07 May 2012 - 01:01.