This is my first (short) review and is about two new Indian fountain pens, Flair Inky and Cello Fountain. I write a single review because both the pens have many similarities.
Appearance & Design
:
Both the pens looks almost similar and comes in blister packs with two free "jumbo" cartridges. The visible difference between the two is in the barrels. The barrel of Cello Fountain is painted with Disney Comic Characters, while that of Flair Inky is painted with plain silver . So the Cello Fountain seems more attractive than of Flair Inky, at least to Indian children. The pens look more like a ball or gel pen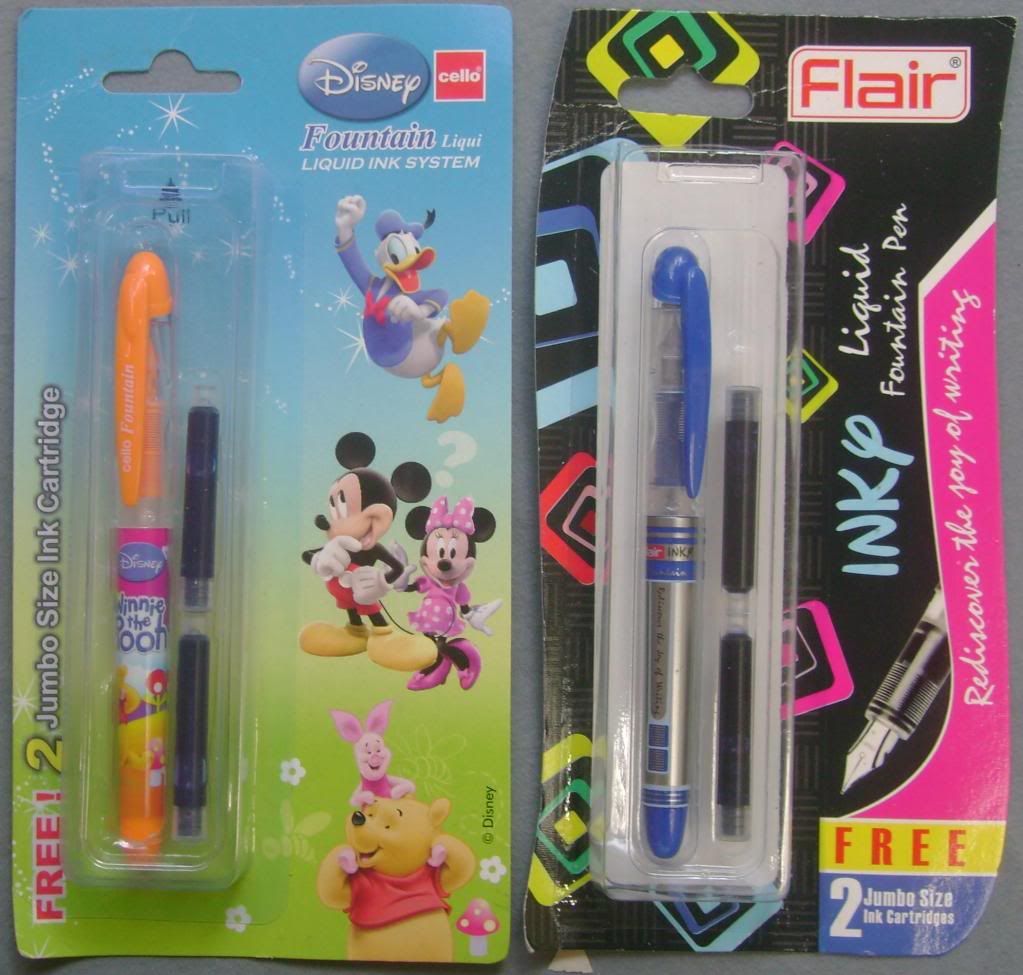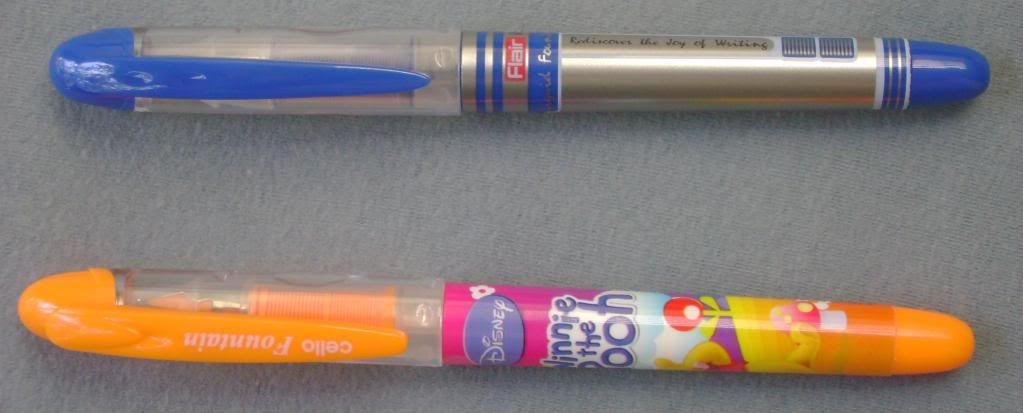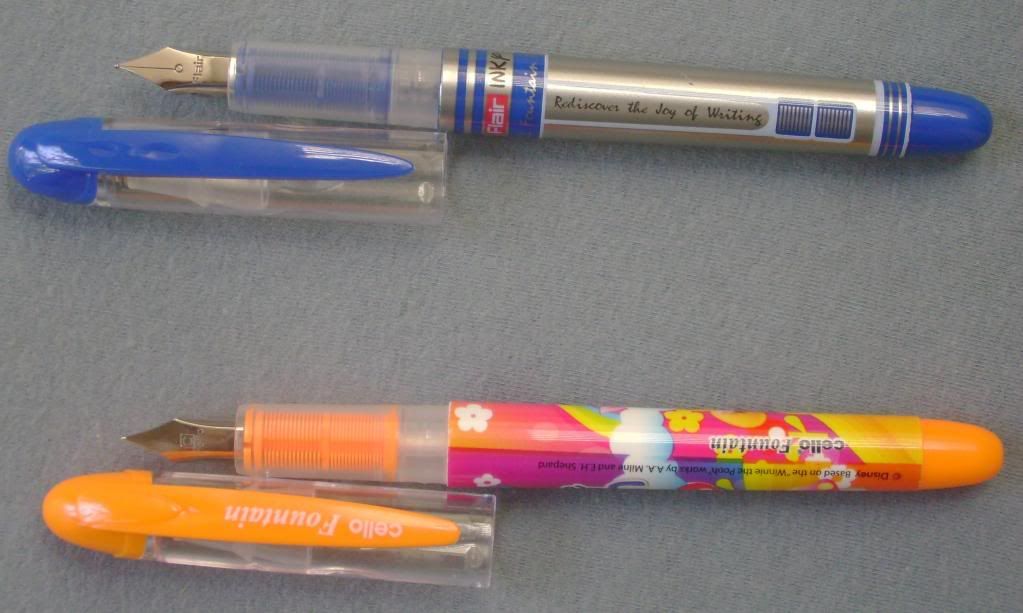 Both the pens are designed for rough use by kids, with a click on cap and available in many colours. All parts are made with clear plastic, except the clip, crown, bottom crown and feed, which are made with single colour plastic.
Construction and Quality
: Both the pens are made with plastic, but well made for rough use of children.
Weight and Dimension
: Both are very light weight pens and are comfortable for writing long duration
Nib & Performance
: The steel nib of both the pens write very smooth and wet, compared to the other Indian pens and gives a Fine to Medium line width. The other side of the nib also write quite good with a fine line, with some feedback. I mostly use the other side for finer line width. The Cello Fountain writes bit finer than Flair Inky. Both the pen writes flawlessly, without skipping,even after long time (4-6 weeks ) of keeping unused.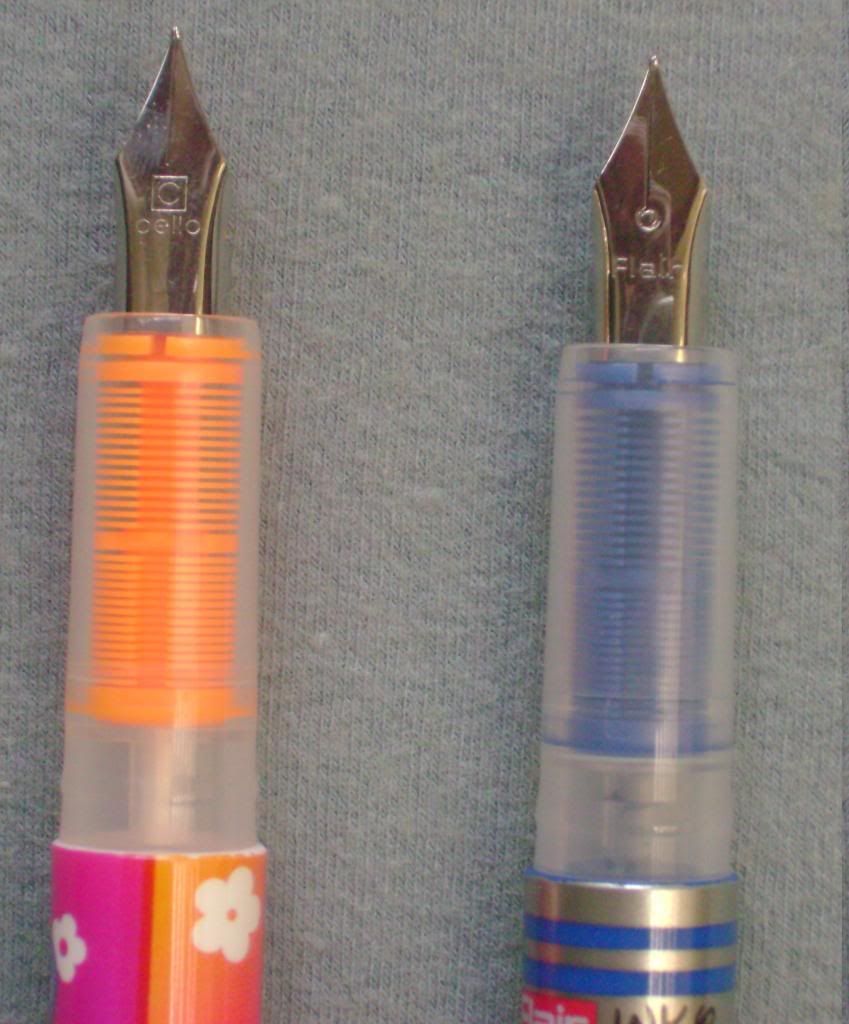 Filling system & Maintenance
: Both are cartridge pens, but not with the standard international cartridges, The "jumbo" proprietary cartridge holds more ink than a standard small international cartridge. The Pens are available only with blue cartridges and the ink is very good quality. No feathering or flow problems.
I tried Parker long cartridges, it exactly fit into the pen, but the barrel cannot hold the long cartridge. May be a small Parker cartridge will suit.
Conclusion
:
Both the pens good value for the money. A must try pen. I have been using both these pens for last many months, and am fully satisfied with their performance. Both are very practical pens, even though the looks are aesthetically not so attractive. To me these pens are Indian Preppies.