Since this is scanned, the colour of the ink is a bit off from the way the scanner shows it.
Summary:
Another quality Diamine product, works as well as I'd expected it would.
Smoother papers take longer to dry, and different papers may make the ink shade orange instead of a magenta-corally colour. But still, it's a fantastic red, without being slightly yellowish or watery pink. It's rich but not saturated, and doesn't feather a bit. However, cheaper papers and people who write with a lot of pressure may find that it bleeds.
The price is good for 80mL. The bottle is nice and sturdy, with a metal cap. The small opening may make it difficult to fill your pen up when it's almost empty, but then again it's 80mL, so I won't expect to be hitting the bottom for a few years yet.
It's dark enough to be a daily jotter, and I can easily see it in the semi-darkness of a lecture theatre. It's fun and festive and you might like having a bit of fun with it on a rainy day, but I doubt you'd use it for formal and serious stuff. The colour also reminds me of fresh blood. It's also great for annotating notes!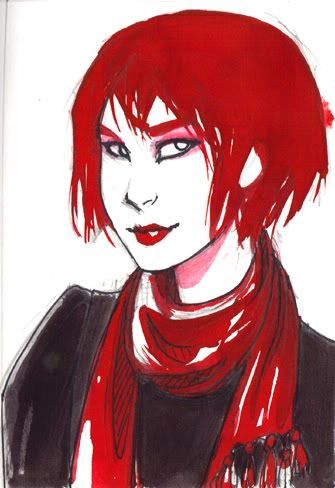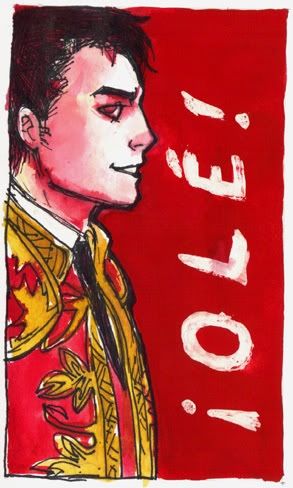 Looks great saturated or dilute - mix it with a bit of water and you have your own homemade pink ink! However, it tends to bleed if you put too many highly saturated layers of colour in one spot. The dried result looks similar to wet (so no nasty surprises there), it mixes well, and the bottle is big enough that you can use it for years for writing, painting, and mixing your own colours.
Would I buy it again? Definitely, if they're still making it in 2015.
Note - I used two different papers for the writing and drawing section.
The writing paper is slightly yellow so it makes the ink appear orange. (Compare the colour in 80gsm printer paper to 120gsm writing paper - the printer paper shows more of the true colour.)