Nib Making
Started by
handwriter
,
Apr 21 2012 16:23
Posted 17 November 2012 - 17:34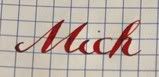 ---
Posted 25 November 2012 - 11:45
Fascinating video. (I kept thinking, watch your fingers!!). The delicate and careful work amazes me.

I just thought the same when he was pressing the gold plates xDD.
Very old and interesting video.
---
Posted 06 December 2012 - 01:55
Thanks for posting this. Very interesting to watch.

---
Posted 27 March 2014 - 13:29
Sorry to revive a dead thread, but I was just wondering today how nibs were made. The video was very interesting. I guess this company is now just a pen shop? I shouldn't say "just a pen shop" because they carry many nice pens. I guess they don't make pens and not nibs anymore. What happened to the equipment?
---
---