Anyone who has bought a notebook from Mr. Yoshino-san's Design.Y, knows the exquisite Tamoe River thin quality paper which he uses. It is kanzen 完全

I have wanted to get quantities of this paper and in larger sizes because it is so remarkable among the hundreds of papers I have used. Here's my list of why I like it:
It brings out the smoothest feel with all the pen nibs, and all the inks I have used on it.
The quality feel (same on both sides) of the paper is smooth and elegant.
Although it also comes in white, the subtle, cream color is enhancing rather than conflicting.

Inks do not feather on this paper. I have tried at least 150 inks so far.
Inks do not bleed. This is the most astounding feature, given how thin this paper is. Not even with extremely wet writing from my Pelikan M1000 O3B nib.

Inks that are known to have a secondary sheen, demonstrate it on this paper.
This was a folded note from Mr. Yoshino-san where he used a Pelikan M1000 BBB nib and I used a wet, O3B.
I got this in A-4 size (210 by 297 millimetres or 8.3 × 11.7 in). It is thin at 52 gram/meter² (normal 20lb copy paper is 75 g/m²; HP 30lb Premium Laser Jet is 120 g/m²), yet not translucent like velum. The image of the ream below compares the height of 1,000 sheets of Tomoe River to 500 sheets of copy paper.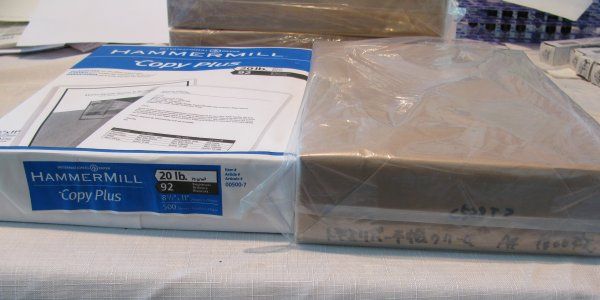 Edited by SamCapote, 20 April 2012 - 16:13.