First Impressions
(7/10)
Wow, this came in a big box. The pen shipped in a box that measured 10.75"x5.25"x5.5". Inside was lined with newspaper, and safely nestled between layers of the news was a bubblewrapped cylinder. When I opened the multiple layers of bubblewrap, I discovered a soft material wrapped around the pen. Carefully removing this inner wrap exposed the woodgrain Nox. Cyllindrical was the first word that came to mnd...the pen is a perfect cyllinder, circular flat top and bottom, straight sides. At first, I was unsure of how I felt about it, but, it quickly grew on me.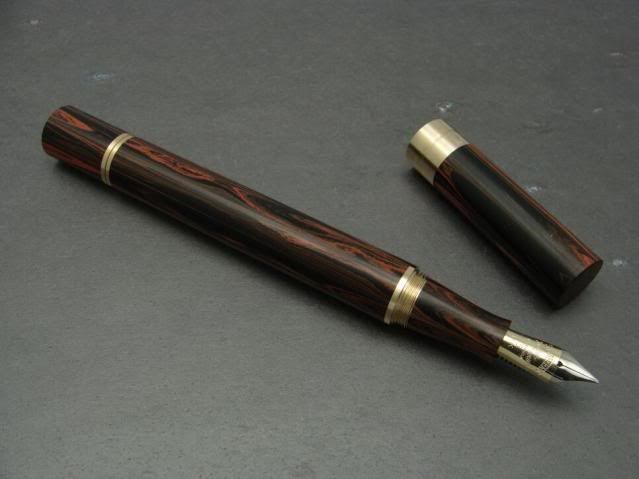 photo by Cameron Lewis
Cameron included a nice note in the box with the pen. Based on his packaging, it is obvious that he cares about the pens he makes, and he wants the purchaser to enjoy them. The packaging was not "Goulet Tough", but was definitely up to the task, and didn't require power tools or functional lightsaber to extract the pen.
Appearance
(10/10)
It looks like a brass and wood cyllinder. The woodgrain ebonite is exactly what I had hoped it would be. It has a 'wood-like' pattern that is variable around the pen. Nice. The brass compliments the pen body nicely, and the Sheaffer's 14k number 5 nib looks smart, attractive and properly proportioned. The Nox is different from any of my other pens, aside from the other CE Levi pens, I don't know I've ever seen a pen that has quite these lines. One other reviewer compared their Nox to a cigarette, I can see that comparison, but, I prefer to think of the Nox as something of beauty. This is not a pen to use if you want to 'fly under the radar', this stands out, in a good way.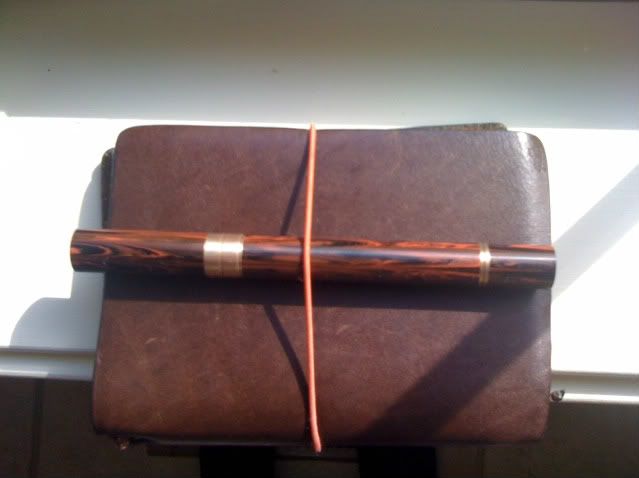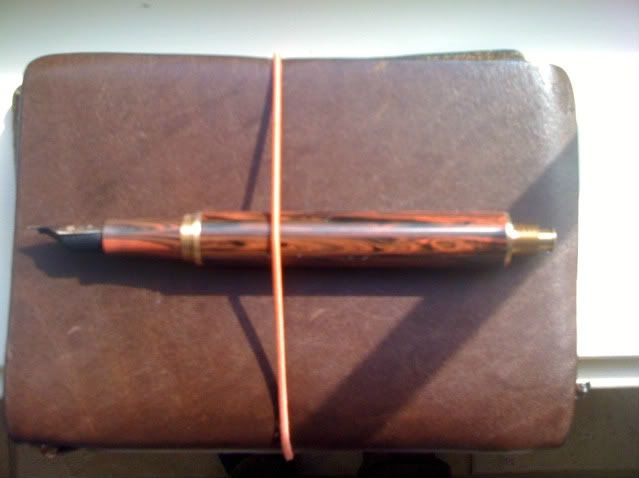 photos by French
Design/Size/Weight
(9/10)
Cyllindrical, large, hefty. empty weight 27g 5.3125" capped, 5.0625" uncapped
This is a pen that needs no branding, as I have not seen another manufacturer with a very similar design. The combination of shape and brass hardware screams (or at least whispers) "CE Levi". In another review, someone said the Nox didn't need any label or signature becasue the pen itself is the artist's signature. I completely agree. This pen is clipless (a plus for me, I love the clean lines), it doesn't post (another plus, as I normally don't post, unless the pen is small enough to require posting. The design is a cyllinder, the edges of the cap and blind cap are crisp. The length of this particular pen is 5.3125" capped, and 5.0625" uncapped. It is a good size for me, the section is comfortable to grip. The pen is on the heavy side (due to the solid brass construction) at 27g empty, however, when writing it feels well balanced. As mentioned before, the cyllindrical shape is growing on me, but initially, the harshness of the angles surprised me. I had seen the pictures in other reviews and on Cameron's website, but, for reasons I don't completely understand, it didn't dawn on me that this pen could just as easily be mistaken for a pipe or ebonite rod as a pen. That being said, I thought about asking Cameron to soften the edges a bt, but then realized that may very well make the pen look worse. At best, it would take away from the uniqueness of the pen and possibly make it look like it was trying to be something it isn't. By no means do I think it is ugly, but, at least for me, the shape has taken some getting used to.
Nib
(10/10)
Sheaffer Feathertouch #5, fine nib. This is a vintage 14k Sheaffer nib and feed. The flow is a generous 8 out of 10 on the wetness scale (using Mr. Binder's description, 1 is the Saraha Desert and 10 is Niagra Falls). I asked Cameron for a wet writer, and he delivered. The nib is smooth, as you would expect from vintage Sheaffer. The pen lays down a nice juicy line with Noodler's Red Black (the initial ink choice for this pen). The nib is slightly soft, definitely not vintage flex, or even Noodler's Ahab flex. The writing experience is smooth. I told Cameron that I like my nibs to be like "wet ice on ice", he delivered.
photo by Cameron Lewis
Filling System
(10/10)
Button Filler, handmade, nonetheless. After receiving the pen, I asked Cameron how to replace the sac, when the time comes. On the Nox, the section is friction fit into the barrel, which seems to set it apart from other button fillers, where the button end is removable. The pen is fitted with a No. 18 silicone sac, which should provide many, many years of service.
A self contained filling system in a world where interesting self fillers are making a return (Edison and Gate City pens) is a big plus. Provided the sac is durable (no reason to believe it won't be), this gets top scores. Many will take points off for capacity (those who believe eyedropper and piston fillers are the best filling systems), I like to fill a pen and use it until it is empty, with pistons and eyedroppers, I seem to use them for months at a time. Other systems, such as lever, cartridge/converter and button allow for more frequent refills. However, it seems the #18 sac holds a fair amount of ink (for my daily use)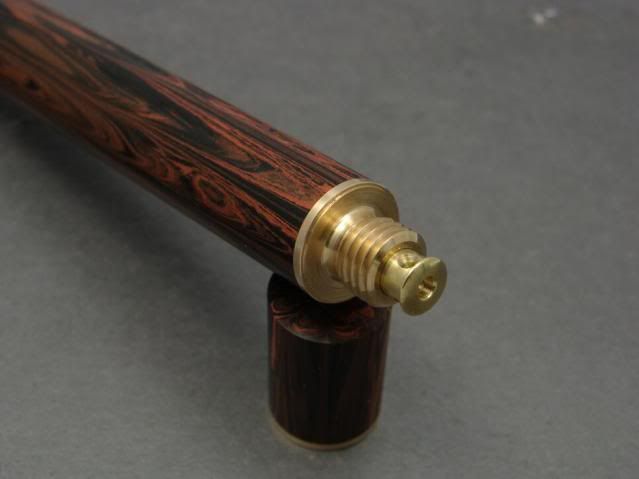 photo by Cameron Lewis
Cost and Value
(9.5/10)
Like many others this has to have 2 ratings, value for $500 (list price) and value for $350 (discounted price). At $350, this pen scores a 10/10. When you realize that the Edison signature lines sell in the $250-$400 range (depending on model, filling system and nib choice), this is right in line with that. When you add in an interesting filling system and a vintage nib, this is a definite solid value at $350.
It becomes a bit tougher to determine value at list price. Cameron makes these pens using manually controlled equipment (no computer controlled lathes), he needs to fuse the brass and ebonite, and he seems to be a nib perfectionist. When you throw in the button filling system (which Cameron fabricates himself), this pen is a strong 9/10.
I honestly found this rating to be the most difficult of the review. I'm very pleased with the value of the pen both for the price I paid and for the list price. Where I struggle is value for artistic ability. Having very limited artistic ability, I tend to place a high value on the ability of other people. Cameron definitely delivered with this pen, it is comfortable for extended writing sessions, has been airplane safe, and has that ebonite feel (warm?) and smell.
Conclusion
(55.5/60)
Could this be the pen I should have purchased first? Quite possibly, but, that would assume that somehow I would have magically discovered what pen design, material & nib type was 'best' for me. So, in reality, this pen is actually the culmination of playing with fountain pens for years and learning likes and dislikes. A score of 92.5% is a solid "A" that still leaves room for improvement. Perhaps more telling of my feelings about the Nox is it caused me to break my normal rotation 'rule' - normally I fill a pen, write it until it is empty, clean and store, giving the next pen in line its turn. I filled the Nox twice, giving it a double turn, it is a pen that makes me want to use it.
My advice is if you like the look of the pens, and if you have some patience (Cameron makes the pens by hand and is developing a queue) the CE Levi Nox is an outstanding pen for the money. You will end up with a pen that matches your requests, and likely won't be in everyone else at the pen club's case on meeting night.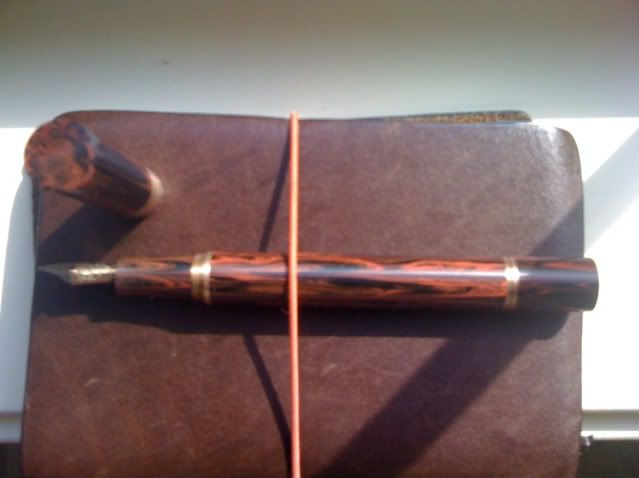 photo by French
Edited by French, 13 April 2012 - 00:21.