Hi, prior to purchasing this pen 2 weeks ago, I have not had any asian pens in my 215 pen stable. However, I do have a Good friend named Doug C. whom does have Nakya's and Danitrio's and showed them to me. I was quite impressed to say the least and just sat on it and thought about it for quite awhile. I also reviewed them here on FPN. And you see, Doug is just what we would not call a collector, he is what we would call a Pen Afficienado. So i trust Doug when he talked about these pens.
Back to my pen; It is a Danitrio Mikado in Kuro - Tamenuri that is a clipless model. It has a Factory Flexible Stub Nib that was tuned by Michael Masuyama.
Right now I am just beyond myself with how Beautiful this instrument writes. In my stable of pens this is by far the nicest writing pen that I have!

SIZE
5/5 - When I first seen the pen in the Beautiful box it came in, I thought OMG, I will never be able to write with that humongus thing. But once I picked it up and started writting it was absoutly a treasure to write with. It fits into my stubby fat hands perfectly.
Weight
5/5 - Again when you first look at it this gigantic pen you would think it is heavier than a bowling ball. But no such luck. It's a feather in comparision to my Visconti Luigi Einandi which is size wise close to the same size as the Danitrio, but weighs a ton.
Nib
5/5 - The nib is comensute with the size of the body of the pen. They did a good job here in not putting a too small nib on a big pen.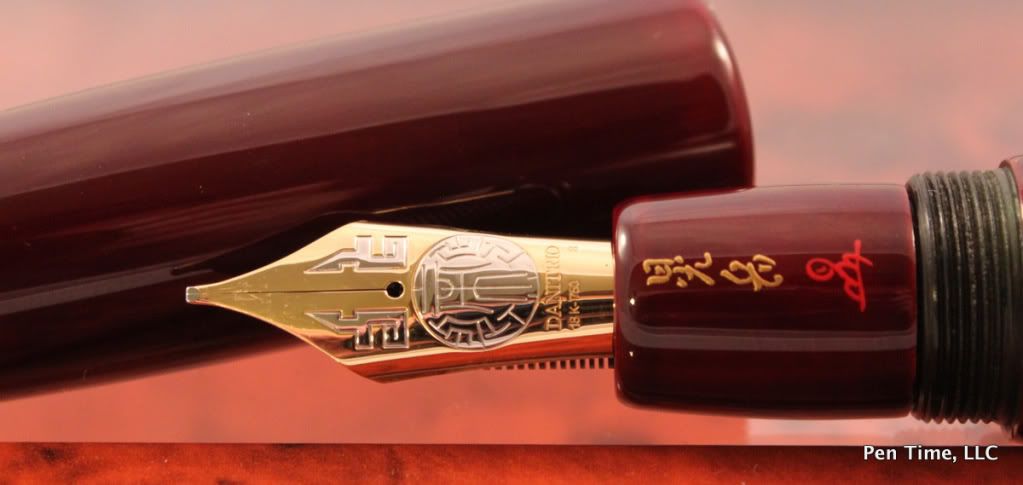 Resivoir
5/5 - This baby can load it up! I've been writting for 2 weeks and have not re-filled my Danitrio yet! Pretty impressive in my opinion.
Finish
5/5 - Not a flaw in this baby! And I am flat in love with the color. I read somewhere here in these forums that it will take a full 2 years for the color to completly mature.
This is my 1st review, and I hope I did an ok job with it.
Edited by Chi Town, 07 April 2012 - 22:27.