☞ For convenient viewing of the images, you may wish to scroll to the menu at the very bottom of this window to ensure the FPN Theme is

.

Please take a moment to adjust your gear to accurately depict the Grey Scale below.
As the patches are neutral grey, that is what you should see.

Mac http://www.wikihow.c...te-Your-Monitor
Wintel PC http://www.calibrize.com/

Grey Scale.


- ♢ -


Figure 1.
Swabs & Swatch
Paper: HPJ1124 24 lb. Laser Copy.


Figure 2.
NIB-ism ✑
Paper: HPJ1124.

Depicts nibs' down-stroke width and pens' relative wetness.
IMG-thumb: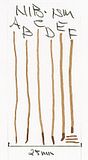 Pens: L → R: Somiko, P99, C74, 45, Phileas & Prelude.


Figure 3.
Paper base tints:



L → R: HPJ1124, Rhodia, G Lalo white, Royal, Staples 20 lb.


WRITTEN SAMPLES - Moby Dick
Ruling: 8mm.

Figure 4.
Paper: HPJ1124.



Figure 5.
Paper: Rhodia.



Figure 6.
Paper: G Lalo, Verge de France, white.




Figure 7.
Paper: Royal - 25% rag.




Figure 8.
Paper: Staples Creme 20 lb.



Figure 9.
Paper: Staples multi-use 20 lb.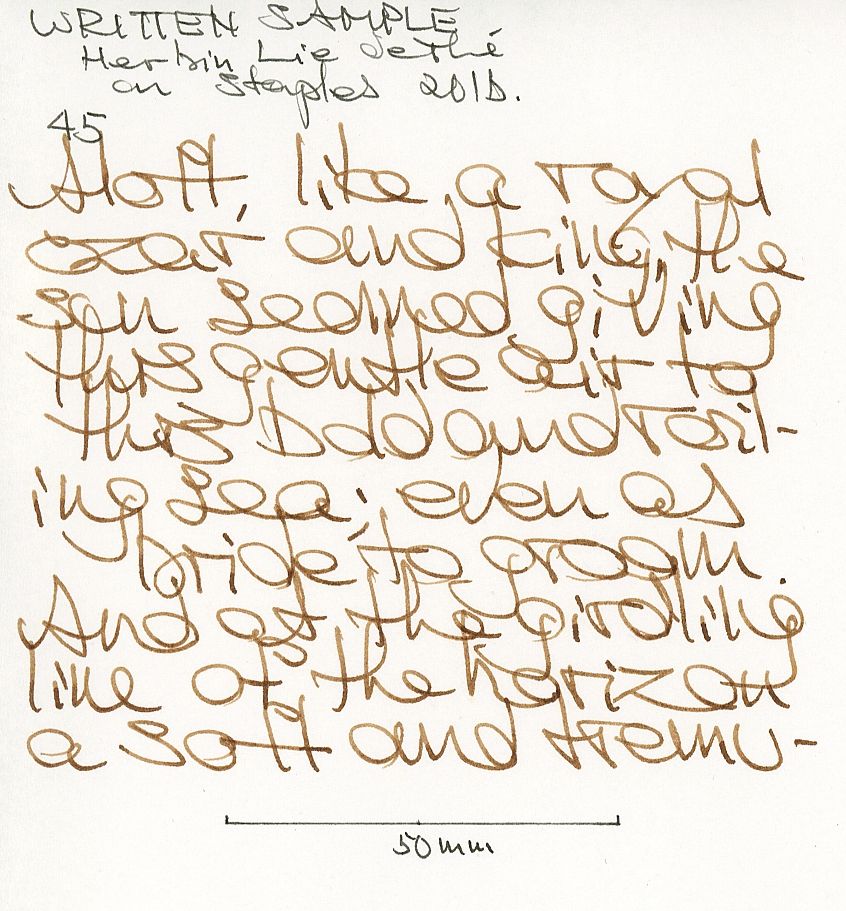 Figure 10.
Grocery List
Paper: Pulp. One-a-Day calendar page.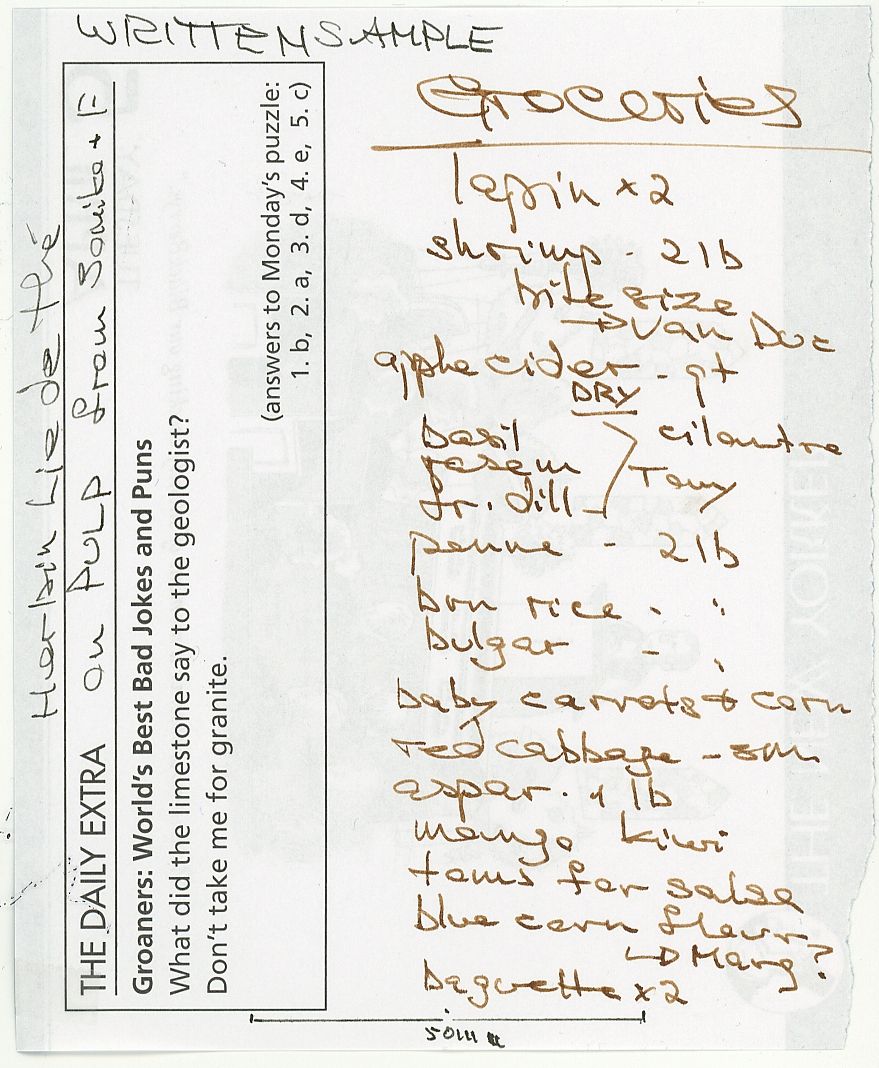 OTHER STUFF

Figure 11.
Smear/Dry Times
Wet Tests ☂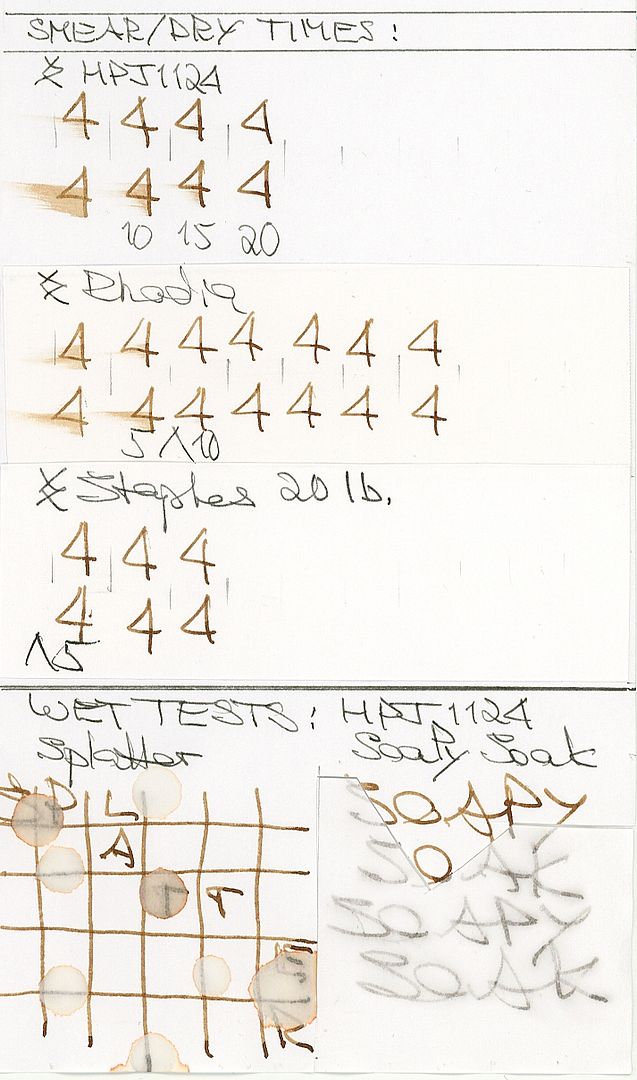 GENERAL DESCRIPTION

Type:

Dye-based fountain pen ink.
Presentation:

Availability:

Available when Topic posted.
Daily writer?

A go-to ink?

When a lustrous vegetal Brown is desired.

USE

Business:
(From the office of Ms Blue-Black.)

A long shot.
A very very long shot.
For drafts and ephemera: things that may not even see the inside of a Meeting Room.
May not be suitable for extensive reading under warm colour light sources. e.g. tungsten filament incandescent light bulbs.
HLdT might be used for editing and mark-up, but does not seem to have sufficient zap for error correction and grading.
Illustrations / Graphics:

HLdT will be most welcome, whether from a pen or brush.
The intriguing subtle colour is unlikely to be achieved in a mix. (So sorry Platinum Free Mix Masters.)
Likely useful as a soft ground colour; unlikely to be used to depict a primary figure.
This ink brings a certain lustre to the party, which unfortunately is not apparent in the scans.
In general, line quality is very good, so it can be used for tight narrow lines; but there is persistent shading, so may not suit diagrams, label text, graphs, charts, etc.
Students:

Not convinced.
As for Business use above, perhaps for ephemera, drafts, and that which is not of primary importance and/or may be revised.
Also, HLdT may suffer reduced readability under warm light sources e.g. candles, tungsten incandescent bulbs.
Not sufficiently dynamic for written assignments.
Personal:

Absolutely!
Of the Brown inks I've used, this must be one of my personal favourites.
It doesn't run on rails, nor is it a journeyman ink, nor would it be mistaken as a business ink. Mais non! 'ere is an 'erbin for zee oh so very me-to-you 'tu' personal writings.
Impossible for pro forma personal business writing.
The somewhat pale tone of the ink slows the reading process just a tad, inducing the reader to spend more time reading what is written.
As much as I like it, I would be hesitant to use it for wee missives of more than six pages: not a breezy ink. (?)
HLdT does not try to appear olde tyme, or draw a visceral response by invoking delectable food group/s. (Not even a cuppa.)
So far, with my atrocious hand writing, I am reluctant to use a sharp Italic nib: line width variation may combine with the shading to give a jumbled look, slowing the the reading process a bit too much perhaps.
Some additional character may be derived from a modest oblique, a narrow Stub or a low flex nib, yes? (IMHO, darker inks can handle the shading + Italic combo much more readily than a pale ink.)
Billets doux? Not really.

PHYSICAL PERFORMANCE & CHARACTERISTICS

Flow Rate:

Drier than many inks - even for an Herbin.
Nib Dry-out:

Start-up:

Prompt.
The dryness may not elicit confidence, but no virga was seen.
Lubrication:

Low - a disappointment.

Likely related to ink's dryness.
Narrow nibs used on the textured papers were barely tolerable.†
Nib Creep:

Staining:

Not seen after three days.
Clogging:

Not seen.
Seems very unlikely
Bleed- Show-Through:

Feathering / Woolly Line:

Smell:

Hand oil sensitivity:

Clean-Up:

Quick and thorough with plain water.
Mixing:

JH says no dice.
Non, Non, et Non.
Archival:

Not specifically claimed.
Smear/Dry Times & Water Resistance:


† I have found that the combination of non-absorbent paper with a dry ink can be less bothersome when a very light hand and wider nib are used - the line width appears to be reduced by approximately one nib grade. Fiddling with the posture of the pen to find the heart of the nib's sweet spot may also help.

THE LOOK

Presence:

Warm and soft.
Reminiscent of the warm silky touch of a short-haired dachshund's ear.

Saturation:

Shading:

Magnifique!
All nibs on all papers generated shading that is quite wonderful and absolutely Herbin-esque.
Variability:

Pen+nib combos used:

Quite evident indeed, but not unexpected; well-mannered ink this.

Papers used:

A bit more than expected, due to dryness of the ink it seems.

Malleability:

High.
This really is a pale ink, oui? Yet it is dry, so it can be pushed into greater densities and still hold together, maintaining its character. (That was also seen with Waterman Havana.)
A small but important point is that well-made pale low-saturation inks are just that, and to drive them too far into darker high densities may be contrary to their nature: rather akin to adding a high amount of mild tea to the pot rather than using an average amount of robust tea.
I would prefer to maintain a high degree of shading on a smooth surface paper with a somewhat wet writer. (See the Hi-Res scan below from the C74.)

Hi-Res Scans:

As I do not aspire to the sobriquet 'Reine Des Bandits de Largeur de Bande', these are IMG-thumbs only.

Somiko on HPJ1124



C74 on Rhodia



45 on G Lalo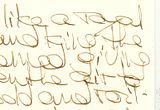 Prelude on Royal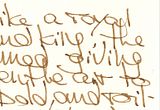 FIDELITY

Is the name appropriate?

I suppose so, but after rikyu-cha, I have no idea what leaf is in the pot demi courtine bottle.
Are swatches accurate?

Colour is OK, but depiction density is so high that it seems quite misleading - the pale density of HLdT from a pen of normal wetness is not apparent. (You know how much I love to hate swabs, yes?)

SIMILAR COLOURS


Kindly refer to this Post: LINK

The Sailor Jentle rikyu-cha was mentioned as a possible, but was an LV ink, long since discontinued. LINK

PAPERS

Lovely papers:

White.
Even a cool white. (No joke!)
Trip-wire Papers: ☠

It is apparent that G Lalo pushes HLdT close to its limit. So unless one chooses a wet pen to match, I would avoid hard / non-absorbent papers.
Dirty whites.
Tinted Papers:

While this is a matter of personal taste, and likely somewhat contrary to current fashion, I do not care for the show-through of the warm tints from the G Lalo or the Creme.

To me, the ink is poised and balanced on white paper, but could be unseated if one works against its colour - even at a higher density.
Pre-Printed Papers:

Forms:

Unwelcome use of such an ink.
As the ink is quite warm, it comes forward - away from the plane of the paper - detatched from the typical Black-printed form text.

Charts & graphs:

I believe the persistent shading may make HLdT unsuitable for such use.
Is high-end paper 'worth it'?

Quite possible.
I think that the smooth-surfaced papers will get the best from HLdT, but really must have absorbency greater than Clairefontaine Triomphe unless running a wet writer.
maruman P143 and the G Lalo Velin de France immediately come to mind.

ETC.

Majik:

Quite possible in a very subtle way.
Likely to occur when you're not looking.
Personal Pen & Paper Pick:

A bit tricky.
Twas a toss-up between the P99 on HPJ1124 and the C74 on Rhodia, which are really quite different. However, the P99 on HPJ1124 was chosen for the line density and base-tint of the sheet.
I was aghast at the 'not for me' appearance from the Phileas. Is it just me? Please chime-in!
Yickity Yackity:

Another 'on purpose' ink, not for me to use every day.
I have fun picking a few pens & papers for this ink.
Ah kushbaby, there's no doubting the reason/s that HLdT is available in 100 ml bottles.

======

NUTS & BOLTS

Pens

Written Samples:

Sailor Somiko + TIGP F nib.
Pelikan P99 + steel F nib.
Pilot Custom 74 + 14K SFM nib.
Parker 45 + g-p steel M nib.
Waterman Phileas + steel B nib.
Sheaffer Prelude + factory stock steel B stub nib.
For lines & labels:
Noodler's Lexington Gray from a Pilot Lady + F nib.

Papers:

HPJ1124 24 lb. Laser Copy.
Rhodia.
G Lalo, Verge de France, white.
Royal, 25% cotton rag.
Staples Pastel, creme, 20lb.
Staples 20lb. multi use.
Pulp. One-a-Day Calendar page.
Images
An Epson V600 scanner was used with the bundled Epson s/w at factory default settings to produce jpg files.
Figures shown were scanned at 200 dpi & 24 bit colour.
Hi-Res Images linked were scanned at 300 dpi & 24 bit colour.
No post-capture manipulation of scanner output was done, other than dumb-down by Epson, Photobucket & IP.Board s/w.

Densitometer Readings:
HPJ1124.

Red 185
Grn 145
Blu 109
Lum 144
Fine Print
The accuracy and relevance of this Review depends in great part upon consistency and reliability of matériel used.
Ink does not require labelling/notice to indicate (changes in) formulation, non-hazardous ingredients, batch ID, date of manufacture, etc.
As always, YMMV; not only from materials, methods, environment, etc., but also due to differences between the stuff I used, and that you may have.
Also, I entrust readers to separate opinion from fact; to evaluate inferences and conclusions as to their merit; and to be amused by whatever tickles your fancy.

-30-

TAGS: Fountain pen ink review Herbin Lie de Thé Tea Sandy1
Edited by Sandy1, 06 April 2012 - 07:51.