Foreplay
This is intended to be a real quickie for the simple reason that so many of us have been waiting to get a look at it and maybe decide whether or not to buy it after all. The last two posts I see discussing this topic include
this
and
this
.
This ink is described by Pelikan (in English and in German) as being a "blue-black", Of all of the new Pelikan Edelstein inks, this one seems to be the one least
dis
regarded, possibly because it hasn't even been available very long (har, har). So, let's have a look at it.…
Very first impressions
Much better than I thought! Especially after reading the above two postings where almost all of us were disappointed with previously sought after gems. I immediately found it wetter than the other Edelstein gems, much wetter than the 4001s, also darker and more saturated than I was expecting.
Instrumental comparisons
Swabs (single, double and triple), a Crest BB, a Pelikano M, and a Rubinato feather dipstick XF, in that order. This is all on Avery Zweckform 100 g paper.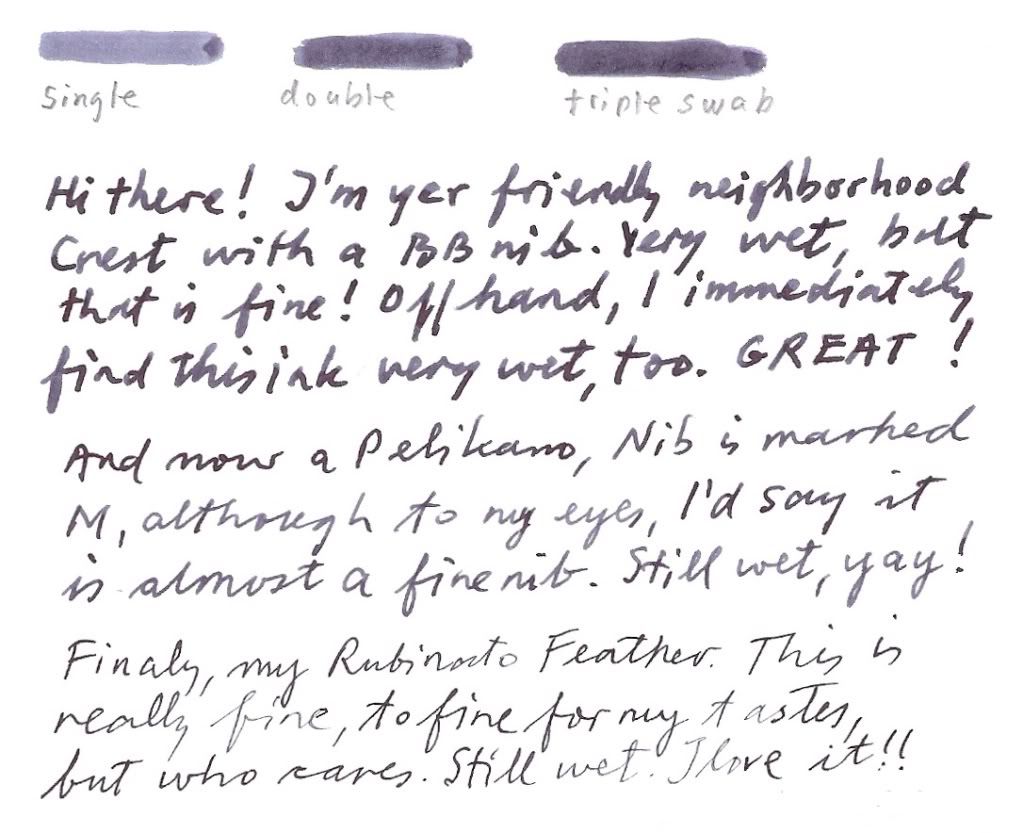 Fast decision on properties

■ Flow: Very good, wettest Pelikan ink I know of.
■ Lubrication: Also good.
■ Saturation: High. Higher than most of the other Edelstein inks.
■ Shading: Not bad. With a flex, it'd be better (I think).
■ Bleeding: None!
■ Feathering: None!
■ Waterproofness: No more than that of Pelikan's 4001 Blue-Black.
■ Drying time: 10-12 s, with my Pelikano M nib on this paper.
Ink Comparisons
The order of significance here is -- to start off with -- irrelevant but Pelikan's 4001 blue-black and PR's Tanzanite are obvious candidates. Then, I couldn't help thinking of MB's blue-black (I used the current Midnight Black here) and Sailor's Jentle blue-black which are the "best" blue-blacks I have, as mentioned earlier somewhere else today. C'mon, I know there are dozens of others but I wanted to start off small today.The famous Parker's and Waterman's blue-blacks don't have a chance (for me) because I still find them too much of a green-grey. Here's a shot which appears a bit too bright on my monitor. But just a
bit
. All with single-double-triple swabs, a Crest BB, and all on the same paper as above.
To sum it up, I see this:
■ Similar colour to that of the 4001, a hint darker (blacker) together with a half a hint of red.
■ By no means as violet or purple as PR's Tanzanite, but that was no shock to me.
■ Not as black as MB's or Sailor's but at the same time more saturated.
Last word (for the moment)
■ Box and bottle are beautiful but the bottle isn't all that practical to get out the last few drops, and it's also hard to unpack out of the box.
■ Capping is a good as MB's new shoes, but only the capping.
■ Pelikan being Pelikan means that you can get it all over the world (like MB) … but…
■ The envisaged disappointments of previous gems here might possibly turn one off from trying out this one, too, and ….
■ As if that weren't enough, their prices are too high. One ml of these costs exactly twice as much as the older 4001 inks.
■ On the box's bottom and backside, I read "EXTRA SOFT INK". That may well be the right way to put it, at least for the
other
Edelstein offers, but I'm not sure that that would apply to
this
ink.
■ All in all IMO, this is still a more than a "good" ink. At least "better" than a lot of the other Edelstein things. If you have been disappointed up to now by those, then
do
get
this
Edelstein.
MIke