This is my first review, so please bear with me.
Yesterday I took delivery of my eagerly awaited custom Nazca from Jeb's Pens. I liked the look of the Nazca, but wanted some modifications to the design.
I liked the look of the Nazca, but I wanted the pen to be slightly slimmer, sized between the Nazca and the Junior. I also requested a shorter finial, and a smaller nib. A Nazca midi if you will. The first step was to choose the acrylic the pen would be made from, and after much deliberation I settled on one called black / grey crush. Having requested a #5 nib as used on the Nazca Junior rather than the #6, John suggested that the #5 nib was available with ruthenium plating, and that the ruthenium-plated nib and black Ti clip would go well with the black and grey material of the pen. That sounded like a good idea to me! John also mentioned that the barrel diameter would be limited by the size of the threads to give a smooth transition from threads to barrel, and that he'd recently purchased a 13mm thread set. Would this be close to the size I was looking for? By lucky chance, 13mm was exactly the diameter I wanted!
The pen arrived nicely boxed, and included a converter and a pouch for the pen. John normally includes a couple of cartridges, but I had asked him not to on this occasion as I only really use bottled ink. He'd also included a hand-written note, which was a very nice personal touch.
The colour of the nib doesn't show up brilliantly in the photo, it looks much blacker in real life.
The fit and finsh of the pen is excellent. Everything fits together tightly and smoothly, and the polished finish John managed has to be seen to be believed. The barrel diameter is 13mm, the uncapped length is 13cm, and the finial height is 7mm.
Comparison with Nazca and Nazca Junior:
Comparison with TWSBI: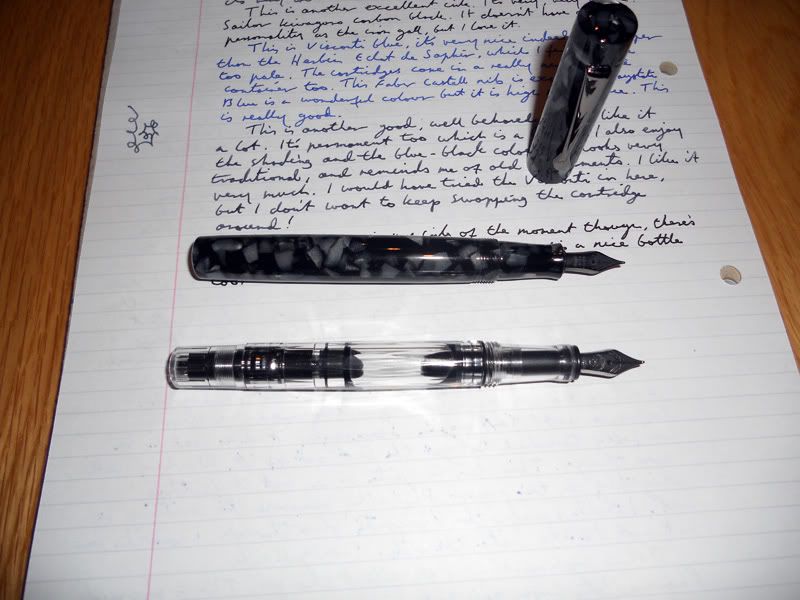 I think that this commission may not have been John's easiest, as I asked for several modifications, and he had to re-work the cap and barrel due to receiving faulty blanks. Nevertheless, his service was excellent and he was very patient with my enquiries and requests for progress photos.
I would definitely recommend John's services to anyone considering a custom pen.
(Photos except TWSBI comparison reproduced with kind permission of John E Brady.)