☞ For convenient viewing of the images in all their inky goodness, you may wish to scroll to the menu at the very bottom of this window, then ensure the FPN Theme is 'IP.Board Mobile'.

Please take a moment to adjust your gear to accurately depict the Grey Scale below.
As the patches are neutral gray, that is what you should see.

Mac http://www.wikihow.c...te-Your-Monitor
Wintel PC http://www.calibrize.com/


Grey Scale:


:÷:


Figure 1.
Swabs & Swatch
Paper: HPJ1124 24 lb.


Figure 2.
NIB-ism ✑
Paper: HPJ1124.

Depicts nibs' line-width and pens' relative wetness.
IMG-thumb:


Pens: L → R: 45, 600, W5, 330, Estie & Safari.


Figure 3.
Paper base tints:



L → R: HPJ1124, Rhodia, G Lalo white, Royal, Staples 20 lb.


WRITTEN SAMPLES - Moby Dick
Ruling: 8mm.

Figure 4.
Paper: HPJ1124.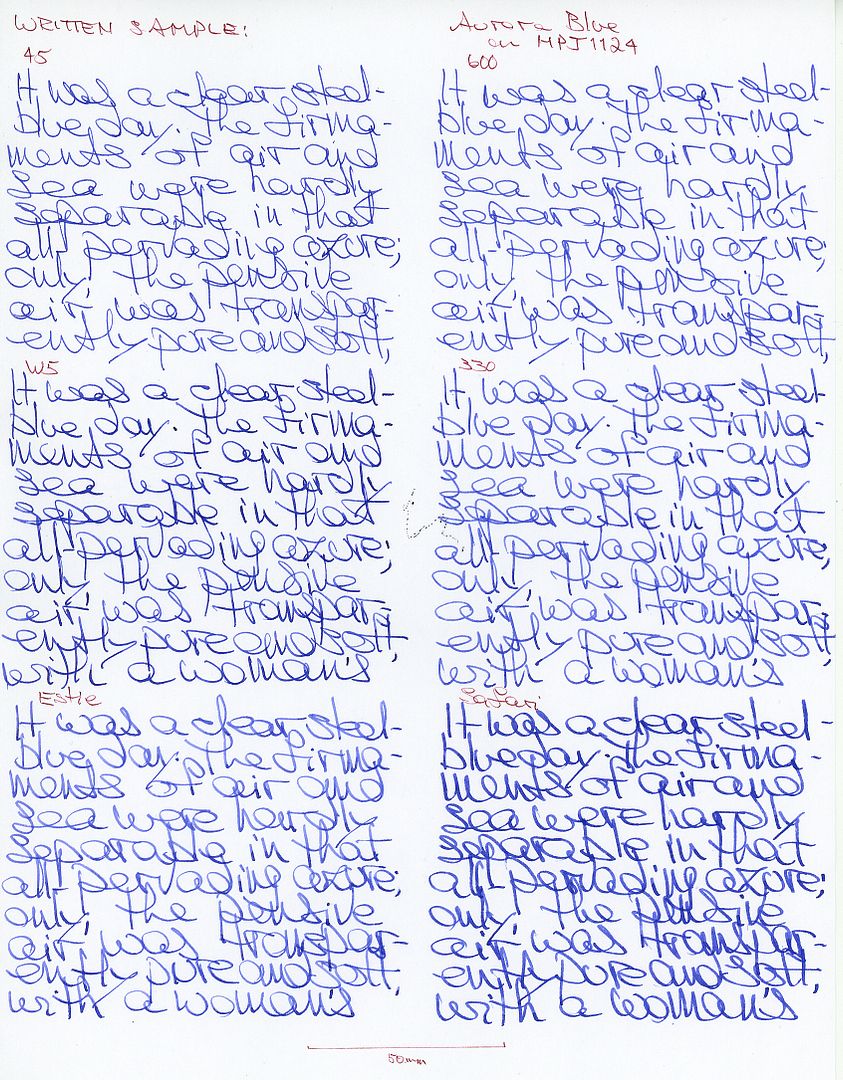 Figure 5.
Paper: Rhodia.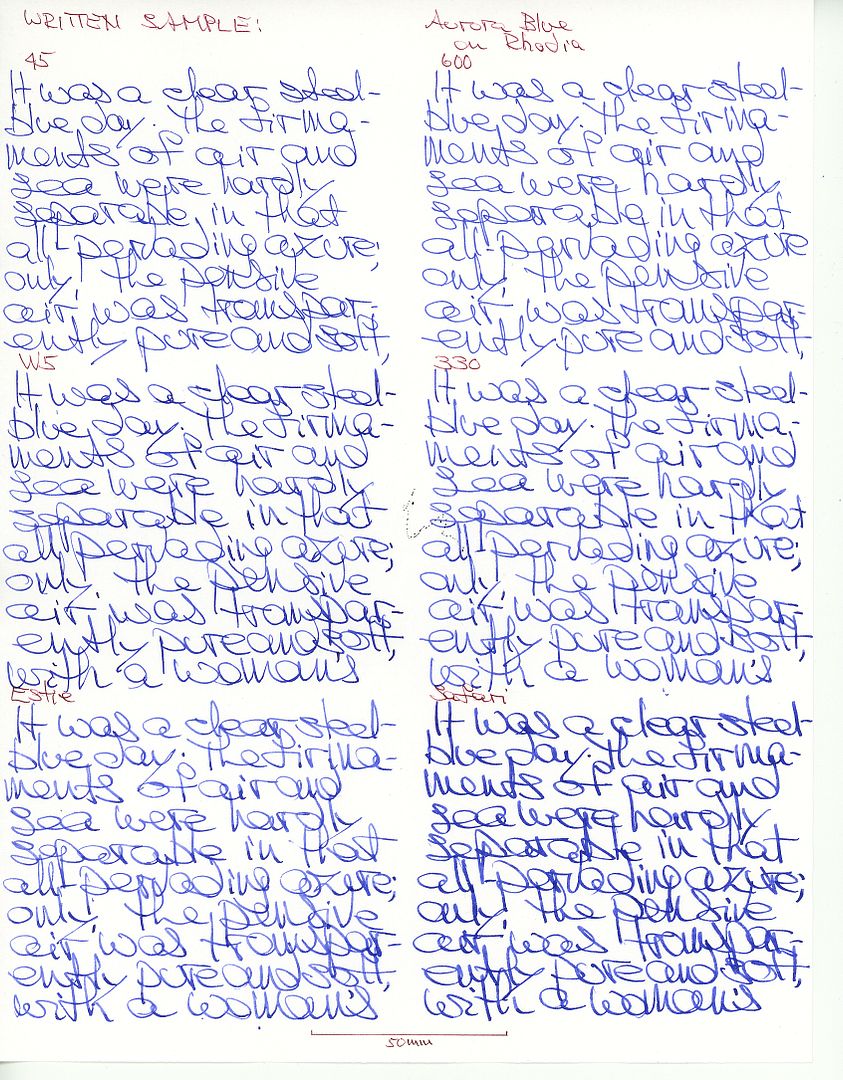 Figure 6.
Paper: G Lalo, Verge de France, white.




Figure 7.
Paper: Royal - 25% rag.



Figure 8.
Paper: Staples 20 lb. multi use.




Figure 9.
Grocery List
Paper: Pulp. One-a-Day calendar page.




OTHER STUFF

Figure 10.
Smear/Dry Times.
Wet Tests ☔



GENERAL DESCRIPTION

Type:

Dye-based fountain pen ink.
Presentation:

Availability:

Available when Topic posted.
Daily writer?

A go-to ink?

When one has had one too many not-quite-there Blues.

USE

Business:
(From the office of Ms Blue-Black.)

In all densities shown, I could see ABl used for most correspondence. Others may well use this ink primarily for lateral and downward communication, switching to an ink with more gravitas for upward communication.
At higher densities, it has sufficient gravitas for a Conference Room, and enough animation not to be overlooked.
I could see using this ink for personal work product, but with some hesitation - the energy seems a bit high for extensive reading. (Not that ABl is at all difficult to read.)
There seems sufficient zip for editing / mark-up, especially in the light-medium densities.
Not enough ⚡zap⚡ for error correction or grading of assignments.
Illustrations / Graphics:

Certainly not a simple simple Blue, ABl can slip into niches impossible for so-called 'true blue' Blues.
A strong eloquent foil to Turquoise / Teal.
The animated aspect allows ABl to command a space with less than full coverage and/or at lower density.
Well suited to figures, yet when diluted it could act as a ground.
Line quality is very high, and does well on the textured G Lalo. However, there is some shading potential, which should be taken into account before using for crosshatching, labels and taut narrow lines.
Students:

Quite possible.
ABl is very readable, and the animated aspect may allow slight reduction in caffeine intake, so is a good pick for general notes; a less animated ink might be chosen for study notes to be read more than a few times.
Water resistance is less than stellar, but what's written should be salvageable. (Kindly run samples using your gear, OK?)

EDIT - to add: Water resistance seems to be downgraded from 'less than stellar' to 'safeguard from liquids'. See Post № 8 below.


The Staples 20 lb. showed an iota of bleed- show-through, so two-sided use of 'lowest bidder' paper seems likely, though cannot be taken for granted.
Acceptable for hand-written assignments, especially those worthy of a high grade, should that ever occur.
Personal:

Very much so.
Another 'bright-eyed' ink that suits all but the most grim topics.
Convivial and personable, with the range to suit many occasions and moods.
Sufficiently distant from the bog standard default Blues, yet will do the necessary for personal pro forma tasks.
I've used ABl from a wide variety of pens & nib shapes - none have disappointed, and some have been more than pleasantly surprising.
Billets doux? Quite unlikely.

PHYSICAL PERFORMANCE & CHARACTERISTICS

Flow Rate:

Nib Dry-out:

Tip dried sooner than expected.
Start-up:

Prompt.
Due to nib tip dry-out, there was some loss of confidence at the initial stroke, but Written Samples show no obvious virga.
The wily practitioner may prefer to cap the pen when not in active use, or use a pen with a hooded nib.
Lubrication:

Above average.
A nice characteristic for a dry-ish ink.
Narrow nibs on textured paper were tolerable.
Nib Creep:

Staining:

Clogging:

Bleed- Show-Through:
A tiny bit on the Staples 20 lb., but some may accept using both sides of the sheet, especially for ephemera.
Feathering / Woolly Line:

Smell:

Hand oil sensitivity:

Clean Up:

Exceptionally fast and thorough with plain water.

ABl is a good pick when a rapid colour change [in the field] is required; and for pens which are tedious to cleanse. e.g. Vacumatics, Snorkies.
Mixing:

No stated prohibition.
I see no need to mix into this ink.
Archival:

Smear/Dry Times and Wet Tests:

See Figure 10 above.
EDIT - to add: Water resistance seems to be 'safeguard from liquids'. See Post № 8 below.


THE LOOK

Presence:

One eyebrow cocked.
Reminiscent of a person who speaks with an accent acquired in more than one place.

Saturation:

Shading:

Strong potential for attractive shading.

Not evident from narrow nibs.

Variability:

Pen+nib combos used:
Papers used:

Quite a bit less than expected, other than shading potential.

Malleability:

Quite good actually.
While the Look does change, somehow ABl manages to remain very much itself. (?)
As shown, the choice of pen can be used to great effect, yet once the pen is chosen, The Look is quite stable across the various papers - a good characteristic to have in a daily writer ink.

Hi-Res Scans:

Originals are 60x30mm.

As I do not wish to be known as 'Regina del Bandito di Larghezza di Banda', the following images are IMG-thumbs, so please click them to view as intended.

45 on HPJ1124


W5 on Rhodia


330 on G Lalo


Safari on Royal


FIDELITY

Is the name appropriate?

Not quite.
Yes indeed, Aurora has but a brace of inks, so granularity is superfluous, but this is not a plain ol' Blue. (Whereas Lamy Blue is very much a plain ol' Blue.)
Are swatches accurate?

The aurorapen.it site map indicates refill information should be included; alas, access is not supported by the menus.

OTHER INKS

Comparison:

To enable ad hoc comparison, my Reviews of Blue inks from 10 August 2010 onward share the same Written Sample layout, and some papers and pens. Manipulation of browser windows allow for simultaneous viewing of Written Samples of several inks. That said, if you feel that a specific aspect deserves to be depicted/documented in a separate Post or Topic, your PM will be welcomed.

Swab Swami:

IMG-thumb:


Left → Right: Sheaffer Skrip Blue, Montblanc Royal Blue, ye olde Waterman Purple (Violette), and Pelikan 4001 Turquoise added as a foil.



PAPERS

Lovely papers:

ABl ♥ paper!
Ran very well on all papers used.
Trip-wire Papers: ☠

None encountered, but as a matter of respect, I would avoid dirty whites - Eeeewwwwwe!
Tinted Papers:

Possible, but a bit tricky.
As shown, on the warm G Lalo, the paper adds a bit of yellow to the appearance - generating a definite shift to Violet. I imagine a cool White or pale Blue would emphasise the Blue aspect of ABl, as might papers loaded to the gunnels with optical brighteners.
Pre-Printed Papers:

Forms, etc.

Good pick.
Likely the tone and colour provide sufficient separation from the typical Black-printed form without moving too far off the plane of the paper.

For charts & graphs:

Watch for lack of separation from feint lines pre-printed in Magenta / Violet.
Is high-end paper 'worth it'?

If one wants to maximise shading potential, a smooth hard-surfaced paper seems to be required. (I was not amongst those hooligans who claimed to be ditching their Clairefontaine. LINK


ETC.

Majik:

I have high hopes that a fair hand could generate some subtle majik.
Personal Pen & Paper Pick:

Estie on the HPJ1124.
One of the rare times that I have included a personal favourite. This nib is a dry-ish Stub, and contrasts to the Safari with the goosed 1.1 nib.
The pen keeps the density in harmony with the variable line width.
The paper's base tint allows Aurora Blue to be well seated upon the page, yet energetic; with the smooth surface promoting attractive shading that remains within the mid-tones.
Yickity Yackity:

Aurora Blue was a contender for the One Of The Ten series of ten keystone Blue inks, but the colour was just not in there. That said, I do consider Aurora Blue to be a core member of my inky array.
Ah kushbaby, if just had better water resistance . . .

= = = =

NUTS & BOLTS

Pens


Written Samples:

Parker 45 GT Flighter + 14K XF nib.
rotring 600 + steel F nib.
Waterman's W5 + 14CT nib. *OooooLaLa*
Sheaffer 330 + steel M nib.
Esterbrook J + 9284 Signature Stub nib.
Non-nudist Pink Safari + goosed 1.1 nib.

Papers:

HPJ1124 24 lb. Laser Copy.
Rhodia.
G Lalo, Verge de France, white.
Royal, 25% cotton rag.
Staples 20lb. multi use.
Pulp. One-a-Day Calendar page.
Images
Scans were made on an Epson V600 scanner; factory defaults were accepted.
Figures shown were scanned at 200 dpi & 24 bit colour.
HiRes Images linked were scanned at 300 dpi & 24 bit colour.
Scans were not adjusted post-production, other than dumb-down by Photobucket and IP.Board s/w.
Densitometer Readings
Red 102
Grn 112
Blu 211
Lum 129
Fine Print
The accuracy and relevance of this Review depends in great part upon consistency and reliability of matériel used.
Ink does not require labelling/notice to indicate (changes in) formulation, non-hazardous ingredients, batch ID, date of manufacture, etc.
As always, YMMV, not only from materials, methods, environment, etc., but also due to differences between the stuff I used, and the stuff you may have.
Also, I entrust readers to separate opinion from fact; to evaluate inferences and conclusions as to their merit; and to be amused by whatever tickles your fancy.
-30-

Tags: Fountain Pen Ink Review Aurora Blue Sandy1
Edited by Sandy1, 29 February 2012 - 23:25.