Following my review of a Worcester Pens Spencer, which I mis-identified as a Sentinel, I have bought two
real
Sentinels
, from their maker Bryan Lucas.
Both are celluloid; the first is a very pretty dusky 'Rose Quartz' colour and gold trim, with an 18K Jowo nib, made into a 0.7-0.8 cursive italic by Oxonian; the other has silver trim and is in the same colour, Steel Quartz, used by Waterman in the 1930s. (I had a W'man 94 in this striking material, but didn't like the nib, so it has a new owner). This has a round-tipped Medium steel nib, also nicely smoothed by Oxonian.
The Rose Quartz is 2mm shorter and thinner than the Steel Quartz, which is 15cm capped ..slightly longer than a MB149.
Bryan tells me that the pink celluloid stock was thinner, so he could not make it any bigger. Both are very comfortable to use unposted, quite light, but they feel substantial, and have, as always, Worcester's excellent fit and finish.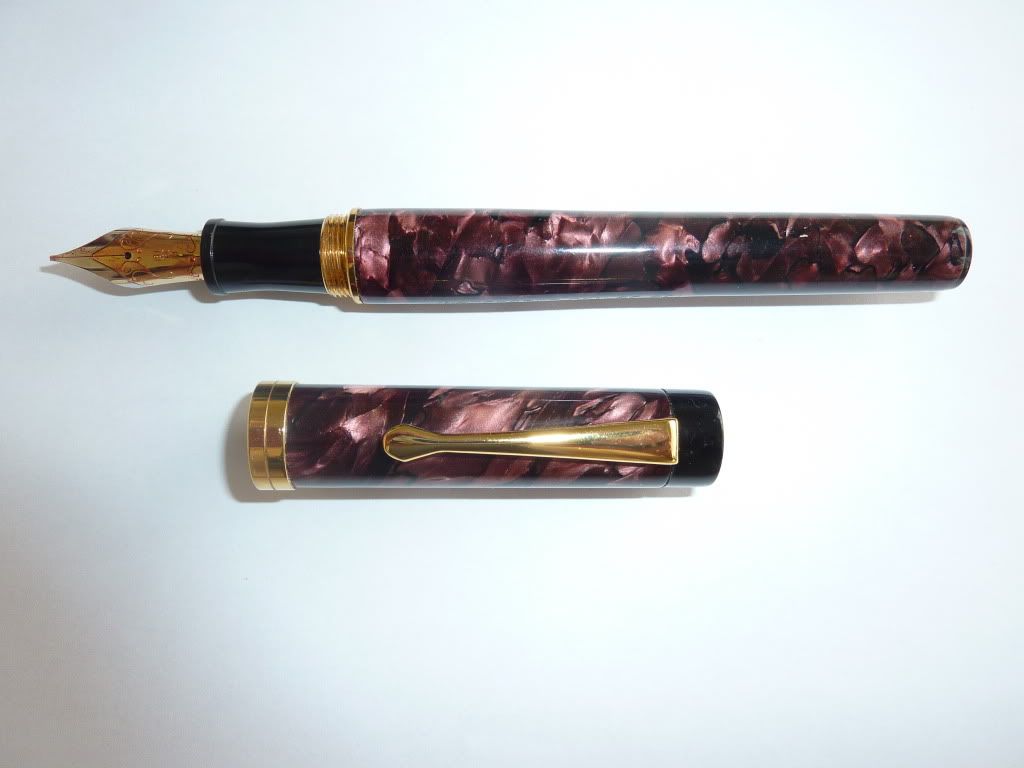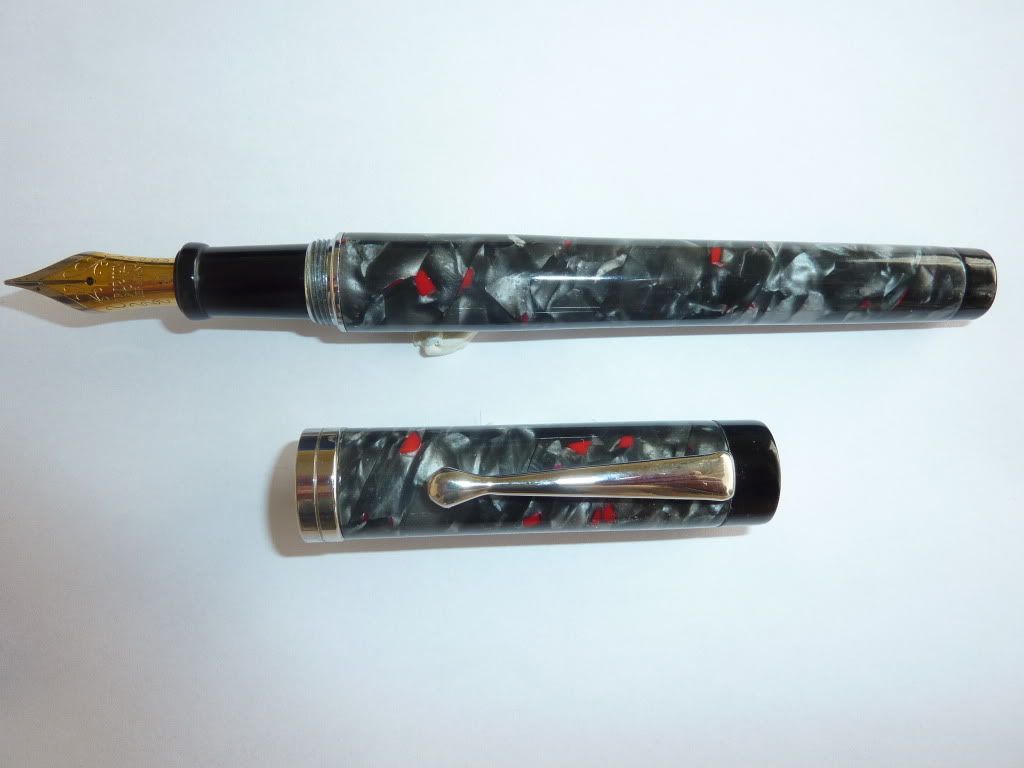 The celluloid maybe doesn't have the
depth
of colour of some of the best Italian pens ... which cost
much
more .... but both pens have been much-admired.
Packaging is tastefully simple .... a smallish box in a cardboard sleeve. I personally am rather irritated by huge, ornate boxes.
One tiny criticism is that the cap-to-body threads are not as slick as they could be, and one has to take some care not to cross-thread when capping.
Bryan is aware of this and is working on it! It really is not a big issue.
The Jowo 18K gold duo-colour CI nib is wet and writes very nicely, with line-width variation, and just a bit more
suppleness
than the very smooth, wet, steel M nib. Both feel very comfortable in my hand; I
just
prefer the
slightly
fatter, longer grey pen.
The filling systems are C/C , about which there isn't much more to say!
These pens were on sale at the pen shows for GBP79 with steel nibs .... amazing value, IMO.
I'm not sure how much extra I paid for the gold nib, as I got it from Oxonian, as part of a package deal, but in any case it is extremely competitive.
These are great pens, and Bryan was, as always, a delight to deal with.
Edited by rogerb, 29 February 2012 - 01:44.