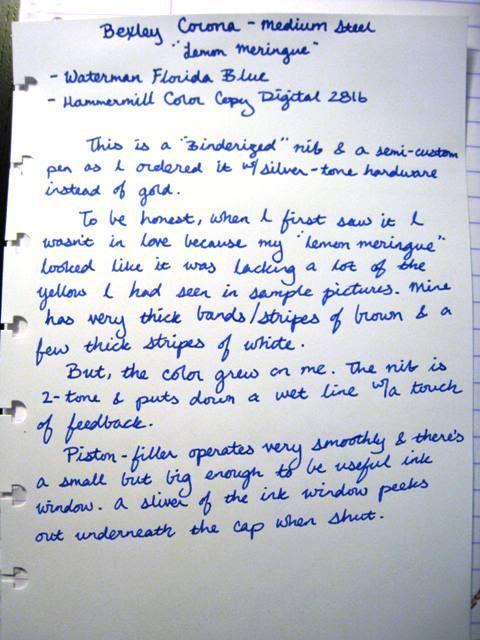 Well, we really don't need another Corona review, but I didn't see any in the Lemon Meringue colorway. To be honest, I wasn't impressed when I first saw the pen because I was expecting a lot more yellow. Mine is quite brown, with a few thick stripes of white. But, I've gotten used to it & am now rather fond of my yellow-brown pen.
I really don't like gold trim on my pens, so I asked the lovely people at Richard's Pens if it could be "custom" ordered with silver hardware instead. Not a problem, it just took an extra week to be delivered. The pen is comfortable to write with un-posted, & I find it doesn't post very securely. It also makes it too back heavy for me.
The nib is a Binderized steel medium, so naturally it writes smoothly & wet
It's a two-tone with the Bexley logo & size engraved.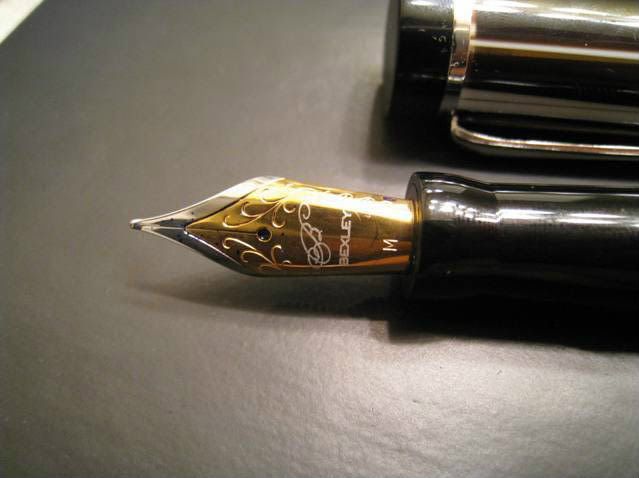 I'm not too fussed over piston-filler v. converter, but I do love ink windows. At first I thought the ink window would be too narrow to be of any use, but it's actually big enough to be useful without taking over the section. To be fair, I wouldn't mind if the section was a window but for those that do, fear not. This picture doesn't show it very well because the pen was nearly full. The piston operates very smoothly & is fully internal; no slight gap when fully extended like a Pelikan.
There is a little peek through of the ink window when the pen is capped. It doesn't bother me, but for those that want a perfectly engineered pen...either inspect yours in person first or ask for one that is fully covered?
Nice pen with some heft but not "heavy," & an American-made piston-filler to boot for <$150