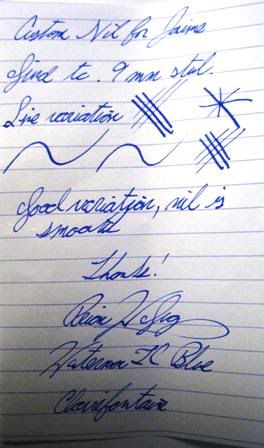 Above is the writing sample Brian kindly included to show/describe how the custom grind on this nib wrote.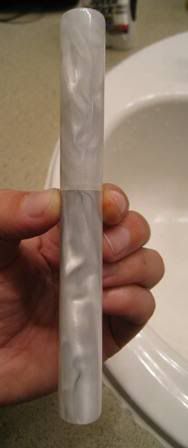 I love white pens. After deciding on the Mina for my first custom Edison, I asked Brian what material he might have that was a "pearly" or marbled white. The Igloo Swirl acrylic was included in a link he sent of several possibilities, & it looked very promising. I was a little worried because the sample size was small & I couldn't get a good look at how much visual texture there would be in the white, but I'm so glad I went ahead & chose it anyway. The pen is very white & has a beautiful shimmer in certain light. There's subtle shifts in the coloring so it's not just a solid tube of white.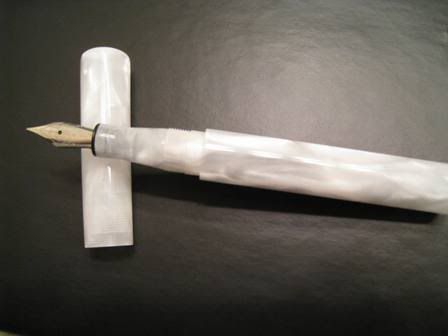 "Smaller" in a sense due to the taper, but it's in no way a mini pen. Specs from the Edison website list it as 5 1/4" capped, 4 3/4" uncapped. At its thinnest point the pen is still over .5" thick. If you're really worried about the length the Extended Mina is available at no extra charge.
Steel nib is the smaller #5 which seems appropriate for the more slender Mina. Unadorned aside from the slight decorative engraving; no Edison logo on the #5s yet. Brian's .9mm stub grind is smooth with enough feedback to give it a tactile feel. Cartridge converter but can also be used as an eye dropper.