☞

For convenient viewing of the images in all their inky goodness, you may wish to scroll to the menu at the very bottom of this window, then ensure the Theme is 'IP.Board Mobile'.

Please take a moment to adjust your gear to accurately depict this Gray Scale.
As the patches are neutral gray, that is what should be seen.

Mac http://www.wikihow.c...te-Your-Monitor
Wintel PC http://www.calibrize.com/


Gray Scale.


- ♢ -


Please Note:
Both inks were previously reviewed using Written Samples generated from the same pens and papers.

This Comparison includes fewer samples than those Reviews, but hopefully enough to support the comparison process.

Figure 1. Pen Strokes.
Swabs were not used, rather the NIB-ism samples of down-strokes on HPJ1124 from the same six pens used for the Reviews are shown at the same scale - the pencil lines are 25mm apart.

Left Side: Original.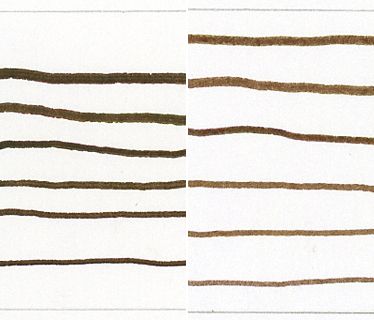 WRITTEN SAMPLES - Moby Dick.
Ruling: 8mm.

Figure 2.
Paper: HPJ1124.
Left Side: Original.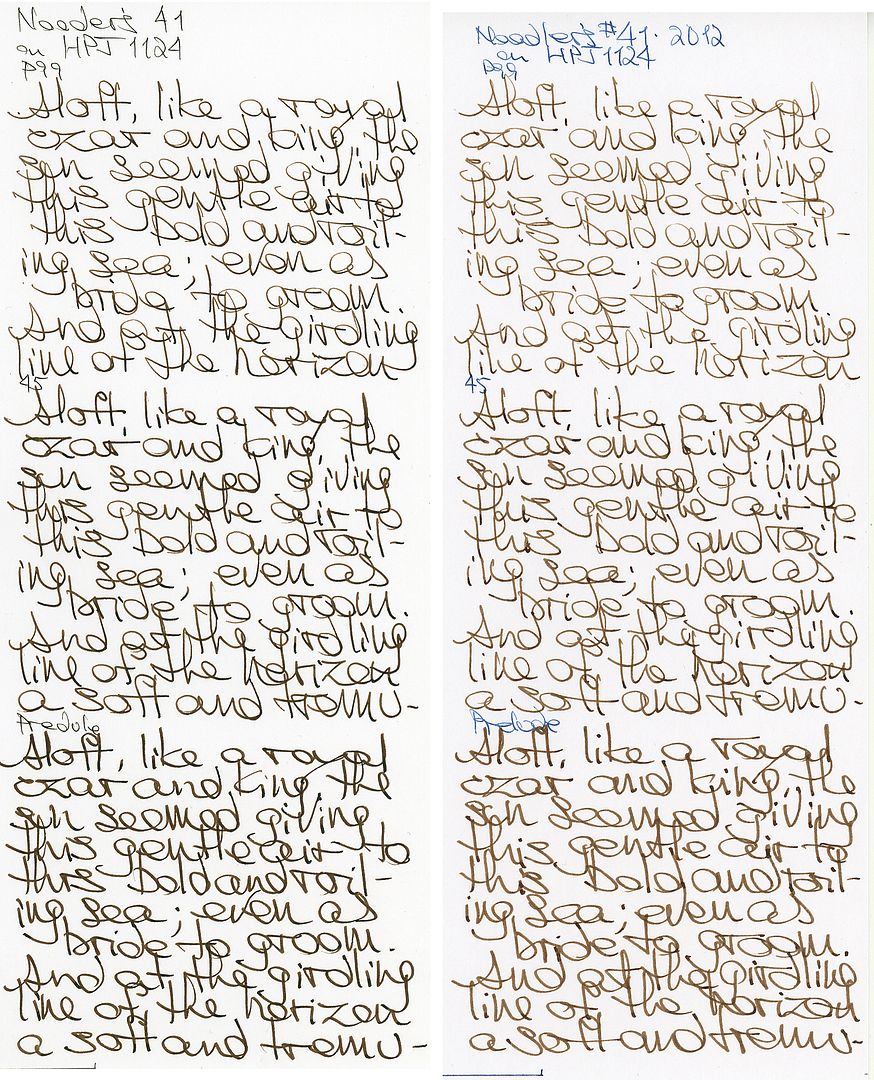 Figure 3.
Paper: Rhodia.
Left Side: Original.





Figure 4.
Paper: Staples 20lb.
Left Side: Original.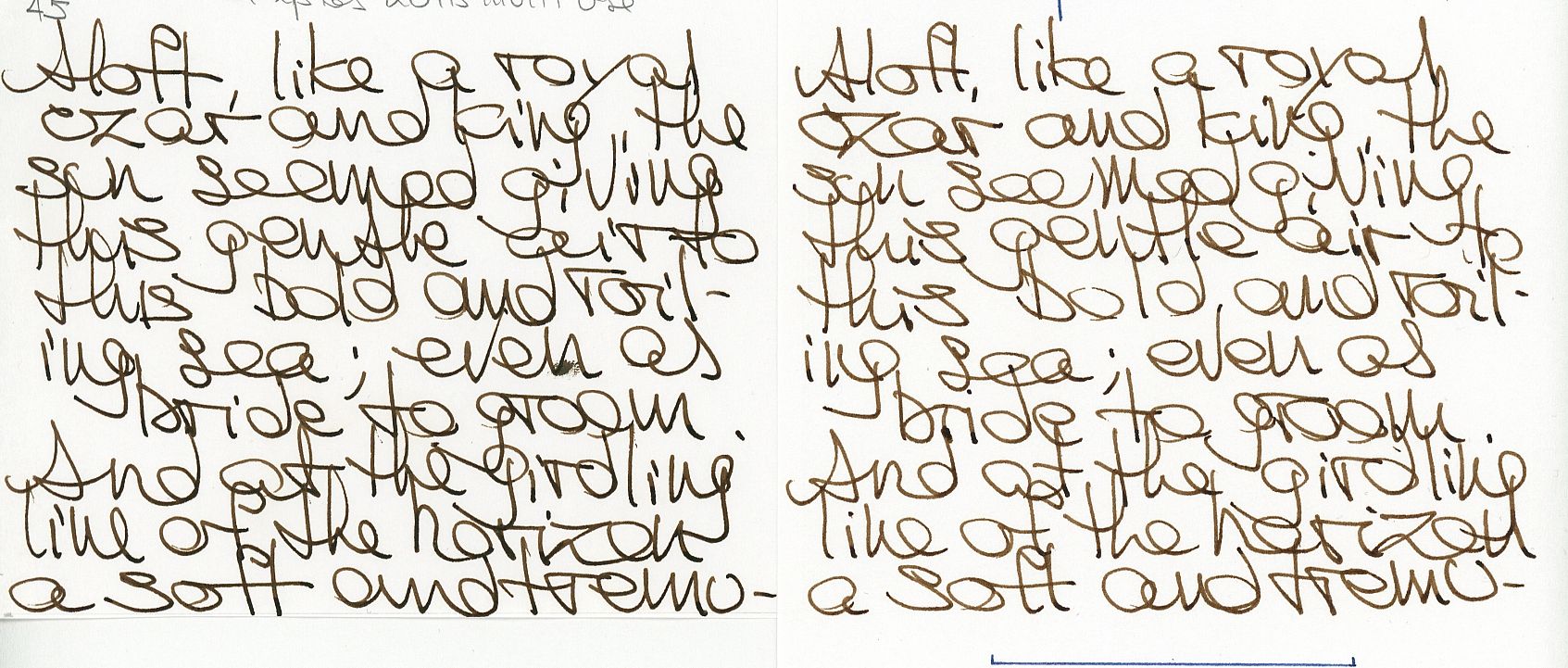 ☞

Figures 5 & 6 are my Personal Pen & Paper Picks made from the Written Samples for each ink.
I was taken aback that my choices are so different. Then again, I have more contradictions than my drawer of athletic socks.

Figure 5.
PP&PP for the Original was the Prelude on G Lalo.
Left Side: Original.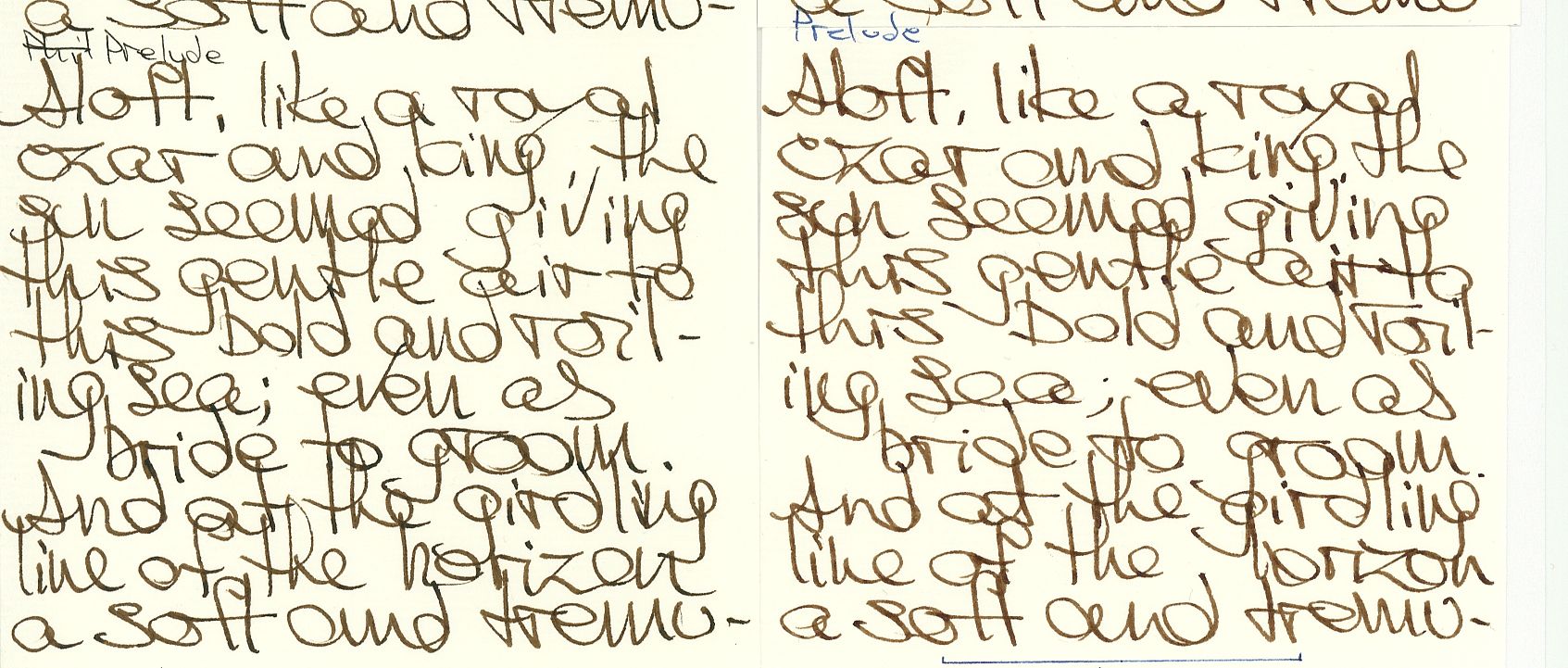 Figure 6.
PP&PP for the 2012 was the C74 on Rhodia.
Left Side: Original.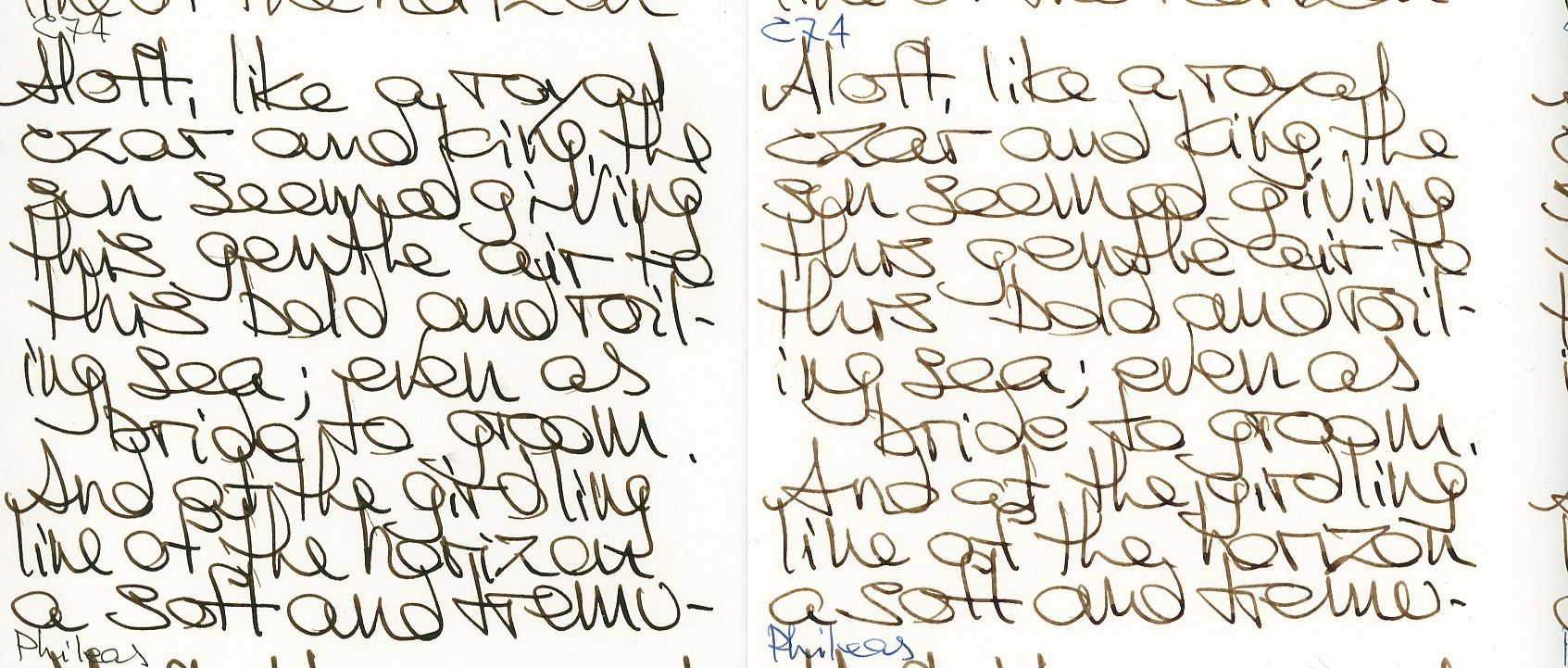 OTHER STUFF

Figure 6.
Smear / Dry Times & Wet Tests.
Left Side: Original.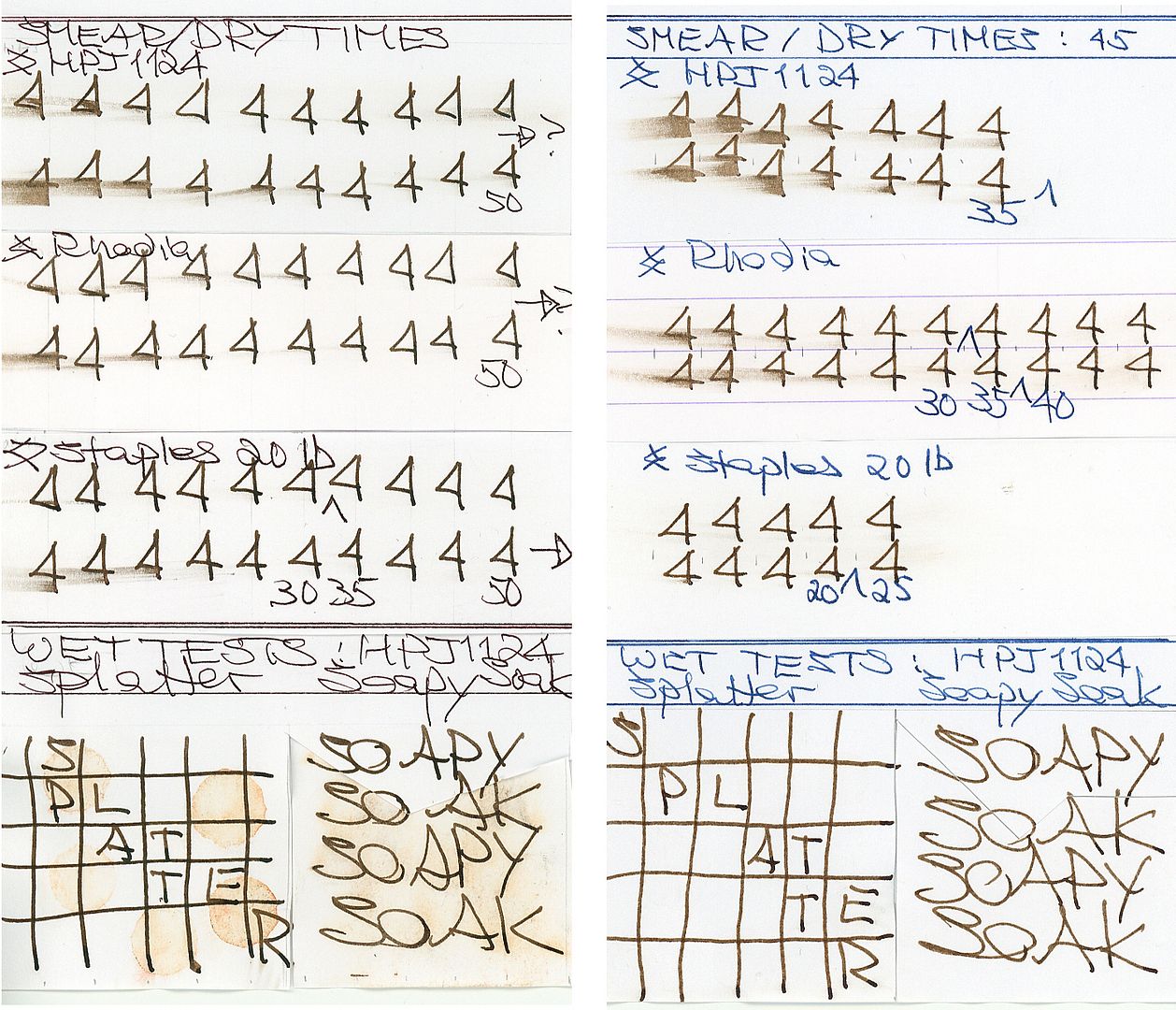 PERSONAL OBSERVATIONS

From the first Figure, it is apparent that the inks are very different. In most cases I would have just posted swabs then closed with a Gallic shrug and valediction of 'YMMV'. But not this time. Not really. (Although most readers may have left this Topic by now.)


USE

Business:
(From the office of Ms Blue-Black.)

The Original was considered well-suited for much hand-written correspondence; and a contender for a daily writer ink.

The 2012 was relegated to an 'alternate / auxiliary' ink.

The stink of 2012 may result in one being removed from the premises by thugs in cheap suits.
Illustrations / Graphics:

The Original has sufficient density to make it suitable as an alternative to Black, or could be played-off (counterpoint) against Black.

The 2012 seems less likely to be used for primary figures; and somehow seems more likely to be used from a [dry] brush.

Both inks have admirable line quality.

The Original has a tendency to overload the paper, so that dye not bonded to cellulose comes adrift, making it less suitable for re-working with wet media.


The Original has greater opacity and density, so the contrast between ink and paper is greater, which makes the line appear sharper on the page, an important consideration for taut narrow lines.
Students:

If using a highly absorbent paper, such as the Staples 20lb, then both inks could be used for general notes. (See Figure 4.)
Personal:

The Original is a keeper.

Some of the 2012 will be kept. (OK OK - I know that to hand-off cold leftovers is not the best way to share.)

PERFORMANCE

Much the same for both inks.

The Smear/Dry Times are a cause for concern, so I leave it to other Members to chime in on that aspect. (Some have already done so in the Review of the Original N#41.)

THE LOOK

Presence:

This is a primary difference: the Original is firm & inviting, the 2012 is warm & weaker.

Espresso vs. Roobois.
Saturation:

The Original has the strength to hold fast if diluted to a chosen density.

The 2012 has low saturation, and cannot be diluted by much without losing its bottle.
Shading:

The 2012 has much greater shading potential than the Original.

PAPER

Neither ink shows significant limitation, though I would be tempted to use a fairly absorbent paper to deal with the S/DT.

As the 2012 has shading potential, the use of hard/coated smooth-surface papers such as Rhodia or Clairefontaine Triomphe seems worth pursuing if one has dealt with the S/DT.

ETC.

Yickity Yackity

I'm not happy.

I am amongst those who would have paid the cost differential to keep the Original in production.

The OOTE series of eleven keystone Brown inks is in distress.

Ah kushbaby, is N41-2012 a harbinger of the Zombie Apocalypse?
= = = =

NUTS & BOLTS

Pens

Written Samples:

Pelikan P99 Technix + steel F nib.

Pilot Custom 74 + 14K № 5 SFM nib. (OoooLaLa)

Parker 45 + steel M nib. (Staples 20lb. & Other Stuff)

Sheaffer Prelude + factory stock steel Stub nib.
Lines & labels:
Original - Pilot kiri-same from Pilot 'Lady' + H882 g-p steel F nib.

2012 - Parker Quink Blue-Black [sic] from a Pilot 78G.
______

Papers:
HPJ1124 24 lb. Laser Copy.

Rhodia.

G Lalo, Verge de France, white.
______

Images
Scans were made on an Epson V600 scanner; factory defaults were accepted.

Figures shown were scanned at 200 dpi & 24 bit colour.

To minimise variables in the presentation of images, new scans were made by placing the samples side-by-side on the scanner where possible, but if I wasn't happy with sideXside, the Adobe PhotoElements Panorama feature was used to make a composite of the new scans: Figures 2, 3, 6.

Scans were not adjusted post-capture, other than dumb-down by APE, Photo Bucket and IP.Board s/w.
______

Densitometer Readings
______

Fine Print
The accuracy and relevance of this Comparison depends in great part upon consistency and reliability of matériel used.
Ink does not require labelling/notice to indicate (changes in) formulation, non-hazardous ingredients, batch ID, date of manufacture, etc.
As always, YMMV, not only from materials, methods, environment, etc., but also due to differences between the stuff I used, and that you may have.
Also, I entrust readers to separate opinion from fact; to evaluate inferences and conclusions as to their merit; and to be amused by whatever tickles your fancy.


-30-

Tags: Fountain Pen Ink Review Comparison Noodler's 41 forty-one Brown bulletproof 2012 Sandy1
Edited by Sandy1, 06 February 2012 - 04:12.