I came to know about the Grifos pen company a few years back when its owner, Maurizio Stura joined FPN under the user name Stubnib and wrote a few posts about it. Then FPN member Diplomat wrote this excellent piece on the Grifos pen company:
link to article
I was immediately interested, but at that time IIRC, the company was offering pens with only snap shut caps and plastic sections.
A recent review
about this pen reminded me of this company again and this time I decided to obtain the pen. I contacted the owner, Mr Stura, directly. He is a superb person to deal with, he immediately pointed me to their
website
, I shortlisted a few models, obtained a quote and then I settled for this pen called the Pillars of Hercules. I ordered it with a BB steel nib, more on it below.
The pen was shipped from Italy by registered on the 23rd of January 2012 and It was delivered to me yesterday 03rd of February 2012.
The pen came packed in a simple, adequate bubble envelope, they even have their own customised packing tape!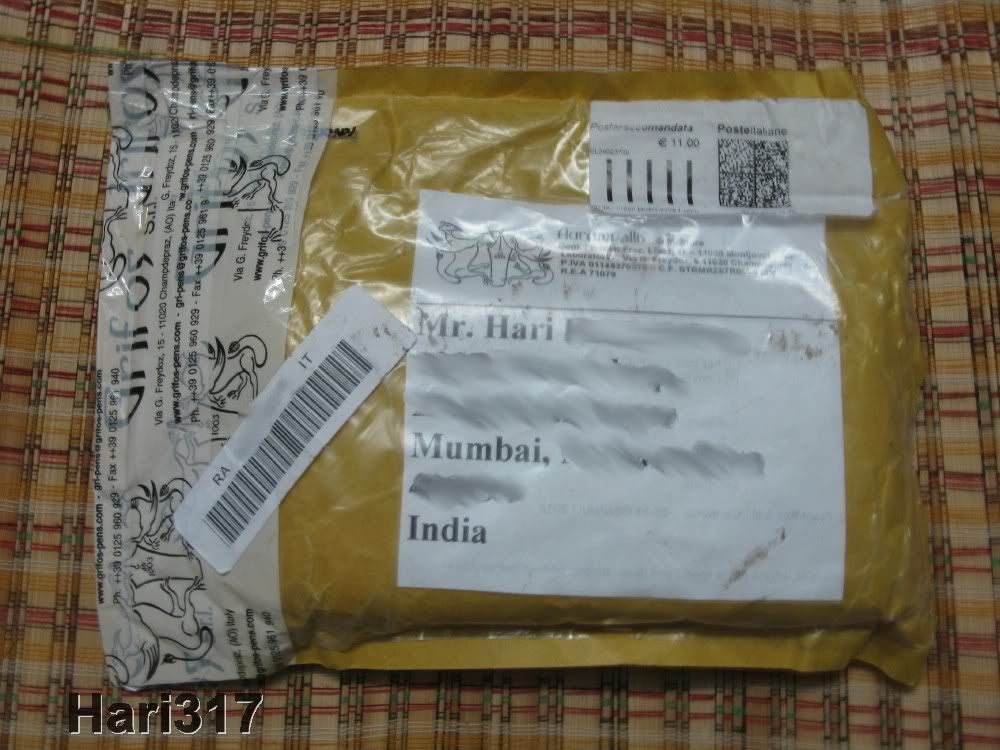 The pen box is very similar to the older Sheafer Targa boxes with an outer velvet lining, a box of carts was included with the pen: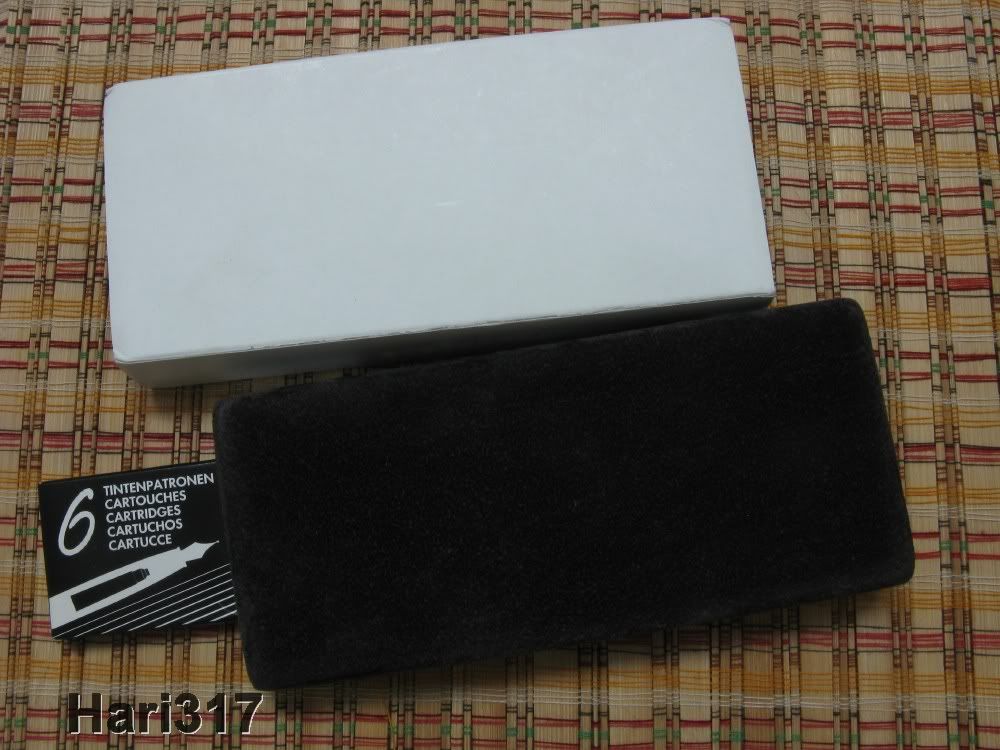 The box opened along with the Guarantee booklet: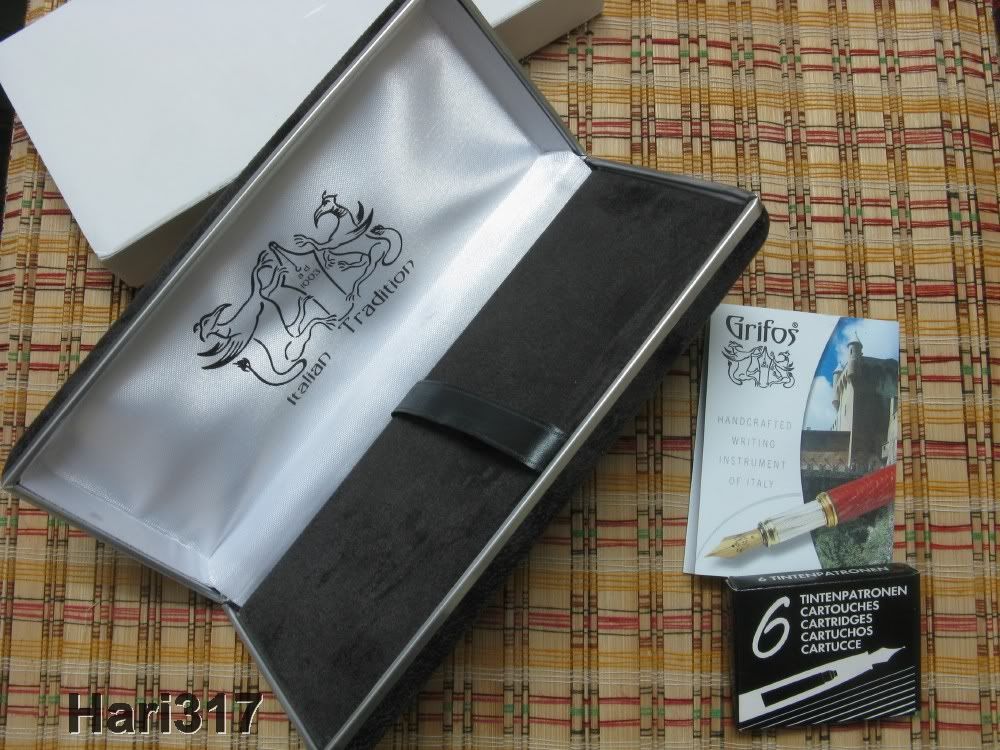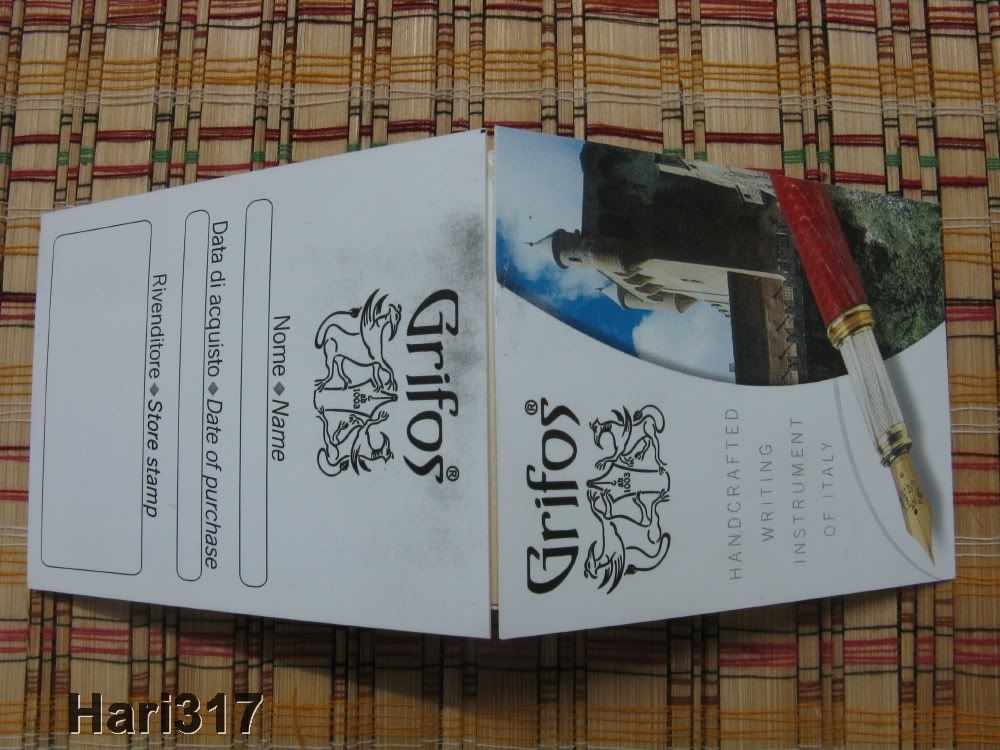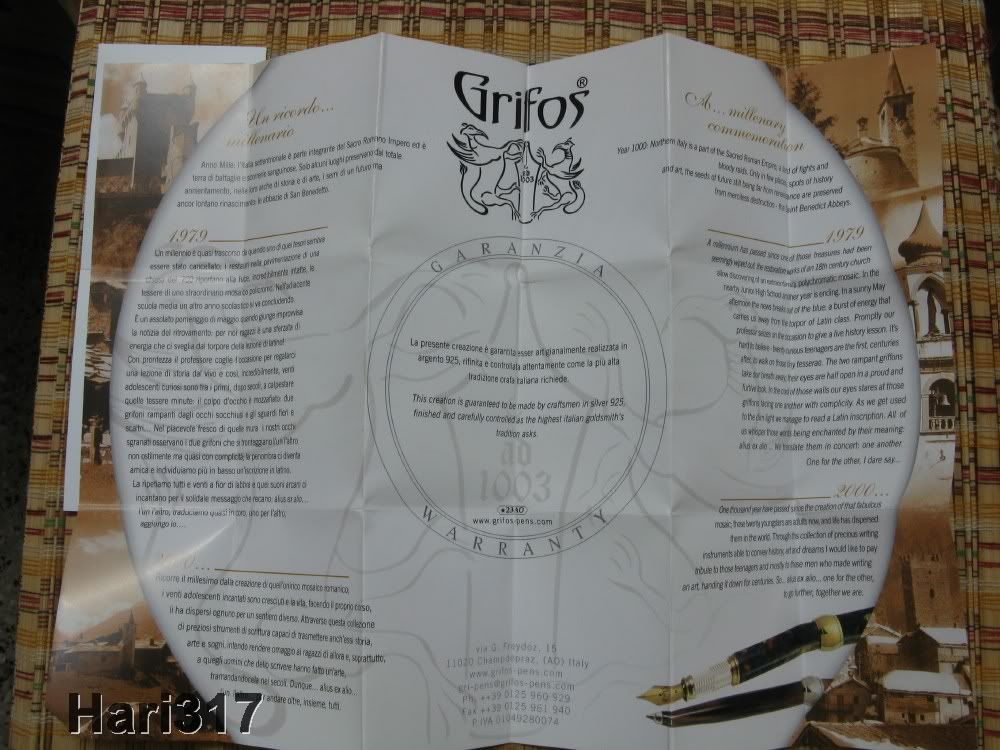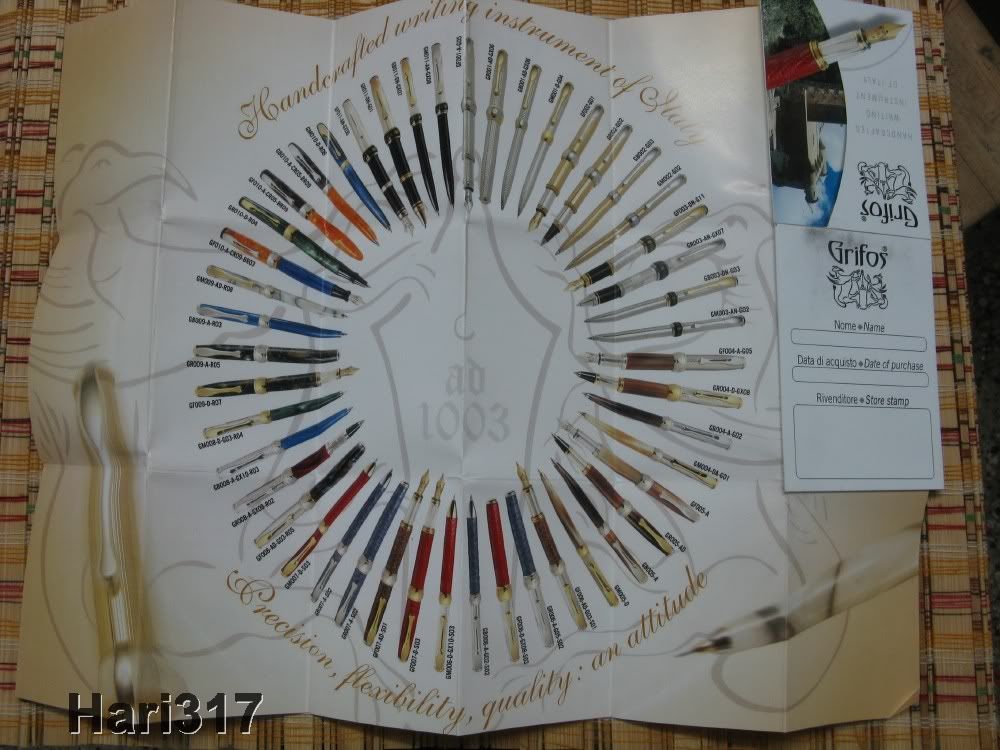 Onto some pen pictures: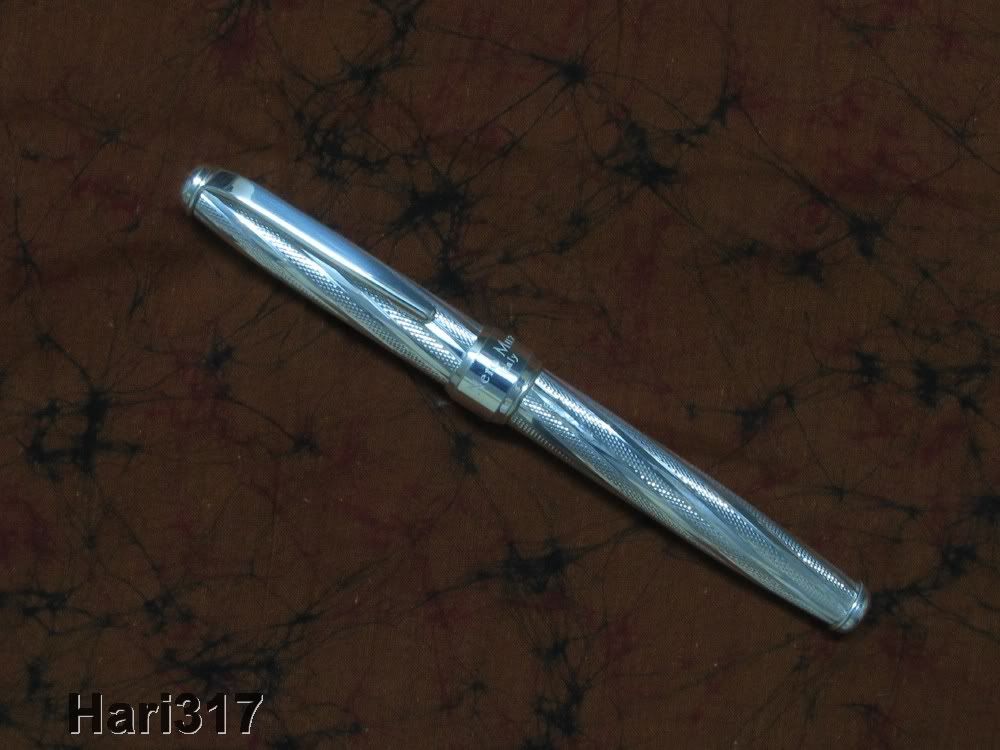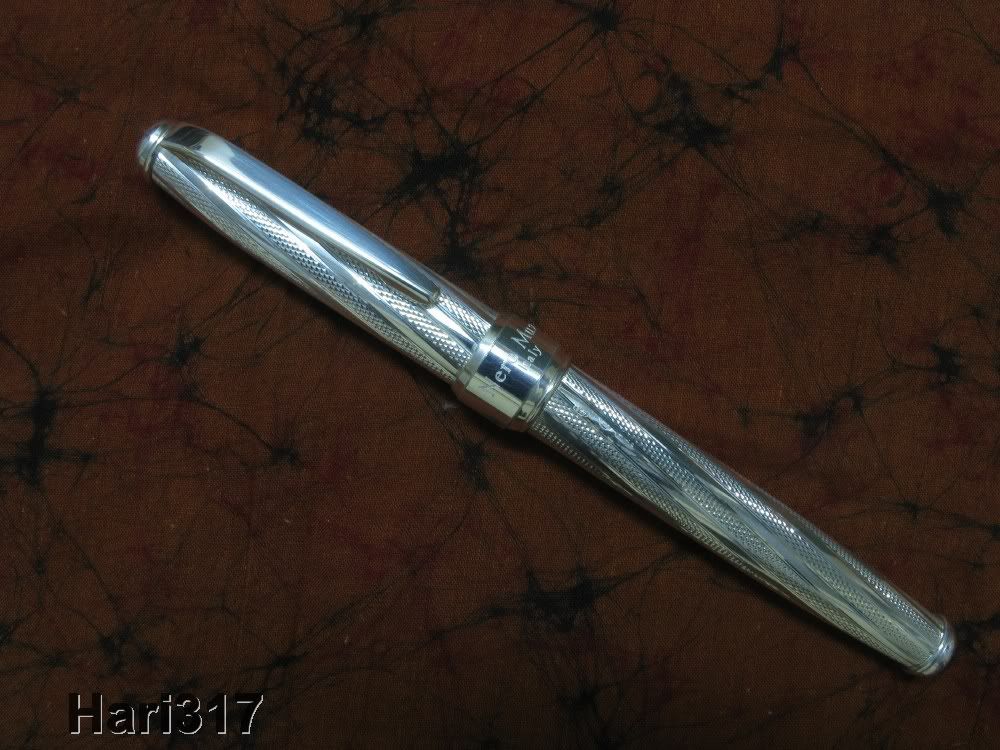 Gripping section closeups at diffrent exposures: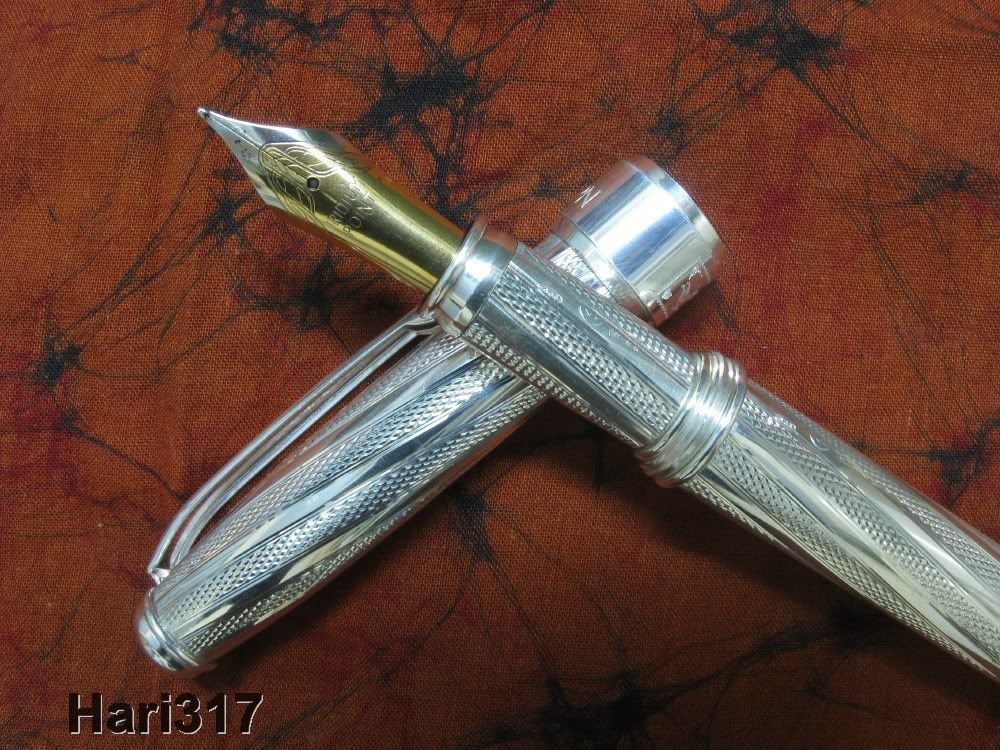 Hallmarks on the Sterling silver section:
Hallmarks on the Sterling silver barrel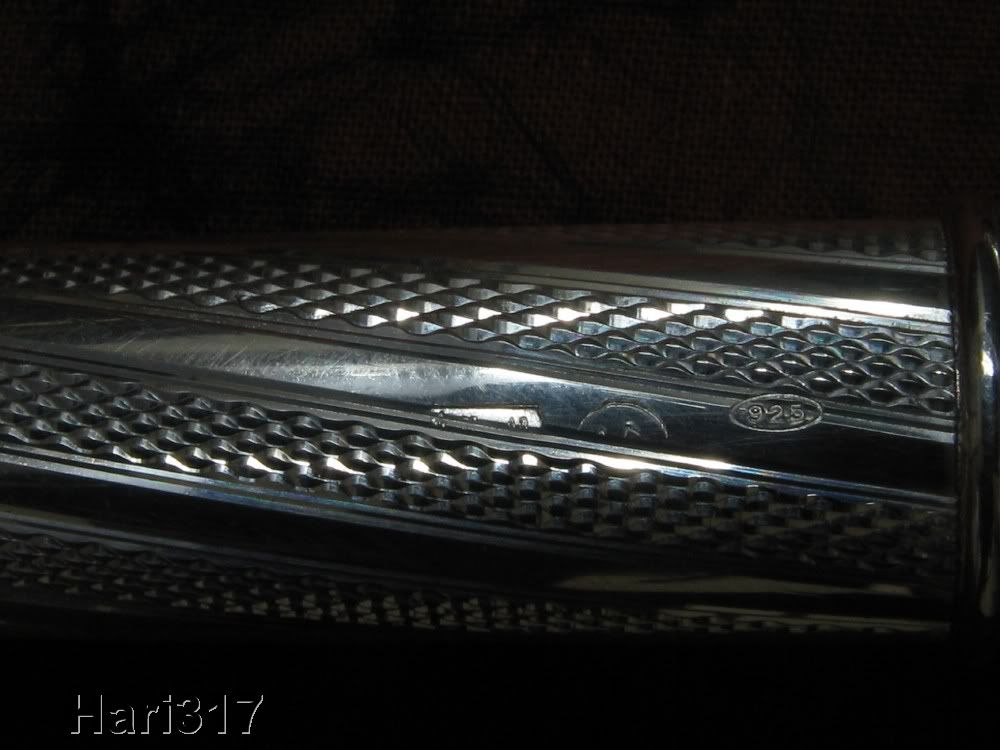 Feed and nib: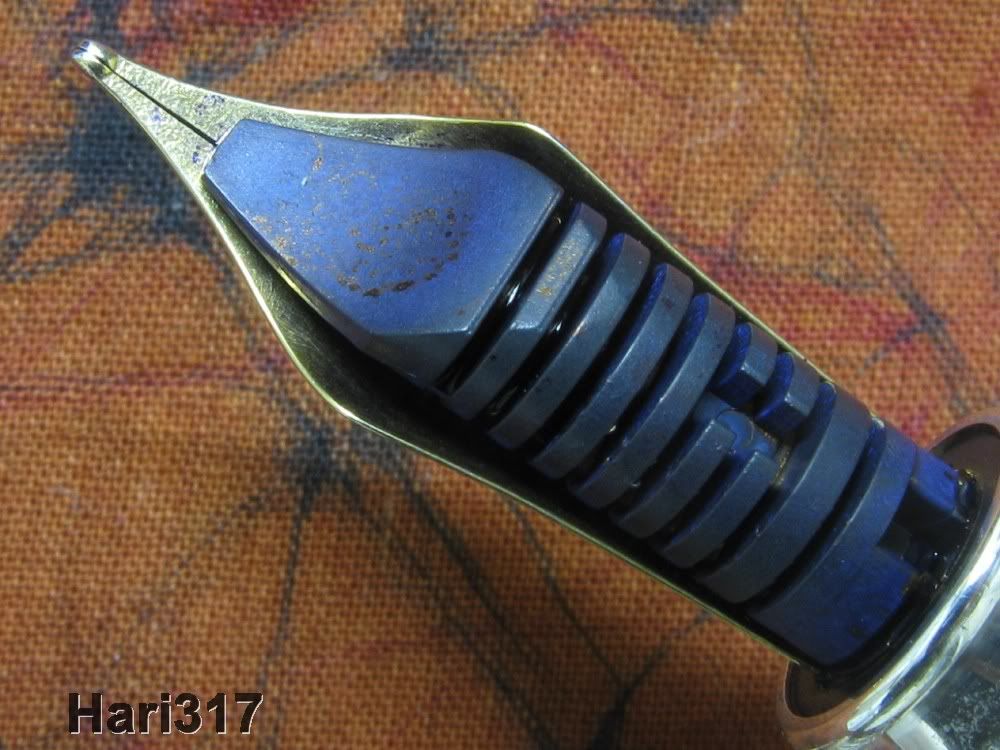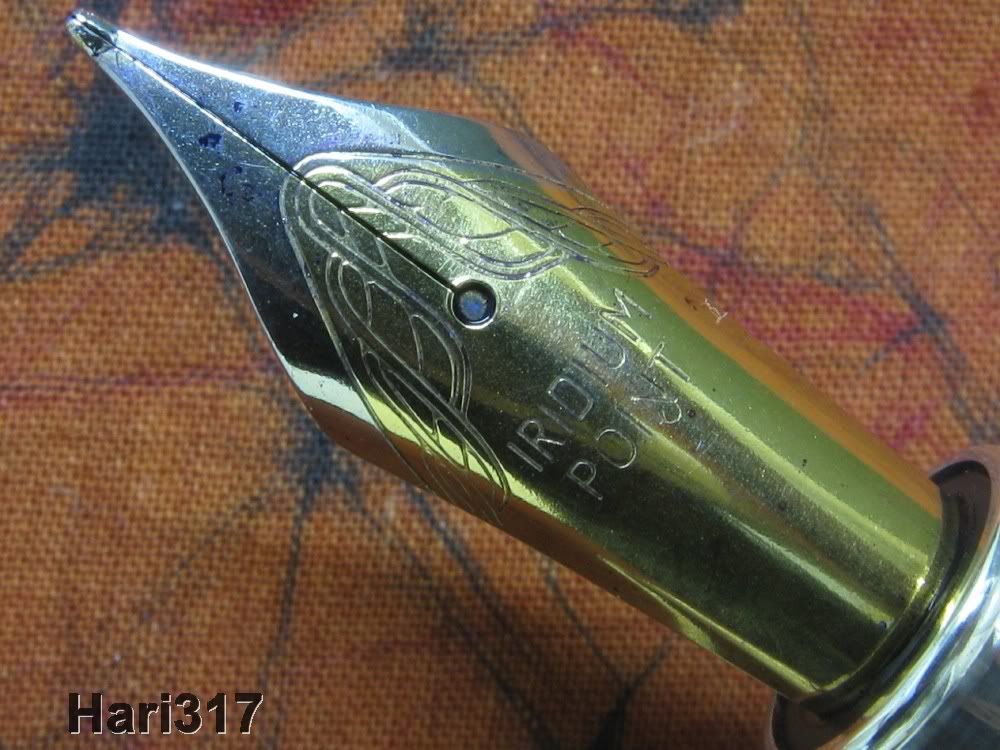 I have to ask Maurizio about this, I had ordered a BB, but the nib that came is at best, a fat M by western standards. However The pen is a very good writer. I have filled the converter with R&K Konigsblau and the flow is even without any skips. The nib is very smooth and it is a rigid point.
A lot of attention has been paid to the details. Since the design is a helical guilloche, and the cap is threaded on type(single leading thread, 1-1/2 turns to cap off), care has been taken to match the screw insert in such a fashion that the continuity in maintained in the helix from the barrel to the cap. Very impressive!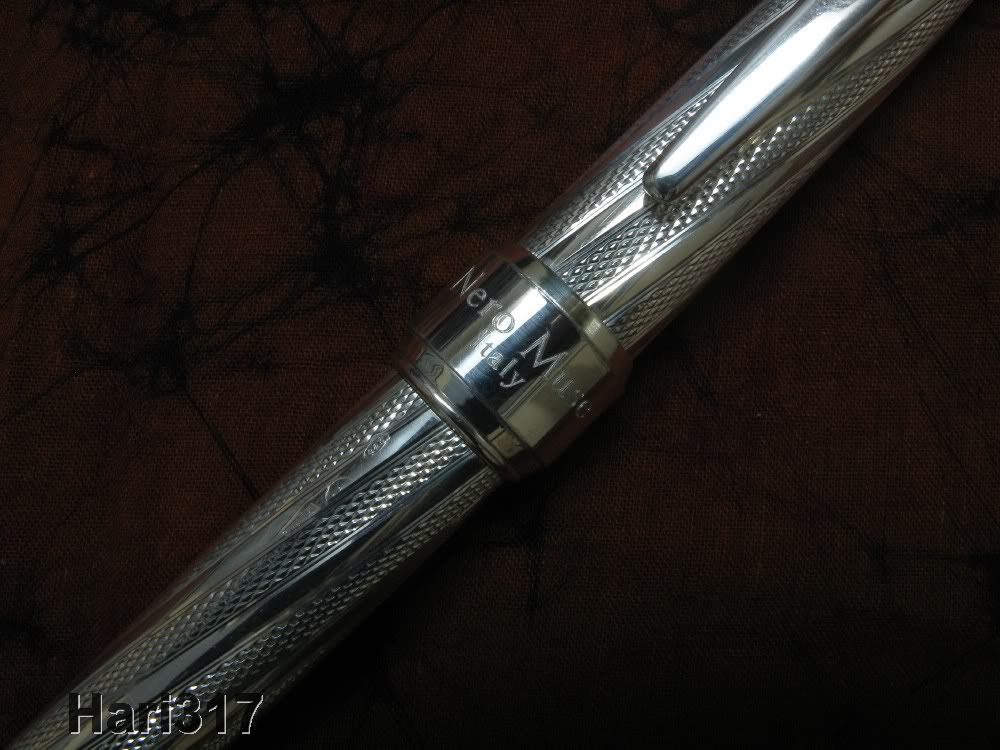 Cap band engraving, does not look like a laser job.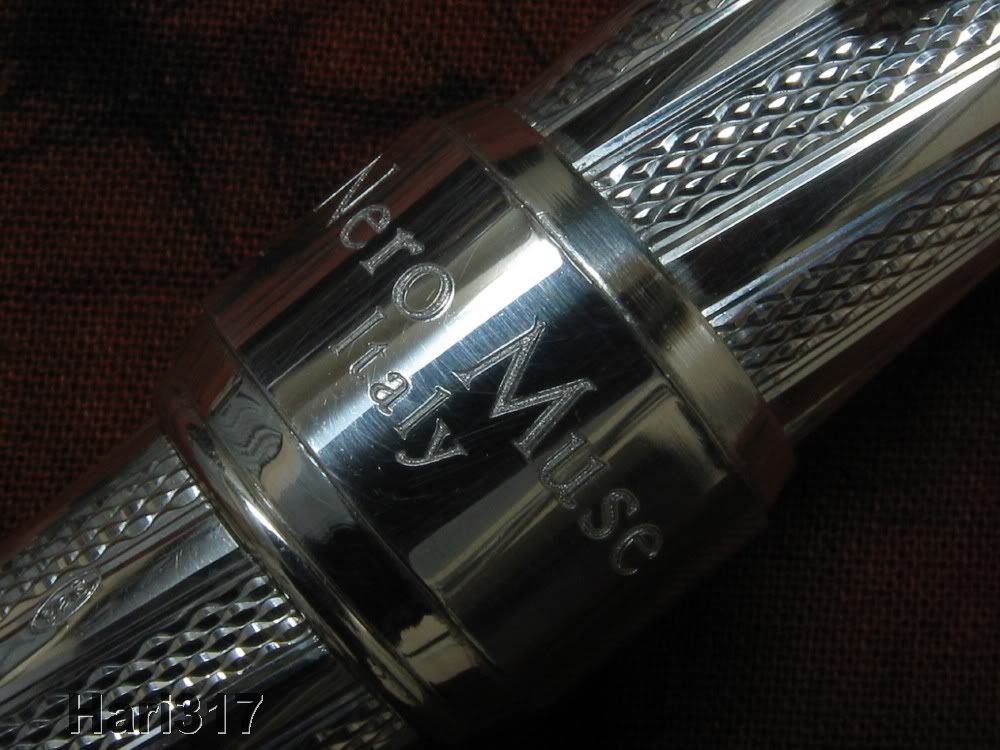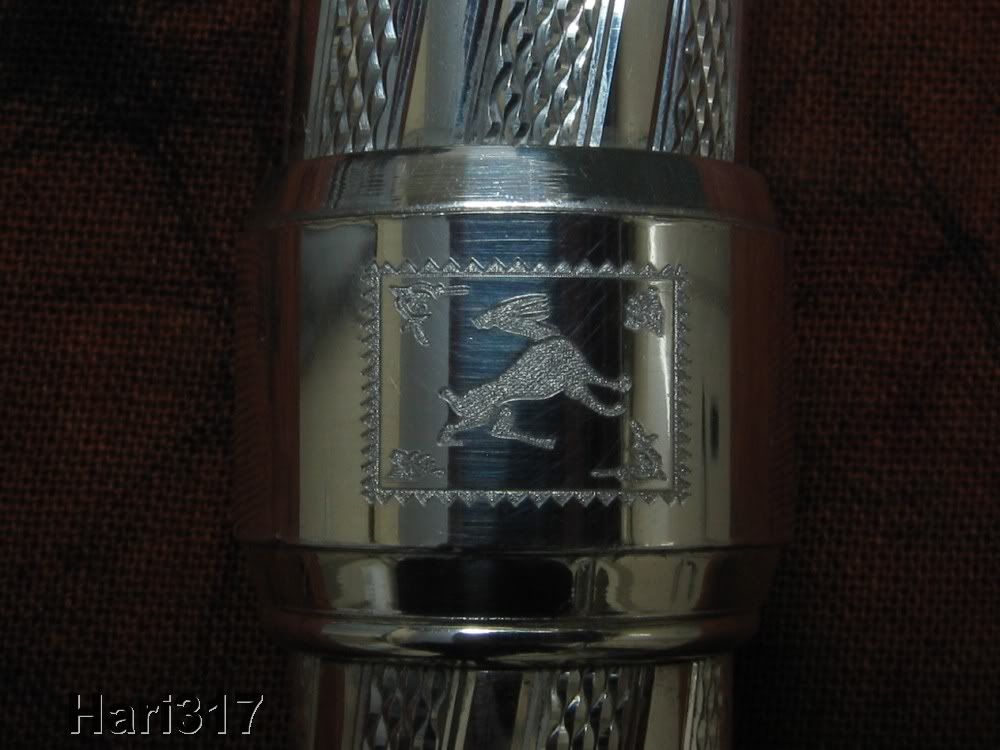 Pen Opened: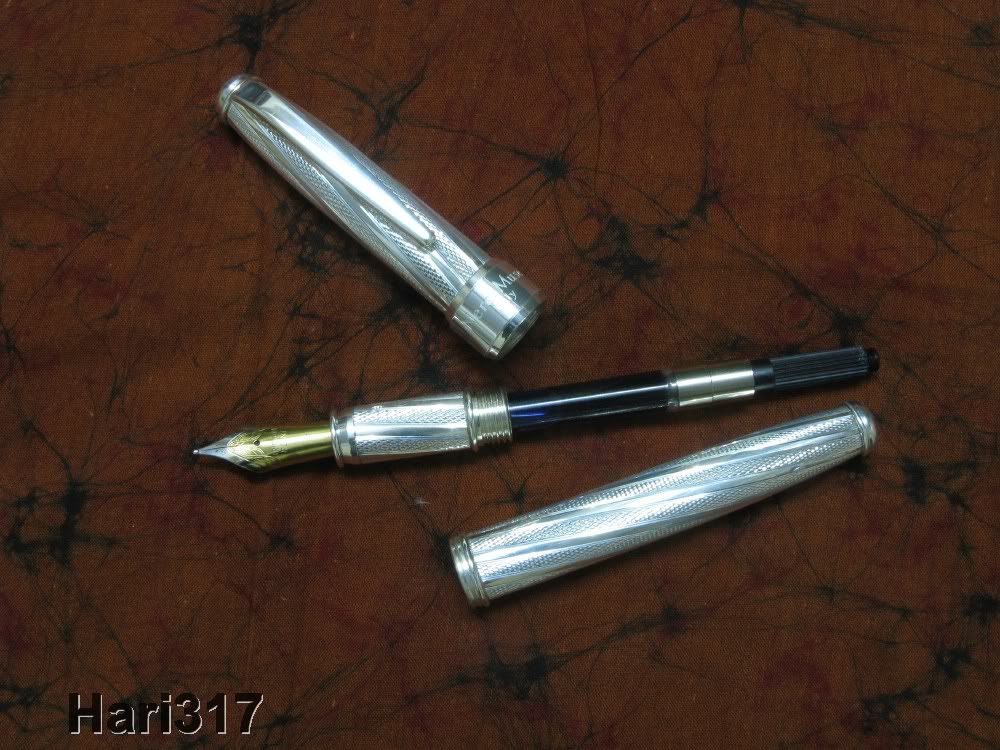 Solid Sterling silver construction: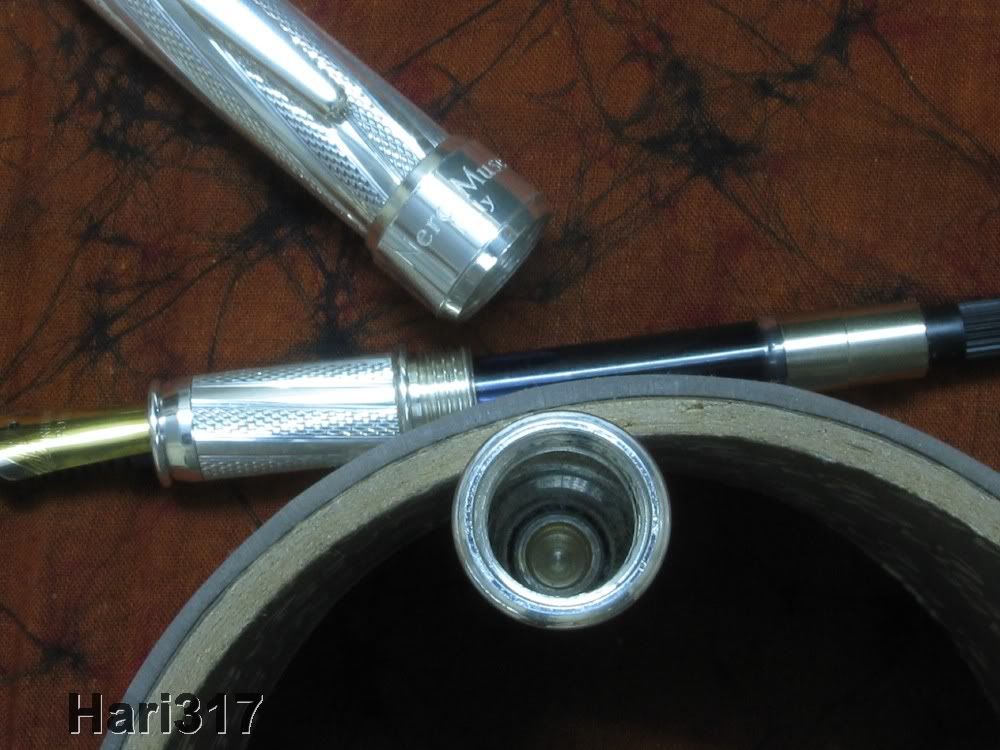 Strong barrel threads:
A size comparison: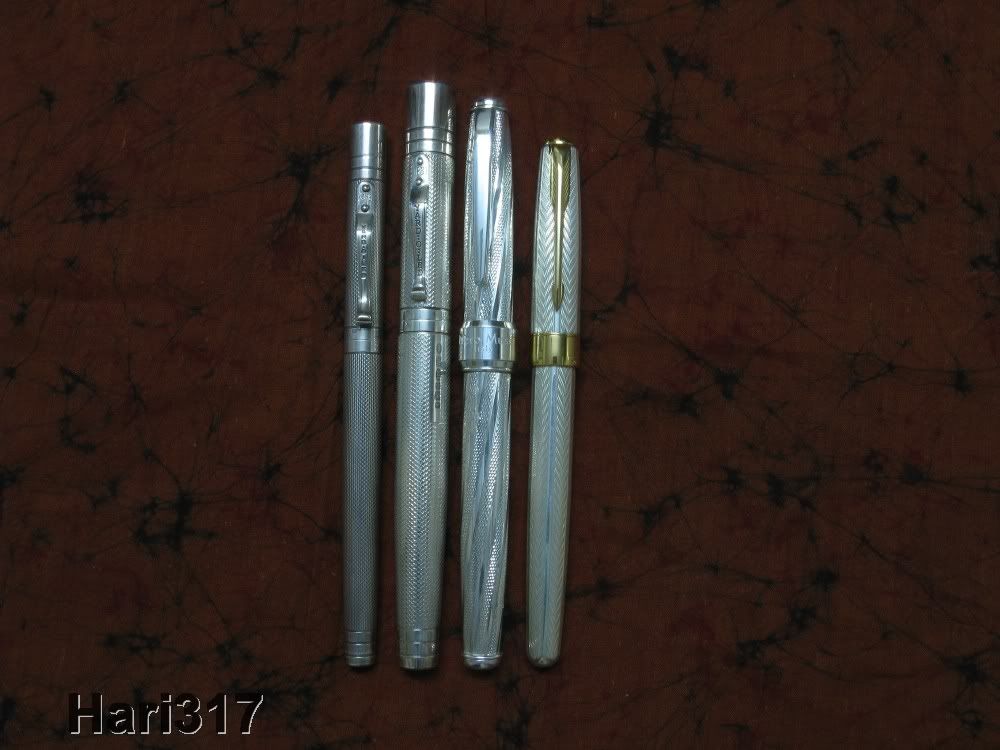 L-R: YOL Viceroy Standard Barley, YOL Viceroy Grand Barley, Grifos, Parker Sonnet Fougere
I really like this pen, what is there not to like? It is inexpensive for a solid silver pen(much lesser than the 200USD mark), writes well, is constructed to be strong, features a threaded cap, looks gorgeous.
Other than the really high end and extremely well done Sterling pens like the CP series pens, I am not aware of any other company offering such a diverse range of Guilloche patterns as Grifos. It is a brand worth consideration.
I hope this review with my initial impressions of this pen will be useful. I will update this thread with a long term usage report in due course.
Regards,
Hari