Introduction
Up for review today is this button filling, British market only Parker Duofold. It was made sometime between 1948 and 1953, judging by the
aluminium filling button
concealed beneath the barrel's blind cap.
Despite this, there's little in the way of wear to suggest its belonging to a vanished Britain of flying boats, skiffle music and a functional NHS. Cradled between the function keys of my ThinkPad (one of IBM's last Greenock built laptops) as I type, the Duofold shares with it the same capable, engineered aesthetic. It's
stylish
, rather than fashionable, and an archetypical cigar shaped fountain pen.
British Parker Duofold AF (aluminium button filler), modern Parker Frontier in background.
The pens I use tend to come from eBay, at a price that reflects their condition (and the callousness of our generation, judging heirlooms by the going rate). After the usual convalescent period of barrel polishing, replacing perished rubber, soaking decades-silted feeds and realigning brutalised nibs, there's usually an initial ambivalence. For all the familiarity than grows with refurbishment, each pen, umbilical conduit of profundity to page (bread... cheese?), is at first a stranger in my hand.
In the face of this, from the first few words that flowed between the tines of this Duofold, doubt gave way to equanimity. Despite its diminutive appearance – it's a bit short and fat – there is a lot of pen to like here.
Appearance & Design
Although I no longer need the effortless, gliding grace of a fountain pen for three hour essay exams, I've indulged too long to go back to ballpoints. I've also retained a habit left over from university assignments; when I need a pen to hand, it's typically because I'm typing a train of thought, and handwriting tangents that occur to me for later development. In this way, there's a modicum of coherence lent to any given missive.
It's due to this pattern of use that I started scouting for a pen I could with one hand pick up, uncap, cap, write, hold meditatively between fingers as they type, move a mouse, or turn the pages in a notebook. My fountain pens are an eclectic mix, with no one pen quite fitting the bill - though the cheapest, Hero's 616 Jumbo, has so far been the best contender.
Until now! The Duofold does very well in this role. The cap unscrews easily between thumb and forefinger. While the piano black cap and barrel are plastic, the section is tellingly a shade less glossy – it's made from black hard rubber, for better grip where it matters. It's also fluted in the fashion of a cigarette holder, preventing ink from staining the fingers and providing a good seal with the inner cap when not in use.

The Duofold's nib & tactile BHR section. The modern Frontier (background) uses rubber coated plastic to provide a similar effect.
Though the Duofold's appearance undeniably lacks a certain visual flair – yet another black pen! – there is a pleasing kind of flow. There's a classy subtlety here, different materials are colour matched, and there's no step, trim, embellishment or end jewel to betray the blind cap's presence. I find the anachronistic, personalised branding of the barrel imprint very appealing – "CEO S. PARKER". Today, it might read "Parker, of Sandford Consumer Brands, a Newell - Rubbermaid Company" - if they could make a barrel long enough.
The barrel imprint is clear and unworn.
Onwards to the Duofold's crowning glory. In a creative squall, the eye is drawn instinctively to the cap, which is an understated beauty. It seems quite wide bodied, an effect emphasised by the short clip (Parker's famous arrow) and cap band. What impresses here is the very fine detailing – the feathers in the arrow's flight especially are very precisely machined. The clip and cap band are gold plated to match the 14k gold nib, very much to my tastes (if gold is present, I prefer it to be used as an accent or highlight – never the whole show).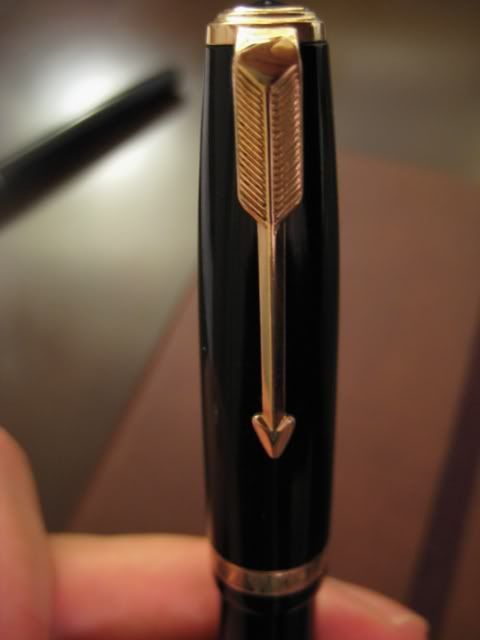 The Duofold's cap. Its clip is 60 years old, yet could have been electroplated yesterday.
Considered as a whole, the Duofold's design is a more detailed and delicate proposition than today's pens. The soft gold nib seems almost draped over its feed; in contrast, to cope with hands more used to ballpoints, the entire length of the Frontier's steel nib appears buttressed by scaffolding.
Comparing the gold nib Duofold's 60 year old feed design (top) with a steel nib modern Frontier's (bottom).
Which brings up the subject of...

Construction & Quality
This is a light pen. From my
limited experience
of button fillers, I expected the barrel to be quite thick, to cope with the steel pressure bar flexing within; perhaps I overestimate the stresses button fillers cope with. The cap plastic is rather thin – remarkably so at the lip, though it must be strong enough, given the absence of cracks 60 years after having left the factory. The whole cap really is very light, and a decent Glasgow breeze would have it off an outdoor table.
Both the cap and barrel screw threads are plastic and very much of their time. They are demonstrably strong, tight and unstripped, and in sympathetic hands will probably last another 60 years. In a modern context, they are of a delicacy that clumsiness would wreck havoc upon in a single use. I make a point of never being precious about lending my fountain pens, and hand them over with no ceremony – my nonchalance masking a keen observance of each subject's subversive potential. The Frontier's steel snap cap copes well in such situations, given that the vast majority seem to palm slap it on the barrel like a magazine to the butt of a pistol. I won't be risking this Duofold in the same scenario.
Similarly, the nib is of a different age. Bafflingly, it is smooth and writes quite a broad line, though the tipping is quite conservative. It has a soft and somewhat flexible character, an effortless writer – the disadvantage of this being the ease with which some previous oaf bent the tines.
All things considered, the Duofold is robust enough to have lasted very well. The finish has kept its lustre, and electroplating is quite good, the cap clip in particular looking very fresh (...and the nib is as straight as I dare push my luck).
Weight & Dimensions
My scales aren't sensitive enough to be conclusive – the pen itself is of average weight, the cap has been mentioned above. The barrel is quite wide, wider than a Parker 51, perhaps even slightly wider than a Frontier. It's 12cm long from the tip of the nib to the end of the barrel, a little shorter than I'm used to, but the Duofold is a pleasing and comfortable shape that feels comfortable in the hand. I don't tend to post when writing, but this cap is so light that it makes no difference to the balance of the pen.
Nib & Performance
The nib on this particular example is a bit of an enigma. It is unadorned excepting the stark legends "PARKER" "14K" and "ENGLAND". It writes as smooth and almost as broad as my B nibbed Frontier, despite lacking the latter's bowling ball sized tipping. The tines are neither especially long, nor exceptionally thin. It follows that I was very surprised at the ease with which they moved during initial straightening and alignment – they are far less stiff than any other tines I've adjusted.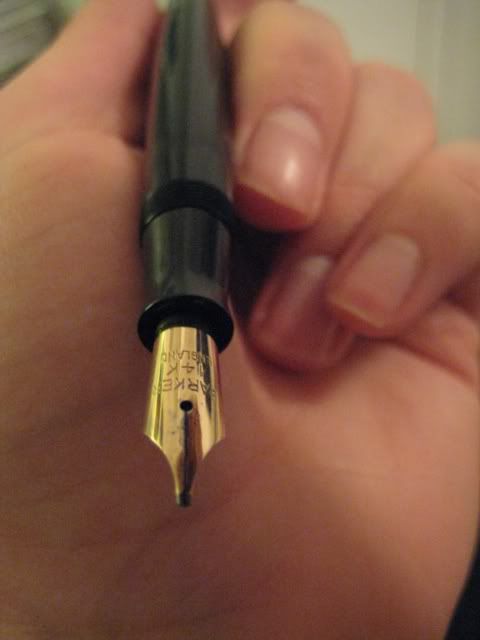 The nib is stamped Parker - 14k - England
.
I've no real basis for comparison, but I suspect this nib is a semi flex, capable with minimal pressure of a pleasing variation in line width that none of my other pens can achieve.
Line variation using the Duofold's 14k gold nib.
Filling System & Maintenance
This is my first 'factory' button filler. Remove the blind cap from the end of the barrel, immerse the nib in the ink, press the button a couple of times, and you're good to go. I often see this style of Duofold referred to as the "AF" due to the aluminium button. This can't be removed from its barrel cavity like a conventional button, has a pleasing progressive action with no lateral play, and is covered in decorative, engraved rings. Capacity is roughly equal to the Sheaffer Snorkel's, there's a lot of space going to waste in that fat barrel.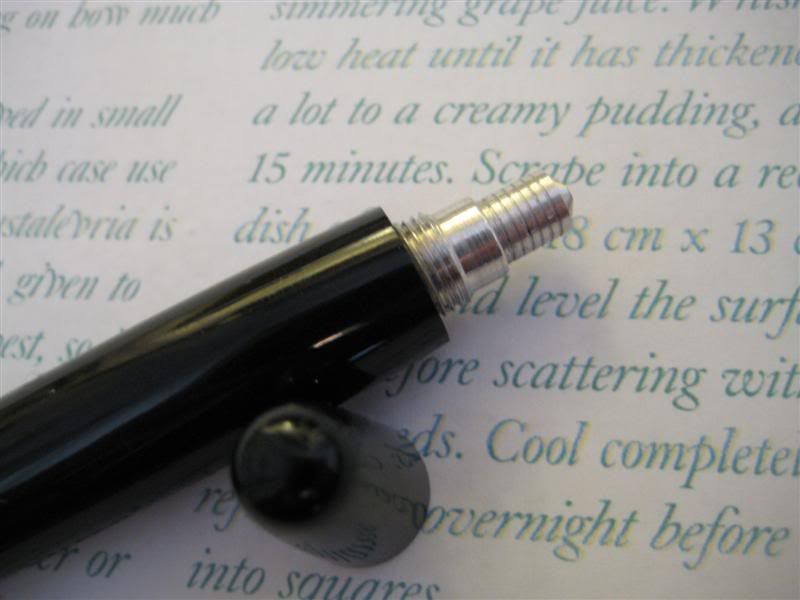 The barrel's blind cap and aluminium filling button.
Blind caps are a big draw for me; barrels that don't unscrew just seem more robust. I admit that I'm also a sucker for bells and whistles like hidden filler buttons. On the practical side, the ink is stored in a rubber sac like the Sheaffer Snorkel, so there's no risk of leakage at joints and seams, or into the cap due to thermal expansion. However, the length of the nib means that you do need a higher level of ink in a bottle to fill compared to other pens.
Cost & Value
For a button filler from a 1st tier company, British Duofolds are very reasonable on eBay. This one was less so due to the incompetence of whoever opened it up before it fell into my hands; I'm convinced the pressure bar I replaced was cut
too short
to ever compress the ink sac. Nevertheless, it was an inexpensive purchase, and easily restored to working order without the need for professional tools.
Conclusion
Given the modest initial pecuniary outlay and lack of specialist skills needed to get one of these up and running, I can't help but feel the British Duofold is due a popular resurgence, despite its delicacy. Perhaps, given the now ubiquitous touchscreen's evolution from crude resistive to capacitive feedback, we are gradually becoming resensitised to the subtlety and finesse our forefathers once exercised balancing their carburettors... One thing is for sure - the British Duofold is a damn fine pen, & I need a subeditor for these wild eyed handwritten delusions!
Flounder
Edited by Flounder, 04 February 2012 - 14:08.