The Pen:
Beautiful cream/black swirl acrylic Glenmont that I saw in Brian's current inventory photo stream. The pen isn't creamy at all, but rather this gorgeous, subtle pearl white that shades to grey & black. It's really hard to get a picture that captures the shimmer. It's translucent in places & I can just barely see the darkest parts of the converter inside. The pen is engraved with the brand & pen model on the barrel.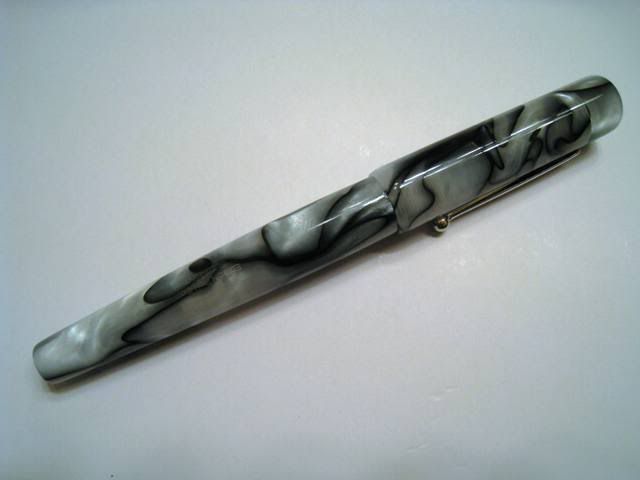 Specs shameless copied from Brian's Glenmont page at
Edisonpen.com
.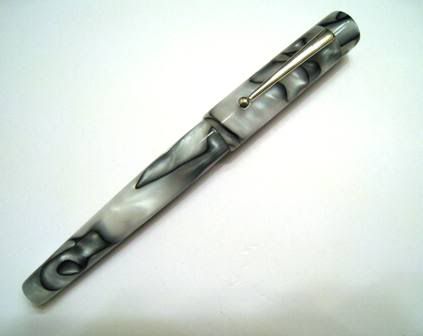 Specifications
Weight w/ Cap 17g Weight w/o Cap 10g
Cap Diameter .610" Body Diameter .565"
Length Capped 5 3/4" Length Uncapped 4 7/8"
A postable pen, but I prefer to write un-posted. Balance is great in the hand. The threaded cap only takes about one turn for on/off, & it doesn't feel as "tight" as my Collier. I'm not worried that the nib would dry out, but if carrying in a shirt/pants pocket it seems more prone to coming loose than my Collier would. This is just speculation as I haven't actually tried it yet.
Cartridge/converter pen that can also be used as an eye dropper.
The Nib:
A #6 JoWo steel broad sporting the Edison logo & some light decorative engraving. It's a bigger nib, but it looks proportional to the pen. Brian normally sends his pens out tuned to a 7/10 wetness scale with a touch of feedback. I asked for this one to be buttery smooth, & Brian delivered big time. This nib is beautifully smooth without any hard starting. It's a wet writer, but not as juicy as my Bexley broad (an 18k nib) which gives me great variety in my pens.