1. First Impressions
Impressive! A large, polished wooden box displaying a striking looking pen and an unusual carbon fibre ink well.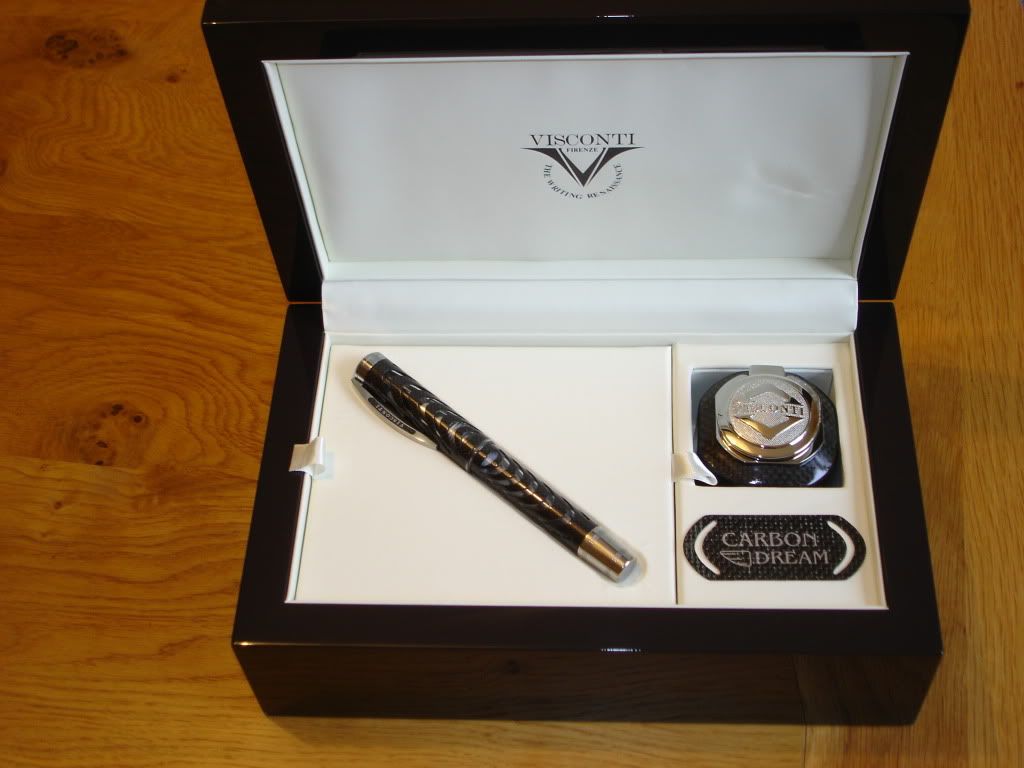 2. Appearance, Design and Construction
I love demonstrators and carbon fibre and titanium, so bringing all of those elements together in this pen are ideal for me. I am also a big fan of Formula One, so I am a sucker for the (tenuous) link between the pen and the motorsport. For those not already familiar with this pen, the carbon fibre overlay is made by an Italian company called Carbon Dream who specialise in composite materials and, when not making pen parts, they make carbon fibre parts for the Red Bull Formula One team and the road cars of Bugatti, Ferrari and Maserati, among others.
The construction on my pen was top notch but I did have a crack in the housing of the nib. However, there was resolved speedily and effortlessly with a nib swap.
3. Weight and Dimensions
It's big! Capped it's approximately 150mm long and weighs 55 grams. Given the light weight materials I was expecting it to be lighter than it actually is and, in particular, the substantial titanium blind cap makes it back heavy when writing (although it didn't take me long to get used to it).
In the flesh it manages to make its parents look modestly sized by comparison! I think this is mainly due to its girth, which seems much greater than the M1005, let alone the AD2000. It is also longer than the silver overlay Ripples. I think the extra length is in the blind cap.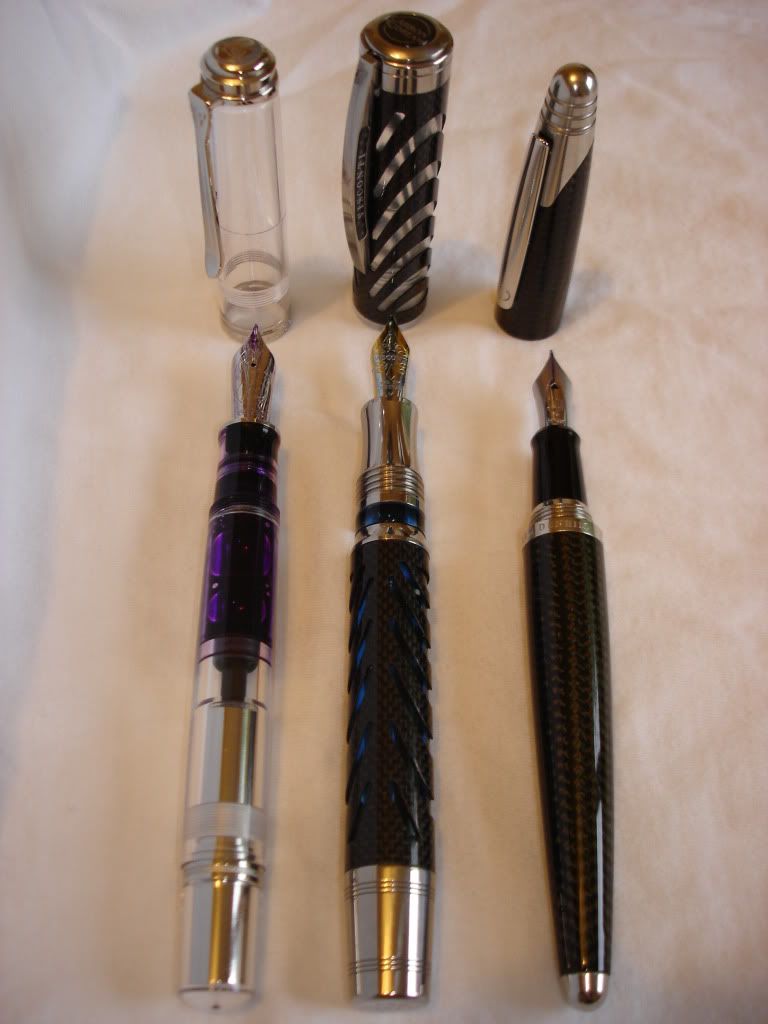 4. Nib and Performance
I ordered the pen with an extra-fine palladium nib, which is smooth and produces a nice fine line. However, I understand that there has been a change in Visconti's UK distributor and I came across their old distributor selling off 18k medium nibs at a competitive price. I duly ordered one and sent it off to John Sorowka for him to regrind to a cursive italic. This is my first experience of speciality nibs and I now see what all the fuss is about. The cursive italic makes all my normal round tipped pens seem boring and uninspiring by comparison!
5. Filling System
Double Reserve Power Filler. As others have said, the pens with this system really do hold a gallon of ink. However, I very rarely fly anywhere for work so this system has no real benefit for me and I find having to recharge the first resevoir from the main chamber a bit of a pain if I am taking notes with this pen during a long meeting. I know you can leave the blind cap loose, to allow ink to flow freely from the main chamber, but this just increases the length of the pen and further affects the balance. Personnally I would prefer a single chamber.
6. Cost and Value
Very expensive at list price - roughly £1,300 here in the UK. Faced with such a high price I sourced mine from Bry Greer - enough said - except to echo other members' comments on his excellent service. The great design and materials and the writing performance with the customised nib make the discounted price of this pen worth it to me.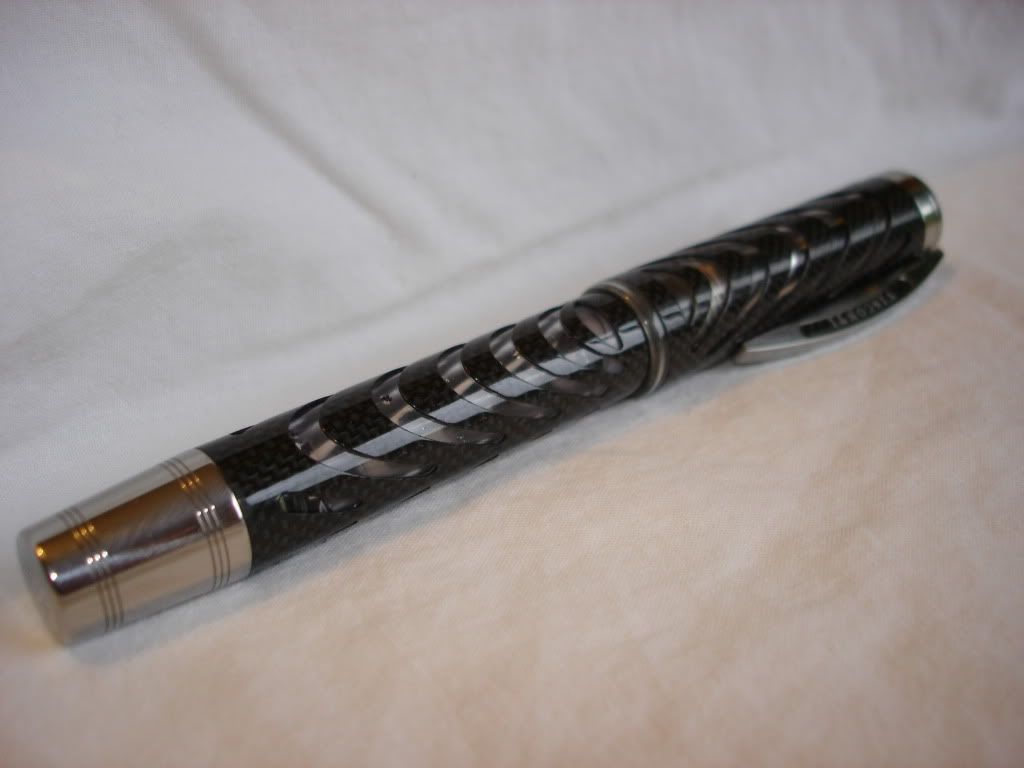 7. Conclusion
Truth be told, out of all the Ripple series of pens the clear/silver Chatterley is my favourite. But being far too late to the party to nab one of those, this would be my next favourite. The combination of the design and the modern materials make this pen a winner from my perspective. In fact I like the design of the Ripple so much, I have recently added a Black Ripple but that's the topic of another review.
Thanks
Jon