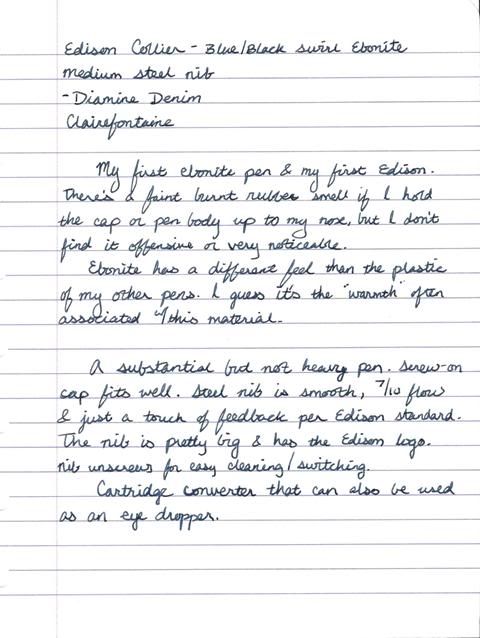 First Impressions:
My first Edison! & my first ebonite pen! I was intrigued by all of the beautiful ebonite Eddies here on FPN & on Brian Gray's site, but sometimes the way the color mottled didn't quite suit me so I was hesitant about custom ordering an ebonite pen. Happily, there was a beautiful blue-black swirl Collier in the current inventory & here I am. Apologies for many of the overexposed photos, but it was the only way I could get the coloring to show.

The Pen-
The ebonite has an interesting feel. The "warmth" that is often associated with it is the only thing I can think of to describe it, but it just feels different than a normal acrylic pen. There's more of a textured feel to it, even though the pen is smooth. The pen has "Edison Pen Co." & "Collier" subtly engraved on the barrel.
Only hardware is the silver tone clip.
The cap is threaded/screw on, & it closes nice & tight. Not a posting pen due to the shape of the barrel; it barely tapers. Balance is just fine without the cap. There's a bit of a flare to the gripping section, & a barely discernible step up from the section/threads to the barrel.
Cartridge converter, using the Schmidt K5/international size (I think?) cartridges & converters. Can also be used as an eye dropper.
It's a smidge under 6" long capped, ~.5" thick. It's bigger than the width of my finger, but I have small hands. However, I don't find this pen tiring to use for extended writing since it's lightweight & well balanced.

The Nib-
A #6 steel JoWo nib tuned to Brian's standard; 7/10 wetness with a touch of feedback. It writes very smoothly, though not buttery, but you can ask Brian to smooth your nib to whatever suits your writing style. The nib is pretty big but it fits with the size of the pen. The #6 has Brian's light bulb/nib logo, the size, & a bit of decorative engraving.
Value-
The Collier is normally a production line pen that can be purchased through various retailers, but it is only available in 3 pre-chosen materials. Since this was a "custom" material, I paid the regular price of (most) any other Edison Signature line. For a hand-made pen from a USA-based pen maker, & the great customer service provided by Brian, I think this pen is well worth the cost.