Initial Thoughts:
I love the look of the Starwalker. I'm not a big into MB, but the nib & more modern design on the Starwalker was very appealing. Unfortunately, the retail price was not. But, one day I spotted this on FPH's Back Room & jumped on it. The pen is beautiful, but shows that it came from a previous home; a little bit of wear on the grip section. It must have sat for an unknown amount of time with a blue-black cart in it, as there's still ink coming out of the housing where the nib meets the section. Numerous soakings & a trip to get tuned by Tyler Dahl of 777 Pen Repair (where it had two ultrasonic baths) later, if I rub a Q-tip along the area I get blue-black ink.
It doesn't affect the way it writes or the color of the ink I'm using so I'll deal.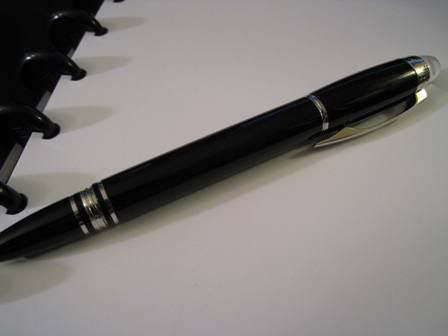 Construction & Quality:
Well, you buy into the MB "precious resin" & marketing spiel or not. It's a plastic pen, & I like it, but I never would have paid full retail for it. It doesn't feel particularly fragile or resilient. I think the slightly tapered body & silver (rhodium?) trim are very nice. The cap is interesting because it is just slightly bulbous, which sounds unattractive but I think it works. The clear cap jewel with the MB snowflake suspended in the center is interesting, & the wide cap band at the top has "MONTBLANC" etched prominently around. The clip isn't too stiff, I'd say spring loaded but I'm not sure how to tell. My only peeve is that the clip extends just past the lip of the cap, so if you were to place the cap on your desk it wouldn't be able to stand up.

Weight & Dimensions:
Being all plastic makes for a light pen. It also doesn't have MB's fairly standard piston filling system which also reduces the weight. The threaded cap also screws onto the back of the pen for secure posting. I feel that it gets slightly back heavy by doing this, but not so much that it's uncomfortable to write posted.
Not a big pen: 5 1/2" capped, a touch under 5" uncapped, & just short of 6" posted.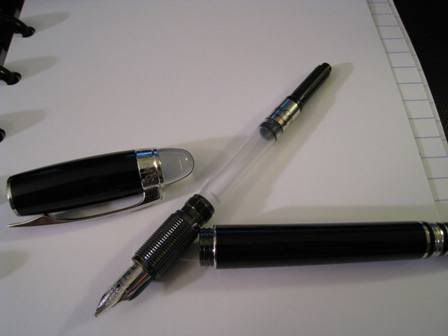 Nib & Performance:
This nib looks a bit different from more "traditional" nibs. It reminds me of the Pelikan Ductus, which is a little bit love or hate. The standard MB Starwalkers come with a 14k rhodium plated nib, which is what I thought I was getting. When I uncapped it, I found the 18k 100 year anniversary nib. It has mountain engraving, "100 years" on either side of the breather hole, & the MB snowflake in a circle with "2006" stamped inside.
When the pen first arrived, it wrote smoothly with a touch of feedback, but was dry. I sent it off to 777 Pen Repair & it now writes with much better flow. Since I didn't purchase the pen new I can't comment on what other MB pens are like straight out of the box.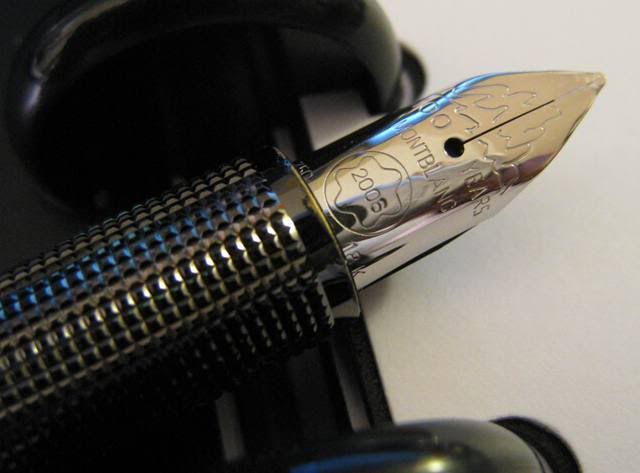 Filling System:
This pen is marketed as cartridge only. That would have been a deal breaker for me, but there are plenty of useful threads here on FPN where other Starwalker owners have discussed suitable converters. I use a Faber-Castell converter in mine & so far haven't experienced any leaking.
Cost & Value:
Well, I wouldn't purchase this new. Its MSRP is north of $500, with online outfits having it in the upper $300s to low $400s. However, it's a nice pen & if you can find it in the $200s I think it's worth it, especially since you're not actually limited to just using cartridges. This is a C/C pen, you just won't be using the MB converter.
Conclusion:
I'm glad I purchased this, although I would've loved to get the all black resin version. My pen didn't come with a box or papers, but going off of a few "spot the fake" threads here, I'm fairly certain it's legitimate. FPH is a reputable dealer, the section threads are short, the serial number on the clip band rather than the clip itself, I wouldn't put much stock in the whole "PIX Made in Germany" under the clip since most fakes have that too, but it's there. The body also displays the ruby translucence of genuine MBs. Even if it's fake, it writes beautifully & I didn't pay full price