I hope P.A.R. forgives me for starting a new topic because I didn't want my photos to slow down or get lost in his thread. I followed his
recommendation to check out these very economical Knox and Bulow nibs as non-flex replacements for the Noodler's steel nib in this thread
, I bought the group price of all 6 Knox and the Bulow nibs which totaled $45.04 (delivered) for all 7 of them. Shipping was priority USPS and arrived in 2 days. All of these nibs are a perfect size match in width, length, and thickness for the stock Ahab steel flex nib. You can get all these nibs here:
http://www.xfountain...sories-s/32.htm
.
I took a series of macro photos so you can compare their tip sizes, followed by a writing sample scan with Parker Penman Sapphire on Staples Eco-Sugarcaine tablet. Nibs were not cleaned or flossed. They were literally taken out of the small plastic envelopes, matched with the feed, and inserted into my Ahab demonstrator, then dipped in ink for writing sample. It was very easy and quick to pull out and change to the next nib. These are nice appearing two tone nibs with tipping. I have no idea of their long term durability, but starting out are a nice option if you like the Ahab pen feel and just want a non-flex selection of nibs. I consider it an incredible deal, and will likely order two more 6-packs. I would call the Bulow a more typical western Medium size.
There are two negatives to the nibs, which as long as you understand going in are not necessarily problems.
The first is a nuisance quibble that you need to be careful keeping track of which is which because they did not stamp a size on any of them.
Secondly, IMHO, the OB and O2B are not obliques at all, and there is really little difference between the B, OB, and O2B in terms of line size. You get a wee bit more ink with the O2B vs. the B, but these are very slight variations of nib sizes which I would put more as Medium to Medium-Broad to Barely Broad in sizes.. If I compare them to my Montblanc nibs, none of the Knox B, OB, & O2B tipping are not larger than the Montblanc Med nib, although they do write a bit wider than the MB. This also means that the XF, F, & M as you can see from the scan below are more towards Japanese sizes.
First photos includes an overlap from both sides of Noodler's nib so you can see they have identical footprints (and metal thicknesses). Rest of images are self explanatory. All are thumbnails if you want larger, click them.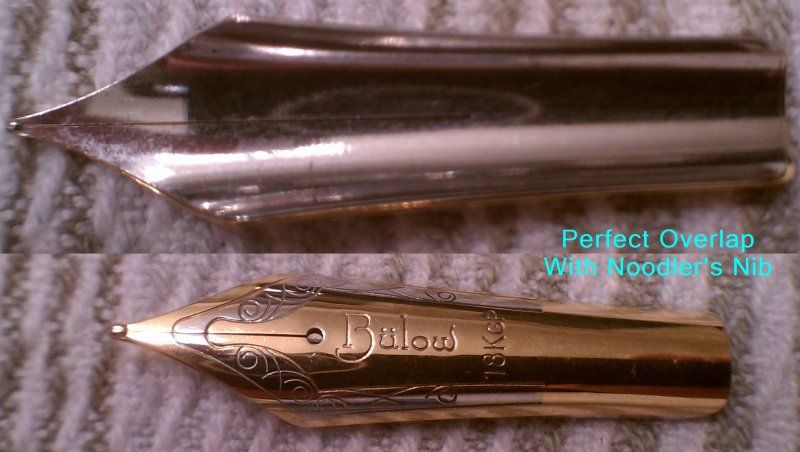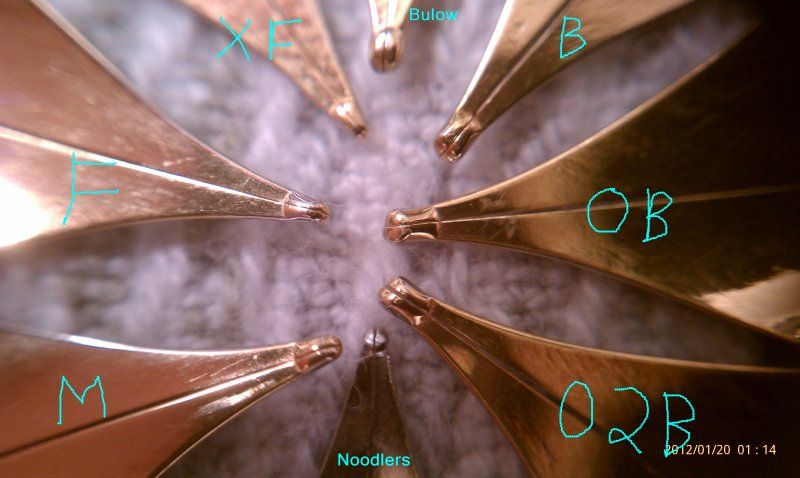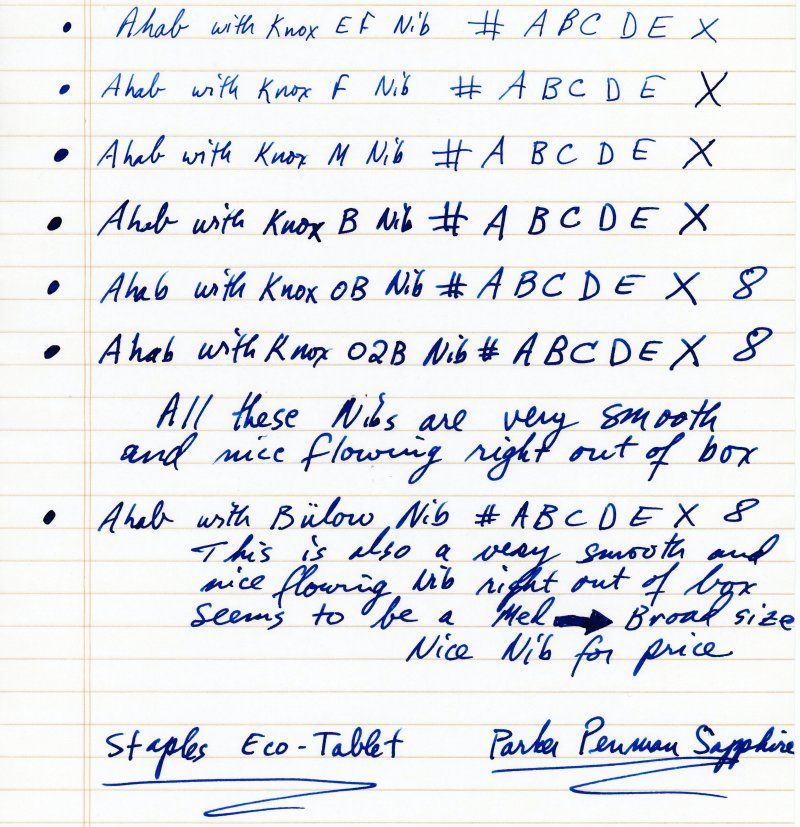 Edited by SamCapote, 21 January 2012 - 08:08.