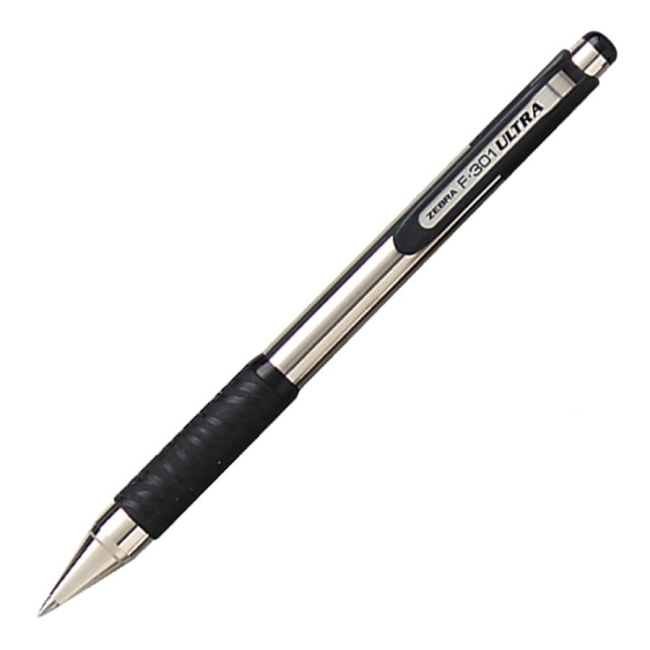 I've realized that if I want permanent inks I need to use ballpoints, rollerballs or liquid/gel ink pens. I picked a Zebra F-301 Ultra some time ago and thought I'd do a short review.
First of all the pen is a good length. It is just a few millimeters longer than Parker Jotter ballpoint and is about the same weight. The pen is made of both plastic and metallic parts and seems well made.
I used Parker Jotter ballpoint as my only pen for about 3 years and I used to write a lot. These days, I find it is too thin at the gripping section and is too uncomfortable. The Zebra doesn't suffer from this problem. The gripping section is perfectly sized and has a spongy rubber which is firm but yet soft and is comfortable.
Unfortunately, the pen comes with a proprietary refill which contains very little ink for a ballpoint of this size. That is not the biggest problem however, because the refills are fairly cheap. The problem which I think will make you throw the pen out is that the ink seems to be low quality or the cartridge itself is cheap and badly made. As a result, the pen produces a line which varies in intensity as the ball at the tip probably suffocates and doesn't get an even coating of ink. It is very unpleasant to the eye. This effect used to happen to Parker Quink ballpoint refills just before they run out. The Zebra writes like that with a brand new refill.
The pen is nice, looks good, feels good but due to the refill (and the fact that you are stuck using their refills which seem to have problems) you will not want to write with the pen as the writing will be an eyesore. If it is ever released with a standard Parker cartridge I would recommend it. As of now, I would not buy it.
Edited by s5s, 17 January 2012 - 03:22.