Danitrio Wakasa-Nuri
Length
: 5 7/8 inch capped, 5 1/8 uncapped
Weight
: 1.1oz capped w/ink, .6oz uncapped w/ink
Materials used
: Ebonite body and cap, urushi, quail egg shells, gold dust, gold plated clip, 18k nib
Filling System
: Cartridge/Converter or Eye dropper
When Roy first announced his purchase of a Danitrio Wakasa-Nuri and posted a picture from Kevinís website, I knew that I too must have one of these works of art. The finish is so different from anything else in my collection. The combination of urushi, lots of gold dust, and quail egg shells give the body and cap incredible depth; almost a 3D effect. You can tell that this is a hand applied technique, like the pen itself comes from nature with an earthy richness. Pictures will never do this pen justice.
There was about a month waiting list to be able to purchase this pen. Once they arrived, Kevin was able to exchange the medium flexy nib for a stub. Kevin also traded out the section for one with ebonite threads to allow for an ED conversion. Before I go on any further, I need to again thank Kevin for his wonderful customer service. He is such a pleasure to do business with!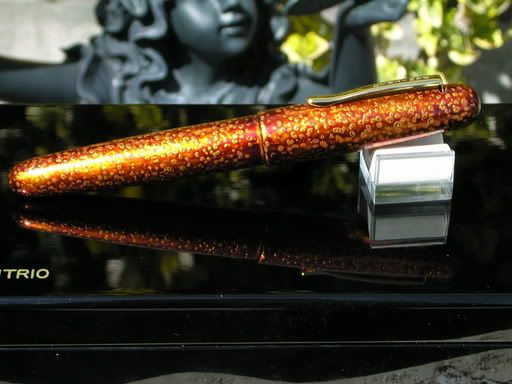 The pen arrived in a beautiful black mirror-finish display box. Iíve never been a real fan of fancy packaging, I am just more interested in the pen. However, the display box of the Wakasa-Nuri is just simply beautiful, like a nice piece of desk furniture. This is the first pen packaging I havenít packed up and place on a shelf in my closet. This box has a place right on my desk, where the Wakasa-Nuri calls home.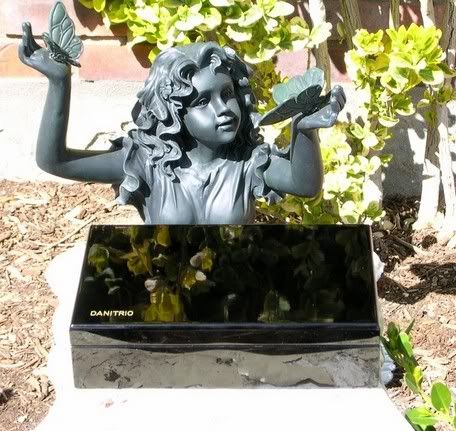 Writing with the Wakasa-Nuri is a joy. The stub nib surpasses any writing experience I have had thus far. The line variation and smoothness exceed that of both my Stipula Etruria italic and even my custom grinds from Pendemonium! If all of Danitrioís stub nibs write like this one, I foresee many more Danitrioís in the near future. A great writing experience indeed!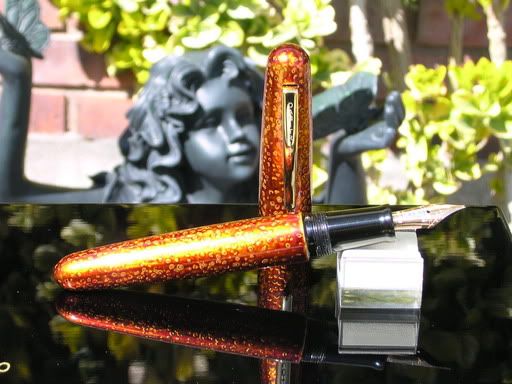 The weight of this pen is very nice. With the all ebonite construction of the barrel, the size to weight ratio was quite surprising. Compared to many of my other pens, Iíd say the Wakasa-Nuri is on the lighter side. Not as light as say a Sheaffer Javelin, more of a nice medium-light pen. You do not post this, actually by posting it, you will have voided itís warrantee. Having written extensively with this pen over the last couple of weeks at both school taking notes and at home writing letters and journal entries, I can easily recommend the Wakasa-Nuri as a daily user. With the help of Gerryís plumber Wax (thanks again Gerry) and an ED conversion, the ink capacity is a very generous 3ml to 4ml. Currently, Iím using Noodlerís walnut and the lines are nice and wet.
Iíd highly recommend the Wakasa-Nuri to anyone looking to expand their collection to include a Japanese pen. Danitrio has done a great job on this pen and you wonít regret the higher price you pay for this hand made masterpiece.
Bryan
Edited by Bryan, 17 April 2005 - 23:29.