Your 10 Best Pens
Started by
christof
,
Jan 05 2012 15:48
108 replies to this topic
Posted 04 March 2014 - 02:38
Time for an update. Decisions becomes harder and harder...



Christof
nice.
---
Posted 04 March 2014 - 06:42
 

 

Nice display tray ...

Could you name them please ?
Of course. Please see above.
Christof
Edited by christof, 04 March 2014 - 06:46.
---
Posted 04 March 2014 - 06:43
Please note that this is meant as a photo-thread. Thank you.
C.
---
Posted 11 March 2014 - 20:49
OK, time for an update.  These could be my new favorite ten.  Of course, if you ask tomorrow, there will be a different ten.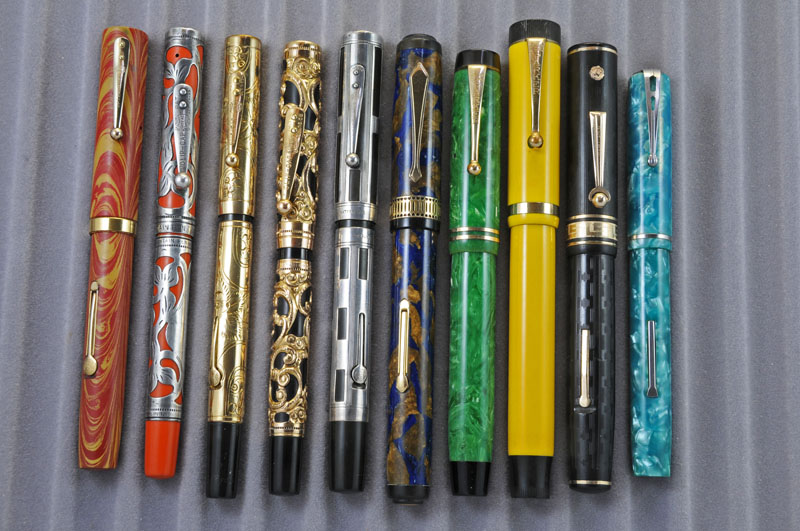 L to R:  Waterman 94 Rose Ripple, Waterman 14 Sterling Silver "Filigree" over RHR, Waterman 0552 1/2 "Oriental" Overlay, Waterman 0514 "Chased Filigree" Overlay, Waterman 454 "Moderne" (often called Night and Day) Overlay, Waterman Patrician in "Turquoise", Parker Streamline Sr. Duofold in Jade, Parker Flat Top Sr. Duofold in Mandarin Yellow, Wahl Deco Band in Chased BHR, Esterbrook Dollar-Fifty pen in Blue Cracked Ice.
"Time flies like an arrow; fruit flies like a banana." - Groucho Marx
---
Posted 12 March 2014 - 04:46
Fantastic pens!
Thank you Allan.

Christof

---
Posted 19 March 2014 - 23:11
Ten best?  Here are custom made pens from some of my favorite pen makers (10 plus 2 - because that's what the tray holds).  From left to right:
1. David Broadwell freeform "Aspen" with Mokume-gane accents
2. Edison Pen Company and Ernest Shin collaboration "Urushi Mina" (number 1 of 20)
3. Edison Pen Company ivory celluloid "Pearl"
4. Edison Pen Company "#76" blow filler
5. Edison Pen Company "Nouveau Premiere" in cappuccino (not truly "custom" but certainly Limited Edition)
6. Shawn Newton alabaster/tortoise oversize bulb filler
7. Mark Astilla "Lion Fish"
8. Lyle Ross McCulloch deep green/gold marble button filler
9. Robert Holm "Dolce Vita"
10. Robert Holm "Tiger Eye"
11. Robert Holm "Antique Roses" bulb filler
12. Renee Meeks lava lamp "Balladeer"
Edited by Director Bob, 19 March 2014 - 23:24.
---
Posted 21 March 2014 - 12:13
My Pelikan green pens
1. Pelikan fountain pen (first-year) (1929)
2. Pelikan fountain pen (second-year) (1930)
3. Pelikan 100 (1931-44) *cap with 4 vent holes
4. Pelikan Rappen  (1932-45)
5. Pelikan IBIS (1936-54)
6. Pelikan 100N  (1937-54) *cap top with 4 chicks
7. Pelikan 400 (1950-56) 
8. Pelikan 140 (1952-65) 
9. Pelikan 300 (1953-57) 
10. Pelikan 120 (1955-65) 
Lid (not shown) of the tray is imprinted with Pelikan logo.
Christof,
I want a beautiful tray like yours.
Edited by tacitus, 21 March 2014 - 12:21.
---
Posted 21 March 2014 - 13:11
Today's 10 best.
---
Posted 23 March 2014 - 16:52
Taken me a while to decide what I want to put in this post. I finally got there.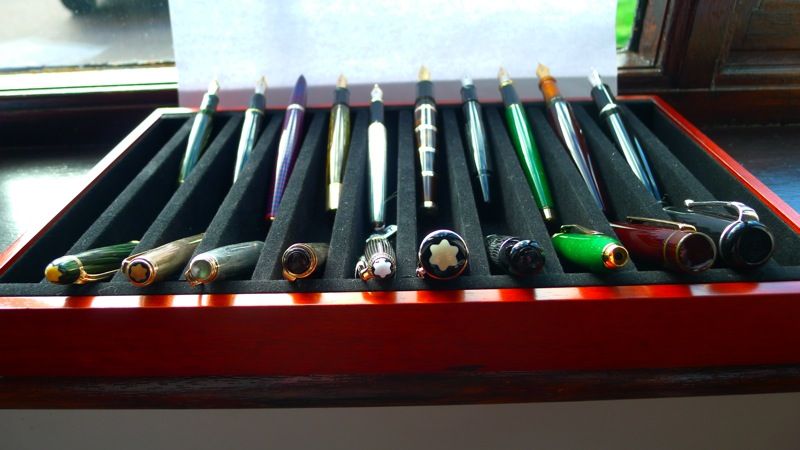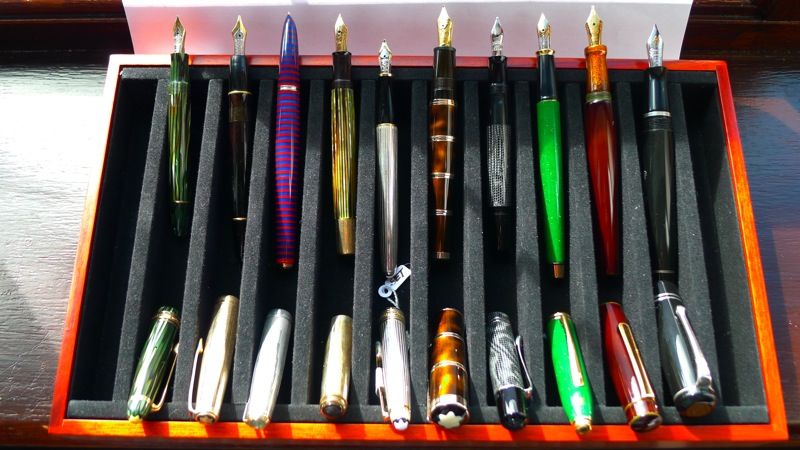 Apologies for the poor photos. Hopefully you can still recognise the pens from my description (from L to R):
1. Montblanc 142 green striated. Medium firm nib. Enough said.
2. Montblanc 644 - black barrel (rolled?) gold cap and an italic nib. Classic vintage pen.
3. Brad Torelli P51. Crimson and royal blue hooped barrel, with a sterling silver empire state cap and a fine nib.
4. Pelikan 500 with a green tortoise barrel, and gold cap and piston knob. Nice medium nib.
5. Montblanc 144 Godron or pinstripe sterling silver barrel and cap, gold coloured trim. Bought from a pen show from a top bloke (Fountainbel). Comes with a wonderful OBB nib.
6. MB Cervantes. Comes with a M nib. I have a few WE's, this one narrowly beat the Schiller and the Verne (if I owned a Hemmingway that would have been in here..)
7. Pelikan M101n Lizard - the modern version. Lovely looking pen and a great size. Broad stubby nib that wrote perfectly straight out of the box.
8. Cross Townsend in Jade with a medium nib. Townsends are very under rated. I have the Jade and the Lapis, as well as a glossy black and a sterling silver version. The colour on the jade and symbol on the cap got this in here even though it doesnt have my favourite nib of the 4.
9. Nakaya. I cannot remember the model - Decapod I think, about the size of a 146. Dark red Urushi beginning to see a bit of green showing through. Has a wonderful broad Italic nib prepared by John Mottishaw at nibs.com.
10. Last but by no means least, a CS Winston in Black with an italic medium nib. Love this pen. Great size/weight and line variation on the nib.
---
---