Appearance & Design:
Big, blue, & stripey. The acrylic shell is semi-transparent & a lovely mix of blues with dark lines throughout. Black cap jewel & blind cap with silver trim. It's a simple but attractive design, imo, different but not attention-seeking. Comes in 4 beautiful shell colors: blue, red, silver, & gold.
Construction & Quality:
The pen feels well made. No seams, & I find the gripping section easy to hold. A screw on cap with a rollerball style clip.
Weight & Dimensions:
It's light since there aren't any metal parts/inserts, but still full size at ~5 1/4" capped, over 6" when posted. Weighs in at around 20 grams. It's possible to post, but I find the balance is thrown off in doing so, & the pen is a comfortable length to use unposted.
Nib & Performance:
This was my first broad size nib, & now I can't wait to try a Bexley stub! I have the 18k version, which is a beautiful two-tone color with decorative engraving & the Bexley "B", company name, size, & material content visible. It's also a pretty big nib compared to those of my meager collection (Pelikan M2xx, Pilot, Waterman). I have a "Binderized" nib, so it lays down a fairly wet, smooth line. It was a little bit of a hard starter for the first run, but having just finished my 3rd fill that has almost completely gone away.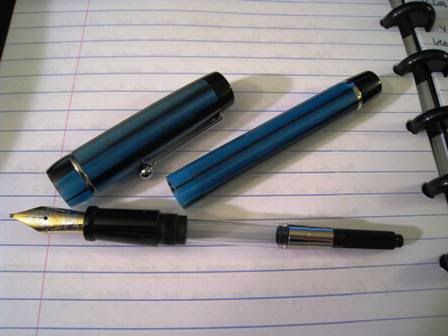 Filling System:
Cartridge/Converter filler, uses the international carts & Schmidt K5 converter (included). No frills, decent ink capacity.

Cost & Value:
This pen was a Christmas present from my husband, purchased new from Richard Binder (richardspens.com). Given the choice between steel (<$100) & gold nibs (low $200s) & nib interchangeability, I think the Elegancia is a very nice addition to the Bexley line.