☞

For convenient viewing of the images, you may wish to scroll to the menu at the very bottom of this window, then change the FPN Theme to 'IP.Board Mobile'.

Please take a moment to adjust your gear to accurately depict the Grey Scale below.
As the patches are neutral grey, that is what you should see.

Mac http://www.wikihow.c...te-Your-Monitor
Wintel PC http://www.calibrize.com/

Grey Scale:


-|.|-


Figure 1.
Swabs & Swatch
Paper: HPJ1124 24 lb. Laser Copy.




Figure 2.
NIB-ism ✑
Paper: HPJ1124.

Depicts nibs' line-width and pens' relative wetness.

IMG-thumb:



Pens: L ➠ R: Estie, P99, C74, 45, Prelude, Waterman's, Waterman's 52 1/2 V.


Figure 3.
Paper base tints:



L ➠ R: HPJ1124, Rhodia, G Lalo white, Royal, Staples 20 lb.


WRITTEN SAMPLES - Moby Dick
Ruling: 8mm.

Figure 4.
Paper: HPJ1124.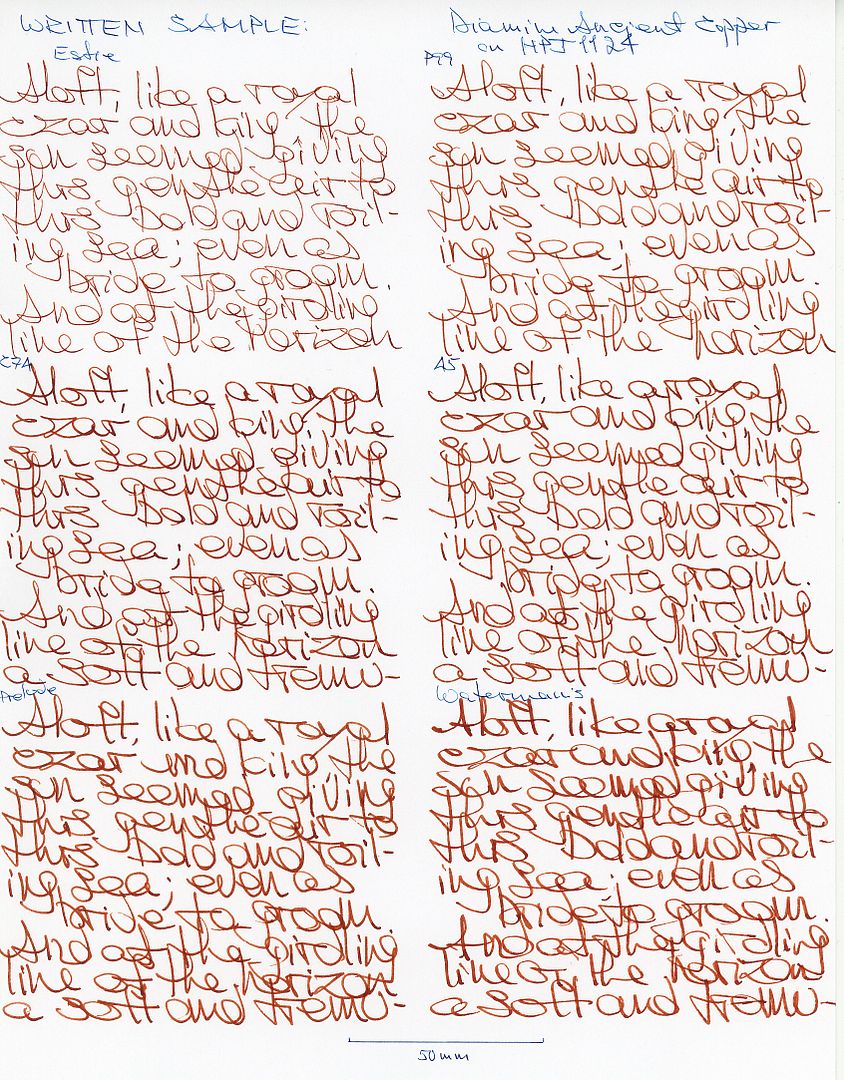 Figure 5.
Paper: Rhodia.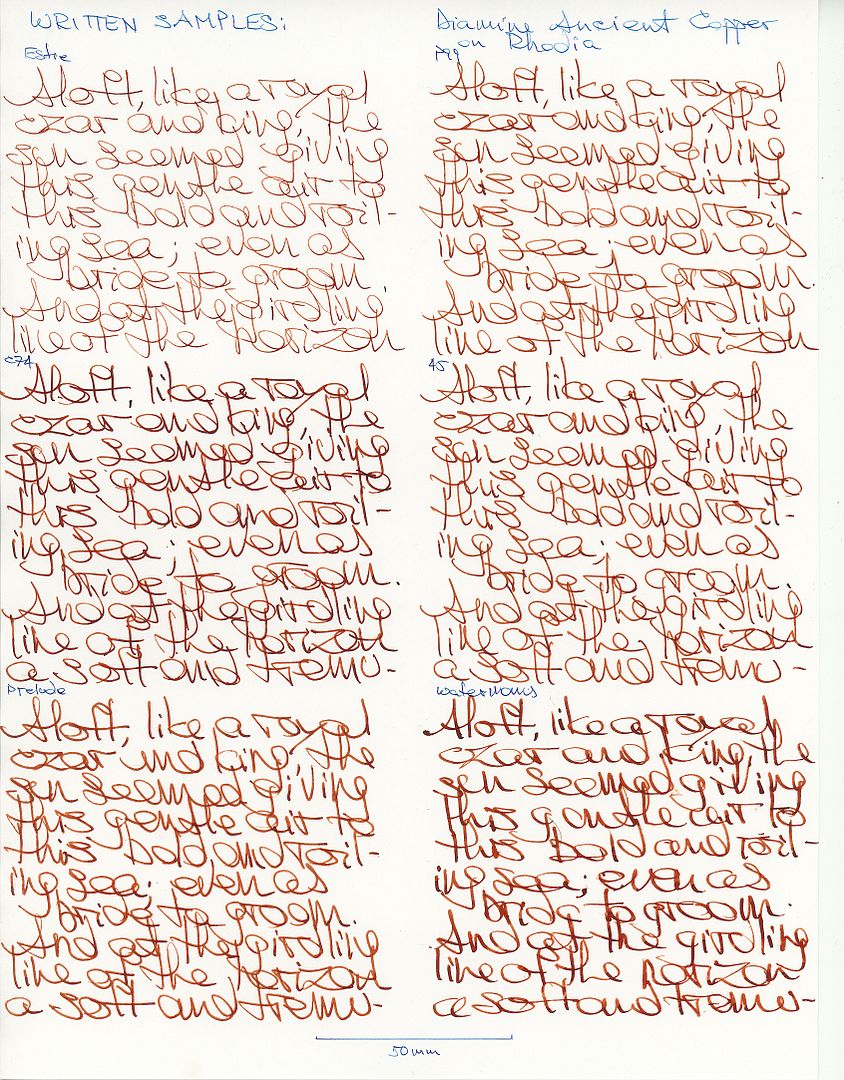 Figure 5A
Paper: Rhodia.


Figure 6.
Paper: G Lalo, Verge de France, white.




Figure 7.
Paper: Royal - 25% rag.



Figure 8.
Paper: Staples 20 lb. multi-use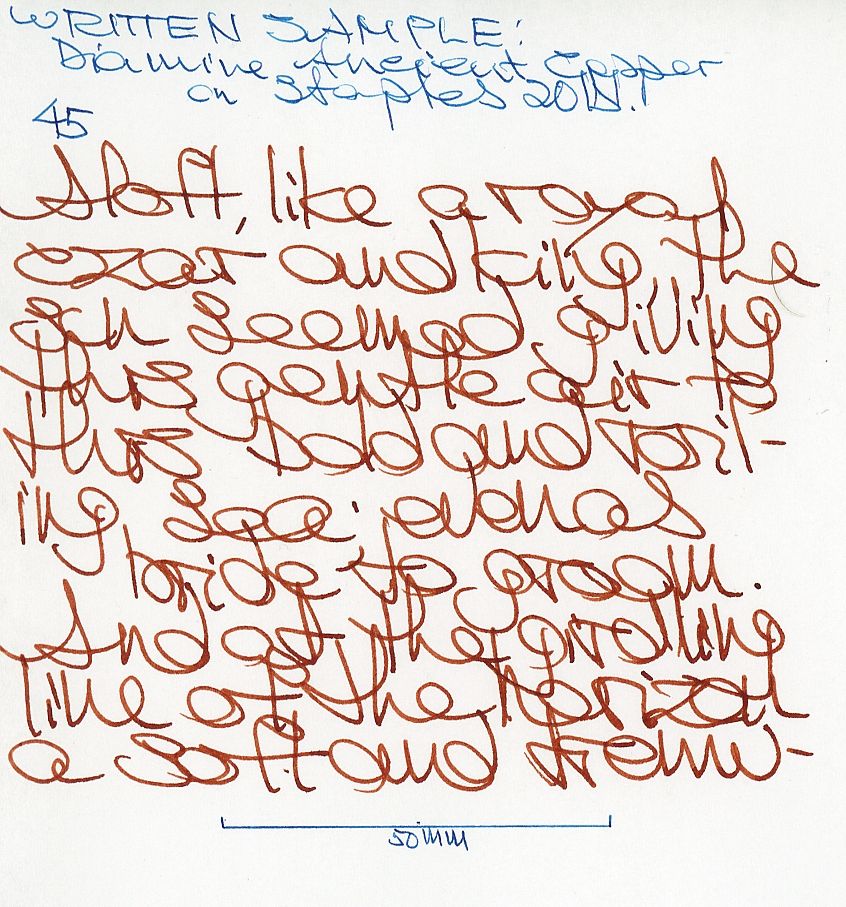 Figure 9.
Grocery List
Paper: Pulp. One-a-Day calendar page.



OTHER STUFF

Figure 10.
Smear/Dry Times.
Wet Tests. ☂


GENERAL DESCRIPTION

Type:

Dye-based fountain pen ink.
Presentation:

Availability:

Daily writer?

A go-to ink?

When a high performance Orange-Red Brown is desired.

USE

Business:
(From the office of Ms Blue-Black.)

As much as I am trying to consider some Brown inks as suitable for business correspondence, I cannot make the stretch to include DAC in that group.

Use for personal work product would be iffy; perhaps limited to key/summary notes.

Nice choice for mark-up or editing of drafts written in colours from Turquoise through Blue to Black.

Doesn't make the grade for marking or error correction.
Illustrations / Graphics:

Definitely - use from a wet brush seems especially appealing.

Cannot see this as a transitional colour - a bit too impure, but would do well as a foil to vibrant Violets - Purples.

Line quality is high, so fine lines can be considered, but shading should be suppressed for diagrams, labels, etc.
Students:

As for business use, DAC is unlikely to be a candidate for all but alt/aux use.

S/DT was quite short, so mark-up on the fly seems likely.

On the 20lb Staples, bleed- show-through was not seen to any extent, so use on 'lowest-bidder' papers seems a realistic possibility.

The water resistance is poor, so stuff that was written just might be salvageable - cross your fingers.
Personal:

This would seem the home range of DAC, yet I have not used ink of a similar colour; Pelikan 4001 Brown being sort of not really close, and I still have not come around to that one. So even though I may not be swept away, I am willing to be astonished.

For pro forma personal business writing, set this one aside - use-up the wancher ebine instead.

Definitely for 'personal' personal writing.

Here is another one that receives my usual approach to untried colours by starting at high density. DAC seems quite stable on the page at high density, but is not immobilised.

If I were to receive personal correspondence written with this ink, I would think 'wth?'

While I am trying to find the handle of this ink by using rather narrow nibs, the Written Samples show considerable potential for a wide range of width, wetness, shape and flex. Have at it!

Billets doux?

PHYSICAL PERFORMANCE & CHARACTERISTICS

Flow Rate:

Nib Dry-out:

Start-up:

Immediate.

With confidence.
Lubrication:

Nib Creepers:

Staining (pen):

Not seen; contact time was eight days.
Clogging:

Bleed- Show-Through:

HPJ1124: Waterman.

Royal: Waterman.

For those instances, writing on both sides of the sheet would be fine for own-use.
Feathering / Woolly Line:

Aroma:

Hand oil sensitivity:

Clean Up:

Quick and thorough with plain water.
Mixing:

Archival:

Water Resistance & Smear/Dry Times:

As shown in Figure 10 above.

☞ That, dear reader, is an admirable performance profile.


THE LOOK



Note

:
More than most inks, I found my perception of the colour varies under different light sources. Under direct sunlight, DAC is distinctly Brown as depicted in this Review; under tungsten bulbs, I see it as a well done Burnt Orange. The extent of that variation depends on ink density, which is greater when the ink is pale.

Presence:

A nuanced stance.

Attracts and holds interest.

May distract from what's written.

Saturation:

Shading:

Very attractive when it appears.

Needs to be encouraged, but possible even from XF nibs.

Variability:

Pen+nib combos used:

Perhaps a bit less than expected.

Papers used:

Malleability:

Strong potential.

As DAC performed admirably with pens and papers used here, there seems to be considerable leeway to explore a broader range of pens and papers before performance degrades.

Performance is suited to a daily writer; alas, the colour is not!



Hi-Res Scans

:
Originals are 57x45mm.

As I do not aspire to the sobriquet 'Queen of The Bandwidth Bandits', these are IMG thumbs only.

Estie on HPJ1124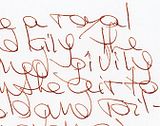 C74 on Rhodia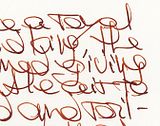 52 1/2 V on Rhodia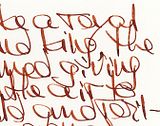 45 on G Lalo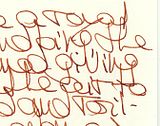 Crusader on Royal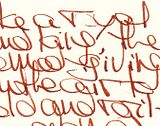 FIDELITY

Is the name appropriate?

Are swabs/swatches accurate?


OTHER INKS



Comparisons

:
To enable ad hoc comparison, my Reviews of Brown inks from 29 November 2010 onward share the same Written Sample layout, atrocious handwriting, and some papers & pens. Manipulation of web browser windows supports simultaneous viewing of Written Samples of several inks. That said, if you feel a specific aspect deserves to be depicted/documented as a stand-alone Topic or Post, your PM will be welcomed.



Swab Swami

:
An exercise in contrasts to depict DAC by showing what it is not.



From Left to Right: Waterman Havana, Caran d'Ache Saffron, and Pelikan 4001 Brown.


PAPERS

Lovely papers:

Did well on all papers used.
Trip-wire Papers: ☠

Tinted Papers:

I would not use any strong tints, preferring to work with versions of white.
Pre-Printed Papers:

Forms, etc.

Seems a shame to use this ink on forms, but at high density it should do for making / identifying anomalous entries.

For charts & graphs:

Consider stronger more pure colours for such applications.
Is high-end paper 'worth it'?

Not really.

Very much a matter of preference over performance.

ETC.

Majik:

Possible.

DAC has strong performance characteristics so is likely to endure conjuring.
Personal Pen & Paper Pick:

The C74 on the Rhodia. (Is no one surprised?)

The nib generates a line-width that gives a somewhat low % coverage, allowing DAC lots of breathing room, and runs at high enough density that it remains well seated and reduces its potential to distract from what's written.

The Rhodia has a softly warm tone that cossets the ink; and the hard smooth surface encourages shading which slows reading just a bit.
Yickity Yackity:

Another voyage of discovery into uncharted warm waters.

Ah kushbaby, too cayenne tandoori for you and Ghandi?

======

NUTS & BOLTS

Pens:

Esterbrook J + 9550 steel XF nib.

Pelikan P99 Technix + steel F nib.

Pilot Custom 74 + SFM nib.

Parker 45 + g-p steel M nib.

Sheaffer Prelude + steel B nib.

Waterman's Crusader (?) + № 5 14K Ideal nib.

Waterman's 52 1/2 V + № 2 nib. Figure 5A only.
For lines & labels: Pelikan Turquoise from a Pilot Penmanship + XF.
______

Papers:

HPJ1124 24 lb. Laser Copy.

Rhodia.

G Lalo, Verge de France, white.

Royal, 25% cotton rag.

Staples 20 lb. multi-use.

Pulp. One-a-Day calendar page.
______

Images:

Scans were made on an Epson V600 scanner; factory defaults were accepted.

Figures shown were scanned at 200 dpi & 24 bit colour.

HiRes Images linked were scanned at 300 dpi & 24 bit colour.

Scanner output files were not adjusted post-capture, so went straight to the file sharing thingy.
______

Densitometer Readings:
(HPJ1124)

Red 180

Grn 99

Blu 81

Lum 111
______

Fine Print
The accuracy and relevance of this Review depends in great part upon consistency and reliability of matériel used.
Ink does not require labelling/notice to indicate (changes in) formulation, non-hazardous ingredients, batch ID, date of manufacture, etc.
As always, YMMV, not only from materials, methods, environment, etc., but also due to differences between the stuff I used, and that you may have.
Also, I entrust readers to separate opinion from fact; to evaluate inferences and conclusions as to their merit; and to be amused by whatever tickles your fancy.


-30-

Tags: Fountain Pen Ink Review Diamine Ancient Copper Burnt Orange Brown Sandy1

Edited by Sandy1, 17 December 2011 - 13:20.