I already have one of the "standard" Edison Nouveau Premieres, and have often thought how great it would be to have one in ebonite. So I was very excited when an ENP limited edition ebonite pen was announced in summer 2011. But the blue/black ebonite used for that LE didn't really speak to me, so I passed on it.
On Nov. 30, 2011, a second ENP LE was announced, this time in "cherry cordial" ebonite. I took one look at the pictures and jumped on it!
You can see my general feelings about the Edison Nouveau Premiere in
this review
, so I'll limit my comments here to the new LE, and mostly let my pictures do the talking.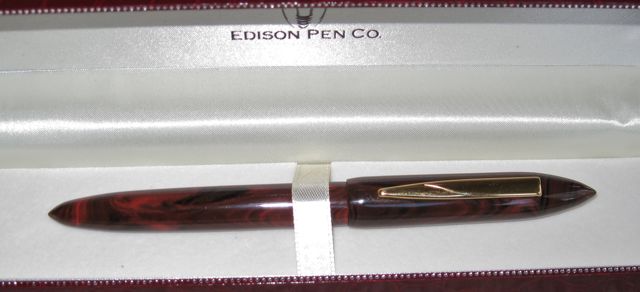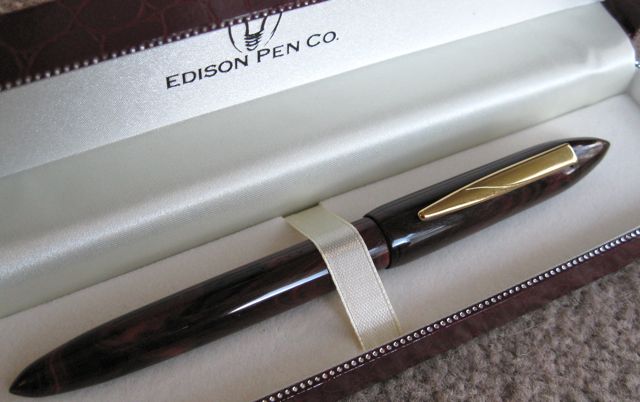 The design, just to be clear, is identical to the regular ENP. Only the material is different. And this material is really beautiful! I've seen other red/black ebonites, but not like this one. The name is quite apt, as the red element really is cherry-colored, not orangish or brownish as in some other red/black swirls. The color reminds me of wine, which may be why I immediately filled it with Diamine Syrah.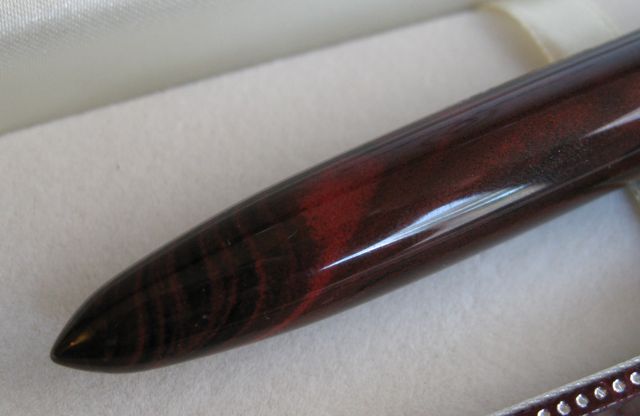 The nib is very handsome: two-tone steel with the Edison logo. I chose the bold, which also writes a nice fine when inverted. Brian Gray's nibs are always excellent and this one is no exception.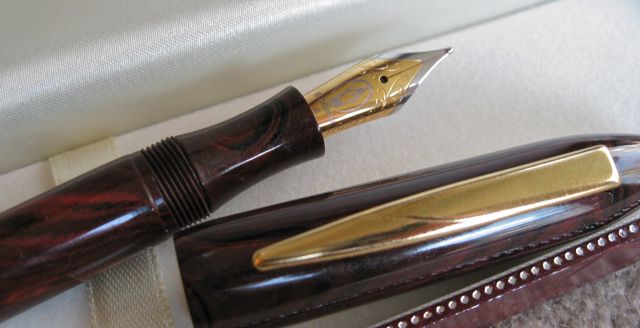 Just to show that I was serious about jumping on this pen immediately, here's the imprint showing that I got #1 of the LE!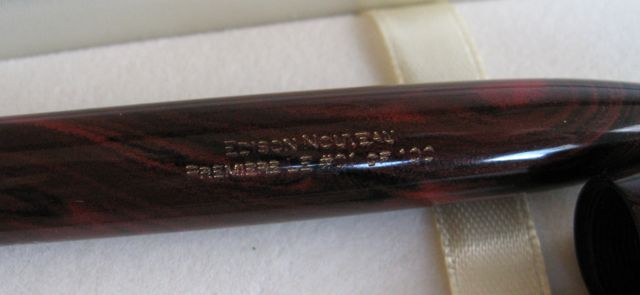 The price for this LE is $200 (that's with a steel nib; it's $325 if you want gold). To put that in perspective, that's $50 more than the non-LE ENPs, $50 less than the the base price of most of Brian Gray's custom pens, and the same price as a custom Mina. I think the ENP is one of the best Edison designs and the extra $50 for this stunning ebonite is definitely worth it.
In closing, I'd like to thank Brian Gray and Brian and Rachel Goulet for bringing out another fine pen in the ENP line. I can't wait to see what comes next!