WARNING, THE FOLLOWING PHOTOS MAY CAUSE DISGUST AND DEPRESSION
This is my first review, and also my second pen. (after the platinum preppy eyedropper that came with BSB)
I got this pen from boli0000 just yesterday. Took a while to ship as this was from China. Here is a previous review.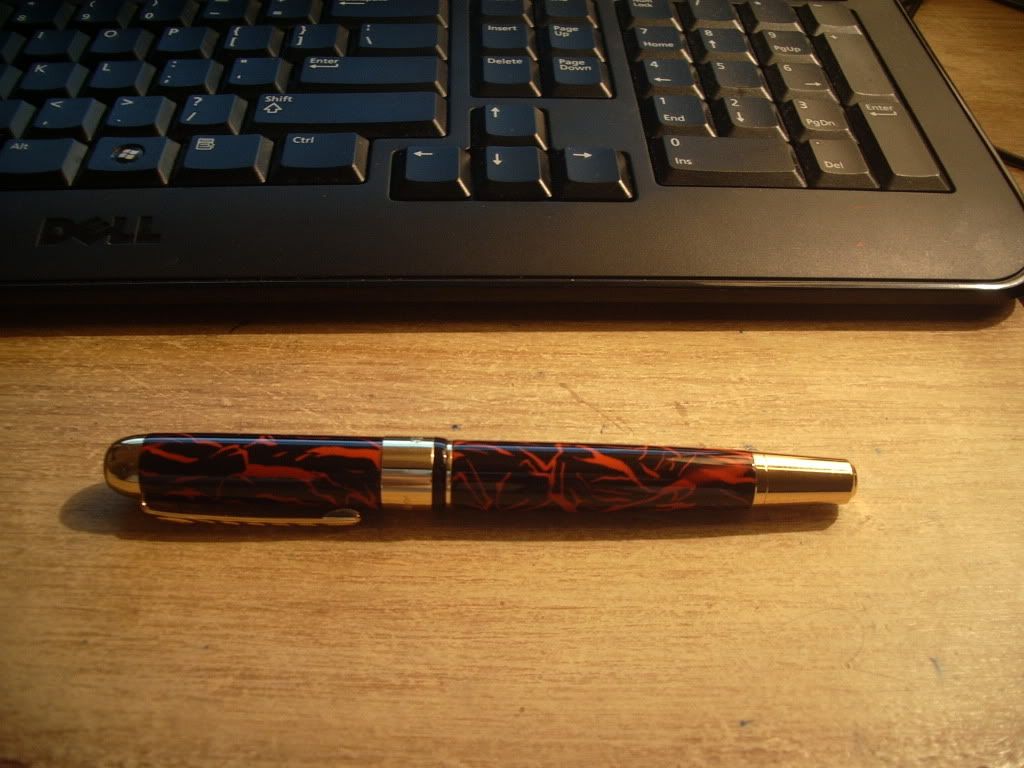 As the disclaimer says, the photos will cause much distress to your eyes. Not THIS one. This one is ok. Most of the others are were taken with a fluorescent bulb, so they look absolutely terrible. This was taken with an incandescent bulb so it looks warm and nice. One of the others was taken with flash, and at least that looked better. Only my living room has a nice big table to show the pen and inks, but my folks decided to switch to all fluorescent for that room. The only incandescent lamps are on my computer table and as you can see, there wasn't much space.
Also, I couldn't take any closeups, since my camera is an old 4MP that blurs up close.

Seller:
boli0000 from ebay. Great seller, I had Paypal bank issues and he had to wait almost a week for the payment. It was cool, since we had good communication. Shipping took about a week + 2 days or so, from China. Was packaged in a small padded envelope. Also, it came with some holder made of faux cloth along with a thin plastic bag (stuffed inside the holder) The packaging protected the pen pretty well.




Aesthetics/Weight:
It looks GREAT. Don't trust me on that since it's only my second pen. But you should. From the ebay pictures, it looked ok, but I thought the plastic (red marble) looked a bit flat, dull, and cheap. Right now, comparing it to the ebay pictures, the blacks and reds look MUCH more rich and brilliant. The other reviewer was right in saying the contrast was much greater than expected. The stark black and red contrast really go well with gold. The gleam is not as flat as in the pictures. However, the glossiness of the pen is ensuring that it will pick up dust unless protected.

The pen does not look cheap at all. Maybe compared to some really fancy ones, it does, but not to me. I haven't tried using it in school yet, but I'd probably get comments about the price, and about it being too fancy, ostentatious. (cause everybody else uses a generic ballpoint or gel pen.) The plated gold would catch more than a few eyes. The engravings such as "Jinhao", "250", and some Chinese characters are detailed and look detailed even under a magnifying glass.

Right now, I absolutely love the pen design, the only problem is refilling dirties up the beautiful gold nib, and the dust and fingerprints, which is inevitable. Eventually with use, it would dull, and get dirty, since I never clean stuff for fingerprints and dust, though I should. Maybe twice a week, a quick rinse under the faucet?

The pen feels substantial, but not heavy. I'm used to capping, since this is common to cheap ballpoints, and the platinum preppy. Not doable with this pen.
I'd say the cap accounts for 30-40% of its weight. You could cap it, but it'd be unbalanced. The weight of the cap could be a pro or con to different people. Feels nice, but less practical.

I think this pen is made of metal, but really can't be sure, could be heavy plastic. (You do NOT have to worry about the threads, they are solid)

Practicality:
Cap:
Initially, the cap was a pain. When it was capped, it returned a nice loud click, but then required two hands to open. Well, I dropped it by accident, and then everything became better
. It now caps with a less satisfying click, but it opens EASILY! It's loose, but not loose enough to fall out..
I'm not sure what happened, but the impact must have been great, since the pen broke free of the extremely tight cap, and popped out when it fell.

Nib:
It DOES write upside down. I believe it is a fine, but I really can't tell, it should suffice for math though. The pen is extremely smooth, though it depends on the paper. In comparison to the preppy, there is no contest. And to think they are both just as cheap! The gold design looks great, and the name JINHAO is imprinted on the nib. My only con is that I really don't like the filling system. Once you dunk it to fill, it will be almost impossible to get ALL of it off the gold nib.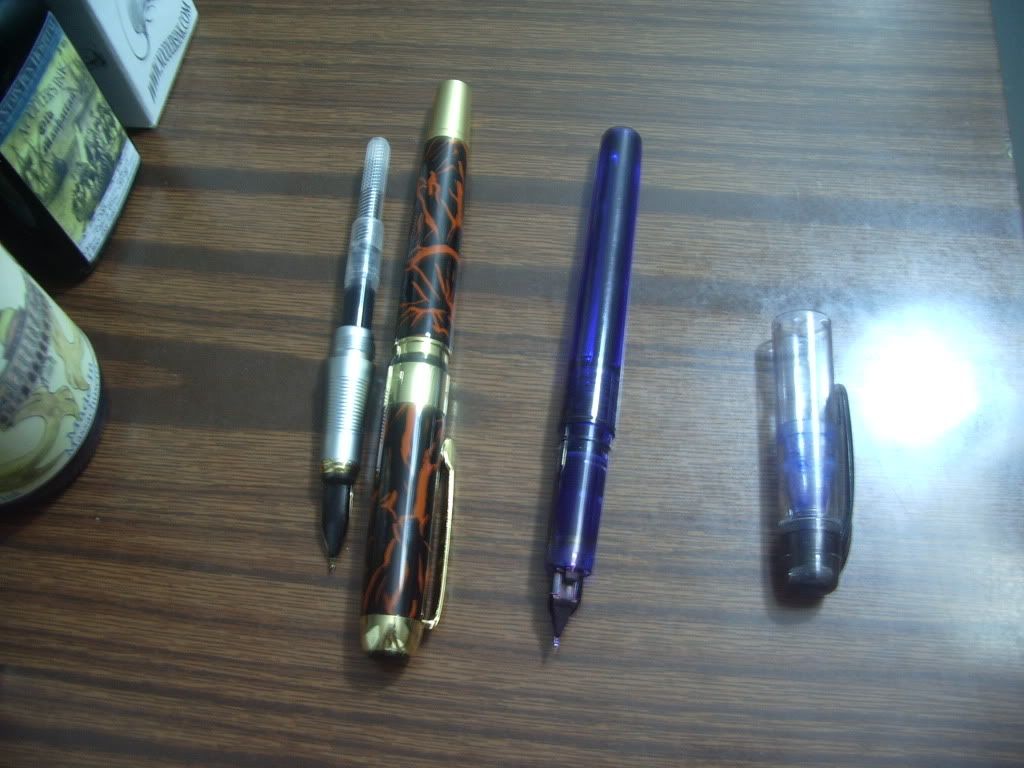 Converter:
Low ink capacity screw-type, but it works.
This is my first time using a converter, but honestly, it isn't that great. Refills require dunking the pen, which wastes ink. Also, with all the mechanisms to move ink, it wastes valuable space for ink. There is a spring in there that is loose. Though it doesn't affect the performance at all, it shows that this is a rather cheap converter. I have read of people using Waterman long internationals to replace their converters, and refilling them with needles. I just might do that, since dunking is a personal irritation to me.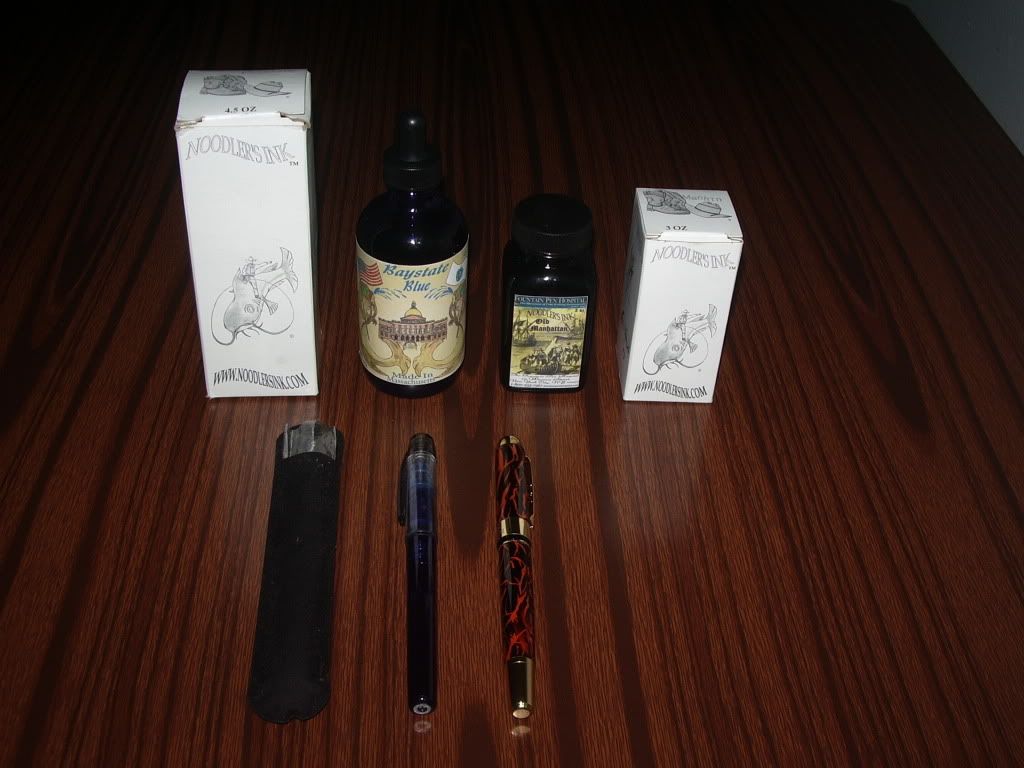 This was taken with flash, terrible, but it can only get worse.

Included pen holder:
The holder looks...cheap. It isn't even real cloth or anything. After having in my pocket for day, you can see all the lint stuck on it already. However, practically, it is decent. The holder does what it does, protecting the pen. The plastic bag is slick, so the pen can slide easily in and out (because of the weight from the cap) With the bag, the pen's finish would probably last quite a long time. But it may be too slick. It felt like it could fall out REALLY easy.
Then it did.
After inspection, the top of the cap had been dinged a tiny bit, although only if you look closely. And then, only in a certain angle with the light. BUT, you can easily feel the rough patch. No biggie. It's an inexpensive pen. Now I insert the pen in cap first, so the weight of it won't have much of an effect. The cap became much more looser after dropping it.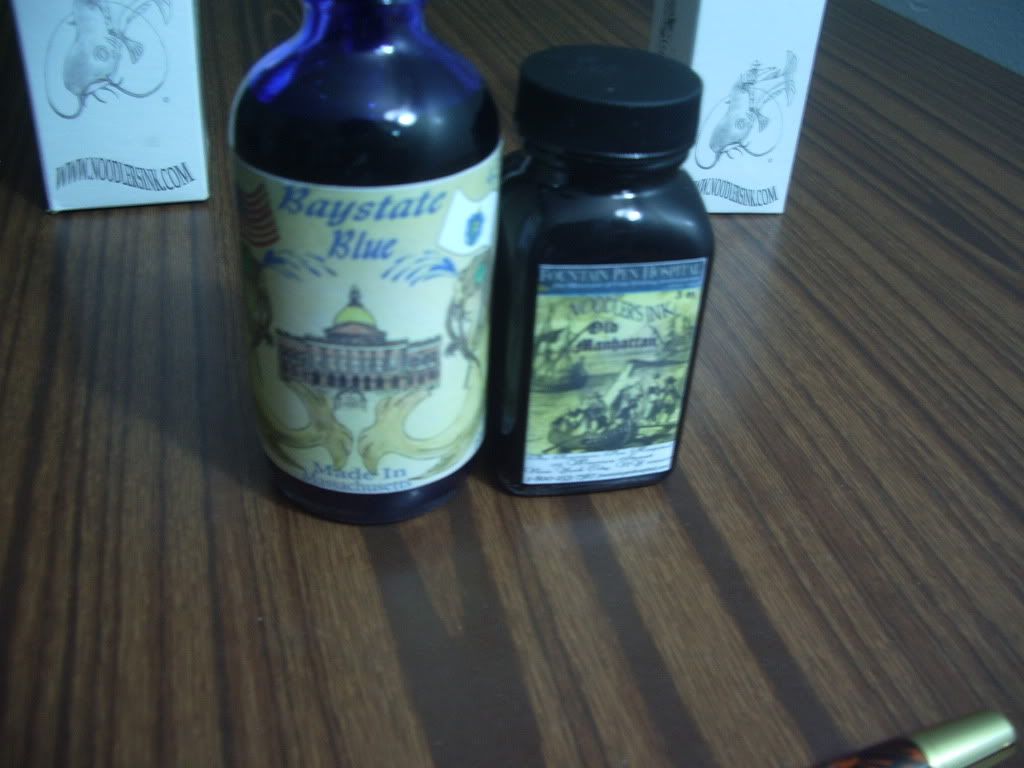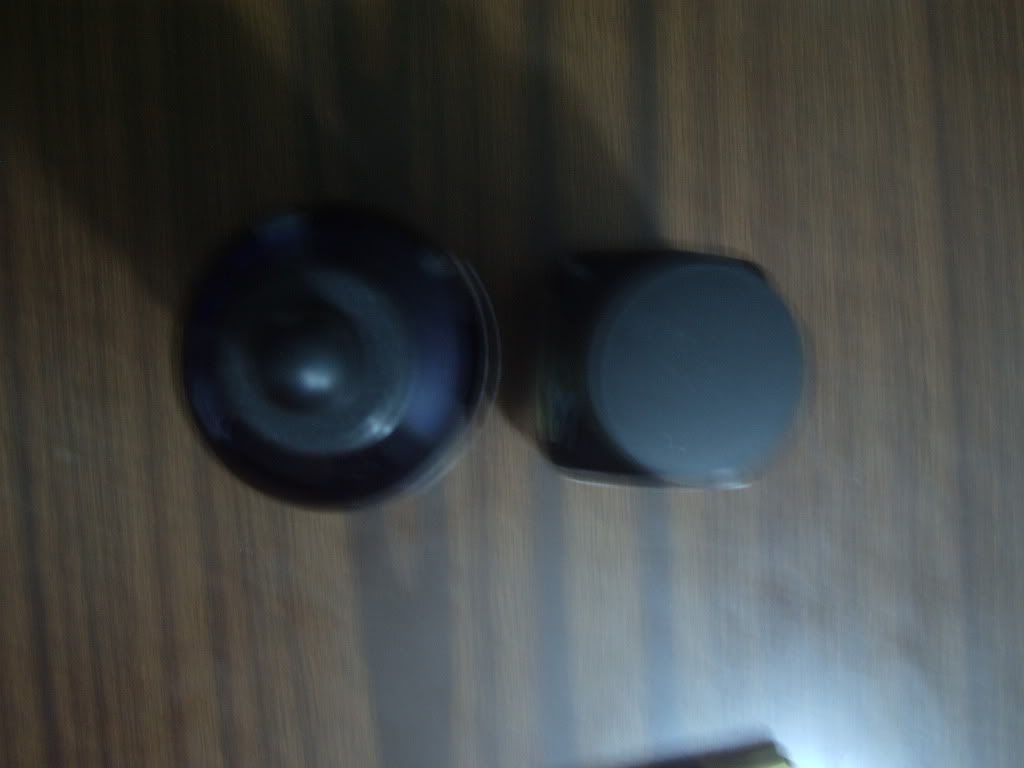 I will never use this light setting ever again, I promise.

Inks: Baystate Blue in the Platinum Preppy originally. Just bought Old Manhattan Black today from FPH. (My last bit of cash, too
) If anyone would like some writing using the pen, I can do it, but I do have atrocious handwriting. I think these two inks have tons of reviews, so I don't need to do one for them. For some reason, when I bought the OMB, I seriously doubted that it was 3oz. It just looked so much smaller that the BSB 4.5oz bottle. Not only that, the bottle was square which would hold less the a similarly sized circle cylindrical bottle. When I got home and compared, it looked like I might be wrong, but just maybe. But then again, they are made by Noodler's which has a reputation for being fair, so I probably got more than 3oz and 4.5oz.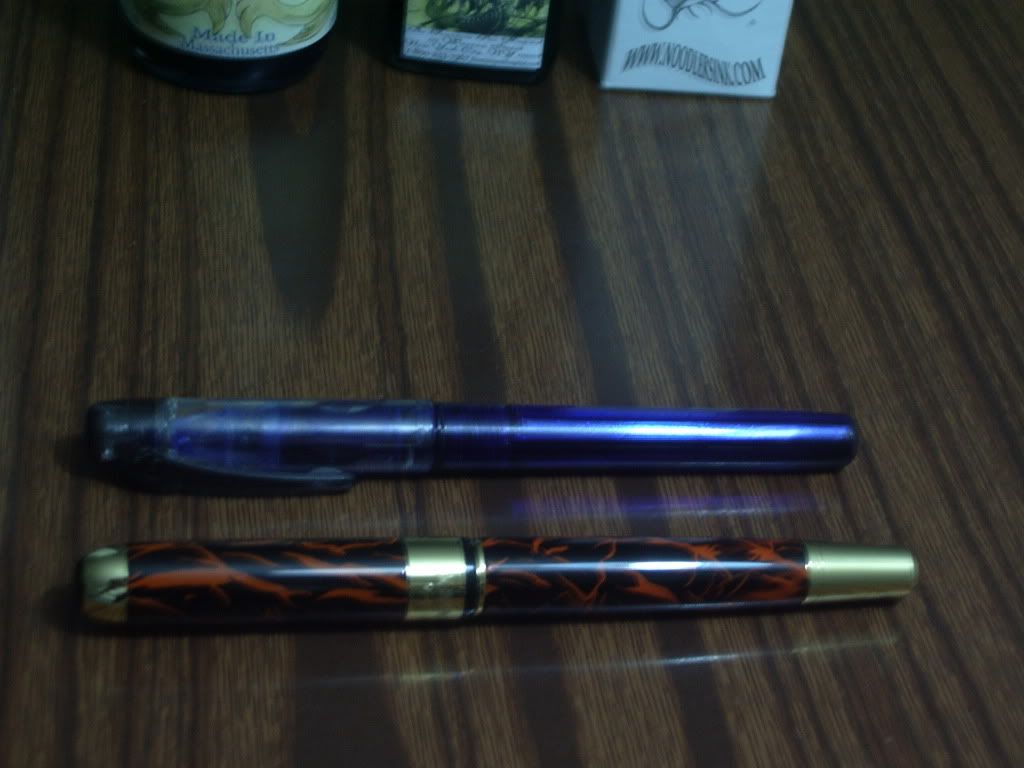 This costed about 3 bucks with FREE shipping. Best value for such a sweet pen! Never could reach that low price again, ebay has too many desperate people
Waitaminute...by writing this review, I'd create even more interest and jack up the price even more.... NOOOOOO!
I take everything back!
This is my first review, so I tried to add as much info as possible from 1 day of using it. If you have any questions that I haven't answered, feel free to ask. I'll add more info as it comes to me.