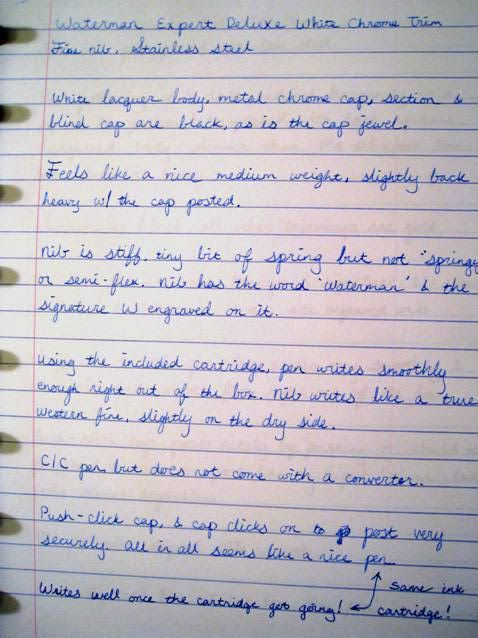 First Impressions
: I really do love white pens. This version of the Expert Deluxe is part of Waterman's Pure White collection. A nice, somewhat eye catching pen.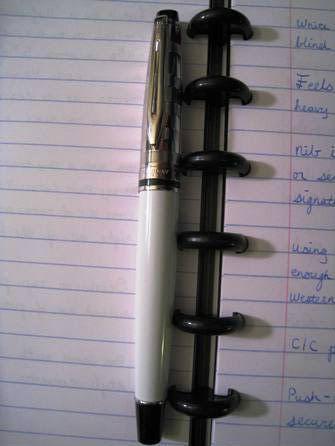 Construction & Quality: 8/10
I like the mix of white, metal/chrome, & black. The barrel is white lacquer over a metal body, the blind cap, cap jewel, & section are black plastic accented with chrome bands, & the cap is chrome with a black band. The cap also has 5 sets of horizontal lines/designs rather than being smooth metal. It's a click on/off cap, & clicks on to post securely as well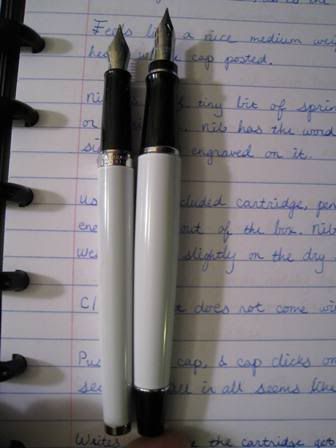 Weight & Dimensions: 8/10
I like the weight of this pen. It's a little heavier, feels more comparable to my Lamy 2k but certainly isn't a rock. A bit longer & thicker than the Waterman Hemisphere. The weight shifts to the back when posted, which I don't mind, but I haven't tried writing with this for hours straight yet. Feels very comfortable un-posted too.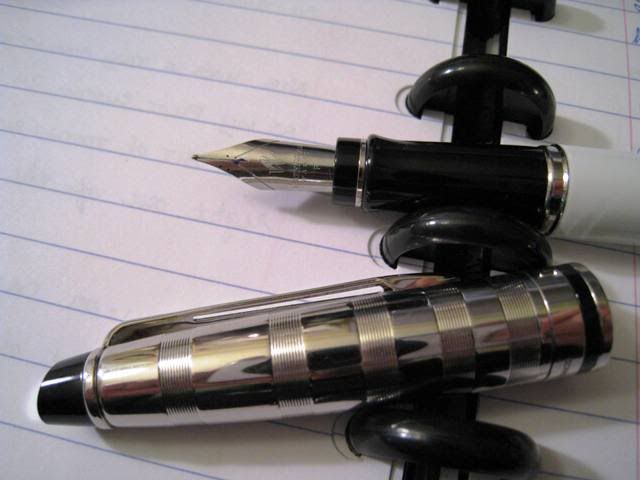 Nib & Performance: 9/10
I ordered a size fine & feel it's a true Western fine. Stainless steel nib with perhaps the tiniest bit of spring. Once the feed was well saturated this thing wrote very nicely. The handwritten review was the 1st time ever writing with the pen, & the ink wasn't flowing too well. Having written with it a bit more now I rescind my comment about it being "dry." It isn't gushing wet, but I wouldn't call it dry anymore either. Very pleasant to write with.
Filling System & Maintenance- 7/10
Standard cartridge converter. I'm wavering on giving this an 8 because the Waterman cartridges have such a large ink capacity.
Cost & Value: 7/10
MSRP is $175 & I think I paid around $120 for mine. I think it's a decent price; nice pen that wrote well straight from the box. However, the pen doesn't come with a converter whereas my $50 Harmonie did, so hmmm.

Conclusion: 39/50
I'd recommend this little lovely from Waterman. It's nice looking, performs well, & won't necessarily break the bank. Colors for the deluxe are limited, but you get a little more variety from the regular Expert line.