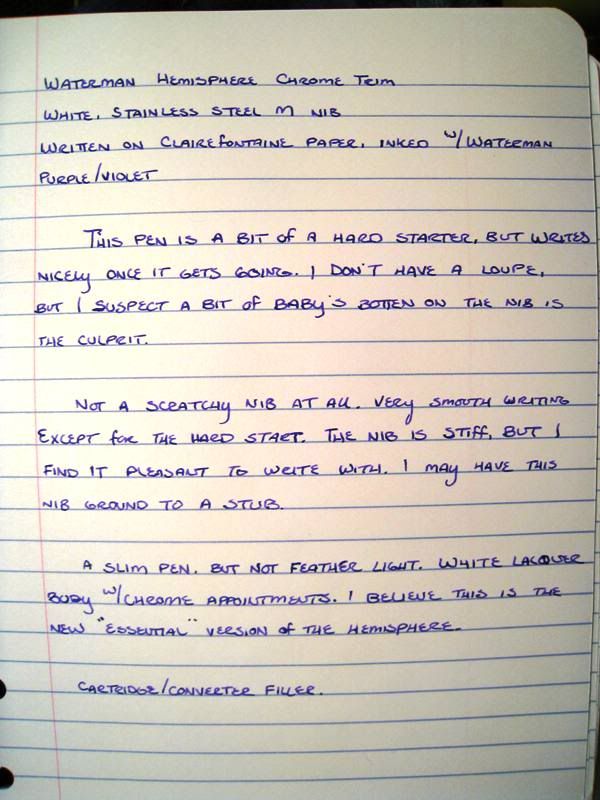 First Impressions:
I love white pens, & this is part of Waterman's Pure White line. The "Essential" Hemisphere (I think this is the new version?) is on the slim side, but the lacquer over a metal body (brass?) is nice & gives the pen much more weight than I was expecting. Fairly uniform in shape, no real bells or whistles to attract attention apart from the color.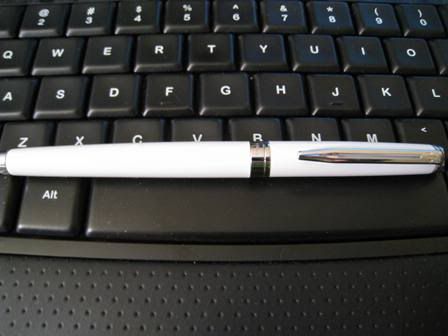 Construction & Quality: 8/10
The weight & metal body feel nice in the hand. It's a very straight, no change in design pen, with just a slight taper towards the end. The white is matte rather than shiny or lustrous, but not chalky or flat due to the lacquer finish, if that makes any sense. Trim is chrome, the large band just above the section says "Waterman Paris", & on the other side in smaller print is "France." Clip has the Waterman 'W', & is a cut-out rather than solid. Cap jewel is angled rather than flat. Click on cap, posts nicely, & I think that distributes the weight better for writing. Then again, I hardly ever write with my pens un-posted.
Weight & Dimensions: 8/10
I'd call this a medium size pen due to the weight & length, but as mentioned before the barrel is slimmer. It's longer & heavier than my Pelikan 215, but not as thick. Enough weight that if someone picked it up they'd take note that this isn't a run-of-the-mill cheapie.
Nib & Performance: 6/10
Unfortunately, I think my nib out of the box has a bit of baby's bottom as it's a bit of a hard starter. It does write nicely once it gets going, & puts down a nice wet, true medium (in my opinion) line. Smooth writer with a little feedback. The nib is stainless steel & firm. The nib is marked with the Waterman 'W', brand & size. I'm probably going to have this re-ground into a stub.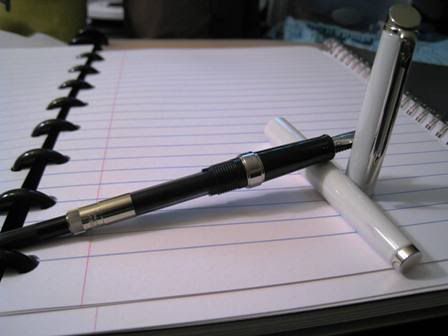 Filling System & Maintenance: 7/10
Standard cartridge converter. I used the converter for the first fill & it worked fine. The Waterman cartridges are huge compared to most others I've seen. The pen doesn't normally come with a converter hence the slightly lower mark, but my retailer tossed it in for free
Cost & Value: 7-8/10
For less than $90 I'd say this is a nice intro to Waterman provided your nib writes well out of the box.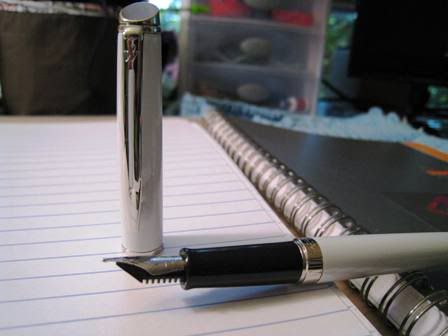 Conclusion: 36-37/50
I'd recommend this pen, as I find it a bit more aesthetically pleasing than the Perspective, which was the other "entry-level" Waterman in white that I was considering.