Context:
As a constant user of fountain pens, I was looking forsomething more affordable
that I could use with my higher maintenance inks. Especially coming into Christmas! A pen, preferably a clear demonstrator that has character, is easily cleaned and flushed and writes well... preferably with some line variation.
Enter the Noodler's flex pen. I did not purchase the initial flex pen as I found the dimensions smaller than my personal preference. Mydaily writers are MB 149's, Danitrio Densho, Visconti Homo Sapiens andare variety of other pens from Aurora, Edison, ST Dupont and others.
So how excited I was when I read about the Noodler's FLEX AHAB pens which met all my criteria! I ordered these the moment they becameavailable from Goulet Pens


I have used this pen for only a whole day ... and an entire ink fill ... will post longer term opinions ... in time! I decided to post an early review to help with other people contemplating this pen and to provide my experiences with adjusting it ... in the hope it will help owners fully enjoy ths pen! My compliments to Noodler's for bringing this to the market at such low cost.
Initial Impressions (and praise for Brian and Rachel Goulet):
Purchasing from Goulet is always a pleasure. I was one of Brian's customers when he was still hand-turning wooden pens and bottle stoppers of fantastic quality before he expanded to the wonderful Goulet Pencompany he is today. Brian and Rachel are always happy to combine my orderrequests and shipped, protected in the best possible way.
My package of G.Lalo, ink and the Noodler's Ahab flex pen came in bubble wrap, shrink wrap, then a final exterior bubble wrap overlay in a USPSpriority mail box. Not a single crease on the G.Lalo envelopes! Brian andRachel are quick to answer emails ... and even quicker to respond to twitter!
Please take any comments to do with the Noodler's Ahab inthe context that this is a $20 pen
.
I will also praise Dick at Noodler's ... who responded to my web enquiry ever so quickly and then promptly offered to send me a replacement breathing tube. Only Goulet and Brian Edison have rivalled this degree of customer service!
Unboxing
A simple, cardbox box with the pen sealed in plastic wrap and an instruction leaflet. I wouldn't have expected anymore and appreciate the simplicity to keep costs down. For instance, the TWSBI 540 with it's more comprehensive package retails for more than double, at $50.
A previous review of the Ahab pen has copies of the interior insert with pictures demonstrating how to take the pen apart.

This is a photo of the pen, disassembled... which takes under a minute... with the nib and feed still in the section as I had just finished adjusting it! To take apart the piston, unscrew the black cap and push through.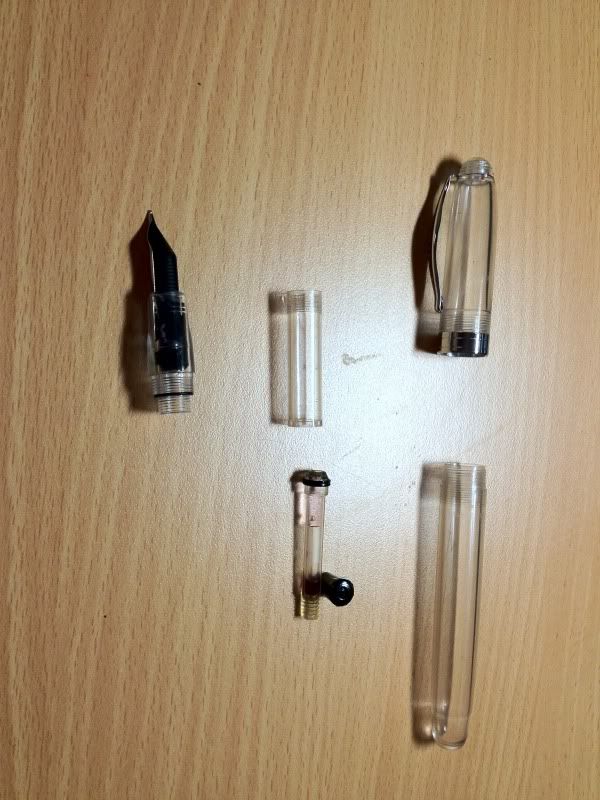 Pen adjustment and cleaning
This is where there has been some controversy. I will set the record straight right now.
Adjusted well, this is the best value pen with moderate flex and character you will get for $20
It is highly recommended that you flush the pen well priorto use to remove any residual manufacturing oils. I do the same for my steel dip pen nibs although I wouldn't run the Ahab nib through a naked flame like I would do a dip pen!
My cleaning regimen consisted of:
1.
Disassembling the whole pen including the nib/feed
2.
Replacing the o-ring on the PISTON with the new double-walled o-ring supplied by Goulet for $1.00. The instructions suggest using a toothpick although I used curved dissecting tweezers. You do need something to reach under and stretch the o-ring out to remove it, attempts at using my fingernails alone failed.
3.
I threw mine in the ultrasonic cleaner (notessential) with some detergent water and prompty flushed the breather tube downthe sink (not required either... Goulet, Noodler's and myself have tested itwithout the breather tube and it fills and writes fine)
4.
Rinsing with water, flushing with a bulb filled with water, then cycling the piston with JB pen flush (an ammonia solution) and then finally water.
This is serious overkill. For a beginner who is not used to adjusting nibs, I suggest simply flushing in water with a few drops of detergent and then finally flushing it out again with water by cycling the piston.
Controversies with pen adjustment
Anybody who twiddles with nibs know that there is a close relationship between ink flow and how the fit of the nib and feed relate to each other. Out of the box, it may have written fine although I never tried it.
But once you disassemble it completely (i.e. remove the feed/nib to clean), you have to ensure the nib and feed are properly adjusted or else ... the pen will not work as you like. I spent about half an hour all up getting it right, with my initial adjustmenthaving NO FLOW whatsoever. And I've adjusted pen nibs dozens of times on my own pens.
I firmly believe that issues with flow are to do with two issues
1.
Ensuring manufacture oils are flushed out andthe ebonite feed has settled in and absorbed the ink.
2.
Ensuring the feed and nib are well adjusted.
It's the last one that will catch someone out if they've pulled the whole pen apart as adjusting the pen takes some work. Now I know where I like it, I imagine future adjustments should only take a minute or two.
Unlike TWSBI or the Lamy Safari which tends to work 'straight out of the box' almost all the time... I am not 100% sure the Ahab is a 'pen for the masses'. However, this is only the Ahab's first iteration and with minor revisions, it certainly has potential.
Tips for adjustment:
The whole nib and feed are friction fit. Grab with a papertowel for grip and pull out, holding the body of the feed and nib.
To slot back in, I suggest inserting the feed in loosely
and then gradually inserting thenib and sliding it around the circumference until you have identified thegroove it slots into – after which, that's where it stays. Keep everything loose to start with.
Rotate the feed until it lines up with the nib, then pushthe nib in all the way. Then gradually using your thumb and forefinger, slidethe feed gently in until you have it where you want in relationship to the nib.I find it works well with 9-10 of the 'fins' showing with the tip of the feedabout 4mm from the tip. Others have it with 8 fins (about 0.5mm from the tip) Your experiences and preferences will vary! Do NOT push the feed all the way in... it is not only hard to pull out again, especially when inked but the pen may not flow right (or at all)
You can make minor adjustments to the feed alignment using ascrewing action holding the body of the feed/nib with thumb and forefinger. Check the tines are aligned with a 10x loupe (I use a belomo) or a good eye if you have it and gently push with a fingernail the lower tine upwards if it's misaligned. I find it pretty hard to misalign the Ahab as it springs back into alignment easily.

This is a picture of how my feed and nib are adjusted ...


Construction
In context, it is very satisfactory given the cost! Thecoloured vegetal resin perhaps are more vivid. The resin does warm to the touch and has a subjectively softer feel than standard pen acrylics (e.g. MB or Sailor resin). Think of it as slightly softer plastic.
It does not feel as slippery smooth as cellulose nitrate (true celluloid). It is not as glossy as a traditional demo having aslightly cloudy look. I would look forward to ordering a vivid coloured resin in the future.
The fit and finish are quite satisfactory given the price ofthe pen.
The pen balances well unposted, is cap heavy posted. Ibelieve it was designed to write unposted and is a nice size.
The vegetal resin has a slightly acrid, sweet almost aldehyde smell out of the box. It's not terribly unpleasant or strong but... is different. It's not the camphor of true celluloid though.
Filling
It can be used as an uninsulated eyedropper, meaning thatone runs the risk of irregular ink flow with the possibility of problems if theair inside expands due to heat. However, this involves removing the vacuum filler and just filling the entire plastic barrel with ink, a massive capacity! It may be prudent to very lightly lubricate the section o-ring with silicone also if you plan to fill as an eyedropper to ensure a tight seal.
The filler itself is simple. I highly
recommend swapping the single o-ring with the smooth double walled o-ring with a very light smear of silicone grease. Push in, dip the entire nib up to the section ink, smoothly pull up and watch it fill. Some people cycle the piston through one or two pumps... I don't bother.
Puts piston filling to shame. This is quite simply one ofthe most efficient and simple filling systems I've ever used. Ever.
The whole thing comes apart for easy cleaning. The only downside is that sometimes ink does get stuck in the interior cylinder of thepiston shaft where the breather tube slots into.


Nib and feed
Ebonite feed. Reports on FPN suggest there is some manufacturing variability.
The steel nib is not as smooth at flexing a flex writer as a vintage gold flex nib or steel dip pen nib but tolerates a fair degree of pressure and flex without springing. The initial line is a true extra-fine (seewriting comparisons).
Flow is variable depending on how you have adjusted the pen.The tipping however is quite satisfactory and smooth if everything is well aligned. I have mine adjusted so that there is moderate flow with light pressure and quite generous when fully flexed.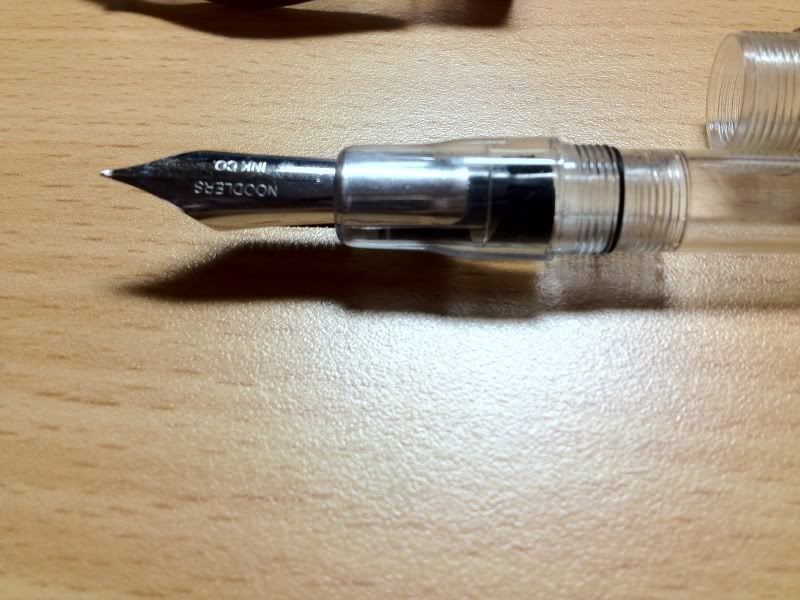 Conclusions:
The Noodler's AHAB is an affordable, easy to clean andtotally user serviceable pen. It is indeed very good value for the money
for the fountain pen enthusiast. Commensurate withthe price point, there are a few idiosyncracies.
-
The possible need for flushing well out of the box and letting the ebonite feed settle, perhaps overnight
-
The need for user adjustment of the nib and feed... although some people have it writing perfectly out of the box.
-
The smell of the resin (which may fade with time)
The filling system, writing characteristic and ergonomics ofthe pen do indeed perform far beyond the price point. If the pens were adjusted to write perfectly out of the box, the double o-ring on the piston was standard and a small amount of silicone grease was present, one could easily sell thispen at the same price as the TWSBI ($40-50) and expect it to compete well. In fairness, it could probably sell well at even $80 if the minor issues above were tweaked... especially the prettier colours!
How would I rate this pen?
Taking into account value for money: 8.5 to 9.0 / 10 – this is a totally subjective score.
If I was to compare it to my other pens without considering the price... 7 / 10. My MontBlanc 149, ST Dupont Olympio, Aurora and Danitrio Densho writers are superior in fit, finish and nib characteristics. BUT that's certainly not a f
air comparison given all of these pens are >$500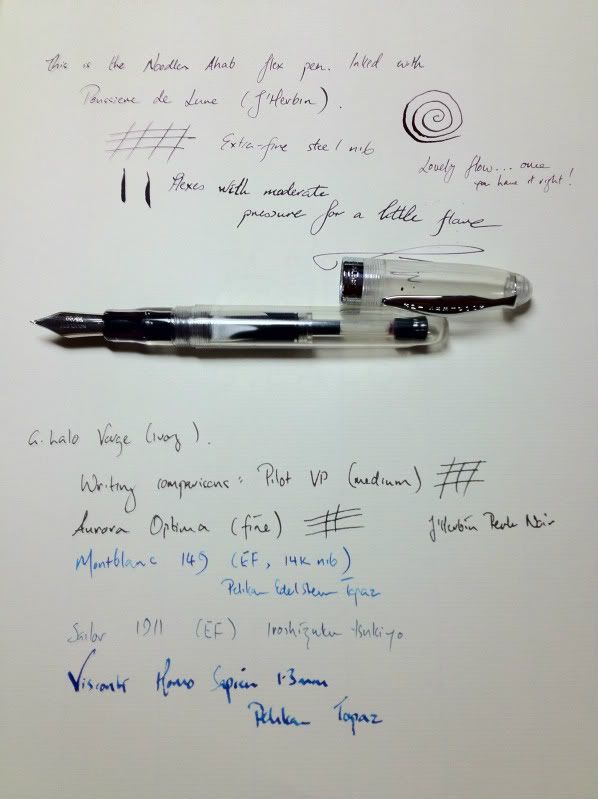 Edited by tanalasta, 04 December 2011 - 03:42.