First pen review! I apologize in advance for the poor lighting!
Sheaffer 330 Imperial (NOS) Black w/Chrome Trim, Fine nib
First Impressions-
To be honest, slightly underwhelmed due to all the "hype" I'd been reading about the vintage Sheaffers being a dream in the hand. However, after writing w/it a bit more the experience smoothed out nicely & I've grown to like that slight bit of tooth.

Appearance & Design-7/10
Plastic body & cap w/metal bands. Shiny finish, looks pretty classic. The clip is kind of short in comparison to other pens, but I think that's a date/style thing. Comes in several other colors (burgundy, blue, etc) if you can find them.

Construction & Quality-7/10
It feels light in the hand. A push-on/off cap w/o a snap. It seems to stay on securely, but I'd have preferred a snap or something just so I knew when it was "on" all the way. With that said, it doesn't feel like the cap is about to pop off or anything.

Weight & Dimensions- 7/10
Not an extremely small/short pen, as it's longer than my Pelikan 215. It is lighter & thinner. I only have a food scale that weighs in pounds/ounces, so I can't give an exact measurement, but it weighs in at 5/8 of an ounce. I think it's fairly well balanced, posts nicely & doesn't feel back heavy. It might be too light to write with un-posted. For myself & my small hands, I would probably rate it more along the lines of an 8, but for average or larger size hands it may be a smidgen too light.

Nib & Performance- 8.5/10
Initially I was a little skeptical because I had read about how superior the vintage nibs were compared to their modern day counterparts. The look is beautiful (totally subjective!) to me, because I love the inlaid nib. I have a size fine, made of steel. The nib is marked Sheaffer & has USA stamped vertically down the triangle part. After writing with it a bit, I've found it to be quite smooth with just a hint of tooth. Certainly not scratchy, & I actually like that tactile feel a lot. Lays down a moderately wet line, not dry but not so wet you'll end up with a big ink blot.

Filling System & Maintenance- 6/10
Cartridge/Converter. Ok, I may be being too harsh on this part of the review. Granted, I was sick at the time of receiving the pen which didn't facilitate any extra patience on my part, but I couldn't get the squeeze-bulb style converter to work. I filled it with a syringe & installed in the pen, primed it so I could see ink appear on the feed, but nothing would come out on paper. Luckily, I had purchased a piston-style converter as well, filled that directly from the bottle, & the pen wrote the moment it touched the paper.
In the future I'll probably fill the converter with a syringe since cleaning off the inlaid nib after a bottle fill is kind of messy. I may or may not contact the seller about how to get the included squeeze converter working properly, because I will probably just use the other converter, or buy cartridges & fill with the syringe.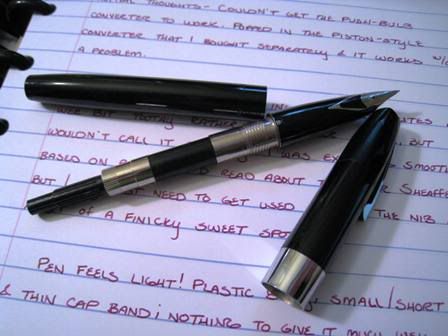 Cost & Value-- 9/10 NOS, purchased from Teri of Peyton Street Pens for $37. Not bad at all. It writes just as well as some much pricier pens I own. The additional converter is $9, which I thought was a bit steep, but if you can get the converter it comes with to work, then the pen is a great deal.
Conclusion: 44.5/60 Overall, a nice pen & I'm planning on getting a few more of the vintage Sheaffers. They're very nice to write with, & I'd say they're worth the hype, but I've never written with a modern Sheaffer so I can't make a comparison.