I finally got Nathan's permission to lift my promised "Cone of Silence" about this pen. I felt like I was going to explode not being about to talk about it. Here is his paper insert to wet your whistle. Photos of pens will follow.
Let me say up front that regardless of the cost, this is an unbelievable pen, based on size, feel, functionality, durability, utility, writing, adaptability between a plunger-rod ink filling compartment or made into an eyedropper. When you consider that it is selling for $20, and designed for user serviceability...IMHO, it is creating a rift in the fountain pen space-time continuum, and charting a whole new direction. I consider this as a revolutionary pen, and am enjoying using it as much as my 1970 era Montblanc 149, Pelikan M1000, and some of my vintage Waterman flex pens.
This is the first Noodler's Pen that I REALLY love, and it is going to get a LOT of attention.
Once I receive my orders from GouletPens.com and IsellPens.com, I will have 8 of these in various colors. You can go to those websites to see the offerings. Apparently more translucent colors are coming.
The barrel, cap, and section are made of a
celluloid derivative that Nathan calls a vegetal resin
. It has a nicer, softer, warmer feel than my MB 149, or any of the modern pens I have used. It is more like the feel of a Waterman 52 Vintage pen, but not with a shiny, polished surface. It does not slip around in your fingers. The resin seems very sturdy, and not showing any marks from posting or other use. I dropped it once (on purpose) from table height onto a marble floor, and could not see any sign of damage. I would never DREAM of dropping one of my more expensive pens as a test.
The Ahab size is about the same width and length capped & posted as a Pelikan M800. The cap posts securely, and in my hand achieves a perfect balance. The pocket clip is a distinctive whale shape. The underside has a rounded knob, and despite being folded over, does not catch on my shirt when sliding all around. There is a double fold of the end of the clip metal, tucked up under the ball of the inside, so no sharp edges anywhere. Nothing is glued in the pen--all screw fittings. I'll take some closeups photos later.
The Ahab nib and feed is a whole other design from previous smaller Noodler Flex pens--which I was just not crazy about for various reasons. This larger Ahab nib is not scratchy--at all, and the feed delivers ink just like you hoped it could. It writes a fine line (same as my Pelikan M1000 XF nib) with light to normal pressure. With medium pressure, it flexes out to give a line the width of my Pelikan M800 Italic Broad--which is supposed to be 1.5mm size--and with ink flow that keeps up easily. No more skipping or trying to get it started. I have let it sit unused, nib end up for 3 days, and it immediately started writing without priming or tapping. I don't know if that will happen with every ink, but the 5-6 that I have used so far (Noodler's Violet Vote, Black, Waterman Havana, Montblanc Collodi Brown, Parker Penman Sapphire, Hakase Real Squid Sepia, and R&K Alt Grun) work great. The only thing I have noticed is that the ink evaporates more quickly than most other pens, but I consider this a small issue compared to all the benefits.
The nib has a typical ball of "platinum group tipping metal," and you can easily verify the separate welded tipping of a shinier silver metal contrasting against the steel alloy nib. The nib and ebonite feed are a friction fit, but there is a recessed tongue/slot matching the shape of the back end of the nib. There is no question where the nib should be positioned when sliding back into the section, and when it is fully seated. The feed can be set a bit farther back from the nib tip to optimize ink flow. Nathan gives a diagram illustration of being able to easily carve the ebonite feed to further enhance ink flow or air. He actually numbers the horizontal feed vents and gives suggestions of how many vents to open up with a razor to give more generous flow...all the way to having a gusher (see above handout). I have had no need to modify how it came stock. This feed also has a small plastic breathing vent tube that goes back and ending inside the hollow plunger rod. Nathan said that some of these feeds may need to be flushed a couple times in a dilute ammonia & drop of dish soap in a glass to clean off any residual machining oils. I did not do that with the prototypes he sent me.
To fill the pen, you unscrew the barrel from the back of the section. The plunger filler system is a removable cartridge chamber that is the fastest filling system with this quantity of ink that I have seen. Two plunges with nib/feed and front of section in the ink, and the chamber is completely filled. This system makes it a dream to flush out ink rapidly, and it is easy to pull out the nib/feed if you want to wash or soak it. This inside chamber has the air around it once back inside the barrel, insulating against heat expansion of your hand which becomes an issue if you convert it to an eyedropper by removing the plunger chamber. Nathan wanted to make this pen easy to take apart and put back together, and without any special tools.
One of the parts that apparently can wear out over time is the plunger O-ring seal, so these initial Ahabs are being sent with a simple O-ring that you can buy at nearly any hardware store. However, the downside of this first run O-ring is it tends to have an initial sticking after it has been in a fixed position for a while. You can help dislodge it by twisting the plunger rod as you push. Once it starts moving, it then moves back and forth easily and smoothly.
When I told him this O-ring's initial sticking might result in someone ejecting ink before they were able to loosen it up, Nathan then had an O-ring specialist engineer a new double edged O-ring kind of like is used in the plunger of a plastic medical syringe. These new double edge O-rings are now available, and I highly recommend getting one or two eventually. Put a tiny bit of silicone grease on the new o-rings (no more than 1 or 2 poppy seeds is needed), and work back and forth a few times.
Other than photos, I don't know if there is anything else to mention about these new pens. I want to say again, that IMHO, the Noodler's Ahab Pen is going to blow people away. I cannot imagine that Nathan will be able to keep up with the demand, and he could easily sell these for over $100 in terms of their performance and function. He is limiting the price to only $20, which is just unbelievable. This is a pen you can feel comfortable giving to a novice because of how simple it works, how well it is designed, the quality of the materials and writing experience, and worst case they don't like fountain pens--you are out $20. It's a no brainer.
Photos to follow
OK, I have a Whaling Boatload of photos. I tried to make all of them about a 400 pixel thumbnail to help with loading time. I'll put the most important ones here, and then add the others to a new post below.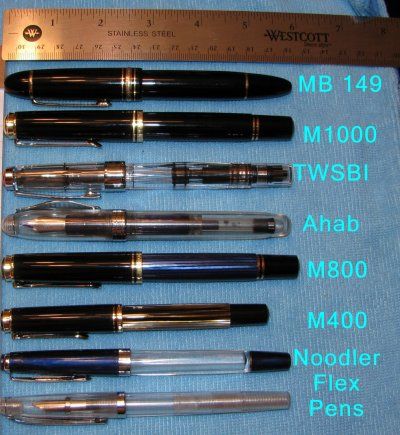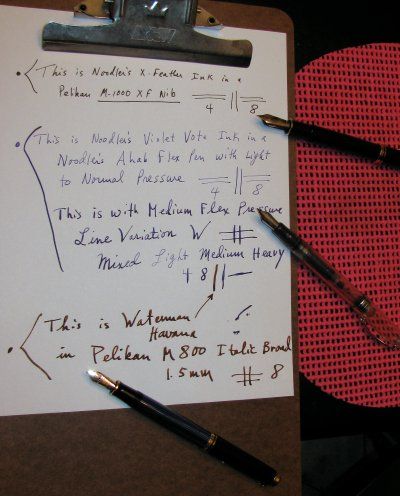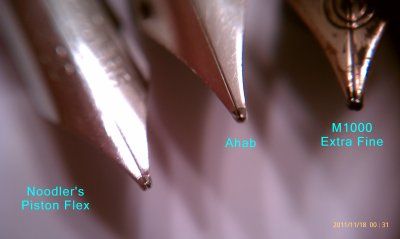 Compares to M1000 XF tip, and second image below shows various close-up cell phone images of Ahab tipping.
The rest of the photos, I will add in a new post below, as they have to do with the various parts of the pen & the O-rings.
Edited by SamCapote, 18 November 2011 - 08:45.